Search & Buy VLM Airlines | FlyVLM Flights
Airlines will always try to sit children with their parents (subject to check-in)
Some airlines will allow travel for unaccompanied minors. Please email us to check.
The fare is based on the child's age on the date of travel.
More detailed information can be found here Traveling with children
Most airlines will let infants travel with their parent(s) for free. However some airlines will charge up to 10% of the adult ticket price. Click on 'Price Breakdown' to find out more.
If you are pregnant, but due before the flight departure date, please contact us once your baby is born and has a name. We can then add him/her to your ticket.
Infants will not be given a seat. The airlines expect parents to travel with them on their lap.
Airlines regard infants as being under 24 months old.
The fare is based on the child's age on the date of travel.
More detailed information can be found here Traveling with children
Buy
VLM Airlines | FlyVLM

Flights
VLM Airlines Reservations with Alternative Airlines
Make a VLM Airlines Booking and Find Some Amazing Deals
---
About VLM Airways
VLM Airlines, was a Belgian airline offering scheduled and charter airline service. Its hub airport was Antwerp International in Deurne. In August 2018 the airline went into liquidation and ended flying operations. It's Slovenian sister airline, VLM Airlines Slovenia, continues to run chartered flights. If you are looking for similar routes like VLM, search flight through alternative airlines like Flybe and KLM.
VLM airlines Slovenia, also known as flyVLM, is based at Edvard Rusjan Airport in Maribor, Slovenia. The airline serves destinations including London and Antwerp and Maribor to Spilt and Dubrovnik, Croatia with a Fokker 50 aircraft. The Slovenian airline VLM Airlines is a subsidiary of SHS Antwerp Aviation.
Currently, VLM Airlines Slovenia has a fleet of 3 Fokker 50 turboprop aircraft, with each aircraft can carry 50 passengers.
---
Alternative Airlines to VLM Airways
Please click on the logos below to find out more about airlines that fly similar routes to VLM Airlines:
---
VLM Airways Baggage
Carry-on Baggage
VLM passengers are allowed 1 hand baggage of maximum 10kg. The dimensions should not exceed a limit of 47.5cm x 35cm x 20cm.
Checked Baggage
1 piece of checked baggage is permitted that does not exceed 23kg.
---
Buy Excess Baggage
You can now purchase additional baggage for your VLM when you book direct with Alternative Airlines. You need to buy excess baggage when:
Oversized

Your baggage exceeds the allowed dimensions.

Overweight

Your baggage exceeds the allowed weight limit.

Extra Piece

You have more baggage than the free allowed checked baggage.
---
How to purchase excess baggage through Alternative Airlines
Once you can purchase baggage through Alternative airlines this area will tell you how to do it.
VLM excess baggage fees
It is possible to add up to an additional bag of checked baggage with you luggage. Each bag will cost you €45 per flight segment. Each bag must follow the standard VLM weight restrictions. f you wish to transport over 100 kilos of excess baggage and/or bulky or unwieldy items (e.g. cycles) you must notify Alternative Airlines or VLM of such intention in advance, at the time of reservation.
---

VLM Airways Hub Airport
Antwerp International Airport
Antwerp International Airport is the international airport serving Antwerp and is the home airport for VLM Airlines and CityJet. Jetairfly also fly to and from Antwerp International Airport. The airport has two runways and can handle nearly 200,000 passengers every year.
---
News
3rd September 2018
VLM Airlines goes into liquidation and suspends all flights
Despite investment by Dutch and Chinese investors in 2017, VLM has now gone into liquidation. The airline had been in the process of adding more UK routes, including routes to London City and Aberdeen, but has now grounded all flights. The news came after a general assembly in which it was decided to dissolve the Belgian Airline. Its Slovenian sister company, VLM Airlines Slovenia, continues to operate some flight routes.
14th June 2018
VLM Airlines add three new services
VLM Airlines have recently expanded their network, flying to three new destinations from its hub in Antwerp International Airport (ANR). From the 4th June 2018, VLM has been flying from Antwerp to Cologne Bonn (CGN), Aberdeen (ABZ) and Rockstock (RLG). The service to Aberdeen will fly three times a week, with two of the three services returning via Birmingham Airport (BHX). The services to Rockstock and Cologne Bonn will both operate on a tri-city route five times a week and will use its fleet of Fokker 50s to carry passengers.
There were celebrations across the airports that VLM are operating to, Rockstock airport even baked a special cake for the airline.
5th June 2018
VLM Airlines to fly to Cologne Bonn Airport
Belgian carrier, VLM Airlines, will fly to Cologne Bonn Airport (CGN) for the first time as they add two new routes flying to the German city of Cologne. VLM will operate flights from both Rostock–Laage Airport (RLG) and Antwerp International Airport (ANR) to Cologne and will use its fleet of Fokker 50 aircraft to carry passengers.
Speaking on the arrival of VLM Airlines to Cologne Bonn Airport, President & CEO of Cologne Bonn Airport, John Vanneste, stated that the airport is pleased to add two new short-haul destinations to their schedule and to welcome another airline to their runway.
14th May 2018
VLM Airlines heads towards a positive future
After a rocky period, VLM Airlines appears to be back on track for the summer months. The Brussels-based airline will continue to fly until after the summer with the Airbus A320 which she has and looks forward to additional aircraft according to company management. VLM Airlines has been passed round liberally from aviation giant to aviation giant for the past months, leaving its employees feeling a little unstable. It would appear that this negativity is all in the past however, as VLM Airlineshave issued a very reassuring message that the airline will continue to grow in reservations and passengers until long after the summer.
14th February 2018
VLM Airlines makes a move on Maribor and Munich
VLM Airlines launched its latest routes from Antwerp on 12 February, a link to Munich with onward service to Maribor. The carrier will operate the routing every weekday using its fleet of Fokker 50s.
VLM Airlines launched its latest services from Antwerp (ANR) this week, starting a weekday service to Munich(MUC) with an onward connection to Maribor (MBX). Launched on 12 February, flights on the 612-kilometre leg between Antwerp and Munich depart from the Belgian city at 10:10, landing into the German hub at 12:15. The onward 359-kilometre link from the Bavarian hub to Slovenia takes off at 12:45, getting into Maribor at approximately 14:20. Return flights see an afternoon rotation depart at 14:50 from Maribor, with an estimated arrival time into Munich of 16:30. The final sector then leaves the German airport at 17:00, finally reaching Antwerp at 19:10.
VLM will not face any direct competition on either of its latest services, with these becoming routes three and four for the carrier which already serves London City and Zurich from its home base. The next planned route launch for the airline is 26 March, the day it will begin serving Birmingham. On the same day, the airline will also increase its Munich service to a twice-daily weekday rotation.
23rd January 2018
VLM Airlines inaugurates Zurich service
VLM Airlines, the recently restored operator, has begun flights between Antwerp and Zurich, adding to its existing London City link. Launched on 22 January, the airline will offer 10 weekly flights on the 518-kilometre hop to Switzerland. The carrier's next routes from Antwerp will be Birmingham and Munich, with the latter airport also expected to be connected by the airline to Maribor in Slovenia.
VLM Airlines has added a second route from Antwerp (ANR) since it was brought back to life in October, with the carrier now offering a 10 times weekly service to Zurich (ZRH), adding to its existing London City link.
Launched on 22 January, the airline will serve the 518-kilometre hop to Switzerland using its fleet of 50-seat Fokker 50s, becoming the only operator on the city pair. The airline's next round of route launches will take place on 12 February, the day which sees the regional carrier begin flights to Birmingham and Munich, with the latter airport also being linked by the carrier to Maribor in Slovenia.
28th November 2017
VLM Airlines appoints new CEO
SHS Aviation announced the appointment of Karl Rickard as CEO of VLM Airlines, succeeding Harm Prins. Christian Heinzmann will also join the board of SHS Aviation. Mr Rickard previously served as CEO of Power Jet Aviation, a Luxembourg based company specialising in aircraft pre-purchase inspections, asset valuation, aircraft disassembly and end of life solutions. Mr Rickard said he will drive VLM to "start preparing the launch of our future long haul operations". As previously reported by CAPA, VLM Airlines plans to lease one A330-200 aircraft and is considering serving Shenzhen from either Brussels or Liege from as early as Apr-2018.
17th November 2017
VLM Airlines acquires Belgian AOC for Fokker 50
Belgian aviation authorities have granted an air operator's certificate (AOC) to regional VLM Airlines for its Fokker 50 aircraft, just days after approving an AOC for Airbus A320s acquired from Thomas Cook Airlines Belgium (TCAB).
Currently, VLM Airlines has three AOCs: a Slovenian and a Belgian AOC for its Fokker 50 operations and a Belgian AOC for A320 operations.
On June 1, ATW reported that leisure carrier TCAB was being sold to two companies, Lufthansa Group carrier Brussels Airlines and VLM Airlines' Dutch parent company SHS Aviation, which took full ownership of TCAB, acquiring all the shares in the company.
Two VLM A320s are based at Brussels Zaventem and are used for charters, leisure markets, ACMI and private flights. The carrier said it plans to deploy the A320s and Fokker 50s together on VLM Airlines' European scheduled flight network.
VLM operates 19X-weekly flights between Antwerp (Belgium) and London City (UK). The carrier has 100 employees and operates a fleet of six Fokker 50s and two A320-200s, which are all registered in Belgium.
SHS Antwerp Aviation is the successor to VLM Airlines N.V., which ceased operations June 22, 2016. In September 2016, SHS Aviation acquired the remaining aircraft and all other assets of VLM Airlines N.V.
6th October 2017
VLM Airlines returns to the legendary route between Antwerp and London City Airport on 30th October
3-4 daily services on weekdays and 2 daily flights on Sundays
Since 1993 Antwerp and London are linked with a direct flight, first by VLM Airlines (from 1993 until 2008) then Cityjet. Earlier this month Cityjet announced that it is to quit its activities on the route with effect from 27th October 2017.
Richard Hill, Chief Commercial Officer at London City Airport said: "We welcome the return of VLM Airlines to London City to operate this speedy and convenient Antwerp route, which is the only connection between a UK airport to Belgium's second largest city. The link is particularly valued by frequent flyers on business, and VLM's commencement of services on 30 October ensures business as usual for passengers."
The VLM Airlines services between London City Airport and Antwerp will commence on 30th October. On Mondays, Tuesdays and Wednesdays there will be three daily services in each direction and on Thursdays and Fridays four daily services. On Sundays VLM Airlines will operate two return flights.
VLM Airlines will announce further details about its Winter flying programme 2017-2018.
8th August 2017
VLM Airlines commenced new routes from Maribor to Croatia - First scheduled VLM flights to Split and Dubrovnik
VLM Airlines commenced flying 2 new routes between its Slovenian base in Maribor and two popular Croatian destinations: Split and Dubrovnik. The VLM crew members and passengers that were flying from Maribor to Split were greeted by Mr Saša Pelko, Deputy Mayor of Maribor, Ms Gillian Yeung, Managing Director of SHS Aviation B.V., and Mr Boris Bobek, Director of Edvard Rusjan Maribor Airport.
The scheduled flights from Maribor to Split and Dubrovnik are operated in August on Tuesdays with a Fokker 50 turboprop aircraft.
Parking at Maribor Airport is free of charge for all passengers.
4th July 2016
Chalair Aviation takes over VLM routes
VLM Airlines announced they were discontinuing the Hamburg to Antwerp route, and so the service has now been taken over by French regional airline, Chalair Aviation.
---
History
In 2008, VLM was acquired by Air France-VLM via Cityjet and later in 2014, VLM Airlines was sold by the INTRO Group into the management of VLM Airlines.
With ten years of consecutive profit, a record never beaten in Belgian aviation history, and a route network that stretched from Amsterdam, Antwerp, Rotterdam, and Luxembourg to London, Manchester, and Jersey, the airline at its peak was operating over 500 flights a week from London City Airport making it the No.1 airline operating from the airport.
During this period VLM also won many awards, among them the highly prestigious Regional Airline of the Year. By 2010 the combined airline was carrying over 1 million passengers a year
VLM Operates Fokker 50 aircraft offers an excellent combination of comfort and reliability. The aircraft's design makes it ideal for VLM charter operations as, due to its superior performance and low noise, it can land at smaller airports which are often located closer to city centres. The cabin configuration allows room for a maximum of 50 passengers and offers ample legroom and leather seating.
---
Route Map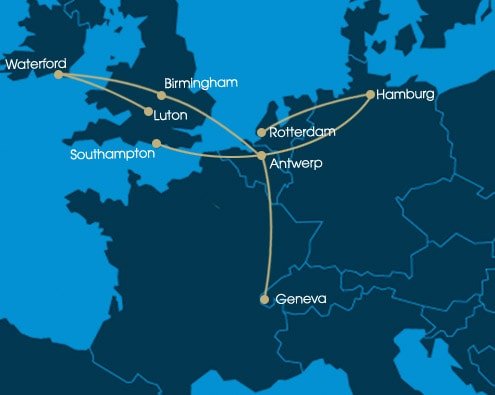 Popular Routes
London City

Antwerp
Antwerp

London City

---
The Fleet
---
Book flights with VLM Airlines
Make a VLM Airlines reservation and find some amazing deals with discounted VLM Airlines tickets at Alternative Airlines. VLM Airlines flies to many destinations worldwide, offering a cost effective and safe service to all its passengers. Let Alternative Airlines help find you cheap VLM Airlines tickets and make international and domestic flight reservations on VLM Airlines today.
Browse the most popular VLM Airlines flight routes to cities worldwide. Alternative Airlines can help you make reservations on VLM Airlines for international flights to lots of destinations. Use the following list of routes to help you plan your next flight. Book VLM Airlines flights on Alternative Airlines to save big! Alternative Airlines is an online travel agency, specialising in booking lesser known airlines and remote destinations.
---
Pay your way
Pay for flights in USD or 70 other currencies of your choice with Alternative Airlines.
Choose from over 18 payment methods, including PayPal, Apple Pay , Fly now Pay later and Alipay
Check out all of our payment methods here.
---
About Alternative Airlines
Alternative Airlines is an online flight search complete with customer service specialising in booking flights on lesser known airlines and to remote destinations. We offer you a wider choice of airlines supported by a team of customer service and travel specialists for help and advice on your travel plans. We specialise in finding the best available fares on the widest range of airlines and making them available to you online, with prices in the currency of your choice.
Alternative Airlines handles all your travel arrangements and payments, complete with ticketed confirmation. We do not direct you to other websites or service providers. We help you through the process. This is what makes us Alternative Airlines. Check out our revies on Feefo or our reviews page. If you want to know a little bit more about us, read our blog for our alternative travel secrets and stories.
Browse for flights, find some amazing deals, make a reservation and pay in the currency of your choice today with Alternative Airlines. Let Alternative Airlines help find you the best prices and make international and domestic flight reservations with us today.