Jetstar Reservations with Alternative Airlines
Make a Booking and Find Some Amazing Deals
---
About
Jetstar Airways, also known as Jetstar, is an Australian low-cost airline, based in Melbourne, Australia. The airline is an owned subsidiary of Qantas and is part of Qantas's two brand strategy of having Qantas Airways for the premium full-service market and Jetstar for the low-cost market. Qantas, through the Jetstar Group, also has stakes in sister airlines Jetstar Asia Airways, Jetstar Pacific Airlines and Jetstar Japan.
Looking to book Jetstar flights? Alternative Airlines is a flight search and booking website. You can use the search bar at the top of the page to start searching for Jetstar flights today including Jetstar last minute flights. Book any Jetstar flight and book now, pay later using one of our payment plan options.
---
Routes and Destinations
Jetstar Airways currently operates an extensive domestic network as well as regional and international services from its main base at Melbourne Airport. These destinations include; Adelaide, Brisbane, Cairns, Darwin, Gold Coast, Melbourne, Newcastle (New South Wales), Perth, Sunshine Coast and Sydney. JetStar's International destinations include; Auckland, Bangkok, Ho Chi Minh City, Honolulu, Jakarta, Kuala Lumpur, Manila, Nadi, Phuket, Singapore and Tokyo.
Domestic Destinations
Why not book a Jetstar multi-city flight and be travelling to multiple destinations across Australia?
| STATE | CITY | AIRPORT | IATA |
| --- | --- | --- | --- |
| South Australia | Adelaide | Adelaide Airport | ADL |
| Northern Territory | Ayers Rock | Ayers Rock Airport | AYQ |
| New South Wales | Ballina | Ballina Airport | BNK |
| Queensland | Brisbane | Brisbane Airport | BNE |
| Western Australia | Busselton | Busselton Margaret River Airport | BQB |
| Queensland | Cairns | Cairns Airport | CNS |
| Northern Territory | Darwin | Darwin International Airport | DRW |
| Queensland | Gold Coast | Gold Coast Airport | OOL |
| Queensland | Hamilton Island | Great Barrier Reef Airport | HTI |
| Tasmania | Hobart | Hobart Airport | HBA |
| Tasmania | Launceston | Launceston Airport | LST |
| Queensland | Mackay | Mackay Airport | MKY |
| Victoria | Melbourne/Geelong | Avalon Airport | AVV |
| Victoria | Melbourne | Melbourne Airport | MEL |
| New South Wales | Newcastle | Newcastle Airport | NTL |
| Western Australia | Perth | Perth Airport | PER |
| Queensland | Proserpine | Whitsunday Coast Airport | PPP |
| Queensland | Sunshine Coast | Sunshine Coast Airport | MCY |
| New South Wales | Sydney | Sydney Airport | SYD |
| Queensland | Townsville | Townsville Airport | TSV |
International Destinations
| COUNTRY | CITY | AIRPORT | IATA |
| --- | --- | --- | --- |
| Cook Islands | Rarotonga | Rarotonga International Airport | RAR |
| Fiji | Nadi | Nadi International Airport | NAN |
| Indonesia | Denpasar | Ngurah Rai International Airport | DPS |
| Japan | Osaka | Kansai International Airport | KIX |
| Japan | Tokyo | Narita International Airport | NRT |
| Malaysia | Kuala Lumpur | Kuala Lumpur International Airport | KUL |
| New Zealand | Auckland | Auckland Airport | AKL |
| New Zealand | Christchurch | Christchurch Airport | CHC |
| New Zealand | Dunedin | Dunedin Airport | DUD |
| New Zealand | Queenstown | Queenstown Airport | ZQN |
| New Zealand | Wellington | Wellington Airport | WLG |
| Singapore | Singapore | Singapore Changi Airport | SIN |
| South Korea | Seoul | Incheon International Airport | ICN |
| Thailand | Bangkok | Suvarnabhumi Airport | BKK |
| Thailand | Phuket | Phuket International Airport | HKT |
| United States | Honolulu | Daniel K. Inouye International Airport | HNL |
| Vietnam | Ho Chi Minh City | Tan Son Nhat International Airport | SGN |
---
Fleet
Jetstar Airways fleet currently consists of 70 aircraft including Airbus A320's/ A321's and Boeing 787-800 series. The airline previously operated using Airbus A330's and Boeing 717's however they modernised their fleet and changed. Jetstar Airways use their Airbus aircraft only on their domestic routes offering one class, buy on board service. Their Boeing 787's are used for their international sectors offering a two-class service. Business class is fitted with 21 leather premium class seats in a 2-3-2 configuration.
---
Baggage
Carry-on Baggage
The carry-on baggage allowance for JetStar flights is two items with a maximum weight of 7kg. For additional carry-on weight, customers can purchase a Flexibiz bundle, Business Class Fare or a +3kg top-up for an additional fee.
Checked Baggage
Checked JetStar baggage can be purchased for an additional fee. Passengers can purchase bags from 15kg to 40kg weight. In general, it is cheaper to purchase the baggage online than at the airport.
---
Check-in
Online Check-In
For domestic Jetstar flights in Australia and New Zealand, JetStar online check-in opens 28 days before your flight and closes one hour before departure. For domestic flights with Jetstar Japan, online check-in opens two days before your flight and closes one hour before. Online check-in is not available for international flights to or from Australia and New Zealand.
Airport Check-In
For JetStar customers flying internationally from or to Australia and New Zealand, check-in takes place at the airport. Please arrive in enough time to allow sufficient time for JetStar check-in.
---
Business Class
Jetstar offers a Business Class service on its B787 aircraft.
Jetstar Business Class Facilities
Jetstar's Business Class service includes two carry-on bags, in-flight meals and refreshments. Your amenity pack including socks, eye masks, toothbrushes and pens will also help to make your flight as stress-free as possible. Not forgetting the access to up to 64 hours of world-class entertainment. This service is currently inclusive of all meals and beverages, in-flight entertainment and includes an increased baggage allowance of 30kg.
What are Jetstar Business Class seats like?
Your Jetstar Business Class seats offers in-seat power and USB sockets so you never lose power during your flight. Business Class passengers are also provided with wider seats that recline for your comfort.
---
Premium Economy Class
Jetstar Premium Economy Class Facilities
Jetstar Premium Economy offers extra baggage allowance, lounge access, increased rewards points for frequent flyer program members, and even greater flexibility around changes to your booking.
What are Jetstar Premium Economy Class seats like?
Jetstar offers extra legroom and upfront seat selection.
---
Economy Class
Enjoy a warm menu on all flights, entertainment system (international flights) and 7kg carry-on baggage.
---
Inflight Entertainment
Help pass the time with JetStar's excellent in-flight entertainment service. Find movies, TV shows, games and an eclectic music library on international flights on board the airline's 787 Dreamliners. For Economy Class passengers, inflight entertainment can be pre-purchased by clicking on the "Manage Booking" tab on the JetStar website. Business Class passengers are given complimentary inflight entertainment as well as noise cancelling headphones.
JetStar Movies
JetStar offers more than 40 movies on board its 787 Dreamliners. Choose from new releases as well as kids classics. JetStar offers a range of comedies, family movies and action movies so that everyone can find something they enjoy on board their JetStar flight.
JetStar TV
JetStar provides passengers with class sitcoms like Modern Family, as well a range of animated shows to keep the kids entertained during the flight.
---
Food
JetStar Meal Options
Depending on the fare purchased, some passengers may have an in-flight meal deal, or voucher to exchange for a meal on board included. In addition, passengers can choose to pre-purchase meals, or simply purchase on board. The variety of food will depend on the route travelling and size of the aircraft, however they types of food available are often snacks such as crisps, confectionery or nuts, meals such as pasta or rice dishes, light meals such as sandwiches, soup, pizza or croissants.
Business Class fares include a three-course meal, alongside snacks and continental breakfasts. There will be a selection of meals to choose from, including western, asian and vegetarian dishes. The menus for your selected flights can be viewed on the JetStar website.
Special Dietary Requirements
Passenger's are advised to pre-purchase their meals before travelling to avoid disappointment of items running out. This allows passengers to carefully select food items that suit their dietary needs. For passengers where a meal is included, they are advised to contact the airline to see how they can accommodate any specific dietary requirements. Passengers travelling with infants should bring their own food on board, as Jetstar do not carry any baby meals on board.
Drinks & Alcohol
Drinks are available from the in-flight menu, and include hot and cold drinks available for purchase and also alcoholic drinks such as wine or beer on some flights. Business class meals include complimentary drinks, including hot and cold soft drinks as well as alcoholic beverages such as beer and wine.
---
Flights in English
At Alternative Airlines we hope you have the best booking experience possible. That's why we offer you Jetstar flights in English. Avoid confusing translations and book your Jetstar flights with Alternative Airlines today. Our excellent customer service team is also here to help you with your booking from 8am to 8pm UK time.
---
Pay with PayPal
Use PayPal when booking your JetStar flights with Alternative Airlines. Use an available flight promo code to get a discounted Jetstar booking too! You can also pay with Poli when searching in AUD or NZD.
---
Airline Alliance
Jetstar Airways has teamed up with a number of airlines and offers many benefits under codeshare agreements. These airlines include: American Airlines, Emirates, Finnair, Japan Airlines, Jeju Air, Jin Air, LATAM Chile, LOT Polish Airlines, and Qantas.
---
Frequent Flyer Program
Jetstar Airways offer their passengers a variety of Frequent Flyer programs. Being a subsidiary of Qantas, the airline uses the Qantas Frequent Flyer Program to allow passengers to collect points. They do however also allow programs with the following airlines; Emirates, JAL and Vietnam Airlines, to be used to collect points.
---
Route Map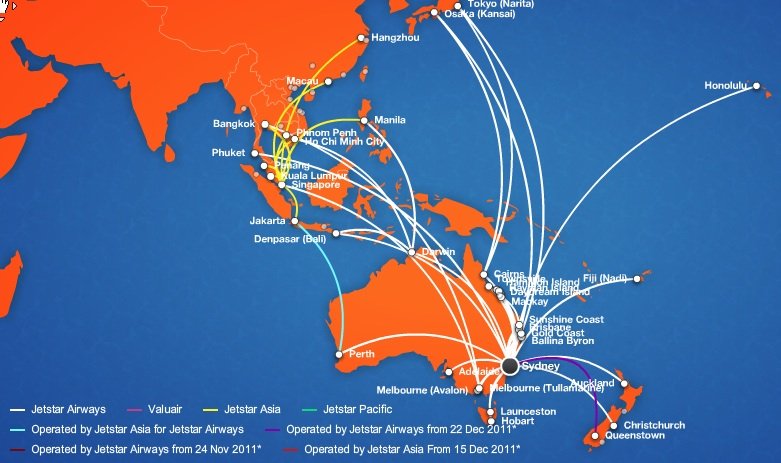 ---
Popular Routes
Sydney

Perth
Sydney

Bali
Singapore

Bali
Auckland

Sydney
Melbourne

Auckland
Singapore

Darwin
---
Hub Airport
Melbourne Airport
JetStar is based at Melbourne Airport, also known as Tullamarine Airport, which is the primary airport serving the city of Melbourne. It was built to replace the nearby Essendon Airport. Airlines that fly from and to Melbourne Airport include Garuda Indonesia, Qantas, Air Asia and Vietnam Airlines.
---
Alternative Airlines to Jetstar
Please click on the logos below to find out more about airlines that fly similar routes to JetStar: