Search & Buy Jetstar Flights
Let's fly!

Select your payment method to view total prices including any payment fees:
Airlines will always try to sit children with their parents (subject to check-in)
Some airlines will allow travel for unaccompanied minors. Please email us to check.
The fare is based on the child's age on the date of travel.
More detailed information can be found here Traveling with children
Most airlines will let infants travel with their parent(s) for free. However some airlines will charge up to 10% of the adult ticket price. Click on 'Price Breakdown' to find out more.
If you are pregnant, but due before the flight departure date, please contact us once your baby is born and has a name. We can then add him/her to your ticket.
Infants will not be given a seat. The airlines expect parents to travel with them on their lap.
Airlines regard infants as being under 24 months old.
The fare is based on the child's age on the date of travel.
More detailed information can be found here Traveling with children

Buy
Jetstar

Flights

JetStar Reservations with Alternative Airlines
Make a JetStar Booking and Find Some Amazing Deals
---
About JetStar
Jetstar Airways Pty Ltd, trading as Jetstar, is an Australian low-cost airline, headquartered in Melbourne, Australia. The airline is a wholly owned subsidiary of Qantas, having been created in response to the threat posed by low-cost airline Virgin Blue. Jetstar is part of Qantas' two brand strategy of having Qantas Airways for the premium full-service market and Jetstar for the low-cost market. Qantas, through the Jetstar Group, also has stakes in sister airlines Jetstar Asia Airways, Jetstar Pacific Airlines and Jetstar Japan.
---
JetStar Routes and Destinations
Jetstar Airways currently operates an extensive domestic network as well as regional and international services from its main base at Melbourne Airport. JetStar's domestic destinations include; Adelaide, Brisbane, Cairns, Darwin, Gold Coast, Melbourne, Newcastle (New South Wales), Perth, Sunshine Coast and Sydney. JetStar's International destinations include; Auckland, Bangkok, Beijing, Ho Chi Minh City, Honolulu, Jakarta, Kuala Lumpur, Manila, Nadi, Phuket, Singapore and Tokyo.
---
JetStar Fleet
Jetstar Airways fleet currently consists of 70 aircraft including Airbus A320's/ A321's and Boeing 787-800 series. The airline previously operated using Airbus A330's and Boeing 717's however they modernised their fleet and changed. Jetstar Airways use their Airbus aircraft only on their domestic routes offering one class, buy on board service. Their Boeing 787's are used for their international sectors offering a two-class service. Business class is fitted with 21 leather premium class seats in a 2-3-2 configuration. This service is currently inclusive of all meals and beverages, in-flight entertainment and includes an increased baggage allowance of 30kg.
---
JetStar Baggage
Carry-on Baggage
The carry-on baggage allowance for JetStar flights is two items with a maximum weight of 7kg. For additional carry-on weight, customers can purchase a Flexibiz bundle, Business Class Fare or a +3kg top-up for an additional fee.
Checked Baggage
Checked JetStar baggage can be purchased for an additional fee. Passengers can purchase bags from 15kg to 40kg weight. In general, it is cheaper to purchase the baggage online than at the airport.
---
JetStar Check-in
Online Check-In
For domestic Jetstar flights in Australia and New Zealand, JetStaronline check-in opens 28 days before your flight and closes one hour before departure. For domestic flights with Jetstar Japan, online check-in opens two days before your flight and closes one hour before. Online check-in is not available for international flights to or from Australia and New Zealand.
Airport Check-In
For JetStar customers flying internationally from or to Australia and New Zealand, check-in takes place at the airport. Please arrive in enough time to allow sufficient time for JetStar check-in.
---
JetStar Business Class
Jetstar offers a Business Class service on its B787 aircraft.
JetStar Business Class Facilities
Jetstar's Business Class service includes two carry-on bags, 30 kg of checked baggage as well as in-flight meals and refreshments. Your amenitiy pack including socks, eye masks, toothbrushes and pens will also help to make your flight as stress-free as possible. Not forgetting the access to up to 64 hours of world-class entertainment.
What are Jetstar Business Class seats like?
Your Jetstar Business Class seats offers in-seat power and USB sockets so you never lose power during your flight. Business Class passengers are also provided with wider seats that recline for your comfort.
---
JetStar Inflight Entertainment
Help pass the time with JetStar's excellent in-flight entertainment service. Find movies, TV shows, games and an eclectic music library on international flights on board the airline's 787 Dreamliners. For Economy Class passengers, inflight entertainment can be pre-purchased by clicking on the "Manage Booking" tab on the JetStar website. Business Class passengers are given complimentary inflight entertainment as well as noise cancelling headphones.
JetStar Movies
JetStar offers more than 40 movies on board its 787 Dreamliners. Choose from new releases as well as kids classics. JetStar offers a range of comedies, family movies and action movies so that everyone can find something they enjoy on board their JetStar flight.
JetStar TV
JetStar provides passengers with class sitcoms like Modern Family, as well a range of animated shows to keep the kids entertained during the flight.
---
JetStar Food
JetStar Meal Options
Depending on the fare purchased, some passengers may have an in-flight meal deal, or voucher to exchange for a meal on board included. In addition, passengers can choose to pre-purchase meals, or simply purchase on board. The variety of food will depend on the route travelling and size of the aircraft, however they types of food available are often snacks such as crisps, confectionery or nuts, meals such as pasta or rice dishes, light meals such as sandwiches, soup, pizza or croissants.
Business Class fares include a three-course meal, alongside snacks and continental breakfasts. There will be a selection of meals to choose from, including western, asian and vegetarian dishes. The menus for your selected flights can be viewed on the JetStar website.
JetStar Special Dietary Requirements
Passenger's are advised to pre-purchase their meals before travelling to avoid disappointment of items running out. This allows passengers to carefully select food items that suit their dietary needs. For passengers where a meal is included, they are advised to contact the airline to see how they can accommodate any specific dietary requirements. Passengers travelling with infants should bring their own food on board, as Jetstar do not carry any baby meals on board.
JetStar Drinks & Alcohol
Drinks are available from the in-flight menu, and include hot and cold drinks available for purchase and also alcoholic drinks such as wine or beer on some flights. Business class meals include complimentary drinks, including hot and cold soft drinks as well as alcoholic beverages such as beer and wine.
---
Book JetStar Flights in English
At Alternative Airlines we hope you have the best booking experience possible. That's why we offer you JetStar flights in English. Avoid confusing translations and book your JetStar flights with Alternative Airlines today. Our excellent customer service team is also here to help you with your booking from 8am to 8pm UK time.
---
JetStar Frequent Flyer Program
Jetstar Airways is currently not part of any major global airline alliances however they do offer their passengers a variety of Frequent Flyer programs. Jetstar, being a wholly owned subsidiary of Qantas use the Qantas Frequent Flyer Program to allow passengers to collect points. They do however also allow programs with the following airlines; Emirates, JAL and Vietnam Airlines, to be used to collect points.
---
JetStar Route Map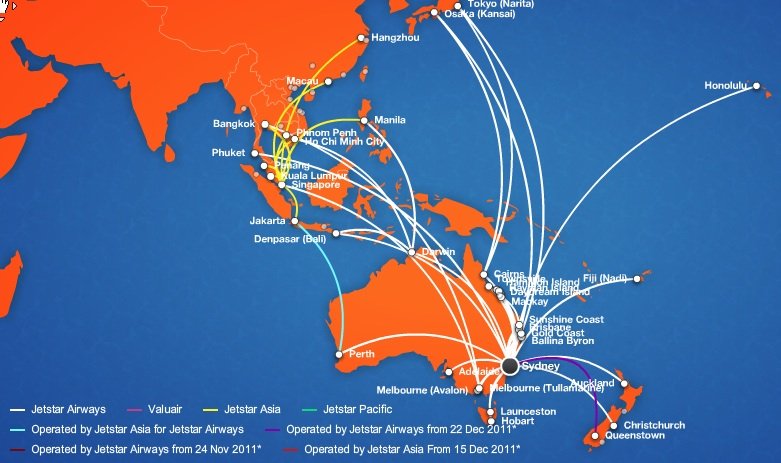 ---
JetStar Popular Routes
Sydney

Perth
Sydney

Bali
Singapore

Bali
Auckland

Sydney
Melbourne

Auckland
Singapore

Darwin
---
JetStar Hub Airport
Melbourne Airport
JetStar Japan is based at Melbourne Airport, also known as Tullamarine Airport, which is the primary airport serving the city of Melbourne. It is the second busiest airport in Australia. It was opened in 1970 to replace the nearby Essendon Airport. Melbourne Airport is the sole international airport of the four airports serving the Melbourne metropolitan area. Airlines that fly from and to Melbourne Airport include Garuda Indonesia, Qantas, Air Asia and Vietnam Airlines.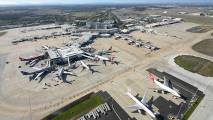 ---
Alternative Airlines to JetStar
Please click on the logos below to find out more about airlines that fly similar routes to JetStar:
---
JetStar News
29th June 2018
Jetstar rearrange their schedule due to Mt Agung explosion
Jetstar have done an amazing job when faced with a massive environmental obstacle this week. Bali's Mt Agung has been spewing out ash in a series of vollcanic activities. As a result of this, Denpasar airport has been closed. Unfortiunately, a handle of Jetstar flights have had to be cancelled. The airline initially scrapped flights to the tourist hotspot from Melbourne, Perth and Brisbane on Friday morning, while its flights leaving Bali - bound for the three capital cities and Cairns - were also cancelled. Now though, Jetstar have managed to turn it around, stating that they hope to get passengers on their way from as early as this evening. Well done Jetstar!
23rd May 2018
Jetstar named second cheapest airline in the world
Jetstar Airways was recently named the world's cheapest airline for domestic routes. After Global Flight Pricing released a report, it shows that the Australian airline offers the second cheapest domestic flights in the world based on the average price of tickets per km. The airline was placed above Indonesia AirAsia but behind Tigerair Australia
The report also shows that airlines from the countries of Australia, Indonesia, and India dominate the cheapest domestic flights in the world for economy class tickets. Here is a list of the top 10 cheapest airlines in the world for domestic routes, based on the average price per km:
1. Tigerair Australia
2. Jetstar
3. Indonesia AirAsia
4. JetSMART
5. Indonesia AirAsia Extra
6. Pobeda Airlines LLC
7. Citilink Indonesia
8. Batik Air
9. Lion Mentari Airlines
10. Sky Airline
24th April 2018
The Jetstar community partners with 99.co property site company
Jetstar Pacific parent company, JetStar, has partnered with the Singapore-based property site, 99.co, to launch the first of its kind property themed airplane, as part of a campaign to cement its prowess across the two markets. The plane is co-sponsored by Indonesian property developer Adhi Persada Properti and willmainly be flying the Singapore-Jakarta route for the next 12 months. Launched in 2015 in Singapore, the three-year-old listing portal has gained rapid popularity with consumers with its user centric design and user-first search algorithm.
99.co is currently the largest property portal in both countries, listing over 1.2 million active properties on their site. 99.co was launched after the company acquired urbanIndo.com. According to Jetstar Asia's head of commercial Francis Loi, this tie-in with 99.co is a very exciting development for the airline.
8th March 2018
Jetstar Pacific increases number of flights to Bangkok
Jetstar Pacific, one of the low cost carrier (LCC) in the Jetstar family, has announced it will increase the frequency of its flights between Ho Chi Minh City and Bangkok (Thailand) to seven round-trip per week to keep up with increasing travel demand during the summer of this year. The additional service will begin servicing passengers between May 20 and August 31, the carrier said on March 23. Tickets will be sold from 200,000 VND per leg, excluding tax and fees, on website www.jetstar.com and at ticket agents nationwide.

This is followed the carrier's operations on the Hanoi – Quy Nhon (Binh Dinh province) air route with five flights per week, as part of the its plan to add more services to famous tourist attractions in summer holiday.Summer is always a busy time for the aviation sector. Increasing flight frequency between the southern hub and Bangkok not only bolsters travel between Vietnam and Thailand but also creates a flight network among Vietnam, Thailand and Singapore.
13th September 2017
Jetstar announces 1Q18 Melbourne – Denpasar Preliminary frequency changes
Jetstar Airways recently in the OAG Schedules Analyser and GDS filed proposed additional frequency for Melbourne – Denpasar route, from 02FEB18 to 24MAR18. Proposed new frequency sees the airline operating 14 weekly flights, instead of 10. Note additional service (JQ035/036 Day x146) is currently not available for booking.

JQ043 MEL1005 – 1255DPS 788 D
JQ035 MEL1855 – 2145DPS 788 D

JQ044 DPS1425 – 2300MEL 788 D
JQ036 DPS2315 – 0750+1MEL 788 D
---