Emirates Tickets and Reservations with Alternative Airlines
Book Your Emirates Flight Tickets and Find Some Amazing Deals
---
About
Emirates is one the world's largest airline and is based in Dubai, United Arab Emirates and is owned by the government of Dubai's Investment Corporation of Dubai. It is the largest airline in the Middle East, which operates over 3,300 flights per week from its hub at Dubai International Airport. The airline flies to many destinations including Dubai, Bangkok, Kuala Lumpur, London, Amman, Baghdad, Bahrain, Basra, Beirut, Cairo, Dammam, Doha.
Starting in August 2016, the airline will operate flights to Yangon in Myanmar and Hanoi, which is the second destination in Vietnam after Ho Chi Minh City.
Top tip: If you're looking for an Emirates flight between Dubai and London, visit our Buy flights London Dubai | Emirates page for more detail. You can also book multi-city flights with Emirates right here, at Alternative Airlines
---
Baggage
Carry-on Baggage
Passengers travelling in First or Business class are permitted two items of carry-on baggage; one briefcase (max 18 x 14 x 8 inches) plus either a handbag (max 22 x 15 x 8 inches) or garment bag (max 8 inches thick when folded). The weight of any item must not exceed 7kg.
Economy class passengers are permitted one item of carry-on baggage, which must not exceed 55 x 38 x 20cm, and not exceed 7kg in weight.
Checked Baggage
The airline has a baggage allowance calculator where passengers can enter their itinerary and class of travel to find out the exact allowance of their flight. This tool can be found here.
For Flights to all routes except Canada, North America and South America
Economy passengers with a 'Special' ticket are permitted 20kg of checked luggage. Economy passengers with a 'Saver' or 'Flex' ticket are allowed 30kg of checked luggage, and passengers with a 'Flex Plus' ticket are permitted 35kg of checked luggage.
Business class passengers are permitted 40kg of checked luggage.
First class passengers are permitted 50kg of checked luggage.
Passengers can check in as many pieces of baggage they like, but no individual item can exceed 32kg. In addition, the size of each bag must not exceed a combined dimension of 118 inches (length x width x height).
For Flights to/from Canada, North America and South America, and flights from Africa
Passengers in economy class can check in 2 x 23 kg bags, and passengers in first or business class can check in 2 x 32 kg bags.
---
Check-In Information
Online Check-In
The airline offers online check-in from the airline website. This service opens 48 hours before, closing 90 minutes before scheduled flight departure time.
Airport Check-In
Passengers who have not checked in for their flights online must do so at the Emirates check-in desk. The airport check-in time will vary depending on the departure airport.
---
Seat Selection
Search from available seats on your flight and make your seat selection when you make your booking. Avoid disappointment onboard and book your seat in advance to make sure you have the best in-flight experience possible. Need help booking your seat? Visit our how to book seats page.
---
Alternative Airlines
Please click on the logos below to find out more about airlines that fly similar routes:
---
Frequent Flyer Program
Emirates offers a frequent flyer program called Emirates Skywards to reward regular travellers with the airline.
Skywards is a four-tier frequent-flyer program. It is used by over 8.4 million customers.
The three primary tiers are Blue; Silver which requires 25,000 tier miles for entry; and Gold, which requires 50,000 tier miles for entry.
The Platinum tier requires 150,000 tier miles for entry.
In October 2013, the airline launched a frequent-flyer partnership with Virgin America. Members of both airlines' frequent-flyer programs will earn and redeem Skywards miles.
Emirates has similar frequent-flyer partnerships with: Alaska Airlines, easyJet, Japan Airlines, Jet Airways, JetBlue, Jetstar, Korean Air, Qantas, S7 Airlines, South African Airways, TAP Portugal, Virgin America.
---
Pets, Emotional Support Animals and Service Animals
Travelling with an animal can be stressful to find out all information on flying with either a service animal, pet, or an emotional support animal by Alternative Airlines.
---
Food
Meal Options
Emirates offer a specially crafted meal for each class and flight. Check the menu of your flight to find out what will be served on your flight by entering your flight details and class here, as the menus vary between classes, time of day and duration of flight.
Economy class passengers can choose from a menu inspired by their destination. Often will be a 3 course meal and snack, depending on the route duration and time.
The menu for business class is also inspired by the passenger's destination, with a 3 course meal and snacks included. View the menu for your flight to see the options which you can choose from.
First Class passengers can enjoy gourmet dishes in the sky, inspired by the region. Included in the 3 course meal is an appetiser, main course, side dish with freshly baked bread, a dessert and a cheese board. Passengers travelling in first class can order food to their private suite, of visit the onboard lounge to sample canapes and drinks.
Special Dietary Requirements
All meals are halal. Food allergies, contact airline before departure to arrange alternative meal, or speak to crew on board to find out more about allergens and nutrients. Read more about flying with a nut allergy here.
Passengers wishing to book a special meal such as vegan and vegetarian or to suit medical, dietary or religious requirements must book their meal or request at least 24 hours before your flight.
The following is the list of special meals that Emirates offer:
| | | | | | | |
| --- | --- | --- | --- | --- | --- | --- |
| | | | Religious Meals | | Indian Vegetarian Meal (AVML) | |
| | | | | | Vegetarian Jain Meal (VJML) | |
| | | | | | Non Vegetarian Hindu Meal (HNML) | |
| | | | | | Kosher Meal (KML) | |
| | | | Medical and Dietary Meals | | Bland Meal (BLML) | |
| | | | | | Low Salt Meal (LSML) | |
| | | | | | Diabetic Meal (DBML) | |
| | | | | | Non-Lactose Meal (NLML) | |
| | | | | | Fruit Platter (FPML) | |
| | | | | | Gluten Free Meal (GFML) | |
| | | | | | Low Cholesterol / Low Fat Mal (LFML) | |
| | | | Vegetarian Meals | | Vegan Meal (VGML) | |
| | | | | | Raw Vegetable Meal (RVML) | |
| | | | Baby and Child Meals | | Child Meal (CHML) | |
| | | | | | Baby Meal (BBML) | |
Drinks & Alcohol
Emirates offer a selection of alcoholic and non-alcoholic drinks, including spirits, cocktails, mocktails, fine wines, beers and also soft drinks, juices and hot drinks.
Economy Class passengers are given complimentary soft drinks, teas and coffee, with alcoholic beverages available to purchase.
Business Class and First Class passengers are offered complimentary champagne, wine, spirits, beer and soft drinks which are served with their meal, with additional drinks available to order to their suite or at the on board lounge.
---
WIFI
Browse the web, check your emails and scroll through your social media platforms with WIFI on board flights. Connect your laptop, tablet, mobile or any other electronic device to the WIFI network and enjoy WIFI on flights whenever you fly. Emirates give all passengers 20MB of free data for the first two hours of service on all flights.
WIFI Price
Emirates give all passengers 20MB of free WIFI for the first two hours of service on most flights. After that, passengers can purchase 150MB of data for $9.99 USD and 500MB of data for $15.99 USD. If you're a Skywards member, you will receive discounts on inflight WIFI.
---
First Class
Your First Class experience all starts with a chauffeur-driven ride to the airport in their flagships Mercedes Benz-S class.
First Class Facilities
At the First Class lounge in Dubai, passengers can enjoy a cigar bar as well as choose from an excellent range of wines from the lounge's cellar. On board the aircraft, you can sit back and relax while enjoying entertainment on your personal widescreen TV screen. Choose from thousands of movies and even watch live sport. It's easy to keep up-to-date with life on the ground with free WI-FI. You can also choose from an excellent range of drinks from the onboard lounge.
What are First Class Seats Like?
Passengers can enjoy maximum privacy by simply touching the close doors buttons on their control pad. Allowing them to pass the time on their flight in maximum privacy. If you need to refresh while on your flight, you can take a shower in the onboard shower spa.
---
Business Class
Emirates Business Class allows passengers maximum comfort, a delicious range of foods and world-class entertainment. You'll arrive inspired after flying business class.
Business Class Facilities
The Business Class experience, for passengers flying on A380 and Boeing 777 aircraft from Dubai, begins with a chauffeur-driven ride to the airport. On arrival, passengers will enjoy a swift check-in and access to the Emirates lounge and champagne bar. Once on board, passengers have access to Emirate's world-class entertainment system and their own personal mini bar. Passengers can enjoy live sports entertainment as well as catching up on work with the complimentary onboard WIFI.
Business Class Special Fare
Emirates has introduced a new special fare option for its business class passengers. This special business class fare will be a discounted fare, through which passengers will still be able to enjoy the award-winning services and products on-board emirates business class, including a generous baggage allowance of 40 kg, priority boarding and complimentary seat selection. but won't have access to the following services and rewards:
No Chauffer-drive service (CDS)
No lounge access (unless allowed by a member's skywards tier benefits)
No upgrades to first class will be permitted against miles
Restricted mileage earning
No front end discounts will apply to this fare class.
This is an excellent cost saving option for those customers who want to feel the luxurious business class experience of Emirates without the extra add-ons stated above.
What are Business Class Seats Like?
On board the A380 and Boeing 777 planes, Business Class passengers are given maximum privacy and ample legroom. When it's time to sleep, your seat will fully recline to create a fully-flat bed. You'll arrive at your destination relaxed and ready to start the day.
---
Economy Class
Economy class is a comfortable and affordable class for everyone. Emirates offers Economy classes in two segments, Special or Saver fare.
Economy Class Facilities
Economy Class facilities include inflight entertainment for both adults and young flyers, WI-FI and in-flight meal.
The in-flight entertainment is for both young travellers and adult so lots to watch and enjoy.
The meal in Economy class is made by globally renowned chefs with flavours based on the region you are either flying to or from.
Complimentary drink is included or choose to have champagne for a fee.
Economy Class Seats
The Economy Class seats on either Special or Saver fare can be booked online with Alternative Airlines or when check-in opens. We will do our utmost to ensure that Infants and children are sat together with families. Economy seats for Emirates have been ranked as one of the best for economy class, with their comfort and spacious qualities.
---
Route Map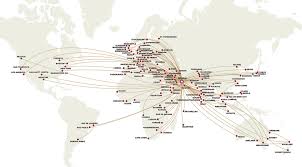 Popular routes
London

Dubai
Dubai

Bahgdad
Dubai

Beijing
Shanghai

Dubai
Bangkok

London
London

Kuala Lumpur
---
The Fleet
---
Hub Airport
Dubai International Airport
Dubai International Airport is the primary airport serving Dubai in the United Arab Emirates and is the world's busiest airport by international passenger traffic. Dubai Airport is the hub airport for Emirates, Flydubai and Qantas. Dubai International Airport has two runaways and can handle nearly 75 million passengers every year. Many airlines fly to and from Dubai International Airport including Iraqi Airways, Kenya Airways, Korean Air, Kuwait Airways, Libyan Airlines, JetLite, Lufthansa, Norwegian Air Shuttle, Oman Air and many others.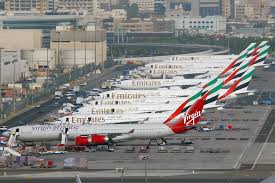 FAQ's
Where does Emirates fly to?
Emirates fly to over 150 destinations around 80 different countries. It is known for being the largest airline in the Middle East and the largest airline in terms of fleet size and passengers carried. It operates over 3,500 flights per week from the Dubai International Airport, Terminal 3.
Emirates airlines is known for its luxurious amenities and facilities. Ranging from its specialist cuisines, multi-lingual cabin crew and in-flight entertainment giving its customers an unforgettable experience.
Emirates operates 269 aircraft and is the world's largest operator of the Airbus A380 and the Boeing 777. The Airbus A380 features private suites and shower spa's in first-class for a calming and relaxing experience.
Who owns Emirates airlines?
The Emirates Group, which is owned by the Dubai Government under the Corporation of Dubai, was founded in 1985 by Maurice Flanagan. It''s headquarters is based in Garhoud, Dubai, United Arab Emirates, by the Dubai International Airport. The Emirates Group has developed a diverse and strong business portfolio, offering a range of segments in the transport and tourism industry.
Are there any movies on Emirates airlines?
Emirates offers a range of in-flight entertainment for its customers. You can choose up to 5,000 channels of movies, TV shows, music and games in various different languages. Before flying with Emirates you can see what movies and TV shows will be showing on flight and you can even create your own personalised ice playlist on the Emirates App so you're ready to binge-watch when hopping on flight.
Can I book Emirates last minute flights?
Yes! You can book Emirates last minute flights through Alternative Airlines for a smooth and easy booking process. Book Emirates last minute flights using the search form at the top of the page. Select the dates, departure and arrival destination, number of passengers and cabin class. Then use the airline filter and select the airline you wish to fly with e.g. Emirates . Confirm selection and head to checkout to secure your booking.
Are Emirates flights refundable?
Yes - if you cancel your flight within 24 hours of when you first made the booking, you'll be eligible for a full refund and only pay a minor cancellation fee. To find out more, read our refundable Emirates flights guide.