Etihad Airways Reservations with Alternative Airlines
Make an Etihad Airways Booking and Find Some Amazing Deals
---
About Etihad Airways
Etihad Airways is the flag carrier of the United Arab Emirates with its headquarters in Abu Dhabi, United Arab Emirates. It was first established in 2003, with the vision to become the best airline in the world and connect Abu Dhabi to the rest of the world.
Etihad Airways has codeshare agreements with many airlines including Aegean Airlines, Kenya Airways, KLM, South African Airways, SriLankan Airlines, Royal Air Maroc, Middle East Airlines, Asiana Airlines and many others.
Etihad Airways flies brand new, custom-designed aircraft on all routes. The airline offers outstanding guest hospitality with over 600 hours of in-flight entertainment and competitive fares. Etihad Airways business class lounge is situated opposite the gates that are most frequently used by Etihad. Inside the lounge, you can relax and enjoy treatments from their six senses spa and also enjoy 5-star dining supported by their open kitchen. A prayer room, a modern business centre and full washroom facilities are available.
Etihad Airways had a subsidiary, Etihad Regional which had services in and around Europe until 2017.
---
Destinations
Etihad Airways flies to many destinations around the world, including Brisbane, Melbourne, Sydney, Dhaka, Minks, Sofia, Toronto, Beijing, Chengdu, Larnaca, Cairo, Paris, Dusseldorf, Munich, Athens, Hong Kong, Bangalore, Dammam, Jeddah, Belgrade and many others.
---
Baggage
Carry-on Baggage
Passengers flying on Etihad Airways in Economy class are allowed to bring one item of carry-on baggage that can't weigh more than 7kg. Passengers flying in Business Class on Etihad Airways can bring two pieces of carry-on baggage that must not be heavier than the combined weight of 12kg. All carry-on baggage must fit within the dimensions of 50 x 40 x 25cm, regardless of which class you're flying in.
In addition, passengers are allowed one personal item, weighing a maximum of 5kg. This item must not exceed the dimensions 50 x 40 x 25cm.
Checked Baggage
If you're flying to or from Canada and the USA on Etihad Airways, your checked baggage must fit within the dimensions of 50 x 70 x 38 cm. For all other destinations, your baggage must fit within the dimensions 45 x 72 x 90 cm. No single item of baggage can exceed the weight of 32kg.
The weight that passengers are allowed is dependent on the route travelling and the fare purchased. Check this link to see the allocated baggage allowance for your flight, by clicking on your route travelling and looking at your fare.
---
Check-In Information
Online Check-In
To check-in for your Etihad Airways flight, please visit our online check-in page and click on the Etihad logo. Online check-in with Etihad Airways is available from 2 days before your flight up until 1 hour before your flight. Just enter your last name and booking reference or ticket number on the Etihad Airways check-in page to access your booking and check-in online. You can either print your boarding pass or download it to your mobile.
Airport Check-In
If you're checking in at the airport, please make sure you allow plenty of time to check-in. Etihad Airways check-in desks open no later than three hours before flight departure time and often close one hour before flight departure time for economy passengers, and often 45 minutes before departure for first and business class passengers. Please be aware that these are general rules and passengers should click here to see the opening and closing times of the check-in desks to ensure they do not miss check-in.
---
In-flight Entertainment
Etihad Airways gives passengers big-screen entertainment on board their flight.
TV
Find top-rated dramas and must-see comedies. Find lifestyle, sports programs and documentaries with Etihad Airways.
Movies
With Etihad Airways you can enjoy the latest blockbusters as well as timeless classics. Hollywood films are also provided in Arabic, European, Indian and Asian classics so you can enjoy films in multiple languages.
---
Food
Etihad Airways Meal Options
Passengers in Economy Class can purchase food items, such as crisps, sweet treat boxes and other snacks on board their Etihad flight. Passengers in Business Class enjoy menus inspired by upmarket bistros, and can dine at a time which suits them. Business class passengers can view the menu before flying via the Etihad website. First class passengers experience a culinary delight, with inflight chefs creating individual experiences for each passenger, with choices from The Grill menu, the a la carte menu, including healthy and traditional Emirati dishes.
Etihad Airways Special Dietary Requirements
For passengers with special dietary requirements, there is a selection of special meals that can be ordered for their in-flight meals, at least 24 hours in advance. All meals are prepared in accordance with Halal requirements, making them suitable for Muslims. The available meals to pre-order are as follows:
| | | | | | | |
| --- | --- | --- | --- | --- | --- | --- |
| | | | Religious Meals | | Hindu Meal (Non-vegetarian) Meal | |
| | | | | | Kosher Meal | |
| | | | | | Vegetarian Jain Meal | |
| | | | | | Vegetarian Meal | |
| | | | Dietary Meal | | Asian Vegetarian Meal | |
| | | | | | Bland Meal | |
| | | | | | Diabetic Meal | |
| | | | | | Fruit Platter Meal | |
| | | | | | Gluten Free Meal | |
| | | | | | Seafood Meal | |
| | | | | | Vegetarian Lacto-Ovo Meal | |
| | | | | | Low calorie Meal | |
| | | | | | Low fat/cholesterol Meal | |
| | | | | | Low sodium Meal | |
| | | | | | Low lactose Meal | |
| | | | | | Raw vegetable Meal | |
| | | | | | Vegetarian Oriental Meal | |
| | | | Childrens Meal | | Baby Meal | |
| | | | | | Child Meal | |
Drinks & Alcohol
There is a complimentary bar service for passengers, including beers, wines, spirits and soft drinks. Additional drinks such as champagne, hot chocolate and cocktails can be purchased on board.
---
Economy Class
With full-size blankets, pillows and smart seats, Etihad Economy Class is a comfortable way to fly.
Economy Class Facilities
Pillows and blankets are included in Economy Class. On long-haul flights, you can choose to buy a Christian Lacroix sleepwear for a USD 35 or his and hers amenity kits for USD 22. Dental kits and eye-masks are free and available on request.
In-flight entertainment is available on either 11 inch touch-screen or 10.6 inch-screen TV depending on whether you choose an Economy Smart Seat or Economy Seat). Boutique Magazines are also available for economy class passengers.
Buy items onboard and complimentary bar service of alcoholic and non-alcoholic beverages.
Etihad Airways Economy Class Seats
Etihad have redesigned their Economy Class seats to provide maximum comfort.
Choose from Economy Seat or Economy Smart seats on the A380s and 787 Dreamliners with tv screens for added entertainment included.
You can choose a preferred seat, to have a standard seat, neighbour-fee or have extra legroom.
---
Premium Economy
Enjoy Etihad Airways Premium Economy with 'Economy Space' and 'Economy Neighbour-Free'.
Premium Economy Facilities
The facilities in Economy Space and Economy Neighbour-Free are similar to those found in Economy Class. An overnight package is given to those on long-haul flights and each seat is fitted with a personal TV screen with Etihad's inflight entertainment. Complimentary snacks and drinks are also offered on board.
Premium Economy Seats
Economy Space seats give passengers extra space, with up to 36 inches of legroom on offer.
Economy Neighbour-Free allows passengers to bid on their surrounding Economy seats, to give them up to three times more space. Passengers can bid on up to three seats surrounding their seat, if the bid is won, then these seats will remain passenger free for the duration of the flight.
---
Business Class
Business Studios are available on the A380 and 787 Dreamliners, focused on providing a luxurious experience.
Business Class Facilities
In-flight, relax with personal mood-lighting and a massage function, all provided at the touch of a button. Wi-Fi connectivity is provided, as well as touch screen/high definition TV's, with noise cancelling headphones and a Dine Anytime menu. The amenity kit includes two exclusive Colonia products. The A380 Upper Deck also provides a boutique hotel inspired Lobby space.
What are Etihad Airways Business Class Seats Like?
The Business Studio's have a unique design, with forward and rear facing seats, aimed at offering increased personal space. There are two seating options available, depending on the airplane body. On narrow body aircraft, Business Seats offer a generous recline as well as ample legroom. On wide-bodied aircraft, Business flatbed seats recline into a fully-flat bed, with full-size comforters and pillows, back support, and adjustable headrest and cushion firmness!
---
Etihad Airways First Class
Etihad Airways First Class cabin is dedicated to supplying the highest standard or inflight comfort and service, no matter whether its on short-haul or long-haul flights.
First Class Facilities
All First Class passengers are entitled to Etihad's Chauffeur service, which is available in the UAE. Passengers can also enjoy a dedicated check-in service at Terminal 3 Abu Dhabi, with a porter that will carry their bags and escort them to their check-in reception. Etihad passengers are also given access to the airlines' premium lounges.
On board, all passengers flying First Class can enjoy complimentary gourmet food from the professional inflight chef, an extensive drinks menu with a boutique wine list and chilled refreshments.
In addition, each First Class passenger has a personal TV with full access to Etihad's inflight entertainment,
What does First Class Include?
A380
On flights operated by the A380, passengers are treated to Etihad's First Class First Apartment — a whole apartment space onboard the plane. The First Apartment is fitted with a luxury armchair and a separate 6 ft 10" fully-flat bed, a vanity unit with a makeup mirror, as well as an onboard shower available for all First Class passengers to use.
Passengers flying First Class on the A380 can also gain access to the A380 Upper Deck, which is a great place to relax with up to five other Business and First Class passengers. The Upper Deck includes a lobby and power supplies and connectivity ports.
Boeing 787 Dreamliner
On flights operated by the Boeing 787 Dreamliner, passengers can enjoy Etihad's First Class First Suite — a private suite located on the plane. The First Suite has extra-comfortable leather seats that convert into 6 ft 8" flat-beds. The First Suite's unique design allows for more personal space due to its curved aisle and each passenger is given a personal wardrobe with chilled refreshments.
Does First Class Facilities Have a First Class Lounge?
Passengers flying First Class on Etihad Airways are given complimentary access to the airlines' First Class Lounge & Spa. This incredibly luxurious lounge includes a fine-dining experience, a workout room and a spa for all First Class passengers to enjoy. Passengers flying Business Class and Economy Class have the option to upgrade to the airline lounge at Abu Dhabi Airport, where the First Class Lounge & Spa is located.
---
Alternative Airlines to Etihad Airways
Please click on the logos below to find out more about airlines that fly similar routes to Etihad Airways:
---
Book Etihad Airways Seats
Find your preferred seat on board your Etihad Airways flight. If you love admiring the view from the window or you fancy a bit more legroom you can find the seat you need with Alternative Airlines. Click here to find out how to book seats.
---
Etihad Airways Frequent Flyer Program
Etihad Airways operates a frequent flyer program called Etihad Guest which was launched in August 2006. It offers a discount web shop for loyalty program members.
---
Etihad Airways Seat Selection
Want to ensure that you're seated with your travel companions? Choose your Etihad Airways preferred seat when buying Etihad Airways flights with Alternative Airlines. Alternative Airlines show Etihad Airways preferred seats for all flights and allow you to pick and choose the seat you want through an interactive seat map!
---
Etihad Airways Deals and Discounts
See all our flight ticket promos and coupons and save money off your next Etihad flight when using PayPal.
---
Etihad Airways Route Map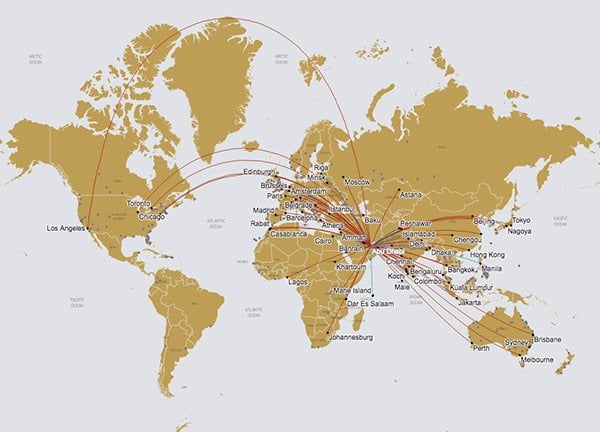 ---
Etihad Airways Popular Routes
London

Bangkok
Abu Dhabi

Beijing
Phuket

London
Abu Dhabi

Hong Kong
London

Abu Dhabi
Perth

London
---
Fleet
Airbus A320 family
Boeing 787-9
Airbus A330 family
Airbus A380
Boeing 777 Freighter
---
Etihad Airways Airport Hub
Abu Dhabi International Airport
Abu Dhabi International Airport is an international airport in the Emirates of Abu Dhabi, the capital of the United Arab Emirates. It is the hub airport for Etihad Airways, Rotana Jet and Etihad Cargo. Other airlines which fly to and from Abu Dhabi International Airport include Air Astana, Air Berlin, British Airways, EgyptAir, Gulf Air, Jet Airways, KLM, Kuwait Airways, Middle East Airlines, Oman Air, Pakistan International Airlines, Philippine Airlines, Qatar Airways, Royal Falcon, South African Airways, and SriLankan Airlines.