Search and Buy Etihad Airways Flights
Let's fly!

Select your payment method to view total prices including any payment fees:
Buy
Etihad Airways

Flights

Book Direct Flights with Etihad Airways and Alternative Airlines
Make an Etihad Airways reservation and find some amazing deals with discounted Etihad Airways tickets at Alternative Airlines.
---
Etihad Airways is a flag carrier of the United Arab Emirates with its headquarters in Abu Dhabi, United Arab Emirates.
Etihad Airways flies to many destinations around the world, including Brisbane, Melbourne, Sydney, Dhaka, Minks, Sofia, Toronto, Beijing, Chengdu, Larnaca, Cairo, Paris, Dusseldorf, Munich, Athens, Hong Kong, Bangalore, Dammam, Jeddah, Belgrade and many others.
Etihad Airways has codeshare agreements with many airlines including Aegean Airlines, Aer Lingus, Kenya Airways, KLM, South African Airways, SriLankan Airlines, Royal Air Maroc, Middle East Airlines, Asiana Airlines and many others.
---
Frequent Flyer Program
Etihad Airways operates a frequent flyer program called Etihad Guest which was launched in August 2006. It offers a discount web shop for loyalty program members.
---
Route Map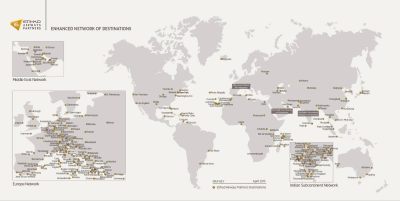 Popular Routes
London

Bangkok
Abu Dhabi

Beijing
Phuket

London
Abu Dhabi

Hong Kong
London

Abu Dhabi
Perth

London

---
The Fleet
Airbus A320-200
Airbus A321-200
Airbus A319-100
Airbus A330-200
Airbus A340-500
Airbus A340-600
---
Abu Dhabi International Airport
HUB Airport
Abu Dhabi International Airport is an international airport in the Emirates of Abu Dhabi, the capital of the United Arab Emirates. Abu Dhabi International Airport is the hub airport for Etihad Iarwys, Rotana Jet and Etihad Cargo. Other airlines which fly to and from Abu Dhabi International Airport includes Air Astana, Air Berlin, British Airways, EgyptAir, Gulf Air, Jet Airways, KLM, Kuwait Airways, Middle East Airlines, Oman Air, Pakistan International Airlines, Philippine Airlines, Qatar Airways, South African Airways, and SriLankan Airlines.

---
---
Book Flights with Etihad Airways
Make an Etihad Airways reservation and find some amazing deals with discounted Etihad Airways tickets at Alternative Airlines. Etihad Airways flies to many destinations worldwide, offering a cost effective and safe service to all its passengers. Let Alternative Airlines help find you cheap Etihad Airways tickets and make international and domestic flight reservations on Etihad Airways today.
Browse the most popular Etihad Airways flight routes to cities worldwide. Alternative Airlines can help you make reservations on Etihad Airways for international flights to lots of destinations. Use the following list of routes to help you plan your next flight. Book Etihad Airways flights on Alternative Airlines to save big! Alternative Airlines is an online travel agency, specialising in booking lesser known airlines and remote destinations.
Alternative Airlines is an Online Travel Agency bonded by the International Air Transport Association (IATA). We specialise in finding the best available fares on the widest range of airlines and making them available to you online, with prices in the currency of your choice.
Alternative Airlines handles all your travel arrangements and payments, complete with ticketed confirmation. We do not direct you to other websites or service providers.
We help you through the process. This is what makes us Alternative Airlines.
Browse for flights, find some amazing deals, make a reservation and pay in the currency of your choice today with Alternative Airlines.
Let Alternative Airlines help find you the best prices and make international and domestic flight reservations with us today.
Join the Alternative Airlines Members Club and get £100.00 back on your 5th booking with Alternative Airlines. You will have insight to many benefits and exclusive deals on over 650 airlines. Click on the Members section on the Alternative Airlines website for more information and join today.
We are open every day from 8am until 8pm (UK local time).
Etihad Aiways is the National Airline of the UAE, voted The World's Leading Airline at the 2009 Wolrd Travel Awards, with 28 flights per week from the UK to Abu Dhabi and beyond. Etihad flies 28 times per week directly between London/Manchester and Abu Dhabi, the capital of UAE. The flights are three times daily from London Heathrow with convenient morning, afternoon and evening departures as well as a daily service from Manchester. Etihad Airways, the world's fastest growing airline, flies brand new, custom-designed aircrafts on all routes. Etihad Airways offers outstanding guest hospitality with over 600 hours of in-flight entertainment and competitive fares. Etihad describes its customers as Guests not passengers. Abu Dhabi is the heart of modern Arabia. It's Etihad's operational hub and home. Because of its convenient geographic location, the UAE's capital city is your gateway to the Middle East and the rest of the world. The Emirates offers understated luxury, lush landscapes and desert adventures, alongside the warm waters of the Arabian Gulf. Etihad Fleet Currently Etihad's fleet consists of A319, A320, A330-200,A340-500,A340-600 and B777-300 ER arcraft. By 2020, Etihad will have a fleet of up to 205 aircrafts connecting the world. As one of the youngest fleets in the world, Etihad continue to invest in new aircraft and aircraft enhancements. The mission – to make your flying experience personalised, comfortable and luxurious. Etihad New lounge Etihad Airways have opened a new lounge at London Heathorw. This step was part of their move from terminal three to terminal four. The lounge is situated opposite the gates that are most frequently used by Etihad. Inside the lounge you can relax and enjoy treatments from their six senses spa and also enjoy 5 star dining supported by their open kitchen. Etihad have a prayer room and a modern business centre and of course full washroom facilities are available. Etihad New routes Etihad Airways are to resume flights to Colombo in Sri Lanks from January 2010. Etihad will operate four flights per week from their hub in Abu Dhabi. Visitors are up 30% on last year and as Sri Lanka is an established market with good local traffic it makes sence to resume the route. Etihad Airways will also be launching new routes to Tokyo and Nagoya. The new services will commence on 27 March 2010 and will operate five times weekly using Etihad's A330 aircraft. Although both of the routes are still subject to final regulatory clearance they have gone ahead with the announcement. Etihad Airways, the national carrier of United Arab Emirates, has been increasing its shareholding in Virgin Australia, to the consternation of Australian national carrier, Qantas. Privately-owned Qantas has been losing money for some time on international services, following recent industrial unrest and rising fuel prices. It is facing aggressive fare competition from state-owned airlines including arch-enemy Singapore Airlines, and, increasingly, from Etihad. It now fears increasing competition in its domestic "back yard" from Virgin Australia, which it believes would be unfairly strengthened by investment from Abu Dhabi. Qantas CEO, Alan Joyce, has visited Canberra this week, reportedly to lobby the government in person. The Etihad stake in Qantas currently stands at under 4%, but the Gulf carrier has openly announced its desire to increase its investment to 10%. Mr Joyce is undoubtedly conscious of Etihad's recent investments in Air Berlin and Air Seychelles, which have now risen to 30% and 40% respectively. The ability of Qantas, to attract foreign investors directly, is presently limited under Australian law, as a condition of its privatisation back in 1995. Senior executives of the airline are making efforts to encourage the government to relax the ownership restrictions, and opposition Shadow Treasurer, Joe Hockey has suggested that a future Coalition government would support this. In the meantime, James Hogan, CEO of Etihad, has denied any hostile intent behind his company's "strategic stake" in Virgin Australia, suggesting that this was a natural progression of the two airline's established commercial alliance. Abu Dhabi based airline, Etihad Airways has invested almost 100 Million US Dollars to increase its shareholding to just under 30% in the giant European low cost carrier, Air Berlin. In the rapidly coagulating world of international aviation this move takes on an extra significance when it is seen in conjunction with Air Berlin's full entry into the British Airways dominated OneWorld alliance early in 2012. There it will also sit alongside American Airlines, Cathay Pacific, Finnair, Iberia, Japan Airlines, LAN, Malév Hungarian Airlines, Mexicana, Qantas, Royal Jordanian and S7 Airlines. Since its launch in July 2003 Etihad has quietly amassed code-share partnerships with 31 airlines from around the world and it would be a natural progression for it to continue on this path of partnering other airlines by eventually joining an alliance. The key question is which one ? Close competitor, based in neighbouring Dubai, Emirates is currently not a member of any of the three global airline alliances – Oneworld, SkyTeam and Star Alliance - with the same true of Qatar Airways and Gulf Air. It has been suggested that once of these Middle Eastern giants makes the move then all will follow, but with three alliances available and four airlines needing to decide their preference, who joins what is still very much unclear. Its a telephone only special deal, but Etihad Airways have launched a special offer for travellers from Manchester to Abu Dhabi where for every two paying adults, two children can travel for £1.00 each (plus taxes of £86.00) The offer is only valid on bookings until 31st July and for flights between 01st and 25th August 2011. call us on 087 9229222 for availability and booking. Etihad Airways has launched a new four times weekly service between AbuDhabi and Bangalore (Bengaluru)on a 140 seater Airbus A320. This will be the eighth Indian destination flown by Etihad and the airline has plans to increase the new Bangalore service to daily in March 2011. The new service will include a business class product with 20 seats available in the award winning forward cabin. Etihiad Airways is the national airline of the United Arab Emirates. Neerja Bhatia, Etihad Airways' Country Manager in India, said: "India is a hugely important market for Etihad - in fact, we operate to more destinations in India than any other country. "We are delighted to be able to reach out to our guests in Karnataka through this new direct service - the first to operate between Bangalore and the capital of the United Arab Emirates, Abu Dhabi." In addition to Bangalore, Etihad flies to the Indian destinations of New Delhi, Chennai, Mumbai, Kozhikode, Thiruvananthapuram, Hyderabad and Kochi with a total of 49 flights to India each week.Following in teh footsteps of Viking Hellas and Lufthansa, Eithad. the rapidly expanding airline based in Abu Dhabi, is launching new flights to the Iraqi capital of Baghdad. Etihad Airways says it plans to launch regular flights five times weekly, from Abu Dhabi to Baghdad from the end of April 2010. The new flights are subject to government and regulatory approval and will be operated on Airbus A320 aircraft.. Etihad is also planning to launch a second destintion in Iraq with the addition of flights to the northern Iraqi city of Irbil on June 1. Airlines are slowly returning to war-ravaged Iraq. with Greek airline Viking Hellas already operating regular flights from Northern Europe and German airline Lufthansa also set to resume flights to the country later this summer.Etihad Airways has announced the increase of its Abu Dhabi to Kathmandu service. The airline will now fly seven flights per week from January 2010. Etihad's flights to Kathmandu, which were launched in December 2008, have proved extremely popular with travellers, providing high volumes of traffic into Abu Dhabi and the Middle East, as well as transit traffic to destinations including London and Frankfurt in Western Europe, and New York and Chicago in North America. The success of the route is evident in average load factors of between 80 and 90 per cent on both in- and outbound flights. This is attributable to growth in corporate travel and also a positive trend in inbound tourism to Nepal, and the additional flights were introduced to satisfy these customers' demands for daily frequencies, specifically. Joost den Hartog, Etihad Airways' regional general manager for North Asia and the Indian Subcontinent, said: "In addition to the strong demand for flights from Nepalese nationals who work in Abu Dhabi and further afield, we have seen a strengthening in corporate and leisure traffic, which is important to the economic development of Nepal. Etihad is pleased to support this growth with an increase in its services."Etihad Airways, the national airline of the United Arab Emirates, is to resume flights to Colombo in Sri Lanka, starting in January 2010. The airline will operate four flights per week from Abu Dhabi to Sri Lanka's largest city and commercial capital, using an Airbus A320 aircraft. The resumption of flights follows the recent end to the civil conflict in Sri Lanka and the boost that this is likely to provide to the tourism sector and to the wider economy as a whole. July and August 2009 already witnessed a 30 per cent increase in visitors to the island compared to the same period last year, and the Sri Lankan government is now targeting 2.5 million visitors a year by 2016. James Hogan, Etihad Airways' chief executive, said: "Sri Lanka is an established market with a strong local traffic base. We expect the resumption of Etihad flights to be welcomed by the considerable Sri Lankan expatriate community living in the UAE and those living across the Middle East region who will be able to connect quickly and easily back home via Abu Dhabi. "Colombo will be our first new route launch of 2010, and bring to 58 the number of destinations available across our expanding global network." The timing of the flights has been carefully scheduled to facilitate onward connections from a number of key destinations on the airline's network, including Moscow and North America. Flight EY266 will depart Abu Dhabi on Mondays, Wednesdays, Fridays and Sundays at 9.55pm and arrive at Colombo's Bandaranaike international airport at 3.45am the following day. Return flight EY267 will depart Colombo on Mondays, Tuesdays, Thursdays and Saturdays at 4.45am, arriving in Abu Dhabi at 8.00am the same morning. Colombo is located on the west coast of the island and close to Sri Jayawardenepura Kotte, the capital city of Sri Lanka. Due to its large harbour and its strategic position along the East-West sea trade routes, Colombo has a rich sea trading tradition. With a population of around 650,000 people, the city is the island's commercial centre, home to a majority of Sri Lanka's corporate offices, restaurants and entertainment venues. Famous landmarks in Colombo include the Galle Face Green, the Viharamahadevi Park and the National Museum. Etihad Airways has offered flights to Colombo through its codeshare partner, Sri Lankan Airlines, since September 2007. Under this agreement, Etihad Airways places its 'EY' code on Sri Lankan Airlines flights between Abu Dhabi and Colombo, and onwards to Male in the Maldives. In turn, Sri Lankan Airlines 'UL' code appears on Etihad Airways flight to Amman, Brussels, Dublin, Geneva, Munich and Manchester. To coincide with the resumption of Etihad's Colombo service, Sri Lankan Airlines will now also add its 'UL' code on Etihad's Abu Dhabi-Colombo flights.
Etihad increases Indian coverage with new Bangalore Flight
Etihad Airways has launched a new four times weekly service between AbuDhabi and Bangalore (Bengaluru)on a 140 seater Airbus A320.
Etihad start daily flights to Kathmandu
Etihad Airways  has  announced the increase of its Abu Dhabi to Kathmandu service.
Etihad to launch flights to Iraq
Following in teh footsteps of Viking Hellas and Lufthansa, Eithad.
Qantas fights Etihad stake in Virgin Australia
Etihad Airways, the national carrier of United Arab Emirates, has been increasing its shareholding in Virgin Australia, to the consternation of Australian national carrier, Qantas.
READ MORE ABOUT ETIHAD AIRWAYS
How to pay
You can pay for your flights with Etihad Airways in the currency and payment method of your choice when booking through Alternative Airlines.
We accept PayPal making flight purchases with Etihad Airways easy and more secure for customers. PayPal is one of the leading forms of online payment, with more than 169 million accounts worldwide.