The airline's logo is Horus, the sky deity in ancient Egyptian methodology. EgyptAir also owns numerous subsidiary airlines, with
| CITY | AIRPORT | IATA |
| --- | --- | --- |
| Algiers | Houari Boumediene Airport | ALG |
| Yerevan | Zvartnots International Airport | EVN |
| Vienna | Vienna International Airport | VIE |
| Manama | Bahrain International Airport | BAH |
| Brussels | Brussels Airport | BRU |
| Douala | Douala International Airport | DLA |
| Toronto | Toronto Pearson International Airport | YYZ |
| N'Djamena | N'Djamena International Airport | NDJ |
| Beijing | Beijing Capital International Airport | PEK |
| Guangzhou | Guangzhou Baiyun International Airport | CAN |
| Hangzhou | Hangzhou Xiaoshan International Airport | HGH |
| Hong Kong | Hong Kong International Airport | HKG |
| Abidjan | Félix-Houphouët-Boigny International Airport | ABJ |
| Larnaca | Larnaca International Airport | LCA |
| Copenhagen | Copenhagen Airport | CPH |
| Abu Simbel | Abu Simbel Airport | ABS |
| Alexandria | Borg El Arab Airport | HBE |
| Assiut | Assiut Airport | ATZ |
| Aswan | Aswan International Airport | ASW |
| Cairo | Cairo International Airport | CAI |
| El Alamein | El Alamein International Airport | DBB |
| Hurghada | Hurghada International Airport | HRG |
| Luxor | Luxor International Airport | LXR |
| Marsa Alam | Marsa Alam International Airport | RMF |
| Marsa Matruh | Marsa Matruh International Airport | MUH |
| Sharm El Sheikh | Sharm El Sheikh International Airport | SSH |
| Sohag | Sohag International Airport | HMB |
| Asmara | Asmara International Airport | ASM |
| Addis Ababa | Addis Ababa Bole International Airport | ADD |
| Paris | Charles de Gaulle Airport | CDG |
| Berlin | Berlin Schönefeld Airport | SXF |
| Frankfurt | Frankfurt Airport | FRA |
| Munich | Munich Airport | MUC |
| Accra | Kotoka International Airport | ACC |
| Athens | Athens International Airport | ATH |
| Mykonos | Mykonos Airport | JMK |
| Budapest | Budapest Ferenc Liszt International Airport | BUD |
| Mumbai | Chatrapati Shivaji International Airport | BOM |
| Baghdad | Baghdad International Airport | BGW |
| Erbil | Erbil International Airport | EBL |
| Tel Aviv | Ben Gurion International Airport | TLV |
| Bergamo | Orio al Serio International Airport | BGY |
| Catania | Catania–Fontanarossa Airport | CTA |
| Milan | Milan Malpensa Airport | MXP |
| Naples | Naples International Airport | NAP |
| Rome | Leonardo da Vinci–Fiumicino International Airport | FCO |
| Trapani | Vincenzo Florio Airport Trapani–Birgi | TPS |
| Osaka | Kansai International Airport | KIX |
| Tokyo | Narita International Airport | NRT |
| Amman | Queen Alia International Airport | AMM |
| Nairobi | Jomo Kenyatta International Airport | NBO |
| Kuwait City | Kuwait International Airport | KWI |
| Beirut | Beirut–Rafic Hariri International Airport | BEY |
| Bamako | Modibo Keita International Airport | BKO |
| Casablanca | Mohammed V International Airport | CMN |
| Amsterdam | Amsterdam Airport Schiphol | AMS |
| Abuja | Nnamdi Azikiwe International Airport | ABV |
| Kano | Mallam Aminu Kano International Airport | KAN |
| Lagos | Murtala Muhammed International Airport | LOS |
| Muscat | Muscat International Airport | OOMS |
| Doha | Hamad International Airport | DOH |
| Moscow | Domodedovo International Airport | DME |
| Kigali | Kigali International Airport | KGL |
| Abha | Abha Regional Airport | AHB |
| Dammam | King Fahd International Airport | DMM |
| Gassim | Prince Nayef bin Abdulaziz International Airport | ELQ |
| Jeddah | King Abdulaziz International Airport | JED |
| Medina | Prince Mohammad bin Abdulaziz International Airport | MED |
| Riyadh | King Khalid International Airport | RUH |
| Johannesburg | O. R. Tambo International Airport | JNB |
| Juba | Juba International Airport | JUB |
| Barcelona | Barcelona–El Prat Airport | BCN |
| Madrid | Adolfo Suárez Madrid–Barajas Airport | MAD |
| Khartoum | Khartoum International Airport | KRT |
| Geneva | Geneva Airport | GVA |
| Dar es Salaam | Julius Nyerere International Airport | DAR |
| Bangkok | Suvarnabhumi International Airport | BKK |
| Tunis | Tunis–Carthage International Airport | TUN |
| Istanbul | Istanbul Airport | IST |
| Entebbe | Entebbe International Airport | EBB |
| Abu Dhabi | Abu Dhabi International Airport | AUH |
| Dubai | Dubai International Airport | DXB |
| Sharjah | Sharjah International Airport | SJH |
| London | London Heathrow International Airport | LHR |
| New York City | John F. Kennedy International Airport | JFK |
| Washington, D.C. | Washington Dulles International Airport | IAD |
| Tel Aviv | Ben Gurion Airport | TLV |
For international routes with Egyptair.
Two pieces of baggage with a maximum weight of 32 kgs and maximum dimensions of 158 cm. Two pieces of hand luggage with a maximum weight of 8kg.
Two pieces of checked baggage with a maximum weight of 23 kgs. One piece of hand luggage with maximum weight of 8kg.
EgyptAir check-in desks close one hour before flight time for international flights and 30 minutes before flight time for domestic flights. It's recommended that you arrive at the airport around three hours before international flights and 1.5—2 hours before domestic flights. Especially if you have baggage to check.
---
Book Egyptair Flights in English
Alternative Airlines is the right company to use when booking Egyptair flights in English. You can have confidence that your booking experience with us will be safe, secure and hassle-free.
---
Economy Class
Egpytair's Economy Class is comfortable for the budget traveler with on board service, whether flying short or long haul.
Egyptair Economy Class Facilities
Refreshments including tea and coffee are provided in Economy Class. Lunch made with fresh ingredients from salads, pasta to grilled chicken is provided on longer flight journeys, for example from Athens to Cairo.
Economy Class Seats
If your preference is window, extra legroom or aisle, you can request to select a seat after or during your booking. For Economy Class passengers, selecting your seat is a fee if you are travelling internationally. Prices vary depending on your destination.
---
Premium Economy
Egyptair doesn't offer Premium Economy on its flights. If you'd like to upgrade from Economy to receive more comfortable seats with extra perks and an exceptional standard of service, consider choosing Business Class.
---
Business Class
Egyptair Business is an upgrade from premium economy, and is available on all long-haul flights.
Business Class Facilities
Travelling business class means you can relax in a dedicated Airport Lounge, and enjoy a pre-flight meal.
What are Business Class Seats Like?
Business Class seats are designed to offer premium comfort. Passengers will receive an amenities pack, and can sit back and enjoy a personal flat screen TV. A specialised in-flight menu will also be served.
---
First Class
The highest-tier cabin that Egyptair offer is First Class.
---
Book Seats
Find the seat you need for maximum comfort on board your Egyptair flight. Find out how to book seats and select your preferred seat with Alternative Airlines.
---
Book Egyptair Flights Today and Pay Later
Did you know that you can book your Egyptair airfare today and pay later? At Alternative Airlines we offer many flexible payment plans so you can spread the cost of your Egyptair flights over time. To find out more, read our Fly Now Pay Later with Egyptair guide.
---
Discounts and Deals
Buy Egyptair flights with Alternative Airlines and save money with many flight promo codes! Pay with PayPal and using the flight voucher codes, you could be saving on your next flight! See all the available flight voucher codes.
---
EgyptAir Frequent Flyer Program
EgyptAir operates a frequent flyer program called EgyptAir Plus to reward regular travellers with EgyptAir.
There are four tiers of membership:
Blue Card
Silver Card
Golden Card
Platinum Card
EgyptAir as a Star Alliance member guarantees that you can earn and redeem miles on some Star Alliance Airline Partner. Every time you travel with EgyptAir on international and domestic routes and Star Alliance Airline Partners, you will earn miles. Recently the airline launched a campaign supporting local travel for passengers in Egypt, in which the airline encourages Egyptians to book holidays inside the country, instead of going abroad.
The purpose of the campaign is to promote local tourism and help develop the country's tourism economic muscle not only by immigrants but also local Egyptians. EgyptAir chairman Safwat Mesallam stated local tour operators are willing to offer four day holidays at competitive prices that include flights with the airline all across Egypt.
---
Route Map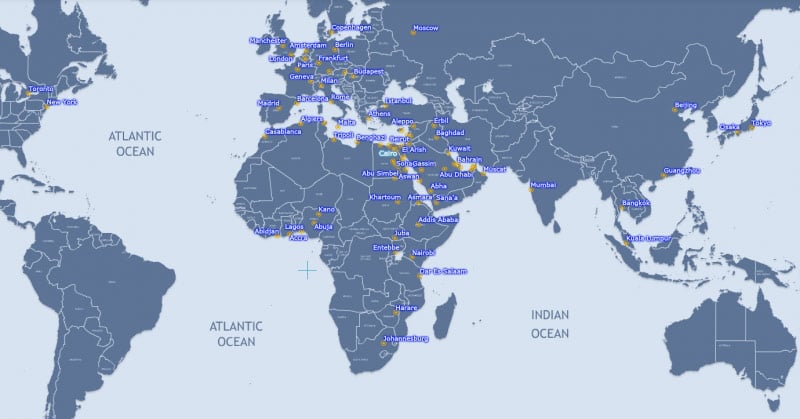 ---
Fleet
EgyptAir's fleet consists of a mix of Airbus and Boeing aircraft: A320-232, A321-231, A330-243, A330-300, A340-212, B737-500, B777-300 and B777-200.
---
Hub
Cairo Airport
Cairo International Airport is the international airport of Cairo and the busiest in Egypt and serves as the primary hub for Egyptair. The airport also acts as a hub for Air Cairo, Air Go AMC Airlines, EgyptAir Express, Nesma Airlines, and AlMasria Universal Airlines
The airport has three runways and can handle nearly 18 million passengers every year. Other airlines which fly to and from Cairo International Airport include Aeroflot, Alitalia, British Airways, Emirates, Gulf Air, Lufthansa, Middle East Airlines, Sudan Airways, Oman Air, Royal Falcon, Joon and Qatar Airways.
---
Alternative Airlines to EgyptAir