Royal Air Maroc is the national airlne of Morrocco based in Casablanca and operates domestic, regional and long haul international flights.
Royal Air Maroc to Marrakesh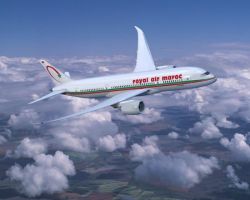 Marrakesh has become one of the most fasionable destinations over the last few years and is the home of this well established, professional airline. Operating across four continents, Royal Air Maroc has scheduled flights from many European capital cities as well as a large domestic network of flights. Whether you're planning to climb Mt Toukbal or party in Pacha, Royal Air Maroc makes the alternatives passé. Royal Air Maroc has 50 years of experience and a reputation built on professionalism.
Offering a two class service (economy and executive) and with fares that compete favourably with the low cost carriers, Royal Air Maroc offers a better way to fly to North Africa
Destinations served by this huge airline include Abidjan, Accra, Agadir, Al Hoceima, Algier, Amsterdam, Atlanta, Bamako, Barcelona, Beirut, Bologna, Bordeaux, Brazaville, Brussels, Casablanca, Catania, Conakry, Cotonou, Dakar, Dakhla, Douala, Dubai, Dusseldorf, Errachidia, Essaouira, Fez, Frankfurt, Geneva, Istanbul, Jeddah, Laayoune, Las Palmas, Cairo, Libreville, Lille, Lisbon, Lome, London, Los Angeles, Lyon, Madrid, Malabo, Malaga, Marrakech, Marseille, Milan, Montpellier, Montreal, Munich, Nador, Nantes, New York City, Niamey, Nice, Nouakchott, Oran, Ouagadougou, Ouarzazate, Oujda, Paris, Rabat, Rome, Rotterdam, San Francisco, Seattle, Strasbourg, Tangier, Toulouse, Tripoli, Tunis, Turin, Valencia, Washington, Zurich
Royal Air Maroc have a mixed fleet of 41 aircraft plus brand new five Boeing 787 due for delivery in 2009/10 and has also placed a further order fo 8 more Boeing 737-800's.
Royal Air Maroc - Flights in style
"Play it again, Sam," Casablanca and Marrakesh are current playgrounds for Europe's jet set with a growing number of boutique hotels and night clubs (try "Pacha" in Marrakesh!) Fly in style with old fashioned service where you do not have to pay for your food and drink(s). Look out for special fares in the Executive Cabin where the extra space and a choice of in-flight meals accompanied by wine and champagne is definitely worth the extra.