Book Direct with Afriqiyah Airways and Alternative Airlines

Afriqiyah Airways is a state owned airline based in Tripoli, Libya. Afriqiyah Airways' main hub is at Tripoli International Airport, and the airline is a member of the Arab Air Carriers Organisation and the International Air Transport Association. Afriqiyah Airways operates to destinations such as Istanbul, Tripoli, Bedia, Alexandria, Niamey, Kufra, Antalya and Amman. In 2010, Afriqiyah Airways and Libyan Airlines were expected to merge into one airline, which was later postponed. As a consequence of the Libyan Civil War and the resulting no-fly zone over the country enforced by NATO, all flight operations by Afriqiyah Airways were terminated on 17 March 2011. 
Afriqiyah Airways is the Arabic word for 'African' and its aircraft are painted in striking colours of red, green, yellow and black reflecting the colours of Africa. Afriqiyah Airways flies from Tripoli to London Gatwick four times a week on Tuesdays, Thursdays, Fridays and Saturdays. Afriqiyah Airways covers some of the major destinations in Africa like Abidjan, Accra, Lagos, Johannesburg and Douala. The Afriqiyah Airways fleet consists of Airbus A319, A320, A330-300 and in addition the airline has Airbus A350s on order. The airline's hub, Tripoli International Airport, has been closed since July 2014 and is still shut down as of February 2016. Afriqiyah Airways currently operates a small route network out of Mitiga International Airport instead. 
In July 2016, Afriqiyah Airways announced is to start a weekly flight between Tripoli Mitiga and Obari in the south west of the country. The service will begin on Monday, 25 July. Until now residents in the Obari area have had to travel 400 kilomtres south-west to Ghat or 200 kilomtres north-east to Tamenhint, near Sebha, in order to fly to Tripoli. In October 2016, Afriqiyah Airways acquired 20 percent of the Aviation Training Center of Tunisia. The deal will bring a valuable additional income stream to Afriqiyah which has been looking to expand and diversify its income base, particularly at the present with the difficulties in converting Libyan dinars to hard cash. 
Route Map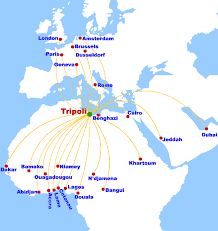 Popular Routes
Tunis  

  Beida
Antalya  

  Tripoli
Beida 

  Alexandria
Niamey 

  Tripoli
Istanbul 

  Tripoli
Amman  

  Tripoli
Make an Afriqiyah Airways reservation and find some amazing deals with discounted Afriqiyah Airways tickets at Alternative Airlines. Afriqiyah Airways flies to many destinations in Europe and the Middle East, offering a cost effective and safe service to all its passengers. Let Alternative Airlines help find you cheap Afriqiyah Airways tickets and make international and domestic flight reservations on Afriqiyah Airways today.
Browse the most popular Afriqiyah Airways flight routes to many major cities. Alternative Airlines can help you make reservations on Afriqiyah Airways for international flights to lots of destinations. Use the following list of routes to help you plan your next flight. Book Afriqiyah Airways flights on Alternative Airlines to save big! Alternative Airlines is an online travel agency, specialising in booking lesser known airlines and remote destinations.