Afriqiyah Airways Tickets and Reservations with Alternative Airlines
Book Your Afriqiyah Airways Flight Tickets and Find Some Amazing Deals
---
About Afriqiyah Airways
Afriqiyah Airways is a state owned airline based in Tripoli, Libya. The airline's main hub is at Tripoli International Airport, and the airline is a member of the Arab Air Carriers Organisation and the International Air Transport Association. Afriqiyah Airways currently operates a small route network out of Mitiga International Airport instead.
Afriqiyah Airways flies from Tripoli to London Gatwick four times a week on Tuesdays, Thursdays, Fridays and Saturdays. Afriqiyah Airways covers some of the major destinations in Africa like Abidjan, Accra, Lagos, Johannesburg and Douala.
In 2010, Afriqiyah Airways and Libyan Airlines were expected to merge into one airline, which was later postponed. As a consequence of the Libyan Civil War and the resulting no-fly zone over the country enforced by NATO, all flight operations by Afriqiyah Airways were terminated on 17 March 2011.
Afriqiyah Airways is the Arabic word for 'African' and its aircraft are painted in striking colours of red, green, yellow and black reflecting the colours of Africa.
---
Fleet
The Afriqiyah Airways fleet consists of Airbus A319, A320, A330-300 and in addition the airline has Airbus A350s on order.
As of April 2019:
2 x Airbus A319-100
5 x Airbus A320-200
1 x Airbus A330-300
(10 x orders) Airbus A350-900
1 x Airbus A300-600RF (cargo)
---
Destinations
As of April 2019:
Algeria: Algiers
Egypt: Alexandria
Egypt: Cairo
Jordan: Amman
Libya: Misrata
Libya: Sabha
Morocco: Casablanca
Saudi Arabia: Jeddah
Sudan: Khartoum
Tunisia: Monastir
Tunisia: Sfax
Tunisia: Tunis
United Arab Emirates: Dubai
---
Route Map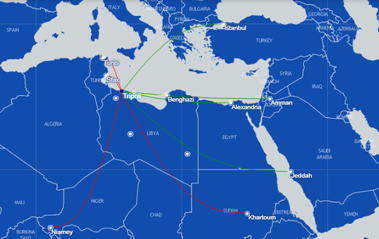 ---
Hub Airport
Tripoli International Airport
Update: The airport has been closed intermittently since 2011 and flights to and from Tripoli have been using Mitiga International Airport instead.
Misrata Airport
Misrata Airport is an international airport serving Misrata, the Mediterranean coastal city in the Misrata District of Libya. The airport is also the air base and training center for the Libyan Air Force.
---
Alternative Airlines