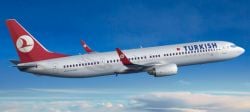 Turkish Airlines is a large global airline operating 152 aircraft to 180 destinations worldwide from three bases in Turkey, both of Istanbul's international airports and the capital, Ankara.
Turkish Airlines flights
Turkish Airlines celebrated its 75th anniversary in 2008 and was rewarded by its entry into the prestigious STAR alliance. The Turkish Airlines route network stretches across the globe emanating from the capital city of Ankara and the commercial centre of Istanbul. Domestically all the major cities of Turkey are served with a total of 31 airports being visited by aircraft of the Turkish Airlines fleet.
Turkish Airlines have now confirmed orders with Boeing and Airbus for an additional 40 aircraft, including Boeing 777 and Airbus A330-300 aircraft. Turkish Airlines have also announced plans that they intend to add Australia to their network by 2011.
Turkish Airlines have great plans and are already looking at expanding their network with increased frequencies and added routes such as Vietnam and the Philippines.
Turkish Airlines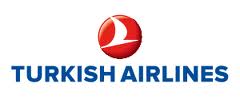 If the Government of Turkey was run as efficiently and effectively as the national airline, the E.U. would be inviting the Turkey to join the club at the earliest opportunity rather than just discussing the possibility. Turkish Airlines not only dominates the domestic skies of its home country but is used effectively by many international travellers transiting through its Istanbul hubs to reach a far-flung destination for very reasonable price. If Turkish airlines comes up as the cheapest option on our price and availability display we urge you to consider it as a safe and comfortable alternative to other airlines which spend more on image marketing and less on getting their basic product and time keeping right.
Turkish Airlines operate a mixed fleet of over 110 Boeing and Airbus aircraft. Turkish Airlines will be operating a new route Istanbul - Lviv - Istanbul from 27th July 2009 On 30th August 2009, Turkish Airlines will launch a new route to Jakarta (Indonesia) This route will operate 5 time a week
Turkish Airlines offer all its passengers a choice of 3 classes, Economy, Business Class and First Class. All passengers will experience the warm and inviting welcome that is extended to you by their cabin crew.
Turkish AIrlines on the charge...
Turkish Airlines continue to expand despite being the airline that now flies to more countries than any other airline, anywhere in the world.
Turkish Airlines new flight to Vietnam, Saigon
Turkish Airlines launched a new service operating 4 flights per week between Bangkok and Saigon in Vietnam.
Turkish Airlines is founding partner of new airline: Northern Cyprus Airlines
The new airline which has been formed through a partnership between Turkish Airlines, the government of Northern Cyprus and local business is to be called "Northern Cyprus Airlines" and will start flying in March 2011.
Turkish Airlines launches new flights to China to Iran (Shiraz) and China (Guangzhou
Rapidly expanding airline,  Turkish Airlines is set to launch new routes from its operating base at Istanbul to Shiraz in Iran and Guangzhou in China.
Iran Air and Turkish Airlines to get closer ties
The chairman of Iran's flag carrier, Iran Air, has announced that  Iran and Turkey will come together to form a new joint aviation consortium.
Turkish Airlines looking at new route to Lusaka, Zambia
Following a high level diplomatic meeting between two Heads of State, Turkish Airlines have been encouraged to look at starting a new route between Istanbul and the Zambian capital, Lusaka.
More Flights to East Africa, Turkish Airlines start Istanbul to Entebbe and Dar Es Salaam
The dynamic and expanding national carrier, Turkish Airlines has started flying between its hub in Istanbul and the East African cities of Entebbe (Uganda) and Dar es Salaam (Tanzania).
Turkish Airlines launch Istanbul -Jakarta service
Turkey's national air carrier THY - Turkish Airlines will commence flights to Jakarta, Indonesia later this week.