Search & Buy Turkish Airlines Flights
Airlines will always try to sit children with their parents (subject to check-in)
Some airlines will allow travel for unaccompanied minors. Please email us to check.
The fare is based on the child's age on the date of travel.
More detailed information can be found here Traveling with children
Most airlines will let infants travel with their parent(s) for free. However some airlines will charge up to 10% of the adult ticket price. Click on 'Price Breakdown' to find out more.
If you are pregnant, but due before the flight departure date, please contact us once your baby is born and has a name. We can then add him/her to your ticket.
Infants will not be given a seat. The airlines expect parents to travel with them on their lap.
Airlines regard infants as being under 24 months old.
The fare is based on the child's age on the date of travel.
More detailed information can be found here Traveling with children
Buy
Turkish Airlines

Flights
Turkish Airlines Reservations with Alternative Airlines
Make a Turkish Airlines Booking and Find Some Amazing Deals
---
About Turkish Airlines
Turkish Airlines, sometimes referred to simply as Turkish Air, is the national flag carrier airline of Turkey and is headquartered at Ataturk Airport in Istanbul. The airline operates services to 261 destinations across the world, making it the fourth largest carrier in the world. The airline flies to many destinations including Bahrain, Bari, Colombo, Bishkek, Dar Es Salaam, Hurghada, Karachi, Male, Lahore, Kuala Lumpur, Malta, Manchester in the UK, Maputo, Sharm El-Sheikh, Sochi and many others.
The airline has codeshare agreements with many airlines, such as Air Astana, Air China, Air India, All Nippon Airways, Avianca, Egyptair, Eva Air, Ethiopian Airlines, LOT Polish Airlines, Garuda Indonesia and many others. The fleet consists of A340-400, A330-300, A330-300, A321-200, A320-200, A319, Embraer E190 and Embraer E195, B737-900 ER.
---
Frequent Flyer Program
Turkish Airlines operates a frequent flyer program called Miles&Miles to reward regular passengers with the airline. Passengers can earn miles for flying with Aegean Airlines and its airline partners.
These miles can be exchanged for miles on airline tickets, seat upgrades, hotels, car rentals and shopping.
Turkish Airlines' Business Class service for international flights offers welcome drinks prior to departure as guests board the aircraft, passengers experience restaurant-quality service with carefully selected, high quality menus that are regularly changed to provide interesting new options for regular travellers.
At the moment, the airline also has a variety of sponsorships and promotion agreements with various organisations all around the world. Several European football clubs have chosen the airline as their trusted carrier. Amongst them are FC Barcelona, Borussia Dortmund, Galatasaray, Olympique de Marseille, Aston Villa, and AS Roma. In addition to football clubs, the carrier also has a number of sponsorship agreements with several celebrities, and sports and movie stars including Lionel Messi, Kobe Bryant, Caroline Wozniacki, Wayne Rooney, Didier Drogba and Kevin Costner.
---
Baggage Allowance
Hand Luggage
Passengers travelling in Business Class are permitted 2 x 8kg bags for their hand luggage.
Passengers who are infants or children, or passengers in Economy Class, are permitted 1 piece of hand luggage weighing a maximum of 8kg.
In addition, all passengers are permitted one personal item to carry on board with them. This can be items such as cameras, laptop, handbag or umbrella.
Checked Luggage
Domestic Flights
Domestic flights: a free baggage allowance of 30 kg in Business Class, 20 kg in Economy class and 15 kg for promotional class.
International Flights
International flights: 30kgs is allowed for Business Class passengers, 20kg for Comfort Class and Economy Class.
Flights to/from the USA
When flying economy class in the USA, passengers are permitted 1 x 8kg for hand luggage, measuring a total of 118cm (height+width+depth). In addition, passengers are permitted 2 x 23kg checked bags, totalling 158cm for combined linear dimensions.
Business class passengers flying in the USA are permitted 2 x 8kg hand luggage bags (118cm for combined linear dimensions), and 2 x 32kg checked luggage bags, measuring a maximum of 158cm for total combined linear dimensions.
---
Check-In Information
Online Check-In
Passengers can check-in to their Turkish Airline flight by entering their flight details on the
Turkish Airlines web check-in page. Online check in for flights opens 24 hours before scheduled departure time and closes 90 minutes before.
Airport Check-In
Passengers can check-in at the airport by visiting the Turkish Airlines check-in desk with their travel documents. Check-in closes 45 minutes before scheduled departure time for domestic flights and 60 minutes before scheduled departure time for international flights.
---
Inflight Entertainment
Turkish Airlines is constantly enhancing the selection of media and new content available on board its flights. Everyone can find something to help them pass the time with the inflight entertainment selection!
TV
Whether you're into classic American sitcoms, or gripping dramas, there's a TV show for you on board your flight. Sit back and relax and enjoy the exciting range of TV shows on offer with Turkish Airlines.
Movies
There are so many different movies on offer. Choose from foreign language films, Turkish classics as well as Hollywood classics. Choose from new releases as well as classic family movies.
---
WIFI
Available on all Boeing B777-300ER and a number of A330-300 aircraft, WIFI allows you to stay connected with life on the ground by connecting your device to high-speed WIFI powered by TTNet. Stream your favourite TV shows or films without any interruptions or catch up on your emails just as you would at home.
WIFI Price
WIFI is available for free for all passengers flying in Business Class or for any Miles & Smiles Elite and Elite Plus members.
For non-members flying in Economy Class, WIFI is available for $9.99 USD per hour or $14.99 for a 24-hour pass.
---
Food
Meal Options
Turkish Airlines offer passengers award-winning fresh dishes inspired by Turkish and World cuisine.
Economy passengers on domestic flights are offered sandwiches, appetisers and desserts, but the specifics will depend on the time and duration of your flight. For economy passengers on international and transatlantic flights, passengers are given breakfast and main meal choices, with also a snack service being available on some flights.
Business class passengers on domestic flights have a choice of Turkish cuisine, from shish kebabs to karnıyarık and imam bayıldı. For these passengers on International flights, they will be offered a hot/cold breakfast service in addition to a meal service and on some flights, a snack service. On transatlantic flights in business class, passengers receive two meals and also snack service.
Special Dietary Requirements
All Turkish Airlines meals are prepared in accordance with Islamic principles. The airline is happy to accommodate any passengers with special dietary requirements. These must be requested at least 24 hours before flying. Passengers with allergies must report this 24 hours before flying, and must be accompanied with a medical report. The full list of available special meals are:
Vegetarian Asian Meal
Non vegetarian Hindu meal
Raw vegetable meal
Baby Meal
Seafood Meal
Bland Meal
Low calorie meal
Strict vegan meal
Children's Meal
Low-fat meal
Jain - Vegetarian Hindu meal
Meal for Diabetics
Low salt meal
Lacto-ovo vegetarian Meal
Fruit Meal
Vegetarian Oriental Meal
Lactose free meals
Drinks & Alcohol
Drinks are included on all Turkish Airlines flights, whether travelling Business or Economy, Domestic, International or Transatlantic. There are a selection of alcoholic drinks included in this service.
---
Economy Class
Economy Class offers a wide range of comfort on both long-haul and short-haul journeys! From entertainment to adjustable seat support, there is lots to enjoy in Economy Class with this airline!
Economy Class Facilities
Facilities included in Economy Class include comfortable seating with adjustable headrests and footrests, meals with assortment of world and Turkish cuisines and also hot or cold breakfasts. Inflight entertainment is included for your enjoyment such as movies and music.
The services are amenity kit, skylife magazine and entertainment for children
Economy Class Seats
Seats in Economy Class offer many features.
You get 78cm legroom to sit comfortably with, you can recline your seat up to 15 cm and as well slide forward up to 3.5cm. The footrest and headrest is adjustable to the comfort that suits you.
Also, there is a USB, Power and ethernet socket to help charge all those devices you can't be without! (They are very useful for keeping the children entertained too!)
---
Premium Economy
There is currently no premium economy on board this airline. However, passengers in economy class are able to travel in comfort with premium meal options and other extras to help add the feel of premium economy.
---
Business Class
Passengers in business have the most pleasurable in-flight experience possible. From award-winning meals to its excellent entertainment system, the airline hopes to provide passengers with the best experience at the airport and in the air.
Business Class Facilities
Business Class passengers can enjoy a wide range of films, music and documentaries as well as a delicious range of meals.
What are Business Class Seats Like?
The seating for Business Class passengers comes equipped with in-chair massage, a reading lamp, a power supply and a private screen for maximum privacy. Seats become during flat at night and passengers are provided with complimentary pillows, blankets, eye masks, ear plugs, lip balms and socks.
---
First Class
This airline currently has no first class facility on its planes yet. For a more premium experience, passengers can choose to fly with in business class.
---
Pets, Emotional Support Animals and Service Animals
Find out all information on flying with a service animal, pet, or an emotional support animal, by Alternative Airlines and what do about taking a pet on a plane.
---
Route Map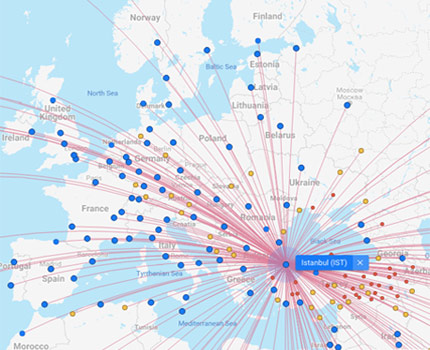 ---
Popular Routes
Stuttgart

Lahore
Mumbai

Vienna
Santiago

Delhi
Istanbul

Amsterdam
Moscow

Cairo
---
Fleet
Boeing 737-800
Airbus A321-200
Airbus A320-200
Airbus A319-100
Boeing 737-900
---
Hub Airport
Istanbul Ataturk Airport
Istanbul Ataturk Airport is the main international serving Istanbul, Turkey and is the biggest airport in Turkey by total number of passengers. The airport serves as a hub for Atlasglobal, Onur Air, Pegasus Airlines and Turkish Airlines. Istanbul Ataturk Airport has three runaways and has a passenger capacity of 60 million per year. Airlines which fly to and from Istanbul Ataturk Airport include Aegean Airlines, Aeroflot, Air Canada, Atlasglobal, Delta Airlines, EgyptAir, Iberia, KLM, Korean Air, Lufthansa, Malaysia Airlines, TAROM, Tajik Air, Turkish Airlines and Uzbekistan Airlines.
---
Alternative Airlines
---
News
1st August 2019
Turkish Airlines launches flights to Congo
Turkish Airlines has added Congo's second-largest city, Pointe-Noire to its destinations. The airline will initially operate three weekly flights to Pointe-Noire with a connection in Libreville. With the new route, the airline now flies to 58 destinations in the African continent.
27th July 2019
Turkish Airlines Launches Istanbul – Bali Route
For the service, the carrier will be using the new Boeing 787 Dreamliner with 300 seats; 270 for economy class and 30 for business class. The service will fly three times a week, on Wednesday, Friday, and Sunday until the end of July. From August, the service will take place daily.
16th April 2019
Turkish Airlines launches Marrakesh Service
The Istanbul - Marrakesh route is now scheduled to operate this route 5 times a week, from 15th April 2019.