Trusted Choice
Secure Booking
Airlines will always try to sit children with their parents (subject to check-in)
Some airlines will allow travel for unaccompanied minors. Please email us to check.
The fare is based on the child's age on the date of travel.
More detailed information can be found here Traveling with children
Most airlines will let infants travel with their parent(s) for free. However some airlines will charge up to 10% of the adult ticket price. Click on 'Price Breakdown' to find out more.
If you are pregnant, but due before the flight departure date, please contact us once your baby is born and has a name. We can then add him/her to your ticket.
Infants will not be given a seat. The airlines expect parents to travel with them on their lap.
Airlines regard infants as being under 24 months old.
The fare is based on the child's age on the date of travel.
More detailed information can be found here Traveling with children
Over 65,000 happy customers
Search & Book Flights With
Ethiopian Airlines
Buy
Ethiopian Airlines

Flights
Ethiopian Airlines Reservations with Alternative Airlines
Find Some Amazing Deals on your Ethiopian Airlines tickets
---
About
Ethiopian Airlines is the national airline of Ethiopia and is owned by the Ethiopian Government. Customers wishing to pay in local currency, we offer the option to buy flights in Ethiopian Birr. The airline's hub and headquarters are both located at Bole International Airport situated in Addis Ababa. Ethiopian Airlines is the African carrier who offers the most African destinations to passengers and is one of the largest African Airline companies. It's currently the fastest-growing airline in Africa. The company have been servicing passengers for over 70 years.
Ethiopian commands the lion's share of the pan-African passenger and cargo network operating the youngest and most modern fleet to more than 100 international passenger and cargo destinations across five continents.
The airline is currently implementing a 15-year strategic plan called Vision 2025 that will see it become the leading aviation group in Africa with seven business centres: Ethiopian Express & Ancillary Services; Ethiopian International Services; Ethiopian Cargo Services; Ethiopian MRO Services; Ethiopian Aviation Academy; ET In-flight Catering; and Ethiopian Ground Services.
---
Fleet
Ethiopian Airline's fleet is constantly adapting and changing but currently includes ultra-modern and environmentally friendly aircraft such as Airbus A350, Boeing 787, Boeing 777-300ER, Boeing 777-200LR, Boeing 777-200 Freighter, Bombardier Q-400 double cabin with an average fleet age of five years. In fact, Ethiopian is the first airline in Africa to own and operate these aircraft.
---
Frequent Flyer Program
Ethiopian Airlines has a frequent flyer program called ShebaMiles to reward regular travelers. There are three various membership Tiers including Blue Membership Card, Silver Membership Card and Gold Membership Card. In addition, ShebaMiles cardholders with Gold or Silver status can make use of the Sheba Miles Lounge facilities.
You can collect frequent flyer points easily with Alternative Airlines and reap the benefits from your chosen alliance. If you are not a member of an Airline Alliance yet, have a read of our article to give you an idea of which frequent flyer program is best for you.
---
Baggage Allowance
Carry-on Baggage
Business Class passengers are permitted two pieces of baggage weighing no more than 7kg each without extra cost. For Economy Class passengers, one piece of carry-on baggage with a maximum weight of 7kg is permitted at no extra cost. Passengers may also carry the following items as long as they do not exceed 5kg: small handbag, laptop, overcoat or blanket, small camera, reading material and infant's basket.
Checked Baggage
The checked baggage allowance for passengers varies depending on the booking class and destination. For domestic flights travelling within Ethiopia, Cloud Nine (Business Class) passengers are permitted 30kg of checked baggage. Economy Class passengers are permitted 20kg. If travelling internationally, please check your booking details for your free baggage allowance.
---
Online Check-in
Online Check-In
Online check-in is available between two and 36 hours before departure and will enable passengers with Ethiopian Airlines to confirm their attendance, select their seat, and make their way through the airport more efficiently. Check out the web check-in page to find out more information, or our online check-in page to find out about alternative airlines.
Airport Check-In
Check-in counters open three hours before scheduled departure time and close one hour before, regardless of the airport of departure or whether its an international or domestic flight. Airport check-in can be completed by visiting the check-in desks or by one of the self-service kiosks.
---
In-Flight Entertainment
On certain flights, passengers have access to inflight entertainment selection on the screens built into the seat in front of them.
TV
Ethiopian Airlines offers TV programs certain aircraft to help passengers pass the time during their flight.
Movies
Ethiopian Airlines provides movies for passengers to enjoy on certain long-haul aircraft.
---
WIFI
In-flight wifi is available on all A350 fleet. Passengers flying in any class can buy wifi vouchers at Ethiopian Airlines customer service desks, from cabin crew at boarding gates or online.
Price is based on megabytes: $10 for 100MB or 4,000 miles $20 for 200MB or 8,000 miles
(Current prices at October 2019).
---
Fare Classes
Ethiopian Airlines offers multiple class fares: Economy, and Business.
---
Ethiopian Airlines' Economy Class
Ethiopian Airlines' Economy Class is full of comfort, warm hospitality and service with a smile.
Economy Class Facilities
Before flying, relax in the exclusive Cloud Nine lounge. On-board, facilities provided in Economy class include light snacks or hot meals on all flights with a range of alcoholic beverages and wine. Every passenger can enjoy the Ethiopian cuisines provided on all flight routes. Children meals are also available.
In-flight entertainment is available with music, documentaries and films.
Economy Class Seating
Comfortable seating is provided in Economy Class with entertainment included. Most seating on the Boeing aircraft is 33 inches by 17 inches.
---
Ethiopian Airlines' Business Class
"Cloud Nine" is the name of Ethiopian Airlines' Business Class fare
Business Studios are available on the A380 and 787 Dreamliners, focused on providing a luxurious experience.
Business Class Facilities
In-flight, relax with personal mood-lighting and a massage function, all provided at the touch of a button. Wi-Fi connectivity is provided, as well as touch screen/high definition TV's, with noise cancelling headphones, and a Dine Anytime menu. The amenity kit includes two exclusive Colonia products. The A380 Upper Deck also provides a boutique hotel inspired Lobby space.
Short haul
Both cold canapés and hot meals are provided on short haul flights in Business Class, depending on the flight times. A range of hot and cold drinks are also provided.
Medium and Long haul
A variety of international dishes, as well as Ethiopian national dishes are served on medium and long haul flights. A desert selection and cheeses are followed with a serving of coffees and teas. Ethiopian 'Kolo' - roasted barley - or crackers with complimentary drinks, either alcoholic or non are served too during the flight journey.
Business Class Seating
The Business Studio's have a unique design, with forward and rear facing seats, aimed at offering increased personal space. There are two seating options available, depending on the airplane body. On narrow body aircraft, Business Seats offer a generous recline as well as ample legroom. On wide-bodied aircraft, Business flatbed seats recline into a fully-flat bed, with full size comforters and pillows, back support, and adjustable headrest and cushion firmness!
---
Food
Meal Options
Meals are inspired by traditional Ethiopian cuisine, from the traditional national dish 'Injera be wot' to 'Teff' bread, made with the highest quality and freshest ingredients. In Economy class, passengers are given complimentary meals from a light snack to a hot meal, depending on the time and duration of your flight. In 'Cloud Nine' cabin, passenger are given a variety of meals, dependent on the duration and departure time of your flight. These are served with fresh fruit, cheese plate, Ethiopian 'Teff' bread and a choice of deserts.
The Ethiopian national dish - Lasagna - is found on the following flight routes in Economy Class: 404, 406, 414, 416, 500, 502, 510, 602, 710, 809.
Special Dietary Requirements
Ethiopian don't provide any set special meals, however, if you require a special meal such as a vegan or vegetarian meal, gluten free meal or Kosher meal, contact the airline direct to see what they can do to accommodate you.
Drinks & Alcohol
Passengers can enjoy a selection of drinks on board their Ethiopian Airlines flight, either to accompany their meal or as an aperitif. The selection of drinks include items such as soft drinks, beers and wine.
---
Special Services
Special services are provided on board from traveling with a pet, unaccompanied minors and traveling whilst pregnant. You can contact Alternative Airlines if you have an special service request.
---
Discount Coupons
Get discounted Ethiopian Airlines tickets using a promo code with Alternative Airlines! Check out all our flight promo codes and flight discounts and pay with PayPalto save on your booking.
---
Route Map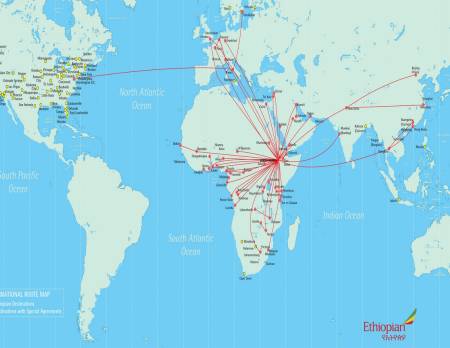 ---
Destinations
Domestic Destinations
| CITY | AIRPORT | IATA |
| --- | --- | --- |
| Addis Ababa | Addis Ababa Bole International Airport | ADD |
| Arba Minch | Arba Minch Airport | AMH |
| Asosa | Asosa Airport | ASO |
| Axum | Axum Airport | AXU |
| Awasa | Awasa Airport | AWA |
| Bahar Dar | Bahir Dar Airport | BJR |
| Dembidolo | Dembidolo Airport | DEM |
| Dessie | Combolcha Airport | DSE |
| Dire Dawa | Aba Tenna Dejazmach Yilma International Airport | DIR |
| Gambela | Gambela Airport | GMB |
| Goba | Robe Airport | GOB |
| Gode | Gode Airport | GDE |
| Gondar | Gondar Airport | GDQ |
| Humera | Humera Airport | HUE |
| Jijiga | Jijiga Airport | JIJ |
| Jimma | Aba Segud Airport | JIM |
| Kebri Dahar | Kabri Dar Airport | ABK |
| Lalibela | Lalibela Airport | LLI |
| Mekele | Alula Aba Airport | MQX |
| Semera | Semera Airport | SZE |
International Destinations
COUNTRY
CITY
AIRPORT
IATA
Angola
Luanda
Quatro de Fevereiro Airport
LAD
Argentina
Buenos Aires
Ministro Pistarini International Airport
EZE
Austria
Vienna
Vienna International Airport
VIE
Bahrain
Manama
Bahrain International Airport
BAH
Belgium
Brussels
Brussels Airport
BRU
Liège
Liège Airport
LGG
Benin
Cotonou
Cadjehoun Airport
COO
Botswana
Gaborone
Sir Seretse Khama International Airport
GBE
Brazil
São Paulo
São Paulo–Guarulhos International Airport
GRU
Burkina Faso
Ouagadougou
Ouagadougou Airport
OUA
Burundi
Bujumbura
Bujumbura International Airport
BJM
Cameroon
Douala
Douala International Airport
DLA
Yaoundé
Yaoundé Nsimalen International Airport
NSI
Canada
Toronto
Toronto Pearson International Airport
YYZ
Chad
Ndjamena
N'Djamena International Airport
NDJ
Chile
Santiago
Comodoro Arturo Merino Benítez International Airport
SCL
China
Beijing
Beijing Capital International Airport
PEK
Chengdu
Chengdu Shuangliu International Airport
CTU
Chongqing
Chongqing Jiangbei International Airport
CKG
Guangzhou
Guangzhou Baiyun International Airport
CAN
Nanjing
Nanjing Lukou International Airport
NKG
Shanghai
Shanghai Pudong International Airport
PVG
Colombia
Bogotá
El Dorado International Airport
BOG
Comoros
Moroni
Prince Said Ibrahim International Airport
HAH
Côte d'Ivoire
Abidjan
Port Bouet Airport
ABJ
Democratic Republic of the Congo
Goma
Goma International Airport
GOM
Kinshasa
N'djili Airport
FIH
Lubumbashi
Lubumbashi International Airport
FBM
Djibouti
Djibouti City
Djibouti–Ambouli International Airport
JIB
Egypt
Cairo
Cairo International Airport
CAI
Eritrea
Asmara
Asmara International Airport
ASM
Equatorial Guinea
Malabo
Malabo International Airport
SSG
France
Marseille
Marseille Provence Airport
MRS
Paris
Charles de Gaulle Airport
CDG
Gabon
Libreville
Libreville International Airport
LBV
Germany
Frankfurt
Frankfurt Airport
FRA
Ghana
Accra
Kotoka International Airport
ACC
Greece
Athens
Athens International Airport
ATH
Guinea
Conakry
Conakry International Airport
CKY
Hong Kong
Hong Kong
Hong Kong International Airport
HKG
India
Ahmedabad
Sardar Vallabhbhai Patel International Airport
AMD
Bangalore
Kempegowda International Airport
BLR
Chennai
Chennai International Airport
MAA
Delhi
Indira Gandhi International Airport
DEL
Mumbai
Chhatrapati Shivaji Maharaj International Airport
BOM
Indonesia
Jakarta
Soekarno–Hatta International Airport
CGK
Ireland
Dublin
Dublin Airport
DUB
Israel
Tel Aviv
Ben Gurion Airport
TLV
Italy
Milan
Milan Malpensa Airport
MXP
Rome
Leonardo da Vinci–Fiumicino Airport
FCO
Japan
Tokyo
Narita International Airport
NRT
Kenya
Mombasa
Moi International Airport
MBA
Nairobi
Jomo Kenyatta International Airport
NBO
Kuwait
Kuwait City
Kuwait International Airport
KWI
Lebanon
Beirut
Beirut–Rafic Hariri International Airport
BEY
Madagascar
Antananarivo
Ivato International Airport
TNR
Nosy Be
Fascene Airport
NOS
Malaysia
Kuala Lumpur
Kuala Lumpur International Airport
KUL
Malawi
Blantyre
Chileka International Airport
BLZ
Lilongwe
Lilongwe International Airport
LLW
Mali
Bamako
Senou International Airport
BKO
Mozambique
Beira
Beira Airport
BEW
Maputo
Maputo International Airport
MPM
Namibia
Windhoek
Hosea Kutako International Airport
WDH
Niger
Niamey
Diori Hamani International Airport
NIM
Nigeria
Abuja
Nnamdi Azikiwe International Airport
ABV
Enugu
Akanu Ibiam International Airport
ENU
Kano
Mallam Aminu Kano International Airport
KAN
Lagos
Murtala Mohammed International Airport
LOS
Norway
Oslo
Oslo Gardermoen Airport
OSL
Oman
Muscat
Muscat International Airport
MCT
Philippines
Manila
Ninoy Aquino International Airport
MNL
Portugal
Lisbon
Lisbon Airport
LIS
Qatar
Doha
Hamad International Airport
DOH
Republic of the Congo
Brazzaville
Maya-Maya Airport
BZV
Pointe-Noire
Pointe-Noire Airport
PNR
Russia
Moscow
Domodedovo International Airport
DME
Rwanda
Kigali
Kigali International Airport
KGL
Saudi Arabia
Dammam
King Fahd International Airport
DMM
Jeddah
King Abdulaziz International Airport
JED
Riyadh
King Khalid International Airport
RUH
Senegal
Dakar
Léopold Sédar Senghor International Airport
DKR
Seychelles
Mahe
Seychelles International Airport
SEZ
Singapore
Singapore
Singapore Changi Airport
SIN
Somalia
Berbera
Berbera Airport
BBO
Bosaso
Bosaso Airport
BSA
Garowe
Garowe Airport
CGR
Hargeisa
Hargeisa International Airport
HGA
Mogadishu
Aden Adde International Airport
MGQ
South Africa
Cape Town
Cape Town International Airport
CPT
Durban
King Shaka International Airport
DUR
Johannesburg
O. R. Tambo International Airport
JNB
South Korea
Seoul
Incheon International Airport
ICN
South Sudan
Juba
Juba Airport
JUB
Malakal
Malakal Airport
MAK
Spain
Barcelona
Barcelona–El Prat Airport
BCN
Madrid
Adolfo Suárez Madrid–Barajas Airport
MAD
Zaragoza
Zaragoza Airport
ZAZ
Sudan
Khartoum
Khartoum International Airport
KRT
Port Sudan
Port Sudan New International Airport
PZU
Wadi Halfa
Wadi Halfa Airport
WHF
Sweden
Stockholm
Stockholm Arlanda Airport
ARN
Switzerland
Geneva
Geneva Airport
GVA
Tanzania
Dar es Salaam
Julius Nyerere International Airport
DAR
Kilimanjaro
Kilimanjaro International Airport
JRO
Zanzibar
Zanzibar International Airport
ZNZ
Thailand
Bangkok
Suvarnabhumi International Airport
BKK
Togo
Lomé
Lomé–Tokoin International Airport
LFW
Turkey
Istanbul
Istanbul Airport
ISL
Uganda
Entebbe/Kampala
Entebbe International Airport
EBB
United Arab Emirates
Abu Dhabi
Abu Dhabi International Airport
AUH
Dubai
Dubai International Airport
DXB
United Kingdom
London
London Heathrow International Airport
LHR
Manchester
Manchester Airport
MAN
United States
Chicago
Chicago O'Hare International Airport
CHI
Houston
George Bush Intercontinental Airport
IAH
Los Angeles
Los Angeles International Airport
LAX
Miami
Miami International Airport
MIA
Newark
Newark Liberty International Airport
EWR
New York City
John F. Kennedy International Airport
JFK
Washington, D.C.
Washington Dulles International Airport
IAD
Yemen
Aden
Aden International Airport
ADE
Al Hudaydah
Hodeida International Airport
HOD
Sana'a
Sana'a International Airport
SAH
Ta'izz
Ta'izz International Airport
TAI
Zambia
Livingstone
Harry Mwanga Nkumbula International Airport
LVI
Lusaka
Lusaka International Airport
LUN
Ndola
Ndola Airport
NLA
Zimbabwe
Harare
Robert Gabriel Mugabe International Airport
HRE
Victoria Falls
Victoria Falls Airport
VFA
International Destinations
Abidjan
Abuja
Accra
Amman
Antananarivo
Asmara
Bamako
Bangkok
Beijing
Beira
Beirut
Blantyre
Bosaso
Brazzaville
Brussels
Buenos Aires
Bujumbura
Cairo
Cape Town
Chengdu
Chennai
Chicago
Conakry
Cotonou
Dakar
Dammam
Dar es Salaam
Delhi
Djibouti City
Doha
Douala
Dubai
Dublin
Entebbe/
Kampala
Enugu
Frankfurt
Gaborone
Garowe
Geneva
Goma
Guangzhou
Harare
Hargeisa
Hong Kong
Houston
Istanbul
Jakarta
Jeddah
Johannesburg
Juba
Kano
Khartoum
Kigali
Kilimanjaro
Kinshasa
Kuala Lumpur
Kuwait City
Lagos
Libreville
Lilongwe
Lisbon
Livingstone
Lomé
London
Luanda
Lubumbashi
Lusaka
Madrid
Mahe
Malabo
Manama
Manchester
Manila
Marseille
Milan
Mogadishu
Mombassa
Moroni
Moscow
Mumbai
Muscat
Nairobi
Ndjamena
Ndola
New York City
Newark
Niamey
Nosy Be
Oslo
Ouagadougou
Paris
Pointe-Noire
Riyadh
Rome
São Paulo
Seoul
Shanghai
Singapore
Stockholm
Tel Aviv
Tokyo
Toronto
Victori Falls
Vienna
Washington D.C
Windhoek
Yaoundé
Zanzibar
Route News
New route: Addis Ababa—Marseille
3rd July 2019
Ethiopian Airlines has started flying a new service between Addis Ababa, with a stop at Milan Malpensa. The airline will fly the route three times a week and will use a Boeing 787 to carry passengers.
---

Hub Airport

Addis Ababa Airport
Addis Ababa Bole International Airport is the major hub for Ethiopian Airlines and is one of the largest airports in Africa. The airport was formerly known as Haile Selassie I International Airport.
Other airlines which fly to and from Addis Ababa Bole International Airport include Air China, Egyptair, National Airways Ethiopia, Emirates, Gulf Air, Kenya Airways, Lufthansa, Sudan Airways and Qatar Airways.
Addis Ababa Airport Lounge Access
The Cloud Nine Lounge at the departure hall in Addis Ababa Airport is exclusive for Cloud Nine passengers where they can wait for their flight in a relaxing and quiet atmosphere in comfortable seats.

TAR Alliance
---
Alliance
Ethiopian Airlines is a member of the Star Alliance, which is one of the leading global airline networks, and therefore Ethiopian Airlines has codeshare agreements with many airlines including Air China, Air India, Asiana Airlines, Brussels Airlines, SAS, Rwandair, Oman Air, Lufthansa and Turkish Airlines. In addition, Ethiopian Airlines has agreements with Malawian Airlines and ASKY Airlines. The Star Alliance has 27 member airlines. Originally founded in 1997, the Star Alliance began with five founding members which included Scandinavian Airlines, Thai Airways International, Air Canada, Lufthansa and United Airlines. The alliance has grown considerably now to airlines which fly to 1,321 airports and even more investment being pumped into frequent flyer programs.
---
Alternative Airlines
Please click the logos below to find alternative airlines that fly to Ethiopia too:
---