Ethiopian Airlines was voted Africa's Best Airline in 2009.
Ethiopian Airlines Flights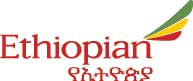 Ethiopian Airlines is based in the country's capital of Addis Ababa and operates a huge network of domestic, regional and international long haul services. Domestic scheduled destinations include: Addis Ababa, Arba Minch, Asosa, Axum, Bahir Dar, Beica, Dembidolo, Dessie, Dire Dawa, Gambela, Gode, Gondar, Gore, Inda Selassie, Jijiga, Jimma, Jinka, Kabri Dar, Lalibela, Mekane Selam, Mek'ele, Mizan Teferi, Shilavo and Tippi. International scheduled destinations include: Abidjan, Accra, Amsterdam, Bamako, Bangkok, Beijing, Beirut, Brazzaville, Brussels, Bujumbura, Cairo, Dakar, Dar Es Salaam, Delhi, Djibouti, Douala, Dubai, Entebbe/Kampala, Frankfurt, Guangzhou, Harare, Hargeisa, Hong Kong, Jeddah, Johannesburg, Juba, Khartoum, Kigali, Kilimanjaro, Kinshasa, Lagos, Libreville, Lilongwe, Lome, London (Heathrow), Luanda, Lusaka, Mumbai, Nairobi, Ndjamena, Paris (Charles de Gaulle), Rome (Fiumicino), Stockholm (Arlanda), Tel Aviv and Washington, D.C. (Dulles)
Ethiopia is a country that must be visited, even if it is only to see Lucy, the world's oldest complete human fossil at the Addis Ababa museum.
Ethiopian Airlines has developed into one of Africa's best airlines. With an increasingly modern fleet of aircraft and a reputation for excellent on board service plus numerous code share partners and connections with many other carriers, Ethiopian Airlines is one of the best ways to reach some of Africas greatest cities.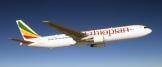 Ethiopian has a mixed fleet of over 36 aircraft and have 10 brand new B787's on order from Boeing.
In addition to their economy class in-flight service, Ethiopian also offer a "cloud nine" service. As part of the experience Ethopian provide both grown up passengers and children amenity kits, free newspapers and magazines which is enhanced by a choice of meal and fruit and cheese board and a liqueur.
Update 16.11.2010
Ethiopian Airlines announce new routes to Maputo, Malakal and Bengui from Addis Ababa hub.