Search & Buy Asky Airlines Flights
Airlines will always try to sit children with their parents (subject to check-in)
Some airlines will allow travel for unaccompanied minors. Please email us to check.
The fare is based on the child's age on the date of travel.
More detailed information can be found here Traveling with children
Most airlines will let infants travel with their parent(s) for free. However some airlines will charge up to 10% of the adult ticket price. Click on 'Price Breakdown' to find out more.
If you are pregnant, but due before the flight departure date, please contact us once your baby is born and has a name. We can then add him/her to your ticket.
Infants will not be given a seat. The airlines expect parents to travel with them on their lap.
Airlines regard infants as being under 24 months old.
The fare is based on the child's age on the date of travel.
More detailed information can be found here Traveling with children
Buy
Asky Airlines

Flights
Search and Buy ASKY Airlines Flights with Alternative Airlines
Make an ASKY Airlines reservation and find some amazing deals with discounted ASKY Airlines tickets at Alternative Airlines
---
About ASKY Airlines
ASKY Airlines is a passenger airline founded on the initiative of West African governments with its headquarters located at Lome, Togo and operates our of its hub Lomé-Tokoin Airport (LFW). The airline commenced operation in January 2010 and currently covers 25 destinations in 22 countries across West and Central Africa.
ASKY Airlines is the pan-African airlines that was created by regional institutions: the Bank for Investment and Development (EBID), the West African Development Bank (BOAD) and the ECOBANK Group. ASKY the Pan African Airline currently operates a fleet of 7 New Generation aircrafts such as Boeing 737s and Bombardier. ASKY is known for being one of the first airlines in the worldwide to operate dual-class Bombardier Dash 8 Q-400 aircraft, with a separate cabin for business class passengers.
ASKY Airlines operates across several West and Central African countries. ASKY Airlines flies to many destinations including Abidjan, Abuja, Accra, Bamako, Bangui, Bissau, Beirut, Brazzaville, Conakry, Cotonou, Dakar, Douala, Freetown, Kinshasa, Lagos, Libreville, Niamey, Monrovia, N'Djamena, Niamey, Ouagadougou, Pointe Noire and Yaounde.
The airline has alliances and codeshare agreements and is able to connect flights in its network to various points in the Ethiopian Airlines network, with whom it has codeshare agreements, via Addis Ababa and beyond to the Middle East, the Far East, and East Africa.
---
Frequent Flyer Program
ASKY Airlines operates a loyalty programme called ASKY Club, which rewards passengers for travelling frequently with ASKY Airlines.
There are 4 levels of membership available to members:
Brown Level
Silver Level
Gold Level
Black Level
The Black level of ASKY club is the highest level of frequent flyer program and makes it the highest customer available. When flying ASKY, customers will be granted a tier activity bonus of 100% on your status miles accrued.
As a black member, frequent flyer members will enjoy 20kg baggage allowance.
For more information on ASKY Club please click here.
---
Baggage
Carry-On Baggage
All passengers travelling on ASKY flights in business class or economy class are allowed to carry a hand luggage with dimensions not to exceed:
Length 55 cm
Width 25 cm
Depth 40 cm
The maximum weight of your luggage allowed in the cabin is: 10kg in business class, 7kg in economy class
Checked Baggage
All passengers travelling on ASKY flights in business class or economy class are allowed to carry a hand luggage with dimensions not to exceed:
The maximum weight of your luggage allowed in the cabin is: 40kg in business class, 30kg in economy class
---
Check-in
Web check-in
You can check-in from the comfort of your home. Web check-in helps to speed up your check-in process by giving you the choice to check-in and print your boarding pass from your computer. Alternatively, an e-Boarding pass can also be sent to your email address by the airline. This service also allows you to check in your baggage in advance, select your seat, meal options and much more, before you depart for the flight.
Airport Check-in
You can check-in and take your boarding pass from the ASKY airport desks. All you need to& provide is your e-ticket or your booking number, your passport and your ASKY Club card if you have one. Check-in counters close at least 45 minutes and 1 hour before departure.
---
Fleet
As of October 2019, Asky Airlines fleet consisted of the following aircraft:
5 Boeing 737-700
1 Bombardier Dash 8-Q400 which is to be returned to Ethiopian Airlines before 2020
2 Boeing 737-800 including 2 more which are to be delivered in 2020
---
Class Fares
The airline offers two class fares: Business and the standard Economy classes.
---
Economy Class
Economy Facilities
Depending on your flight duration, meal and drinks are served and according to the time you may have: breakfast, lunch, snack or dinner, hot or cold beverages. There is duty-free shopping available onboard. The airline doesn't currently offer any inflight entertainment.
There isn't any in-flight entertainment however you can stay entertained reading the ASKY Airlines in-flight magazine.
What are seats like?
The ergonomic seats offer comfort for a pleasant trip.
---
Business Class
Business Facilities
Depending on your flight duration, meal and drinks are served and according to the time you may have: breakfast, lunch, snack or dinner, hot or cold beverages.
What are seats like?
Each seat measuring almost 60cm wide and can turn into a supportive hammock. You will receive a wool blanket and pillow. Your privacy when not be compromised when the passenger in front tilts their seat.
---
ASKY Airlines Destinations
As of October 2019, the airline serves 22 countries and flies to 25 destinations in 16 countries across Asia, the Middle East, Europe and North America.
International Destinations
| Country | City | Airport |
| --- | --- | --- |
| Benin | Cotonou | Cadjehoun Airport (COO) |
| Burkina Faso | Ouagadougou | Ouagadougou Airport (OUA) |
| Cameroon | Douala | Douala International Airport (DLA) |
| Cameroon | Yaoundé | Yaoundé Nsimalen International Airport (NSI) |
| Central African Republic | Bangui | Bangui M'Poko International Airport (BGF) |
| Chad | N'Djamena | N'Djamena International Airport (NJD) |
| Côte d'Ivoire | Abidjan | Port Bouet Airport (ABJ) |
| Democratic Republic of Congo | Kinshasa | N'djili Airport (FIH) |
| Equatorial Guinea | Malabo | Malabo International Airport (SSG) |
| Gabon | Libreville | Libreville International Airport (LBV) |
| Gambia | Banjul | Banjul International Airport (BJL) |
| Ghana | Accra | Kotoka International Airport (ACC) |
| Guinea | Conakry | Conakry International Airport (CKY) |
| Guinea-Bissau | Bissau | Osvaldo Vieira International Airport (OXB) |
| Liberia | Monrovia | Spriggs Payne Airport (MLW) |
| Nigeria | Abuja | Nnamdi Azikiwe International Airport (ABV) |
| Nigeria | Lagos | Murtala Mohammed International Airport (LOS) |
| Republic of the Congo | Brazaville | Maya-Maya Airport (BZV) |
| Republic of the Congo | Pointe Noire | Pointe Noire Airport (PNR) |
| Senegal | Dakar | Blaise Diagne International Airport (DKR) |
| Sierra Leone | Freetown | Lungi International Airport (FNA) |
| South African | Johannesburg | O. R. Tambo International Airport (JNB) |
| Niger | Niamey | Diori Hamani International Airport (NIM) |
| Mali | Bamko | Bamako-Sénou International Airport (BKO) |
Domestic Destinations
| City | Province/Region | Airport |
| --- | --- | --- |
| Togo | Lomé | Lomé-Tokoin Airport (LFW) |
---
Route Map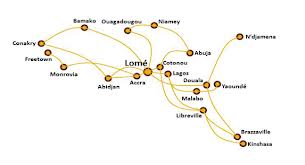 Popular Routes
Lome

Lagos
Douala

Lome
Lome

Dakar
Brazzaville

Lome
Bissau

Lome
Lome

Abidjan
---
Hub Airport
Lome-Tokoin Airport is the airport serving Lome, the capital of Togo. ASKY Airlines, a subsidiary of Ethiopian Airlines has its hub airport at Lome-Tokoin Airport (LFW).
Other airlines which fly to and from this airport include Air Burkina, Air Cote d'Ivoire, Air France, Asky Airlines, Brussels Airlines, Ceiba Intercontinental Airlines, Ethiopian Airlines and Royal Air Maroc

---
Special Services
ASKY airlines offer a number of special services to its passengers. Please see below the following services it offers:
Wheelchairs
Wheelchair assistance is offered at the airport, however, you must inform ASKY airlines of this at the time of your booking. You can ask for this service by getting through to the airline's offices; or the Alternative Airlines customer service team if you have booked through our website. For more details on this please see our wheelchair assistance page.
Unaccompanied Minors
If you're looking to arrange for your child to travel by themselves, you would need to book through the unaccompanied minors service. Under 11 years old must always be accompanied by an adult. ASKY offers an escort service the accompany the child from the beginning to the end of the child's trip. For more information on this contact the airline or alternatively, contact us.
Pregnant Mothers
For the safety pre-born, it's recommended that all heavy pregnant mothers inform their doctor before reserving their ticket. Expectant passengers less than 28 weeks need to travel with their hospital follow-up booklet. Passengers who are 28 to 36 weeks pregnant, a doctor would need to attest that you can fly. Medical clearance must be dated maximum 7 days prior to the flight. Passengers 36 weeks of pregnancy, you shouldn't be permitted to travel even with a doctors clearance.
---
Alternative Airlines
---
Airline Alliance
ASKY Airlines is currently not part of any airline alliances.