Search & Buy Air Côte D'Ivoire Flights
Airlines will always try to sit children with their parents (subject to check-in)
Some airlines will allow travel for unaccompanied minors. Please email us to check.
The fare is based on the child's age on the date of travel.
More detailed information can be found here Traveling with children
Most airlines will let infants travel with their parent(s) for free. However some airlines will charge up to 10% of the adult ticket price. Click on 'Price Breakdown' to find out more.
If you are pregnant, but due before the flight departure date, please contact us once your baby is born and has a name. We can then add him/her to your ticket.
Infants will not be given a seat. The airlines expect parents to travel with them on their lap.
Airlines regard infants as being under 24 months old.
The fare is based on the child's age on the date of travel.
More detailed information can be found here Traveling with children
Buy
Air Côte D'Ivoire

Flights
Air Côte D'Ivoire Reservations with Alternative Airlines
Make an Air Côte D'Ivoire Booking and Find Some Amazing Deals
---
About Air Côte D'Ivoire
Air Côte d'Ivoire is the national airline of Ivory Coast, based in Abidjan.
Air Côte d'Ivoire succeeded the former country's flag carrier, Air Ivoire, which went bankrupt in 2011. Air Côte d'Ivoire started trading in November 2012.
Air Côte d'Ivoire flies to 20 African capitals throughout Africa. Destinations include, Benin, Burkina Faso, Douala, Yaounde, N'Djamena, Kinshasa, Libreville, Conakry, Lagos, Niamey, Monrovia, Dakar, Freetown, Lome, Brazzaville, Pointe-Noire.
The airline currently has c.500 staff including pilots, flight attendants and technicians. The key shareholders in the business are Government of Ivory Coast, Air France-KLM and Aga Khan Fund for Economic Development.
Air Côte d'Ivoire's fleet comprises of 9 aircraft including Airbus A319s, A320s and Q400 Bombardier. A spacious Class Ivoire, equipped with screens above the seats, audio outlets on every single seat, electrical outlets on Business class seats and Class Ivoire seats.
---
Air Côte D'Ivoire Baggage
Air Côte d'Ivoire allows hand baggage for all passengers of up to 10kg in weight with dimensions of 56cm x 45 deep x 25cm wide.
Hold baggage of 30kg in economy and 40kg in business class is allowed.
Passengers in Business Class enjoy 40kg baggage, on board customised service, more customer loyalty benefits, priority of baggage delivery, customised screen and audio and VIP lunch.
Passengers in Economy Class are entitled to 30kg baggage, classic meals and customised screen and audio
---
Economy Class
Air Cote D'Ivoire's Economy Class 'Class Ivoire' is one of two cabin classes that the airline offers.
Economy Class Facilities
Customers flying Economy Class are given a free baggage allowance of 30kg.
In-flight, customers can enjoy delicious hot meals and other hot and cold snacks from the airline's in-flight menu, as well as a selection of drinks.
Each passenger has a personal screen above their seat, with an audio outlet.
Economy Class Seating
Economy Class seats are comfortable with a personal television screen fitted to each seat. Seats are set out in a 3 x 3 formation in Economy.
---
Business Class
Business Class is the Air Côte d'Ivoire's most upscale cabin class with its highest standard of service.
Business Class Facilities
Business Class passengers are given a free baggage allowance of 40kg and priority baggage handling.
Passengers with a Business Class ticket are given also given priority boarding and disembarkation.
In-flight each passenger is given a personalised service, which is delivered by the airline's expertly trained cabin crew. There is a personal screen above each fitted to each seat with an audio outlet.
Passengers are treated to food and drink from the airline's VIP menu.
Business Class Seating
Business Class seats are set out in a 2 x 2 formation, as to give each customer extra space and luxury. Each seat is fitted with a personal screen and an audio outlet.
---
Air Côte D'Ivoire Frequent Flyer Program
sMiles is Air Côte d'Ivoire loyalty programs which recognise most frequent flyers for their trust and loyalty.
The sMiles program entitles members to earn a welcome bonus of 1,000 miles and a further 1,00 miles for any online membership.
---
Air Côte D'Ivoire Route Map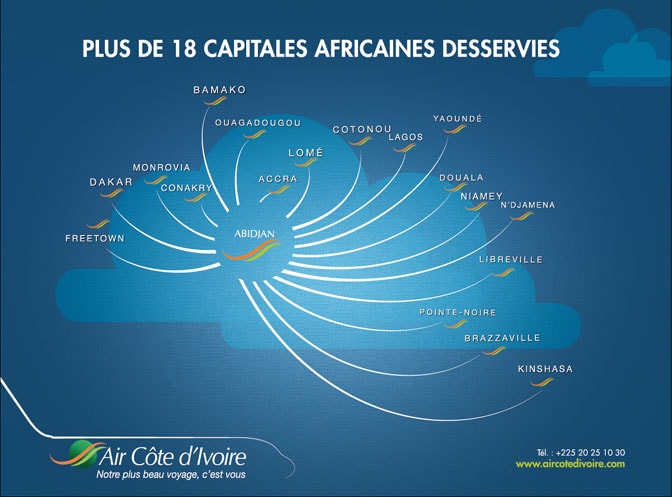 ---
Air Côte D'Ivoire Popular Routes
Abidjan

Brazzaville
Bamako

Abidjan
Libreville

Abidjan
Accra

Abidjan
Douala

Abidjan
Cotonou

Abidjan
---
Air Côte D'Ivoire Fleet

Airbus A319
Bombardier Dash 8 Q400
Airbus A320
---
Air Côte D'Ivoire Hub Airport
Port Bouet Airport
Port Bouet Airport is the main hub airport of Air Cote d'Ivoire and is the largest airport in the country. Other airlines which fly to and from this airport include Air Algerie, Air Burkina, Air France, Arik Air, Brussels Airlines, EgyptAir, Kenya Airways, South African Airways, Tunisair, Turkish Airlines and Ethiopian Airlines.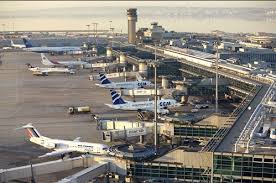 ---
Buy Discounted Air Côte D'Ivoire Tickets at Alternative Airlines
---
Alternative Airlines to Air Côte D'Ivoire Hub Airport
---
Air Côte D'Ivoire News
12th June 2018
Air Cōte d'Ivoire to launch new route between Bouake and Bakamo
Air Cōte d'Ivore has announced it's launching a new service between Bouaké Airport (BYK) and Bamako–Sénou International Airport (BKO) which will operate three times a week from 2nd August 2018. Air Cōte d'ivore will use a Dash 8-Q400 to carry passengers on the service. The journey time of the flight is yet to be announced by the airline.
The new route to Bamako on Air Cōte d'Ivorie will be the only scheduled passenger service that flies internationally from Bouake.
11th May 2018
Ethiopian, Air Cote D'Ivoire codeshare on U.S. route
Ethiopian Airlines (ET), and Air Côte d'Ivoire, the national flag carrier of Côte d'Ivoire, have entered into a codeshare agreement on the United States route. Under the new codeshare partnership, passengers originating from West African countries, especially from Lagos, Bamako, Cotonou, Accra and Lomé will board Air Côte d'Ivoire flights and enjoy fast and seamless connection to Newark on-board Ethiopian direct service to Newark via Abidjan.
Group Chief Executive Officer of Ethiopian Airlines, Tewolde GebreMariam, said the partnership was aimed at connecting passengers from West Africa to ET's new flights to Newark via Abidjan."I wish to thank the Côte d'Ivoire Government and the Minister of Transport in particular as well as Air Côte d'Ivoire for making this partnership possible.
Ethiopian new Abidjan flights to Newark will be operated in complementarity to our existing Newark service via Lomé, which is being availed together with our strategic partner, ASKY Airlines. Such partnerships among sisterly African airlines are crucial for African countries to fill the connectivity vacuum in the continent and for African carriers to regain their market share in their home market."
CEO of Air Côte d'Ivoire, René Decurey, noted that just few months ago, Abidjan airport was certified to carry out direct links with the USA."It is now time to launch theses direct flights and Air Côte d'Ivoire is very happy to carry out the operation in codeshare with Ethiopian Airlines. This agreement will allow Air Côte d'Ivoire to sell the flights as well.
"We will, therefore, be able to offer passengers on our network, flights to the USA via Abidjan with a single Air Côte d'Ivoire ticket. We are convinced that this partnership is the beginning of a long collaboration that will fully benefit our two Airlines and African passengers who used to pass through Europe to travel to the USA," Decurey said.
Ethiopian Airlines currently flies to 58 cities in Africa, and more than 112 destinations globally. Meanwhile, Ethiopian Airlines is also proud to announce that it has been recognised by TripAdvisor, one of the largest and most reputed global travel sites, as "The Best Business Class in Africa and Indian Ocean".
TripAdvisor has evaluated the world's top carriers based on reviews and ratings gathered from travelers worldwide over a 12-month period and recognised Ethiopian Airlines for its outstanding service, as well as the quality and value in its service delivery. Group CEO, Ethiopian Airlines, Tewolde GebreMariam, said: "We are highly honored to receive this award from TripAdvisor, the most prestigious global travel site. I wish to thank the TripAdvisor community for their resounding vote of confidence in our premium class product and service.
"We offer the best value proposition to premium travelers, whether corporate or government, thanks to our operational excellence, convenient and seamless connectivity, superior on-board product and top-notch end-to–end customer service. "We will continue to invest in the latest the technology aircraft such as the B787 and A350 that offer unmatched on-board comfort and to enhance our premium on-ground and on-board offerings with a superior level of service so as to meet the high expectations of premium travellers and remain their airline of choice."
December 2017
Air Cote d'Ivoire gets loans for Airbus purchase
The African Development Bank (AfDB) has approved 98 million euros in loans to help fund the national airline of the Ivory coast. This will contribute to their purchasing of five new Airbus A320s. This amounts to an investment of 253 million euros of investment that the company claim will make Air Côte d'Ivoire West Africa's premier airline, as well as make the capital, Abdijan, become the central hub of air travel in the region.
"Despite recent growth, the aviation market in the West and Central Africa region is the most disadvantaged on the continent and has huge suppressed demand – a situation that has hampered regional growth and integration," it said in a statement.
Still, while the Abidjan-based lender has participated in loan packages to commercial airlines in the past, some board members had raised questions about the structure of the loans and whether they fulfil the AfDB's development vocation.
July 2017
Air Cote d'Ivoire receives first ordered A320
West African operator Air Cote d'Ivoire has taken delivery of its first ordered Airbus A320 during a ceremony in Toulouse.
The carrier has two A320s and three A320neos on order, according to Airbus's backlog data.
Air Cote d'Ivoire formally signed for the A320s in April last year, selecting CFM International CFM56 powerplants for the type.
Airbus says the delivered A320 is configured with a two-class cabin, featuring 16 business-class and 132 economy-class seats.
Air Cote d'Ivoire is already an Airbus single-aisle operator with leases on four A319s and two A320s.