Search & Buy Tunisair Flights
Airlines will always try to sit children with their parents (subject to check-in)
Some airlines will allow travel for unaccompanied minors. Please email us to check.
The fare is based on the child's age on the date of travel.
More detailed information can be found here Traveling with children
Most airlines will let infants travel with their parent(s) for free. However some airlines will charge up to 10% of the adult ticket price. Click on 'Price Breakdown' to find out more.
If you are pregnant, but due before the flight departure date, please contact us once your baby is born and has a name. We can then add him/her to your ticket.
Infants will not be given a seat. The airlines expect parents to travel with them on their lap.
Airlines regard infants as being under 24 months old.
The fare is based on the child's age on the date of travel.
More detailed information can be found here Traveling with children
Buy
Tunisair

Flights
Search and Buy Tunisair Flights Online with Alternative Airlines
Make a Tunisair reservation and find some amazing deals with discounted flight tickets
---
About Tunisair
Tunisair is an international scheduled service airline and is a flag carrier for Tunisia. Tunisair was established in October 1948 as Tunisia's flag carrier and now operates 32 state-of-the-art aircraft (Boeing and Airbus) including A320, A319 and Boeing 737s. Tunisair is a member of the Arab Air Carriers Organisation. The airline main base is the Tunis-Carthage International Airport, located in the Tunisian capital Tunis.
Tunisair serves destinations located in Europe, Africa and the Middle East, to more than 100 destinations. These include Manchester, London, Paris, Brussels, Basle, Nantes, Bordeaux, Lisbon, Madrid, Barcelona, Marseille, Toulouse, Nice, Lyon, Geneva, Amsterdam, Dusseldorf, Hamburg, Berlin, Frankfurt, Luxembourg, Strasbourg, Munich, Vienna, Rome, Palermo, Marseille, Alger, Tunis, Tripoli, Casablanca, Benghazi, Cairo, Beirut, Damascus, Kuwait, Dubai, Jeddah, Nouakchott, Dakar, Bamako and Abidjan.
Tunisair is the flag carrier and largest airline in Tunisia, and in 2016 the airline operated half of all seats flown to and from the North Africa nation according to OAG schedules.
The airline has a fleet of 26 aircraft when looking made-up of: three A319s; 13 A320s; two A330-200s; seven 737-600s; and one 737-700.
---
Tunisair Baggage Allowances
Checked Baggage
For destinations within Tunisia, Europe and North Africa:
Economy Class - 1 x 23 kg baggage piece
Business Class - 2 x baggage pieces
For destinations in Middle East and West Africa:
Economy Class - 2 x 23 kg baggage pieces
Business Class - 3 x 23 kg baggage pieces
Carry-on Baggage
Economy Class - 1 piece with a maximum overall weight of 8kg
Business Class - 2 x pieces with a maximum overall weight of 10kg
---
Book Tunisair Flights in English
You can book Tunisair flights in English when you choose to book with Alternative Airlines. We are the company to trust when booking your flights, as our good communication in English allows for a helpful, friendly and trustworthy service.
---
Route Map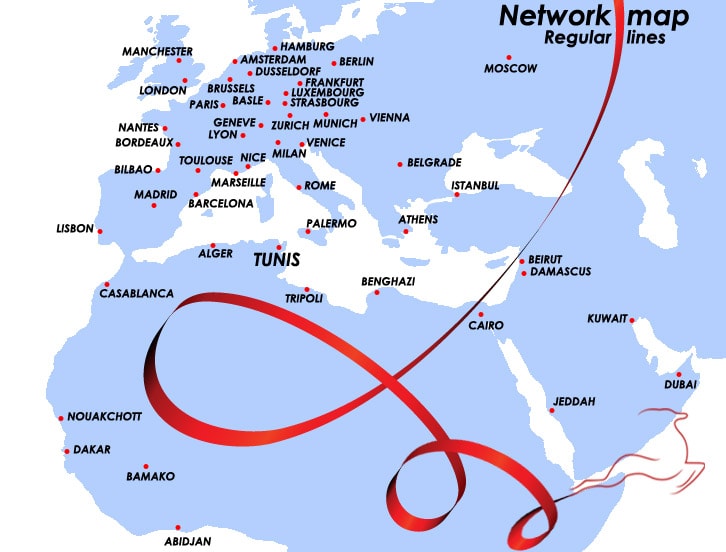 Popular Routes
Tunis

Budapest
Nice

Tunis
Belgrade

Tunis
Paris

Algiers
Dusseldorf

Tunis
Marseille

Algiers
---

The Fleet
Airbus A300-600
Airbus A330-200
Airbus A319-100
Boeing 737-500
Airbus A320-200
Boeing 737-600
---
Alternative Airlines to Tunisair
---
Tunis-Cathage International Airport
HUB Airport
Tunis-Carthage International Airport is the airport with international scheduled flights for the city of Tunis in Tunisia. The airport stands as a hub for Syphax Airlines, TunisAir Express and Nouvelair, in addition to Tunisair. The airport is named after the historical wonder of city that was Carthage. The airport sees an annual traffic of four million passengers every year.

---
Tunisair Frequent Flyer Program
Tunisair operates a frequent flyer program called Fidelys which rewards regular passengers with Tunisair.
The program aims at rewarding passengers by allocating Miles at a compensation for flying with Tunisair.
Fidelys also enables them to benefit from a wide range of advantages and exclusive Awards.
There are three levels of loyalty program for Fidelys:
Classic Card
Silver Card
Gold Card
---
Tunisair News
29th June 2018
Tunisair increase fleet this summer
Tunisair will a total of four new aircraft to its fleet this summer. Tunisair will acquire the four new aircraft on a wet-lease contract, to give the aircraft support operating routes this summer. The Tunisian airline will take a 50/50 split of Airbus and Boeing aircraft, with one Boeing 737-300, one Boeing 737-400 and two Airbus 340-300. While Tunisair has not stated the company that it has leased the Airbus aircraft from, it's been reported that GetJet Airlines are leasing the Boeing aircraft to Tunisair.
These new aircraft are expected to be used on seasonal routes for Tunisair, with a particular focus on extra flights to Jeddah during Hajj.
7th June 2018
Tunisair wet-lease B737 aircraft
On 3rd June 2018, Tunisair signed the contract to wet-lease a B737-300 aircraft from GetJet Airlines. The aircraft has been delivered to Tunisair and the airline has used it to run services between Djerba and Prague. Tunisair reportedly signed a three-month contract for the B737-300 aircraft which will expire on 15th September 2018.
This comes as part of a larger plan for Tunisair as they look to expand their fleet to help run services over the summer. The airline will also wet-lease an A340-300 aircraft and an A340-500 aircraft to cover operations between Jeddah and Madinah for Hajj.
14th May 2018
Tunisair sees passenger growth in April 2018
Tunisair saw their passenger traffic rise from 312,955 passengers in April 2017 to 319,821 passengers in April 2018, giving the Tunisian airline a 2.2% growth from year-to-year. Other passenger traffic statistics released include:
Scheduled traffic increased 2.7%
Additional traffic grew 27.2%
European countries for the airline saw a 2.4% increase, rising to 71.7% in total
African countries rose from 21.1% to 15.7%
North American traffic rose to 1.1%, which equated to a 95% rise
Unfortunately, passenger traffic from countries in the Middle East fell 95%
9th May 2018
Tunisair to wet-lease four aircrafts to help with busy summer schedule
The Commercial Director of Tunisian airline, Tunis Air, has confirmed that the carrier will take on four wet-leased aircrafts to help it through summer 2018 and travel to hajj.
Two of the aircrafts will be A320-200s, which will be used for leisure routes for tourism. The other two will be A340s, which are expected to operate services to Jeddah in order to accomodate the high demand of travel to hajj.
15th February 2018
Tunisair wants its five new A320neos before the scheduled date.
"Tunisair is in the process of negotiating with Airbus to extend the delivery time of five A320neo planes by 2019 or 2020, while the planned date, according to the agreement reached by the two companies in 2008 is 2021, "said Secretary of State to the Minister of Transport, Sarah Rejeb.
Speaking at a plenary session of the parliament on Tuesday, she continued that Tunisair works in order to develop its fleet through the acquisition of 13 airbus aircraft, including the 8 aircraft delivered. She said the airline's services are "unsatisfactory" but the carrier is working very hard to improve the situation.
11th January 2018
Tunisair launches first promotion; 'Jawi by Tunisair'
For the new season, 'Jawi by Tunisair' will target 32 destinations, including, France, Italy, Spain, Portugal, Switzerland, Spain, Portugal, the UK, Austria, Serbia, Turkey, Egypt and Morocco. Reduced fares will be priced at 369 D for the domestic travellers (excluding service charge) and the equivalent of €139 for the international market (excluding service charge).
December 2017
Tunisair operates maiden flight to Cotonou
The A320 plane Farhat Hached of national carrier Tunisair landed, on Wednesday, December 13, 2017 at 3:25 pm (Tunis time) at the international airport of Cotonou, capital of Benin, after its takeoff from Tunis-Carthage, 10:30 am for its maiden flight 401 to its 7th sub-Saharan destination.
This new air service linking Tunisia and Benin with two weekly flights (Saturday and Wednesday) is part of the strategy of the Tunisian national carrier to expand its service network on the African continent and capturing new markets with value-added for such sectors as services, tourism, education, and health, said Tunisair.
The Tunisian delegation, which was hosted by senior officials from the Republic of Benin, is led by Minister of Transport Radhouane Ayara, accompanied by Tunisair CEO Elyès Mnakbi, and representatives of the Prime Ministry and the ministries of transport, tourism, health, higher education, agriculture, interior, finance and foreign affairs as well as MPs.
15th November 2017
Tunisair plans Tunis – Bilbao charter in S18
Tunisair in summer 2018 season plans to offer charter service to Bilbao, the host city of Routes Europe 2018. The airline's Airbus A320 aircraft plans to operate Tunis – Bilbao route once a week, from 14JUN18 to 13SEP18.

TU8230 TUN0605 – 0920BIO 32A 4
TU8231 BIO1010 – 1120TUN 32A 4
November 2017
Tunisair to launch New York Flights in 2019
Tunisair will launch flights to New York JFK Airport in 2019, chief executive Elyes Mnakbi confirmed during an industry conference in Sharjah this week. The flag-carrier wants to transform Tunis into a sixth-freedom hub linking poorly-connected African cities with the rest of the world:
"We have a lot of demand from [passengers in] African countries to get them to Tunis, and then to go to other countries in Europe and Montreal," Mnakbi explained, referring to the flag-carrier's only existing long-haul destination. "Maybe when we will open New York it will be an opportunity for African people to go there."
Tunisair has an outstanding narrow-body order for five A320neos and expects to receive three units in 2019 followed by the final pair in 2020. Those aircraft will facilitate expansion of the short-haul network, with management aiming to grow their African footprint at a rate of two routes per year.
Cotonou in Benin will become the next addition on December 13th, followed by Douala in Cameroon and N'Djamena in Chad in 2018. The expanding fleet will then be used to open Lagos in Nigeria and Accra in Ghana in 2019, while the targets for 2020 have yet to be decided. Tunisair is likely to place an order for "two or three" Bombardier CSeries, Mnakbi confirmed, pending the approval of its government shareholder.
October 2017
Tunisair announces Montreal seasonal changes in W17
Tunisair in winter 2017/18 season is adjusting Tunis – Montreal operation, reflecting seasonal demand. For majority of winter season, 29OCT17 – 24MAR18, service operates 1 weekly (Day 5 from Tunis, Day 6 from Montreal), and peak season sees 2 weekly service (Day 36 in both direction) from 09DEC17 to 13JAN18.

TU202 TUN1020 – 1315YUL 332 6
TU202 TUN1610 – 1905YUL 332 3

TU203 YUL1515 – 0530+1TUN 332 6
TU203 YUL2110 – 1125+1TUN 332 3
August 2017
Tunisair eyes charter flights for next year
Tunisair's UK boss has confirmed the carrier is working on launching charter flights from a number of British airports to destinations throughout Tunisia in time for next summer. The UK Foreign Office amended its travel advice for Tunisia on July 26, no longer advising against travel to most of the country. It enables holidaymakers to return to areas including tourist resorts such as Sousse, where 30 British holidaymakers were killed in a terror attack in 2015. Tunisair is currently the only carrier flying direct from the UK to the North African country. Zakaria Fathallah, director for UK & Ireland, told TTG there was "a big probability" more flights could begin "from April or May 2018 from Gatwick and other regional UK airports to any Tunisia airport".
Fathallah named Enfidha and Monastir – both near to Sousse – as possible destinations for the charter flights, adding that the services could run once or twice per week, and that the Tunisian flag-carrier is also considering using larger aircraft on the UK-Tunisia routes it currently operates. He added that Tunisair would be open to working with Thomas Cook and Tui "if they need aircraft to Tunisia", and is planning to run tour operator roadshows in the new year. However, Fathallah maintained that there would be no decision on a potential summer 2018 charter programme before trade show WTM London in November: "There are a lot of conditions to consider and it is too early to confirm anything yet."
August 2017
Tunisair announced passenger traffic is up 23% in July 2017
Tunisair passenger numbers increased 22.7% year-on-year to 384,272 in Jul-2017. Load factor increased from 70.6% in Jul-2016 to 76.5% in Jul-2017. The European market grew 5.9% and accounted for 75.8% of total traffic. The African market grew 26.4% to account for 14.1% of the total. North America (Montreal) traffic increased by 56.3% and made up 1.84% of the total. Other markets grew 19.1% and made up 8.2% of the total.
July 2017
Tunisair announced it was to resume regular flights Sfax-Paris from 30th October 2017
Tunisair regional representative Issam Kchaou said Tunisair will operate three flights a week (every Monday, Wednesday and Friday), recalling that the company only provided one or two flights a week before suspending its activities in October 2013. The new air service will replace the flight currently scheduled by Tunisair Express (subsidiary of Tunisair), while offering preferential and promotional rates, knowing that the capacity (passengers) will increase from 87 to 126 seats, according to the same source. The flight from Thyna-Sfax airport will be made at 7 am and the return time is set at 8:25 pm on the same day.
March 2017
Tunisair plans to rebew fleet of rolling stock
Tunisair announced it was renewing its fleet of rolling stock as part of its new commercial policy aimed at promoting its freight activity and in order to best meet its customers' expectations in terms of quality of service provided, security and safety. Tunisair's additional investment program for 2017 also includes the reception of four additional tractors and four lifts, as well as a volume and weight detection device.
March 2017
Tunisair signed a partnership agreement with Tunisia Africa Business Council (TABC)
The Tunisair CEO welcomed this agreement and stressed the commitment of the national company to continue to work towards the rapprochement of Tunisia with Africa, especially Sub-Saharan Africa. Tunisair, whose current network includes 10 African cities, intends to launch several new services in order to develop its connection traffic via its Tunis hub. The company will launch its first Tunis-Conakry flight with a frequency of two weekly flights to the Guinean capital. In addition, the line to Cotonou (Benin) will be launched before the end of the current year. This link will operate 2 flights per week via Abidjan (Côte d'Ivoire).
In March 2017, Tunisair announced that it was starting to see a traffic resurgence after years of decline. Tunisair is the flag carrier and largest airline in Tunisia, and in 2016 the airline operated half of all seats flown to and from the North Africa nation. It has a fleet of 26 aircraft when looking at ch-aviation data, made-up of: three A319s; 13 A320s; two A330-200s; seven 737-600s; and one 737-700. It also shows that the airlines has an order for one CRJ 900, two ATR 72-500s and one ATR 72-200, suggesting that the airline's future markets will be closer to home. Between January and August last year, Tunisair carried just over two million passengers. When we compare that eight-month period with the same one in 2015, traffic has grown 7.5% from just under 1.89 million. With this traffic increase, 2016 is shaping up to be the first year since 2012 where passenger numbers have grown, with statistics from the airline's website showing that it carried 20% more passengers in 2012 than the sum transported in 2011.
In April 2017, Tunisair announced it will wet-lease a B737-400 from Lithuanian ACMI/Charter operator Grand Cru Airlines. LY-CGC (msn 23870) was deployed into service on April 13 and has since been used on flights from Tunis to each of Lyon St. Exupéry and Cairo Int'l. The majority state-owned Tunisian carrier's narrowbody fleet currently entails four A319-100s, seventeen A320-200s, and seven B737-600s used on regional North African and Continental European operations as well as flights to Saudi Arabia.
May 2017 - Tunisair is set to boost cooperation with Mauritania Airlines International following consultative talks between company representatives in Tunis last week. A press release to the Tunis Afrique Presse agency says the two carriers discussed opportunities for the development of trade relations in several areas including the conclusion of commercial tariff agreements as well as cooperation in the field of aircraft leasing and aeronautical medicine. The two carriers will also cooperate on route and network development while coordinating their respective flight schedules.
Tunisair has a history of cooperation with the Mauritanians. Up until 2010, it owned a 51% stake in MAI's predecessor, the now defunct Mauritania Airways. For its part, MAI operates 2 B737-500s, 1 B737-700, 1 B737-800, and 1 ERJ-145 on scheduled flights to Nouadhibou and Zouerate locally and Abidjan, Bamako, Casablanca Int'l, Conakry, Dakar, and Tunis regionally. Though it is one of the few African carriers to have been removed from Europe's blacklist, its European network consists only of flights to Las Palmas in the Canary Islands.
April 2017, Tunisair announced a five-year digital services agreement with Jeppesen, a Boeing Company. Jeppesen will provide Tunisair with FliteDeck Pro electronic flight bag (EFB) on iPad, tailored charting services and OpsData aircraft performance management tools. Jeppesen OpsData will provide Tunisair with on demand aircraft performance analysis for their mixed Boeing and Airbus fleet to enhance flight efficiency. The use of FliteDeck Pro on iPad will increase situational awareness for Tunisair, using real-time, data driven flight information. FliteDeck Pro also significantly reduces flight preparation time and overall pilot workload.
In June 2017, Tunisair announced a component MRO Contract with Tunisair Technics. The multi-component repair agreement with one of North Africa's leading airlines, covers over 300 part numbers, and ensures that high quality repairs will enable the airline to continue to fly safely and on time. AJW Technique, AJW's MRO facility based in Montreal, will continuously analyse component and sub-component reliability data against the specific flight characteristics of the operator to deliver the optimum support programme throughout the term. The agreement will be the second major support contract for the North African region, where AJW Technique's expertise has been rapidly recognised as at the forefront of the industry offering.
In June 2017, Tunisair Express announced a total of 136,484 seats for the 2017 summer season on the Djerba line (an average of 115 seats per day), with a 73% increase over the capacity put in place during the summer of 2016 and 45% compared to the summer of 2015. Tunisair Express will operate at an average of 6 flights per day between Tunis and Djerba, thanks to the operation of a 130-seat aircraft in addition to its fleet.
In June 2017, Tunisair announced the intention of opening a direct line linking Tunisia and Cameroon. The Foreign Minister Khemaies Jhinaoui also invited local investors to discover opportunities for cooperation and partnership with their Tunisian counterparts, underlining the Tunisian government's desire to ensure an entrepreneurial climate encouraging investment.
In October 2016, Tunisair announced it would not reposition itself as the Group's Low Cost Carrier despite initial plans to do so. In November 2016, Tunisair stated passengers increased 8.6% year-on-year to 2.6 million during the first 10 months of 2016. Passenger load factor increased 2.1 ppts to 70.4% during the period.
---