Buy
Air France

Flights

Search and Buy
Air France Flights Online with Alternative Airlines
Make an Air France reservation and find some amazing deals with discounted Air France tickets at Alternative Airlines
---
Air France is the flag carrier of France and is headquartered in Paris and is a founding member of the SkyTeam global alliance.
Air France flies to many destinations around the world including:
Aberdeen, Abidjan, Agen, Ajaccio, Djibouti City, Douala, Dubai, Johannesburg, Jersey, Jakarta, Istanbul, Manchester, Miami, Milan, Monrovia, Montevideo, Montreal, Seoul, Seville, Shanghai, Singapore and many others.
Air France has hub airports at Paris Charles de Gaulle Airport and Paris Orly Airport.
Air France is a subsidiary of Air France-KLM Group and also owns HOP!, Transavia France and Joon.
---
News
27th June 2018
Air France to operate one-off service
Air France will operate a special one-off service to Lebanon early next month. The French airline will offer its passengers a one-off opportunity to fly from its airport hub in Paris, Charles de Gaulle Airport (CDG), to Beirut–Rafic Hariri International Airport (BEY), Lebanon. Air France will use a Boeing 787 aircraft to operate the one-off service, which will depart Paris on 10th July 2018 and return the following day. The flight is listed to take 4 hours and 15 minutes outbound and 4 hours and 20 minutes return.
11th June 2018
Air France and KLM maintain their strong partnership
Rumour has it that there have been questions hovering over why KLM needs its long-term partner Air France when it is standing on its own two feet so well at the moment. It seems however, according to external sources, that both airlines will continue to rely on the support of one another for the foreseeable future. That said, it also seems possible that the partnership may be holding both airlines back in the European market, as together they seem unable to compete against European aviation giant, Lufthansa. Air France and KLM will continue to be successful together, but the question remains whether one will want to branch off and attempt to take the top spot. There are also rumours that AccorHotels is looking to invest in Air France-KLM, which could turn the airline in to a full-service travel superpower.
22nd May 2018
Air France reduce flights from Paris to Tehran
Air France have announced that they will be reducing the number of flights it operates between Paris and Tahran due to competetion and other changes in the market. The airine will only operate the route during the summer season, effective October 2018.
The airline released a statement that read "After two years of operations and faced with a weak economic and commercial performance, Air France took the decision to adjust this route's flight schedule to be in line with demand." Air France will instead give the service to their subsidary airline, JOON, which are based at Paris Charles de Gaulle Airport (CDG).
10th May 2018
Air France-KLM dampen profit and growth expectations
Air France-KLM has come to the conculsion that profits may fall this year due to strikes. Air France tickets may have suffered from the high demand for tickets thanks to robust economies, which has helped to ease the pressure on fares. The results came as Air France staff staged a 13th day of walkouts this year and come hours ahead of a crunch ballot for the group's chief executive, who has said it would be hard for him to stay if staff vote against the pay proposal. Last year, the group made an operating profit of 1.488 billion euros, although that has been restated to 1.9 billion euros due to IFRS accounting rule changes. Air France believe that the walk outs may have cost the company 300 million euros.
19th April 2018
Air France Paris CDG to Taipei Taoyuan
Air France launched services between Paris CDG (CDG) and Taipei Taoyuan (TPE) on 16 April. The French flag carrier will deploy its 280-seat 777-200s on the 9,872-kilometre sector, with the SkyTeam carrier planning to operate the route three times weekly. Flights will depart CDG on Mondays, Thursdays and Saturdays. Air France will face direct competition on the route from EVA Air, with it already offering a daily service between the two airports. See how this route launch FTWA performed against other airports from around the world.
18th October 2017
Air France-KLM, China Southern set to enhance cargo ties
KLM Royal Dutch Airlines Boeing 747-400F© KLM Royal Dutch Airlines
China Southern Airlines Cargo has signed a Memorandum of Understanding (MOU) with Air France-KLM Royal Dutch Airlines-Martinair concerning a strategic partnership agreement that could eventually lead to an integrated commercial and operational cargo joint venture in the Europe-China market. The two sides have an existing commercial partnership dating back to 2015.

In a statement issued following the document's signing last week, Marcel de Nooijer, executive vice president of AFKLMP Cargo said: "We continuously want to create more value to our customers, and in doing so we are very excited to deepen the cooperation with our strategic partner China Southern Cargo. This new phase is good news for our customers."

Under the terms of the MOU, the Chinese and European cargo carriers will expand their existing cooperation and build on their mutual experience to connect their cargo business in China, Europe and beyond markets.

It will also allow either side to tap into the other's strengths, possibly through capacity sharing and bellyhold space agreements. China Southern is particularly strong in the China and the Asia-Pacific region with AF-KLM's potent in the Europe, Africa, and trans-Atlantic markets.

As such, the deal will combine China Southern Cargo and AF-KLM's cargo networks (bellyhold and main-deck capacity) to offer high-frequency services via hubs at Guangzhou, Shanghai Pudong, Paris CDG, and Amsterdam. It will also offer either party easy access to the other's capacity and ground handling facilities at home base hubs, which may facilitate more efficient interline transfers. Lastly, the enhanced partnership is also expected to increase mail and express business opportunities between China, Europe, and the United States.
28th September 2017
Air France Launches New Airline Joon - Marketing to Millennials
When U.S. carriers try to appeal to Millennial customers and compete with the dread ULCCs (ultra-low cost carriers), they roll out Basic Economy fares. In Europe, it seems that for the majors to compete with the likes of Ryanair, Norwegian Airlines and WOW, they roll out whole new airlines.
That's been the strategy of British Airways, with their Level spinoff. Now Air France has targeted the fickle Millennial flyer as well, with Joon. The name was chosen to "illustrate a positive state of mind." A press release proclaims, "Joon is … a fashion brand, a rooftop bar, an entertainment channel, a personal assistant … and Joon does flying too!" Moreover, Joon "will be one of Air France's priorities in its offensive to win back market share."
Joon, to be based at Charles DeGaulle Airport in Paris, is set to begin flying this December. It will launch with short jaunts in Airbus A320s from France to Barcelona and Berlin, as well as Lisbon and Porto, Portugal. The first long-distance flights (on bigger A340s and A350s) are tentatively set for the Seychelles and the Brazilian beach city of Fortaleza.
Joon flight attendants will be as authentically Millennial as the passengers, in white sneakers, electric blue polo shirts and sweaters made of recycled fabrics. No word on whether the Joon "rooftop bar" will serve avocado toast to its Millennial customers.
Route Map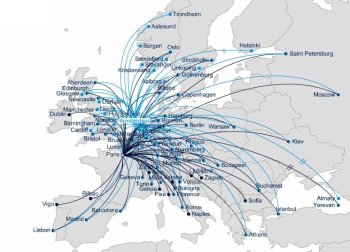 Popular Routes
Paris

Dubai
London

Sao Paulo
Lagos

Paris
Cairo

London
Paris

Singapore
Paris

Brasilia

---
The Fleet
Airbus A320-200
Boeing 777-200ER
Boeing 777-300ER

Airbus A380-800
Airbus A340-300

Airbus A330-200
---
Paris Charles de Gaulle Airport
HUB Airport
Charles de Gaulle Airport is France's larges airport and is the hub airport for Air France and XL Airways France. It has four runaways and can handle nearly 65 million passengers. Other airlines which fly to and from Charles de Gaulle include Adria Airways, Aegean Airlines, Aer Lingus, Air China, Air Europa, TAM Airlines, Thai Airways, Tunisair, Turkish Airlines, Turkmenistan Airlines, United Airlines, Ukraine International Airlines and many others.


SkyTeam Alliance is a leading global airline network, with 20 member airlines. SkyTeam alliance was founded in 2000 and now consists of member airlines such as Aerolineas Argentinas, AeroMexico, Air Europa, China Southern, Alitalia, China Airlines, Delta, Garuda Indonesia, Kenya Airways, KLM and others. SkyTeam Alliance network has nearly 16,323 daily flights, with 1,052 destinations in 177 countries.
---
---
Book Flights with Air France
Make an Air France reservation and find some amazing deals with discounted Air France tickets at Alternative Airlines. Air France flies to many destinations worldwide, offering a cost effective and safe service to all its passengers. Let Alternative Airlines help find you cheap Air France tickets and make international and domestic flight reservations on Air France today.
Browse the most popular Air France flight routes to cities worldwide. Alternative Airlines can help you make reservations on Air France for international flights to lots of destinations. Use the following list of routes to help you plan your next flight. Book Air France flights on Alternative Airlines to save big! Alternative Airlines is an online travel agency, specialising in booking lesser known airlines and remote destinations.
Alternative Airlines is an Online Travel Agency bonded by the International Air Transport Association (IATA). We specialise in finding the best available fares on the widest range of airlines and making them available to you online, with prices in the currency of your choice.
Alternative Airlines handles all your travel arrangements and payments, complete with ticketed confirmation. We do not direct you to other websites or service providers.
We help you through the process. This is what makes us Alternative Airlines.
Browse for flights, find some amazing deals, make a reservation and pay in the currency of your choice today with Alternative Airlines.
Let Alternative Airlines help find you the best prices and make international and domestic flight reservations with us today.
Join the Alternative Airlines Members Club and get £100.00 back on your 5th booking with Alternative Airlines. You will have insight to many benefits and exclusive deals on over 650 airlines. Click on the Members section on the Alternative Airlines website for more information and join today.
We are open every day from 8am until 8pm (UK local time).
Air France is now one of the largest airlines in the world (in terms of operating revenues) following it's merger with KLM. Whilst the integration is not quite complete many economies of scale and (surprisingly) improvements to working practices are already evident in the joined up company. Air France Flights We're focussing on Air France rather than the larger merged entity and even then the figures for this massive airline are still staggering. With a dominant position at its home airport of Paris Charles de Gaulle it flights operate to every major continent. For example, as an alternative to transiting through Madrid you can connect to direct flights from Paris to Buenos Aires (Argentina), Rio de Janeiro and Sao Paulo (Brazil), Santiago (Chile), Bogotá (Colombia), Cayenne (French Guiana) and Caracas (Venezuela). Special ultra French destinations include Papeete in French Polynesia, Fort de France (Martinique), Port au Prince (Haiti), Saint Martin (Dutch Antilles), Pointe a Pitre (Guadeloupe), Montreal (Canada), Ho Chi Minh City (Vietnam), St Dennis (Reunion), Abidjan (Ivory Coast) and Hassi Messaoud (Algeria) Air France flights to South America What makes Air France an alternative airline despite it being part of the world's largest carrier formed by its merger with KLM ? The Answer: we're not recommending that you use it to fly to France (we prefer the train, Eurostar or TGV if you wish to go further than Paris) however as a 'super cool, immaculate on-board service, the best in-flight wines and cuisine with a capital Q for quality' way of getting to South America, Africa or anyway in the world where French is still the spoken language, we reckon that AF is the one to book. Super cool, immaculate on-board service, the best in-flight wines and cuisine with a capital Q for quality'. ...that's Air France.

Air France is increasing the frequency of its flights from Paris (CDG) to Havana from autumn 2015 up to 11 per week with the addition of an an extra flight every Wednesday using a Boeing 777-300 aircraft with 468 seats. The national airline of Cuba, Cubana Airlines, flies once weekly from the second airport of Paris (ORY) departing from France every Sunday.
---
The Air France service is complemented by their airline partner, KLM, who operate from Amsterdam to Havana three times each week in the summer, increasing to four times during winter 2015/6.
In 2014, Air France and Cubana finalised an agreement to allow Cubana to fly to over 30 Air France destinations in both Europe and the Caribbean, whilst giving Air France the rights to serve Cubana's local market.

Air France - KLM and Air Niugini enter in a unique agreement
As from 1 July 2011, passengers traveling to/from Port Moresby to/from Europe can benefit from this new agreement between the three airlines. Within this agreement, Air Niugini, AIR FRANCE and KLM will form an interline arrangement which will encompass Papua New Guinea destination and AIR FRANCE and KLM Hubs in Paris and Amsterdam.
Papua New Guinea is a fast growing country blessed with numerous natural resources like copper, gold, oil and gas. A 15 bn USD LNG project that is in the pipeline also adds to PNG being a much traveled to destination. Apart from natural resources there are also several international organizations and NGO's active in PNG.
Prior to the signing of this agreement, passengers could only be booked to Air Niugini destinations in the Air Niugini network which excludes Europe. Passengers travelling to destinations outside of the Air Niugini network were then advised to book with another carrier online. During their trip passengers then had to collect their checked baggage and re-check in for the next flight, which can be time consuming.
"The implementation of the Interline E-ticketing Agreement ensures that Air Niugini and AIR FRANCE and KLM customers now have easy connections to and from Port Moresby via any of the following Asian destinations Singapore, Hong Kong, Manila and Tokyo to and from any European city in the network of AIR FRANCE and KLM. Furthermore passengers' baggage is tagged all the way to/from Europe without hassle. It saves them time from having to re-check baggage for the next flight, says Wasantha Kumarasiri, Chief Executive Officer, Air Niugini.
"We are very happy with this unique agreement with Air Niugini to offer our customers a seamless service between Papua New Guinea and our extensive network in Europe and vice versa", says Paul Rombeek, General Manager Singapore, Indonesia, Australia and New Zealand, AIR FRANCE KLM.
The signing of this Interline E-ticketing Agreement with AIR FRANCE and KLM now brings the Air Niugini airline agreements to a total of twenty-eight (28).
AIR FRANCE and KLM combined operate 208 weekly flights to 24 Asian cities spread over 11 countries. With the combination of the two Hubs (Paris- Charles de Gaulle and Schiphol), they have a vast well-balanced dual network at their disposal, and linking Europe to the rest of the world. This new partnership will offer travellers a wider choice ticketing opportunities and will give potential customers greater flexibility to combine travel on the networks of Air Niugini and Air France and KLM.
/>
READ MORE ABOUT AIR FRANCE
How to pay
You can pay for your flights with Air France in the currency and payment method of your choice when booking through Alternative Airlines.
We accept PayPal making flight purchases with Air France easy and more secure for customers. PayPal is one of the leading forms of online payment, with more than 169 million accounts worldwide.