About the
Boeing 777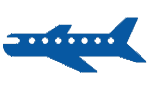 The Boeing 777 is a wide body twin-engine aircraft family created by Boeing. The Boeing 777 is typically used on medium-haul and long-haul flights and can carry between 314–396 passengers, depending on the class-layout and the model variant. Overall, the Boeing 777 has five active variants that are used for commercial flights.
The original Boeing 777 is named the Boeing 777-200. It started service in 1995 and was followed by the 777-200ER (extended range) in 1997 and then the 777-300 in 1998. The Boeing 777-300 has many of the same specifications of its predecessors but, due to its longer body, can carry significantly more passengers. Collectively, the Boeing 777-200, 777-200ER and 777-300 are known as the 777 classics.
In 2004, Boeing released the first of its second-generation 777s when the 777-300ER entered service. This was followed by an ultra-long-range variant of the 777-200 in 2006, which is named the Boeing 777-200LR (long-range).
Boeing is currently producing a third-generation series of the Boeing 777, which will include two new planes, named the 777-8 and 777-9. Together, these will be known as the Boeing 777x series. The Boeing 777x jets will take features from the Boeing 787 and also have updated GE9X engines, more cabin space, more seating capacity and a range of other updates. The 777x series is expected to be released in the coming years.