What is a
wide body aircraft?
A wide body aircraft is a wide airplane that has the capacity to carry a large number of passengers. Wide body aircraft are almost always used to operate long haul and medium haul flights but can occasionally be used on shorter flights.
A widebody aircraft can carry from 200–850 passengers and typically have two aisles per cabin. Wide body aircraft usually have two cabins or more with a combination of one Economy Class cabin and one or more Business Class, First Class or Premium Economy cabins.
The seat formation for a wide body aircraft will differ depending on the cabin class. In the standard Economy Class cabin, there are usually 7–10 columns of seats, split into three blocks which are separated by two aisles. Seats will typically be laid out in a 2 x 3 x 2, 3 x 3 x 3 or 3 x 4 x 3 configuration. Other cabin classes will have fewer seats, to allow for more room for the passenger.
Take a look at the image below which shows the seat layout for a Boeing 747-400 wide body plane.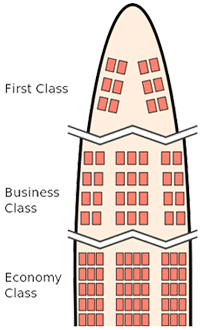 Credit: TheOtherJesse and Toytoy at English Wikipedia
There are two types of wide body aircraft — standard wide body aircraft and bigger wide body aircraft. The bigger type is referred to as a 'jumbo jet' and is often a double-decker with two floors of seating.
Wide body aircraft are used both in commercial passengers flights and cargo services by hundreds of airlines worldwide.