Airlines will always try to sit children with their parents (subject to check-in)
Some airlines will allow travel for unaccompanied minors. Please email us to check.
The fare is based on the child's age on the date of travel.
More detailed information can be found here Traveling with children
Most airlines will let infants travel with their parent(s) for free. However some airlines will charge up to 10% of the adult ticket price. Click on 'Price Breakdown' to find out more.
If you are pregnant, but due before the flight departure date, please contact us once your baby is born and has a name. We can then add him/her to your ticket.
Infants will not be given a seat. The airlines expect parents to travel with them on their lap.
Airlines regard infants as being under 24 months old.
The fare is based on the child's age on the date of travel.
More detailed information can be found here Traveling with children
Twin Engine Planes
Cancellation Protection
Protects
Trusted Choice
65,000 happy customers
Rated 4.5 Stars. Based on 3,581 service ratings over the past year
Dedicated customer service team on hand to help
Secure payments
Cancellation Protection
Protects
Trusted Choice
65,000 happy customers
Rated 4.5 Stars. Based on 3,581 service ratings over the past year
Dedicated customer service team on hand to help
Secure payments


Twin-engine planes
Wondering what a twin-engine plane is? Discover airlines that operate twin-engine planes, as well as what it means to fly on a twin-engine aircraft.
What are
Twin-engine

planes?

Twin engined aircraft air are effectively as it says on the tin. They are aircraft in which are powered by dual engine power, namely 2 engines, which usually are the same engine type - hence the term 'twin'.
This type of aircraft can be seen all over the world today and is favoured by most airlines operating, both due to their operating costs and the wide ranges of performance these aircraft can give.
Technology has come on leaps and bounds in the last 20 years, which has allowed aircraft to come in all shapes and sizes with various engine types available. It is now the case that older aircraft designs such as the 747 & a340, both of which have 4 engines, are becoming obsolete. Even newer aircraft such as the a380 are suffering, with some being retired after only 10 years of service purely due to operational costs.
Types of

twin-engine

aircraft
Twin engined aircraft can be broken down into 'light', 'medium' and 'heavy' categories. Each category has their own uses and performance depending on the use for the aircraft in question.
Light
Aircraft in the light category would be examples such as the DeHavilland Dash 8 or the Twin Otter, of which are twin turboprop aircraft, operating mainly regional flights. These aircraft will tend to operate shorter hops, and with their low weight, are able to get into smaller airfields. A great example of this is Barra airport in Scotland, where the runway is a beach! This means that the Twin Otter, a light twin engine, is the only sort of aircraft that can fly to the airport. If you're flying from a domestic airport to a small airstrip, it is very likely you will fly in a light twin-engine aircraft. Another great example would be the aircraft used for Safari flights.
Top Tip: Check out our guide to regional jets for more information, including an aircraft comparison and FAQs!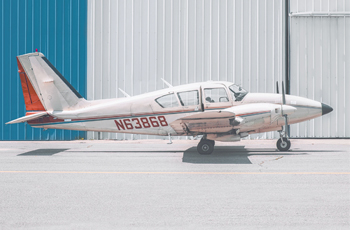 A Piper Seneca - an example of a light twin-engine aircraft.
Medium
Aircraft in the medium category would be examples such as the a320 or Boeing 737. These aircraft have a much longer range and are able to carry many more passengers. Airlines find these the most popular types of aircraft, both in terms on maintenance costs and operationally. Some airlines will primarily focus one type for their fleets, for example Ryanair only operate 737's, whereas EasyJet will operate a purely Airbus fleet. These aircraft will tend to operate short-haul or medium-haul flights.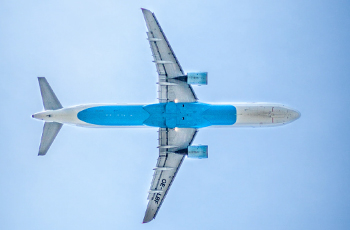 An A320 - an example of a medium sized twin-engine aircraft.
Heavy
Aircraft in the heavy category would be examples such as the Boeing 777 or the Airbus 350. These aircraft are becoming ever popular with airlines as their manufacturers are forever increasing their efficiency. They predominantly operate long and super long haul flights. The a350 recently accomplished flights from London Heathrow (LHR) - Sydney (SYD) , with an average flight time of 20 hours.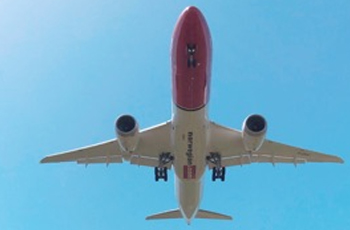 A Boeing 787 - an example of a heavy twin-engine aircraft.
What airlines operate
Twin-engine

planes?
Manufacturers of twin engine aircraft
| | | |
| --- | --- | --- |
| DeHavilland | Boeing | Airbus |
| Embraer | Fokker | AeroSpatiale ATR |
| Dornier | | |
Airlines with twin engine aircraft only fleets
The following are examples of airlines that only have twin engine aircraft in their fleet:
Twin-engine plane

FAQs
What is the largest twin-engine plane?
The Boeing 777 is a long-range wide-body twin-engine jet airliner. The aircraft is the world's largest twin-engine jet, with a typical seating capacity of 314 to 396 passengers. You can read more in our Boeing 777 guide.