TUI Fly Reservations with Alternative Airlines
Make a TUI Fly Booking and Find Some Amazing Deals
---
About TUI Fly
TUI fly Deutshland, formerly known as TUIfly, is a German leisure airline headquartered at Hannover Airport. The airline is owned by the travel and tourism company TUI Group. TUI fly Deutschland is part of the TUI Airlines "alliance." In 2007 Hapag-Lloyd Express (HLX) and Hapagfly merged to form TUI fly. TUI fly is a wholly-owned enterprise of the TUI Group, the world's leading tourism troup with headquarters in Hanover, Germany. The airline flies to holiday regions all around the Mediterranean, the Canary and Cape Verde Islands, Madeira and Egypt. By the summer of 2014, TUI fly used 40 Boeing 737 aircraft to fly to these destinations. The airline offers a high degree of quality for a fair price with characteristic reliability, punctuality and safety. TUI fly headquarters are at the Hanover Airport.
---
Fleet
The airline's fleet is comprised of 18 Boeing 737-800 aircraft.
---
Baggage
Carry-on Baggage
Passengers are permitted one piece of carry-on baggage with a maximum weight of 5kg. The dimension of the carry-on must not exceed 55cm x 40cm x 20cm. For some holidays, you are allowed 7k of carry-on luggage but this will be clearly shown on your ticket.
Checked Baggage
The baggage allowance for customers will vary depending on the fare class of the ticket purchased. The free baggage limit for Perfect Fare customers is 20k. The Pure Fare does not include any free baggage. The maximum dimensions for any piece of baggage must not exceed 80cm x 65cm x45cm.
---
Check-in
Online Check-In
Online check-in can be completed 30 days prior to flight departure but closes five hours before the flight's departure.
Airport Check-In
In general, the airport check-in desks open two hours before the scheduled departure time. The desks will close 45 minutes prior to departure, or, 60 minutes prior to departure if flying from Tel Aviv.
---
Book Flights in English
Alternative Airlines gives you the opportunity to book TUI Fly flights in English. You can search and buy the TUI Fly flights you need and complete you booking in English. Pay with the currency of your choice and even book with PayPal!
---
Hub Airport
Gatwick Airport
One of the airline's airport bases is Gatwick Airport, near Crawley in West Sussex. Gatwick is the second busiest airport in the United Kingdom and the eighth busiest airport in Europe. In 2017, around 40 million passengers came through Gatwick's doors.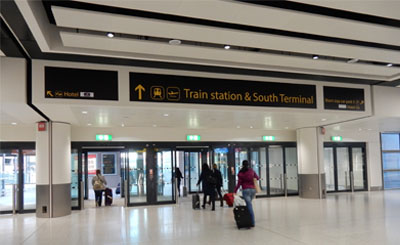 Photo credit: Sunil060902
---
Route Map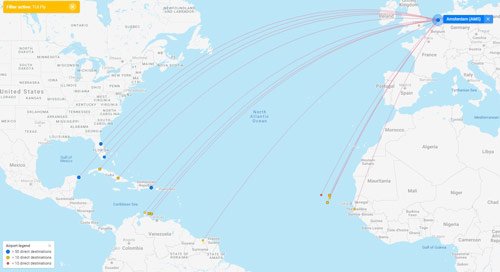 ---
Destinations
Boa Vista - Rabil Airport
Sal - Amílcar Cabral International Airport
Egypt
Hurghada - Hurghada International Airport
Marsa Alam - Marsa Alam International Airport
Agadir - Al Massira Airport seasonal
Tel Aviv - Ben Gurion International Airport seasonal
Cologne/Bonn - Cologne Bonn Airport base
Düsseldorf - Düsseldorf Airport base
Frankfurt - Frankfurt Airport base
Hanover - Hanover Airport base
Karlsruhe/Baden-Baden - Karlsruhe/Baden-Baden Airport seasonal base
Munich - Munich Airport base
Nuremberg - Nuremberg Airport seasonal
Saarbrücken - Saarbrücken Airport seasonal base
Stuttgart - Stuttgart Airport base
Araxos/Patras - Araxos Airport seasonal
Corfu - Corfu International Airport, "Ioannis Kapodistrias" seasonal
Heraklion - Heraklion Airport seasonal
Kos - Kos Airport seasonal
Rhodes - Rhodes International Airport, "Diagoras" seasonal
Malta - Malta International Airport seasonal
Faro - Faro Airport seasonal
Funchal Madeira - Madeira Airport seasonal
Fuerteventura - Fuerteventura Airport
Ibiza - Ibiza Airport seasonal
Jerez de la Frontera - Jerez Airport seasonal
Lanzarote - Lanzarote Airport
Las Palmas de Gran Canaria - Gran Canaria Airport
Minorca - Menorca Airport seasonal
Palma de Mallorca - Palma de Mallorca Airport
Tenerife - Tenerife South Airport
Basel/Mulhouse - EuroAirport Basel-Mulhouse-Freiburg
Antalya - Antalya Airport seasonal
Dalaman - Dalaman Airport seasonal
Samsun - Carsamba Airport seasonal