Search & Buy Eurowings Flights
Let's fly!

Select your payment method to view total prices including any payment fees:
Airlines will always try to sit children with their parents (subject to check-in)
Some airlines will allow travel for unaccompanied minors. Please email us to check.
The fare is based on the child's age on the date of travel.
More detailed information can be found here Traveling with children
Most airlines will let infants travel with their parent(s) for free. However some airlines will charge up to 10% of the adult ticket price. Click on 'Price Breakdown' to find out more.
If you are pregnant, but due before the flight departure date, please contact us once your baby is born and has a name. We can then add him/her to your ticket.
Infants will not be given a seat. The airlines expect parents to travel with them on their lap.
Airlines regard infants as being under 24 months old.
The fare is based on the child's age on the date of travel.
More detailed information can be found here Traveling with children

Buy
Eurowings

Flights

Eurowings Reservations with Alternative Airlines
Make a Eurowings Booking and Find Some Amazing Deals
---
About Eurowings
Eurowings is a German low-cost airline which has its headquarters in Dusseldorf and is fully owned by the Lufthansa Group. Eurowings offers flights within Europe and to attractive long-haul destinations based on the successful partner Germanwings. The airline flies to many destinations including Amsterdam, Bangkok, Barcelona, Bari, Basel, Berlin, Bilbao, Birmingham, Brussels, Bucharest, Jersey, Katowice, Geneva, Gothenburg, Hamburg, Edinburgh and many others.
In October 2015, Eurowings started to integrate Germanwings' route network into Eurowings.
Eurowings has Bombardier CRJ900, Airbus A320-200, Airbus A330-200 in its fleet. Eurowings' parent company Lufthansa has established its new point-to-point brand with the new Eurowings. Eurowings group aims to become one of the top three low-cost providers in Europe with non-stop flights both within Europe and on intercontinental flights from Europe. Eurowings offers three fares (Basic, Smart and Best) on European and long-haul flights. Eurowings' intercontinental route network includes the following destinations in the Caribbean, Dubai and Thailand, Varadero, Punta Cana, Puerto Plata, Phuket, Bangkok and Dubai.
---
Eurowings Frequent Flyer Programme
Eurowings operates a frequent flyer program called Miles & More to reward regular passengers with the airline. Eurowings offers three types of fares: Basic, Smart and Best fares. Best is a Eurowings high-end fare. It is geared towards the needs of business travelers and some leisure travelers. The Smart fare includes several extra services and Basic offers the most affordable option. Smart fare includes one checked item of luggage, preferred seating and in-flight catering. The Best fares offer passengers an exclusive seat in the front rows with more legroom, lounge access, a la carte catering. Eurowings, the new company created after the merger with Germanwings, announced it was introducing a new line Koln - Rijeka in Winter 2017. Eurowings has announced a new regular line that will connect Rijeka and Koln throughout the year.
---
Eurowings Baggage
Carry-on Baggage
Each passenger is able to carry one piece of hand luggage weighing up to 8kg and measuring no more than 55 x 40 x 23 cm free of charge.
Checked Baggage
The Eurowings checked baggage allowance will vary depending on the class fare on your ticket. Basic fare customers can purchase checked baggage online from €8.
---
Eurowings Check-in
Airport Check-in
Airport check-in counters open two hours before the flight and close 60 minutes before the departure time.
Online Check-in
Online check-in is available 72 hours before flight departure, allowing customers to save time at the airport and check-in conveniently from home. Online check-in closes 3 hours prior to departure. Web check in is not available for long-haul flights to the USA, Havana, Varadero and Windhoek.
---
Eurowings Popular Routes
Dusseldorf

Geneva
Amsterdam

Cologne
Vienna

Bangkok
Cologne

Bucharest
Hamburg

Dusseldorf
Cologne

Vienna
---
Book Eurowings Flights in English
Make your Eurowings reservation in English with Alternative Airlines and make the most of our easy-to-use booking service. Our trusted booking process is completely in English to save you from any misunderstandings at the time of purchase. Our customer service team is also at hand to help you in English with any queries surrounding your reservation.
---
Eurowings Route Map

---
Book Eurowings Flights in English
Find Eurowings flights in English with Alternative Airlines! Enjoy a swift and stress-free booking process by booking your Eurowings Flights in English with Alternative Airlines. We want to make your booking experience as easy as possible, that's why we offer Eurowings flight reservations in English.
---
Alternative Airlines to Eurowings
Please click on the logos below to find out more about airlines that fly similar route to Eurowings:
---
Eurowings Hub Airport
Frankfurt Airport
Frankfurt Airport is a major international airport located in Frankfurt, the fifth-largest city of Germany and one of the world's leading financial centers. It is operated by Fraport and serves as the main hub for Lufthansa including Lufthansa CityLine and Lufthansa Cargo as well as Condor and AeroLogic. It is also a European hub of United Airlines. The airport covers an area of 2,000 hectares of land and features two passenger terminals with a capacity of approximately 65 million passengers per year, four runways and extensive logistics and maintenance facilities. A number of airlines operate services from this airport including Laudamotion, Condor, LATAM and Iran Air.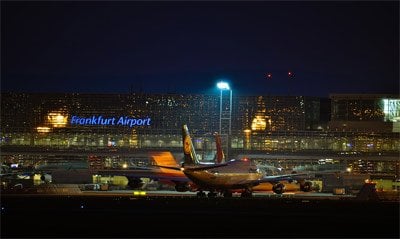 ---
Eurowings News
22nd June 2018
Eurowings Commences Weekly Non-stop Flight Between Munich And Montego Bay
Eurowings' inaugural flight departed Munich at 9:35 am and arrived in Montego Bay at 1:45 pm on Wednesday 18th July.
This flight will be a duration of 11 hours approx.
The launch comes just 1 year after Eurowings launched 2 scheduled weekly flights between the German city of Cologne/Bonn and Montego Bay.
Tourism Minister Edmund Bartlett noted that the additional flights augur well for "our aggressive European tourist growth strategy." He noted also that,"Jamaica benefitted from a 44% increase in German stopover visitors for 2017 over the previous year, moving from 20,768 to 29,858. Our goal is 50,000 German tourists per annum within the next 2 to 3 years,".
Bartlett pointing to the success of the European growth strategy indicated that several more new nonstop flights between the Europe and Jamaica are programmed.
In 2017, Jamaica received a record 325,804 European tourists. This is approximately 31,000 more than the previous year.
22nd May 2018
Eurowings doubles the frequency of Düsseldorf—Bangkok service
Eurowings will operate twice as many flights between Düsseldorf Airport (DUS) and Suvarnabhumi Airport (BKK) starting from 28th October 2018. The German airline used to operate two weekly flights connecting Dusseldorf with Bangkok, but now they will operate services an increased four times a week. Part of the flight will be operated by SunExpress Germany on behalf of Eurowings with the Airbus A330-200 aircraft. The total flight time is expected to take 11 hours and 15 minutes, with stopover times differing depending on which day you fly.
8th May 2018
Eurowings Launches 16 New Greece Routes this Summer
Eurowings held a press conference in Athens to reveal its massive expansion across Greece.
The panel of speakers was attended by Markus Leopold, senior regional director, Eurowings and Ivan Orec, senior manager, network development, Eurowings. Representing the ministry of tourism, the event was honoured by the presence of Giorgos Tziallas, secretary-general, tourism policy and development, Greece.
Eurowings revealed it is launching 16 new routes to and from Greece this summer, offering 66 routes to the Hellenic Republic. Corfu, Heraklion and Kos are getting four new routes, Rhodes three and Zakynthos one new route. Furthermore, Eurowings is anticipated to increase its frequencies on six existing routes to Greece this summer.
Significantly, Eurowings is expected to grow by 40 percent this year in Greece, transporting more than 1.4 million passengers and delivering more than 300,000 additional tourists to Greece.
"As we are becoming one of the biggest European low-cost carriers, Greece will remain one of our top markets and these trends will continue in the upcoming periods," expanded Orec.
2nd May 2018
Germany's Eurowings Lands in New York with Ambitions to Be Europe's 'Value' Airline
Calling itself "Europe's fastest growing airline," Eurowings, a low-cost offshoot of Lufthansa, planted its flag in New York City this week, as part of an aggressive expansion that will grow its route map by some 30 percent this year.
At an industry event in New York to promote the new route — Eurowings' six-times weekly service between JFK International Airport and Dusseldorf — the airline also rolled out a brand-new inflight business class product. The new BIZ class will feature lie-flat beds and other amenities designed to distinguish it from other front-of-the-plane offerings on low-fare carriers, like Norwegian, which do not offer a flat-bed option.
Eurowings already serves four other U.S. cities: Miami, Fort Myers, Las Vegas and Seattle, from both Dusseldorf and its other main hub in Munich. But, until recently, it has primarily focused on Europe-originating traffic.
The addition of New York's JFK coincides with a new push to reach U.S. consumers, especially more price-conscious travelers who are already flocking to upstart transatlantic contenders like Norwegian, Wow and Level.
In an interview, Tamir Goudarzi Pour, Lufthansa's VP sales for the Americas, said that Eurowings will also capitalize on its Dusseldorf hub, which is less congested than mega-hubs like Frankfurt and Munich, and can offer fast connections to dozens of cities.
"It's a close-in airport, within 15 minutes from downtown", he said, noting that Dusseldorf is a major industrial center. And it is also a convenient gateway for leisure travelers who are heading for the Rhine region of Germany or to the nearby countries of Holland and Belgium. Given the popularity of river boat cruises, the airport's location is even more of an asset, he said. It is also growing as a transit hub with flights to some 70 other destinations around Europe and beyond.
The New York to Dusseldorf route will be flown with Airbus A340-300 aircraft, with 18 BIZ class seats, 21 "Best" seats with more legroom, and 261 coach seats. To add to the boutique feel, the airline will offer German specialties such as local craft beers and apple crisps from a Hamburg start-up.
The carrier currently has a fleet of 185 aircraft, with a mix of short-haul narrowbodies and long-distance widebodies, and plans to increase that to 210 planes this year.
12th Apirl 2018
Eurowings' positive growth momentum maintains the airline as Europe's fastest growing
German low-cost carrier, Eurowings, has maintained its steady growth in the first quarter of 2018 (Q1), the company told the press on Wednesday. The Lufthansa subsidiary kept its title as the fastest growing airline in Europe. Passengers have grown by 40% in the first quarter of 2018, which is astounding when compared to the wider airline market, which only grew at a humble %4-5. This may have something to do with the budget airline comptitor of Eurowings, Air Berlin, going bankrupt. Lufthansa has purchased about 70 planes formerly operated by Air Berlin in an effort to further boost the development of Eurowings. The company are very ambitious, already expanding its Munich Airport presence to serve around 40 destinations, including long-haul flights to the United States and Dominican Republic. Wagner announced that capacity at the regional hub was set to double to ten planes.
23rd March 2018
Eurowings and Brussels Airlines combine
Brussels Airlines made its inaurgaural flight on Tuesday for the low-cost carrier (LCC), Eurowings. In April, the Belgian carrier is scheduled to begin long-haul flights for Eurowings, taking off from Dusseldorf. The Airbus A340, sporting Eurowings colours, flew on Tuesday between Düsseldorf and Palma de Mayorca and between Düsseldorf and Vienna. These European connections serve as training flights before launching intercontinental operations in late April.

Brussels Airlines will use two A340s and an A330 for its long-distance flights for the German company, which will serve New York, Fort Myers and Miami in the United States, Cancun in Mexico and Punta Cana in the Dominican Republic. The three planes will make a total of 1,700 intercontinental flights per year, ferrying about 450,000 passengers, Eurowings reported.In recent months, Brussels Airlines has taken on 250 stewards, stewardesses and pilots for the new planes. A spokesperson for the airline said the new crew members, mostly Germans, were trained in Brussels.

Both Brussels Airlines and Eurowings belong to the Lufthansa group. The Belgian airline was selected to carry out long-haul flights for Eurowings because of its expertise in this area. Eurowings does not, in fact, operate long-haul flights.
09th October 2017
Eurowings plans Munich - Pristina launch in S18
Eurowings in summer 2018 season is scheduling new route for Pristina, as the airline plans one weekly Munich – Pristina flight. From 24MAR18, this route will be served once a week, by airberlin A320 aircraft.

The following schedule is effective from 31MAR18.

EW5708 MUC0555 – 0750PRN 320 6
EW5709 PRN0830 – 1020MUC 320 6
28th September 2017
Eurowings announces Berlin - Brussels new service in W17
Eurowings from 29OCT17 is adding Berlin Tegel – Brussels service, with 2 daily rotation. In winter 2017/18 season, service will be operated by germanwings Airbus A319 aircraft.

EW8100 TXL0645 – 0815BRU 319 D
EW8102 TXL1825 – 1955BRU 319 D

EW8101 BRU0940 – 1105TXL 319 D
EW8103 BRU2040 – 2205TXL 319 D

Separately, the airline has removed planned 2 weekly Berlin Tegel – Birmingham service, previously scheduled from 01DEC17 to 17DEC17.
28th September 2017
Eurowings announces new service between Newquay and Stuttgart
Eurowings, a budget airline and part of Lufthansa, is set to add a Newquay-Stuttgart route to its portfolio with a once weekly flight every Saturday as of March 31, 2018.
The new weekly route will run for summer 2018. The flight will depart from Stuttgart at 08:25 and will arrive at Newquay at 10:25. The flight from Newquay departs at 10:55 and will reach Stuttgart at 12:50.
The new flight comes as Eurowings continues to increase connectivity between Cornwall and Germany. In addition, the airline has extended the season of its Newquay to Dusseldorf route, which is also operating each Saturday, to October 20. In total Eurowings will operate two routes from Newquay Airport next summer.
Markus Leopold, Regional Manager UK at Eurowings, said: 'We are delighted to add Stuttgart, our second route here to our Newquay summer schedule and also expand the seasonality of our existing route to Dusseldorf. There is a growing demand from Newquay to Germany and vice versa and we are looking forward to see even more Eurowings in Cornwall in the future.'
Al Titterington, Managing Director at Cornwall Airport Newquay added, 'We're pleased to be welcoming an expanded route network with Eurowings for 2018. The addition of Stuttgart as well as the expanded season on their popular Dusseldorf route illustrates the strong demand for easy access to Cornwall from the German market and is a result of the positive relationship we have built with Eurowings. We're delighted that our network of direct connections to Germany is expanding, offering more choice for passengers wishing to travel between Cornwall and Germany.'
The new Eurowings flights between Newquay and Stuttgart can be booked at www.eurowings.com or via the Eurowings app. Holidaymakers are also offered the option to book budget package holidays on the website through the Eurowings Holidays tour operator. These combine the new flight options with hotel offers, Cornwall Airport said in its release.
Cornwall Airport Newquay has registered a significant increase in its passenger traffic this summer. The airport handled a record 61,000 passengers during August, an increase of 30 percent. The airport growth this summer is more than triple the EU average of eight percent and will reach its 600,000 to 650,000 annual capacity limits, the airport noted.
21st September 2017
Eurowings and Condor to take over airberlin Caribbean routes
German leisure carrier Condor and Lufthansa Group LCC Eurowings will launch flights to the Caribbean from Dusseldorf from Sept. 25, following the closure of airberlin's long-haul routes to these regions.
Condor will wet lease one Airbus A330-200 on flights from Dusseldorf to Punta Cana and La Romana (Dominican Republic), Cancun (Mexico), Montego Bay (Jamaica) and Barbados, from November. Eurowings will launch 4X-weekly services from Dusseldorf to Punta Cana from Nov. 8; a weekly service to Varadero (Cuba) starting Dec. 16; weekly service to Puerto Plata (Dominican Republic) from Dec. 14; and 2X-weekly service to Cancun beginning Dec.18.
September 2017
Eurowings adds Dusseldorf - Caribbean routes in W17
Eurowings this week opened reservation for its planned Trans-Atlantic service from Dusseldorf, gradually commencing from November 2017 to the Caribbean. Planned operation as follow.

Dusseldorf – Puerto Plata eff 14DEC17 1 weekly until 26APR18
EW1144 DUS1300 – 1825POP 332 4
EW1145 POP1955 – 1000+1DUS 332 4

Dusseldorf – Punta Cana eff 08NOV17 2 weekly until 21MAR18. Service operated by TUIfly aircraft
EW1140 DUS1135 – 1655PUJ 767 7
EW1140 DUS1255 – 1815PUJ 767 3

EW1141 PUJ1825 – 0830+1DUS 767 7
EW1141 PUJ1945 – 0950+1DUS 767 3

Dusseldorf – Varadero eff 16DEC17 1 weekly until 28APR18
EW1130 DUS1255 – 1820VRA 332 6
EW1131 VRA2020 – 1140+1DUS 332 6
September 2017
Eurowings S18 new short-haul routes as of 21SEP17
Eurowings earlier this week opened reservation for additional short-haul routes for summer 2018 season, effective from 25MAR18. Additional new routes as follow.

Cologne – Monastir eff 28MAR18 1 weekly A319**
Dusseldorf – Corfu eff 31MAR18 1 weekly A320
Hannover – Corfu eff 01MAY18 1 weekly A319*
Hannover – Kos eff 25MAR18 1 weekly A319*
Hannover – Monastir eff 27MAR18 1 weekly A319*
Hannover – Rhodes eff 01MAY18 1 weekly A319*
Munich – Alicante eff 03MAY18 1 weekly A320**
Salzburg – Irakleion eff 04MAY18 1 weekly A319 (Eurowings Europe service)
Stuttgart – Alicante eff 27MAR18 2 weekly A320**
Stuttgart – Newquay eff 31MAR18 1 weekly A319*
Stuttgart – Palermo eff 15APR18 1 weekly A319*
Stuttgart – Zakynthos eff 05MAY18 1 weekly A319*

Previously reported new routes:
Hamburg – Corfu eff 08MAY18 1 weekly A320
Munich – Cologne eff 25MAR18 4 daily A319*
Stuttgart – Venice eff 25MAR18 2 weekly A319* (1 weekly each germanwings and airberlin aircraft from 04MAY18)

* operated by germanwings aircraft; ** operated by airberlin aircraft

Also, in recent schedule update, all germanwings operating service under 4U-coded flight numbers, will switch to Eurowings' EW-coded flight numbers from 25MAR18.
In March 2017, Eurowings announced it was launching winter flights from Manchester. Low-cost airline Eurowings has announced it will launch a new route from Manchester to Salzburg this winter. The German carrier's twice-weekly service to the Austrian city, which is a gateway to the Alps, will start on December 4. Flights will operate on Mondays and Fridays and fares will include free ski equipment carriage. The service will operate until March 23 on an A320 aircraft. Eurowings currently flies to Cologne, Dusseldorf and Hamburg from Manchester all year round.
In March 2017, Eurowings announced it was launching a new route from Manchester to Salzburg this winter. The German airline will launch a twice weekly service to the Austrian city from early December. Flights on the new route will operate every Monday and Friday starting from December.
---
Pay your way
Pay for flights in USD or 70 other currencies of your choice with Alternative Airlines.
Choose from over 18 payment methods, including PayPal, Apple Pay , Fly now Pay later and Alipay
Check out all of our payment methods here.
---
About Alternative Airlines
Alternative Airlines is an online flight search complete with customer service specialising in booking flights on lesser known airlines and to remote destinations. We offer you a wider choice of airlines supported by a team of customer service and travel specialists for help and advice on your travel plans. We specialise in finding the best available fares on the widest range of airlines and making them available to you online, with prices in the currency of your choice.
Alternative Airlines handles all your travel arrangements and payments, complete with ticketed confirmation. We do not direct you to other websites or service providers. We help you through the process. This is what makes us Alternative Airlines. Check out our reviews on Feefo or our reviews page. If you want to know a little bit more about us, read our blog for our alternative travel secrets and stories.
Browse for flights, find some amazing deals, make a reservation and pay in the currency of your choice today with Alternative Airlines. Let Alternative Airlines help find you the best prices and make international and domestic flight reservations with us today.
---