Search & Buy Germanwings Flights
Let's fly!

Select your payment method to view total prices including any payment fees:
Airlines will always try to sit children with their parents (subject to check-in)
Some airlines will allow travel for unaccompanied minors. Please email us to check.
The fare is based on the child's age on the date of travel.
More detailed information can be found here Traveling with children
Most airlines will let infants travel with their parent(s) for free. However some airlines will charge up to 10% of the adult ticket price. Click on 'Price Breakdown' to find out more.
If you are pregnant, but due before the flight departure date, please contact us once your baby is born and has a name. We can then add him/her to your ticket.
Infants will not be given a seat. The airlines expect parents to travel with them on their lap.
Airlines regard infants as being under 24 months old.
The fare is based on the child's age on the date of travel.
More detailed information can be found here Traveling with children

Buy
Germanwings

Flights

Germanwings Reservations with Alternative Airlines
Make a Germanwings Booking and Find Some Amazing Deals
---
About Germanwings
Germanwings is a German low-cost airline, based in Cologne. Germanwings has been operating alongside its sister company Eurowings from 2016.
Germanwings is a wholly owned subsidiary of Lufthansa and its main hubs are Cologne Bonn Airport, Stuttgart Airport, Hamburg Airport, Berlin Tegel Airport and Düsseldorf Airport. Other bases for Germanwings are Hannover Airport and Dortmund Airport.
Germanwings originally had codeshare agreements with Air Canada, All Nippon Airways, Austrian Airlines, Brussels Airlines, Lufthansa, Swiss International Airlines and United Airlines. But as the airline has grown, the airline has begun operating a number of its routes with its own flight code.
---
About Eurowings
Eurowings is a German low-cost airline which has its headquarters in Dusseldorf and is fully owned by the Lufthansa Group. In October 2015, Eurowings started to integrate Germanwings' route network into Eurowings. Eurowings flies to many destinations including Amsterdam, Bangkok, Barcelona, Bari, Basel, Berlin, Bilbao, Birmingham, Brussels, Bucharest, Jersey, Katowice, Geneva, Gothenburg, Hamburg, Edinburgh and many others.
Eurowings has Bombardier CRJ900, Airbus A320-200, Airbus A330-200 in its fleet. Eurowings offers flights within Europe and to attractive long-haul destinations based on the successful partner Germanwings.
Eurowings' parent company Lufthansa has established its new point-to-point brand with the new Eurowings. Eurowings group aims to become one of the top three low-cost providers in Europe with non-stop flights both within Europe and on intercontinental flights from Europe.
---
Germanwings Class Fares
Eurowings offers three types of fares:
Basic
Smart
Best
The Smart fare includes several extra services and the Basic offers the most affordable option. Smart fare includes one checked item of luggage, preferred seating and in-flight catering.
The Best fare is Eurowings' high-end fare. It's targeted towards the needs of business travellers and some leisure travellers.
The Best fare offers passengers an exclusive seat in the front rows with more legroom, lounge access, a la carte catering. Eurowings, which merged Germanwings into their business, announced it was intensifying their cooperation and signed an extensive codeshare agreement. In future, a total 15 of the quality low-cost airline's routes will also have Singapore Airlines' SQ flight numbers. In future, passengers will travel comfortably to Singapore and throughout Asia with Eurowings and Singapore Airlines. The two airlines had already started their cooperation last year following the launch of the new direct connection between Düsseldorf and the city-state of Singapore.
---
Germanwings Baggage Policy
Carry-on Baggage
Each passenger flying on Germanwings is able to carry one piece of hand luggage weighing up to 8k and measuring no more than 55cm x 40cm x 23cm free of charge.
Checked Baggage
Each passenger flying on Germanwings basic fare can bring up to two items of checked baggage with a maximum weight of 23kg per bag at a fee.
Excess Baggage
The price of extra luggage for Germanwings flights depends on the flight. If additional baggage is registered before flying, either online, on the app or over the telephone, the price will be lower than if excess baggage is checked in at the airport.
---
Germanwings Check-in information
Online Check-In
Passengers can check in for their Germanwings flights online using this link. This is available 72 hours before departure, up to 3 hours prior to departure. This service is available for all short and medium haul flights, and some long-haul flights.
Airport Check-in
Passengers who do not check in online must do so at the airport check-in desk. These desks open 3 hours before departure and close 60 minutes before the scheduled departure time.
---
Germanwings Destinations
Eurowings' intercontinental route network includes the following destinations in the Caribbean, Dubai and Thailand, Varadero, Punta Cana, Puerto Plata, Phuket, Bangkok and Dubai.
The quality low-cost airline and the Star Alliance partner are now further intensifying this cooperation by additionally signing an extensive codeshare agreement. In addition to the connections to Düsseldorf, it now also relates to the long-haul flights by Singapore Airlines from Munich, Zurich and Manchester which have already been in place for some time.
The codeshare agreement starts on 22 June 2017 for a total of 15 Eurowings' European routes to and from Düsseldorf, Munich, Zurich and Manchester. In future, it will be possible to combine the feeder flights via Eurowings with the long-haul flights of the multi-award winning airline in one ticket.
---
Germanwings Frequent Flyer Program
Passengers with Germanwings are entitled to participate in the Miles & More frequent flyer program. Miles & More is the largest traveller loyalty program and offers rewards to passengers of the Star Alliance travelling on certain types of tickets. The program was launched by Lufthansa and is used by 13 European airlines.
Eurowings also operates a frequent flyer program called Miles & More to reward regular passengers with the airline.
There are three types of miles within the program: Award Miles, Status Miles and HON Circle Miles.
---
Book Germanwing Flights in English
Book your chosen Germanwings flight with Alternative Airlines in English. We also provide customers with a wide choice of flight times, itineraries and payment options, including your chosen currency. Find your Germanwings flight in English today!
---
Pets, Emotional Support Animals and Service Animals on Germanwings
Thinking of flying with either a service animal, pet, or an emotional support animal, see all information and advise by Alternative Airlines about taking an animal on a plane.
---
Germanwings News
10th March 2018
Implementation of LEAN Management Principles in MRO Business Lead to Profitable Year of 2017
€5,6 Million. FL Technics is a global provider of aircraft maintenance, repair and overhaul (MRO) services. Company specializes in base & line maintenance, spare parts & component support, engine, APU & LG management, full aircraft engineering, technical training.
"After careful evaluation, it is clear that diversification of the client portfolio, focus on the team & customer satisfaction, LEAN-based management (running an organization in the concept of continuous improvement) has lead FL Technics to a great year", notes Zilvinas Lapinskas, CEO at FL Technics. He compares recent financial results to 2015, when the major client at that time announced ceasing all operations and left FL Technics with €8 Million of unpaid bills. The company finished that year with the loss of over €11 Million.
Last year FL Technics launched the Bay system (dedicated teams are working on one aircraft) and have invested in mechanical training of the in base maintenance staff thus attracting 1st-tier European airlines as clients.
Currently Swiss air, Luxair, Eurowings, Germanwings, Pegasus, Corendon airlines are maintained in FL Technics hangars. According to Zilvinas, FL Technics had served the aircrafts from 27 airlines from 17 countries in two hangars in Lithuania.
Line maintenance business grew by opening 8 new line stations in Germany, Spain, Latvia, Russia, and UK. FL Technics together with its subsidiary UK-based Storm Aviation are serving clients for line maintenance in 15 countries in Europe, Russia, CIS, and Africa.
Last year the company has attracted 30 aircrafts for CAMO services, and it is further expanding with successful OASES Aviation Maintenance software implementation. DOE team closed the year with 85 aircraft modifications.
11th October 2017
Lufthansa, VC pilot union reach long-term agreement
Lufthansa, Lufthansa Cargo and Germanwings have reached a deal with the Vereinigung Cockpit pilot union (VC) and signed a new collective labor agreement (CLA) on all previously open issues. The signed contracts correspond to the agreement reached in March.
Talks between Lufthansa and VC have been ongoing since 2014 and have resulted in 14 pilot strikes that cost the German airline group €500 million ($590 million).
According to Lufthansa, the CLA is subject to approval of the trade union members in form of a ballot.
Among others, the deals include agreements on framework collective and remuneration deals, as well as accords on pension and transitional payments through June 2022.
Chief officer-corporate human resources and legal affairs Bettina Volkens said: "With the collective bargaining agreement, we have created a foundation for a new social partnership with the VC. We are jointly creating a sustainable collective bargaining peace until 2022. This compromise opens up career prospects for our pilots and makes an important contribution to the competitiveness of our company."
The pension scheme will be changed from a system of defined benefits to a system of defined contributions, as already agreed with ground and cabin staff. As a result, pension liabilities will be reduced by a high three-digit million euro amount, while EBIT 2017 will improve by a significant three-digit million euro amount.
For cockpit employees, the average age pilots can retire from Lufthansa Passenger Services will be gradually increased to 60 until 2021, the same as pilots from Lufthansa Cargo and Germanwings. Pilots will also continue to have protective rights against permanent inability to fly.
Lufthansa, Lufthansa Cargo and Germanwings pilots can operate a minimum of 325 aircraft by the end of 2022, and the company will hire more than 700 junior pilots and create least 600 positions for future captains.
Pilots will receive staggered pay increases totaling to 10.3% and a one-off payment of up to 1.8 monthly salaries for the period of May 2012 until June 2022.
September 2017
Germanwings announced it had reached an agreement in principle on wages and retirement benefits with German cabin creq union UFO
Lufthansa's (LHAG.DE) budget airlines Eurowings and Germanwings have reached an agreement in principle on wages and retirement benefits with German cabin crew union UFO, Eurowings said on Sunday.
The outline deal, reached over the weekend, could end a three-year dispute which forced the cancellation of around 400 flights last October, after cabin crew at budget airlines Eurowings and Germanwings staged a strike.
The collective wage agreement includes wage levels, profit participation and a pension deal for around 1,400 staff, Eurowings said in a press release on Sunday.
The agreement needs to be formally approved and voted on by UFO's management and Lufthansa Group's senior management.
April 2017
Germanwings announced it was discontinuing 2 routes from Hamburg in 2Q17
Germanwings in May and June 2017 is adjusting service at Hamburg, which sees the airline ending 2 routes, based on the airline's schedule listing and GDS inventory filing. Affected routes as follow.

Hamburg – Birmingham last flight on 11JUN17
Hamburg – Geneva last flight on 28MAY17
April 2017
German airlines were dropping safety rules brought in after the 2015 Germanwings plane crash which require two people in the cockpit at all times.
Airlines now say the two-person rule has no safety benefits. Eurowings, which merged with the Germanwings brand, is one of the airlines now dropping the requirement. The German airline association BDL announced the change, which will come into effect by 1 June, on its website.
It said its airlines will be re-introducing their original cockpit safety procedures. The European Aviation Safety Agency, which was behind the original rule change, relaxed the requirements last year to allow individual airlines to evaluate their own safety needs.
December 2016
Germanwings, parent company Eurowings, announced that it had finalised its agreement with Air Berlin over 33 A319 and A320 aircraft on six-year wet-lease contracts beginning February 2017.
The jets will be based at seven airports around Germany including Eurowings' new base in Munich to be announced later this week, as well as in Vienna and Palma Son Sant Joan. As the aircraft begin to arrive, so Eurowings sister carrier germanwings (4U, Cologne/Bonn) will begin phasing out up to twenty of its older A320s thereby reducing overcapacity. Air Berlin will also wet-lease five A320-200s to Austrian Airlines (OS, Vienna) with placements set for March and April 2017. The term of the contracts is also six years.
---
Germanwings Route Map
Germanwings Popular Routes
London

Antalya
London

Palma de Mallorca
London

Zadar
London

Heraklion
Berlin

London
Manchester

Ibiza

---
The Fleet
---
Germanwings Hub Airport
Berlin Tegel Airport
Berlin Tegel Airport is the main international airport of Berlin, the federal capital of Germany, ahead of the smaller Berlin Schönefeld Airport. It is christened after Otto Lilienthal and is the fourth busiest airport in Germany with just over 20.7 million passengers in 2014.
The airport is a hub for Air Berlin and serves as a base for Germanwings. It features flights to several European metropolitan and leisure destinations as well as some intercontinental routes. Airlines that fly from and to Berlin Tegel Airport include British Airways, KLM, Flybe and Germania.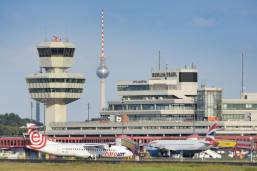 Alternative Airlines to Germanwings
---
---