Corendon Airlines Reservations with Alternative Airlines
Make a Corendon Airlines Booking and Find Some Amazing Deals
---
About Corendon Airlines
Corendon Airlines is a Turkish-registered airline headquartered in Antalya, Turkey. Corendon Airlines operates flights from Antalya, Bodrum, Ankara and Istanbul to Munich, Stuttgart, Frankfurt, Berlin, Dusseldorf, Hanover, Amsterdam, Rotterdam, Eindhoven, Brussels, Paris, Nice, Nantes, Lyon and Basel. The airline operates 36 routes throughout Europe and is a growing low cost carrier. Corendon Airlines contributes to Turkish tourism by flying to 33 countries and 128 airports, transporting approximately 2 million travellers annually. Its fleet consists of 1 Boeing 737-300 and 9 Boeing 737-800.
The airline has two subsidiary airlines — Corendon Airlines Europe, which is based at Malta International Airport and will open a new base at Cologne Bonn Airport from May 2019.
---
Corendon Airlines Fleet
Corendon Airlines operates exclusively Boeing aircraft. Within its fleet, it has over 10 jets, made up from a mix of Boeing 737 MAX 8s and Boeing 737-800s. Corendon Airlines also leases aircraft out to its subsidiaries Corendon Airlines Europe and Corendon Dutch Airlines.
---
Corendon Airlines Baggage
Carry-on Baggage
Every passenger is allowed one piece of hand luggage into the cabin. This hand luggage should weigh a maximum of 7 kg and should measure a maximum of 55 x 35 x 25 cm.
Checked Baggage
Corendon Airlines and Corendon Dutch Airlines charge for checked baggage with different tariffs for online bookings and airport check-in baggage.
---
Corendon Check-In
Online Check-In
Online check-in is available through Corendon Airlines' online check-in page. Online check-in is available from 48 hours up until 5 hours before the scheduled departure time of the flight. To check-in, passengers must provide their reservation numbers, date of departure and their flight number or name.
Airport Check-In
If for whatever reason, a passenger can't check-in online for their Corendon Airlines flight, they can also check-in at the airport. Airport check-in can be completed by presenting the relevant travel documents to a Corendon Airlines check-in agent at the airport of departure. Passengers checking-in at the airport should allow for plenty of time to meet check-in deadlines, baggage drop and security checks.
---
Corendon Airlines Destinations
Corendon Airliens flies to a number of domestic and international destinations, across Europe, Africa and the Middle East, with a strong focus on cities in Germany. Here is a list of all destinations that Corendon Airlines flies to:
Domestic Destinations
| CITY | AIRPORT | IATA |
| --- | --- | --- |
| Antalya | Antalya Airport | AYT |
| Gazipasa | Alanya-Gazipasa Airport | GZP |
| Heraklion | Kazantzakis International Airport | HER |
| Hurghada | Hurghada International Airport | HRG |
| Izmir | Izmir Adnan Menderes Airport | ADB |
International Destinations
COUNTRY
CITY
AIRPORT
IATA
Austria
Graz
Graz Airport
GRZ
Linz
Linz Aiport
LNZ
Vienna
Vienna International Airport
VIE
Egypt
Hurghada
Hurghada International Airport
HUR
Germany
Baden-Baden
Baden-Baden Airport
FKB
Berlin
Schoenefeld Airport
SXF
Berlin
Tegel Airport
TXL
Bremen
Bremen Airport
BRE
Cologne
Bonn Airport
CGN
Dresden
Dresden International Airport
DRS
Düsseldorf
Düsseldorf International Airport
DUS
Erfurt
Erfurt–Welmar AIrport
ERF
Frankfurt am Main
Frankfurt Airport
FRA
Friedrichshafen
Bodensee Airport
FDH
Hamburg
Hamburg Airport
HAM
Hannover
Hannover Airport
HAJ
Leipzig
Leipzig/Halle Airport
LEJ
Memmingen Allgäu
Allgäu Airport Memmingen
FMM
Munich
Munich Airport
MUC
Münster / Osnabrück
Münster Osnabrück Airport
FMO
Nuremberg
Nuremberg Airport
NUE
Paderborn
Paderborn Airprot
PAD
Stuttgart
Stuttgart Airport
STR
Greece
Heraklion
Kazantzakis International Airport
HER
Kos
Kos International Airport
KGS
Rhodes
Rhodes International Airport
RHO
Morocco
Marrakech
Marrakesh Menara Airport
RAK
Poland
Katowice
Katowice Airport
KTW
Poznan
Poznan–Lawica Airport
POZ
Warsaw
Warsaw Chopin Airport
WAW
Russia
Yekaterinburg
Koltsovo International Airport
SVX
Spain
Fuerteventura
Fuerteventura Airport
FUE
Las Palmas
Gran Canaria Airport
LPA
Palma De Mallorca
Palma de Mallorca Airport
PMI
Tenerife
Tenerife South Airport
TFS
Switzerland
Basel
EuroAirport Basel Mulhouse Freiburg
BSL
---
Corendon Airlines Hub Airport
Antalya Airport
Antalya Airport is located in Antalya, Turkey and the airport is operated in Turkey's primary holiday destination located on the country's Mediterranean coast. The Airport has two international terminals and one domestic terminal. The airport acts as a hub for Andolujet, Turkish Airlines, Corendon Airlines, Freebird Airlines, Pegasus Airlines and SunExpress.
The Airport has three runaways and can handle a capacity of 30 million passengers every year.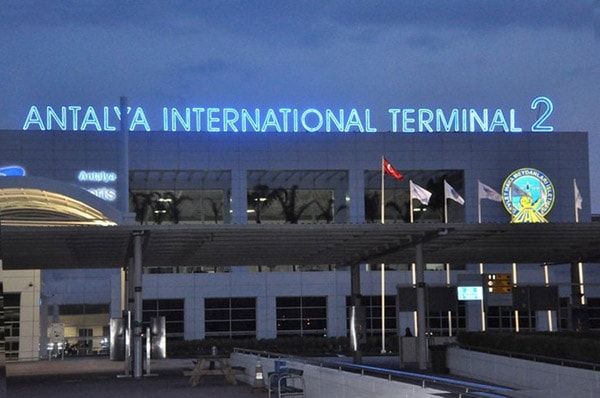 ---
Alternative Airlines to Corendon Airlines
---
News
25th Apr 2019
Corendon Airlines gets going to the Gambia
Corendon Airlines has commenced flights between Düsseldorf, in Germany, to Banjul, in the Gambia. Launched 17 April, the carrier will offer a weekly (Thursdays) service. There will also be a scheduled service (on Wednesdays) from Frankfurt, also to the African city. Finally, the carrier also added a new link from Hannover, in Germany, to Rhodes, in Greece, also to be served weekly on Wednesdays.