Search and Buy Tailwind Airlines Flights Online
Make a Tailwind Airlines reservation at Alternative Airlines
---
About
Tailwind Airlines is a Turkish airline located in Istanbul. The airline operates charter flights, primarily from its bases at Sabiha Gokcen International and Antalya Airport. The airline flies to more than 40 destinations across Europe at to parts of the Middle East.
The airline was founded and flew its inaugural commercial flight in 2009.
---
Fleet
Tailwind Airlines' fleet consists entirely of Boeing aircraft. It has five short-haul to medium-haul 737-400s within its fleet.
---
Baggage
Carry-On Baggage
Your hand baggage should not exceed a maximum weight of 8 kg and a maximum size of 20 cm x 40 cm x 55 cm (7.8" x 15.7" x 21.6").
Checked Baggage
Although it can differ depending on the route flown, the free checked baggage allowance is usually 20 kg.
---
Check-In
Online Check-In
Tailwind Airlines doesn't offer online check-in for its flight at this time.
Airport Check-in
Passengers must check-in for their flight at the airport. The airport check-in deadline is one 30 minutes before scheduled flight departure time on domestic flights and 45 minutes before scheduled flights departure time on international flights.
---
Hub Airport
Antalya Airport
Antalya Airport is an international airport in Turkey and the hub airport for Tailwind Airlines. It's one of the main airports in Turkey, handling over seven million passengers each year. It facilitates flights from airlines flying all over Europe and to parts of the Middle East.
Other than Tailwind Airlines, Andolujet, Corendon Airlines, Freebird Airlines, Pegasus Airlines, SunExpress and& Turkish Airlines use the airport as a hub.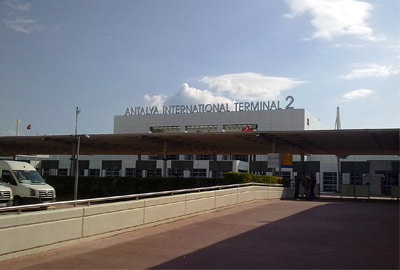 Credit: Gunnar Richter on Wikimedia Commons
---
Alternative Airlines to Tailwind Airlines