Search & Buy SunExpress Flights
Airlines will always try to sit children with their parents (subject to check-in)
Some airlines will allow travel for unaccompanied minors. Please email us to check.
The fare is based on the child's age on the date of travel.
More detailed information can be found here Traveling with children
Most airlines will let infants travel with their parent(s) for free. However some airlines will charge up to 10% of the adult ticket price. Click on 'Price Breakdown' to find out more.
If you are pregnant, but due before the flight departure date, please contact us once your baby is born and has a name. We can then add him/her to your ticket.
Infants will not be given a seat. The airlines expect parents to travel with them on their lap.
Airlines regard infants as being under 24 months old.
The fare is based on the child's age on the date of travel.
More detailed information can be found here Traveling with children
Buy
SunExpress

Flights
SunExpress Reservations with Alternative Airlines
Make a SunExpress Booking and Find Some Amazing Flight Ticket Deals
---
About
SunExpress is a passenger and scheduled charter from Turkey, founded in 1989 as a subsidiary of Turkish Airlines and Lufthansa.
The airlines fly to many destinations including Adana, Amsterdam, Ankara, Berlin, Bodrum, Bremen, Casablanca, Copenhagen, Dalaman, Dortmund, Erbil, Erfurt, Hannover, London, Istanbul, Stuttgart, Tirana, Stockholm and Salzburg.
The airline has a home base in Antalya on the Turkish Riviera and a second most important base in Izmir on the Aegean coast. The airline focuses on three areas of business: international tourism, ethnic travel and the wet-lease business.
The company serves flights to various destinations around Europe, Asia and North Africa. The company's main office is located in Antalya, in Turkey and has two main hubs, Adnan Menderes Airport in Izmir and Antalya Airport in Antalya.
Their main destinations are in Turkey and Germany, as well as Egypt and Morocco. SunExpess partners in Germany includes leading tour operators offering holidays in Turkey such as Neckerman, Oger Tours, TUI, Thomas Cook and Alltours.
SunExpress fleet consists of Boeing 737-700s and Boeing 737-800s. The airline currently operates more than 1,000 flights per week, both internationally and for the domestic Turkish market.
---
Baggage Allowance
Carry-on Baggage
SunExpress allows passengers to take one hand luggage item. This must weigh a maximum of 6kg.
Carry-on baggage must fit within the dimensions of 55 x 40 x 20cm.
Checked Baggage
SunExpress passengers are entitled to checked baggage allowance from 20kg to 40kg on international flights. This weight is dependent on the SunFare tariff booked, which can be found on your ticket, or online here.
---
SunExpress Check-In Information
Online Check-In
SunExpress offers online check-in for passengers.
For domestic flights from Turkey, SunExpress online check-in will open between 24hours - 45 minutes prior to departure.
For international flights from Turkey, SunExpress online check-in will open between 24 - 1 hour prior to departure.
For international flights from all other airports, check-in will be open from 24 - 3.5 hours prior to departure.
Airport Check-In
SunExpress recommend passengers to check-in at the airport at least 2 hours prior to departure.
---
Alternative Airlines to SunExpress
Please click on the logos below to find out more about airlines that fly similar routes to SunExpress:
---
Route Map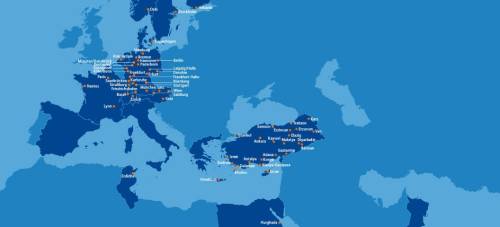 Popular Routes
Basel

Izmir
Istanbul

Dusseldorf
Dortmund

Antalya
Munich

Hamburg
Hanover

Izmir
Antalya

Stuttgart
---

The Fleet
Boeing 737-700
Boeing 737-800
---
HUB Airport - Adnan Menderes Airport
The Adnan Menderes Airport is a Turkish airport located in Izmir and acts as the Sun Express hub. Pegasus Airlines and Turkish Airlines also use Adnan Menderes Airport has the hub for Adnan Menderes.
The airport has two runways and has a passenger capacity of 12 million per year. Airlines which fly to and from Adnan Menderes Airport include Aegean Airlines, easyJet, Lufthansa, Pegasus Airlines, Saudia, Corendon Airlines, Atlasglobal, Turkish Airlines and Ural Airlines.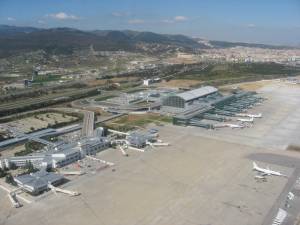 ---
Destinations
| | | | | | | |
| --- | --- | --- | --- | --- | --- | --- |
| | | | Albania | | Tirana | |
| | | | Austria | | Graz | |
| | | | | | Innsbruck | |
| | | | | | Linz | |
| | | | | | Salzburg | |
| | | | | | Vienna | |
| | | | Bahrain | | Manama | |
| | | | Belgium | | Brussels | |
| | | | Bulgaria | | Burgas | |
| | | | | | Sofia | |
| | | | | | Varna | |
| | | | Denmark | | Copenhagen | |
| | | | Egypt | | Hurghada | |
| | | | Finland | | Helsinki | |
| | | | France | | Paris | |
| | | | | | Strasbourg | |
| | | | Germany | | Berlin | |
| | | | | | Bremen | |
| | | | | | Cologne | |
| | | | | | Dortmund | |
| | | | | | Dresden | |
| | | | | | Düsseldorf | |
| | | | | | Erfurt | |
| | | | | | Frankfurt | |
| | | | | | Friedrichshafen | |
| | | | | | Hamburg | |
| | | | | | Hannover | |
| | | | | | Karlsruhe | |
| | | | | | Leipzig | |
| | | | | | Memmingen | |
| | | | | | Munich | |
| | | | | | Münster | |
| | | | | | Nuremberg | |
| | | | | | Paderborn | |
| | | | | | Saarbrücken | |
| | | | | | Stuttgart | |
| | | | Greece | | Chania | |
| | | | | | Heraklion | |
| | | | Iran | | Tehran | |
| | | | Italy | | Lamezia Terme | |
| | | | Kosovo | | Pristina | |
| | | | Macedonia | | Skopje | |
| | | | Morocco | | Agadir | |
| | | | | | Nador | |
| | | | Netherlands | | Amsterdam | |
| | | | Norway | | Oslo | |
| | | | Romania | | Bucharest | |
| | | | Russia | | Moscow | |
| | | | | | Saint Petersburg | |
| | | | Spain | | Fuerteventura | |
| | | | | | Gran Canaria | |
| | | | | | Lanzarote | |
| | | | | | Tenerife | |
| | | | Sweden | | Stockholm | |
| | | | Switzerland | | Geneva | |
| | | | | | Zürich | |
| | | | | | Basel | |
| | | | The Netherlands | | Eindhoven | |
| | | | Turkey | | Adana | |
| | | | | | Ankara | |
| | | | | | Antalya | |
| | | | | | Batman | |
| | | | | | Bodrum | |
| | | | | | Dalaman | |
| | | | | | Diyarbakır | |
| | | | | | Elazığ | |
| | | | | | Erzurum | |
| | | | | | Gaziantep | |
| | | | | | Istanbul | |
| | | | | | Izmir | |
| | | | | | Kars | |
| | | | | | Kayseri | |
| | | | | | Konya | |
| | | | | | Malatya | |
| | | | | | Ordu/Giresun | |
| | | | | | Samsun | |
| | | | | | Trabzon | |
| | | | | | Van | |
| | | | United Kingdom | | London | |
---