Lufthansa Reservations with Alternative Airlines
Make a Lufthansa reservation and find some amazing deals
---
About Lufthansa
Founded in 1955, Lufthansa is the leading airline in Germany and one of the largest airlines in the world. With hub airports at Frankfurt Airport (FRA) and Munich Airport (MUC), Lufthansa links more than 300 destinations in over 100 countries every year.
Along with Air Canada, SAS, Thai Airways and United Airlines, Lufthansa is one of the founding members of the airline alliance, Star Alliance. Formed in 1997, Star Alliance is one of the biggest airline alliances in the world and has more than 25 different members.
Lufthansa owns a number of different subsidiary airlines. In affiliation with Austrian Airlines, Swiss, Brussels Airlines, Eurowings and Germanwings, Lufthansa offers varied services across four different continents.
Lufthansa's fleet is comprised of a mix of the latest generation of Airbus and Boeing aircraft. The airline has over 280 aircraft within its fleet, with many more on order that will either expand on or replace its active aircraft.
---
Lufthansa Baggage
Carry-on Baggage
Passengers that are flying in Economy Class and Premium Economy Class on Lufthansa are entitled to one item of carry-on baggage free of charge, while passengers flying in Business Class and First Class are entitled to two items. Each piece of baggage must not weigh more than 8kg and have to fit within the dimensions of 55 x 40 x 23 cm. In addition to this, all passengers flying on Lufthansa are allowed to bring on one small item of baggage, a baby or travel cot when flying with a child or a mobility aid free of charge.
Checked Baggage
Within Europe
When flying in Economy Light, Lufthansa passengers are only entitled to one item of carry-on baggage free of charge. If passengers wish to check a bag, they must purchase additional baggage.
When flying in Economy Classic & Flex Class, passengers are entitled to one item of free checked baggage with a maximum weight allowance of 23kg.
When flying in Business Class within Europe, Lufthansa passengers are entitled to two items of checked baggage — baggage must weigh no heavier than 32kg per bag.
Across Continents
When flying in Economy Class, passengers are entitled to one item of checked baggage with a maximum weight of 23kg.
When flying in Premium Economy Class, passengers are entitled to two items of checked baggage with a maximum weight of 23kg per bag.
When flying in Business Class, passengers are entitled to two items of checked baggage with a maximum weight of 32kg per bag.
When flying in First Class, passengers are entitled to three items of checked baggage with a maximum weight of 32kg per bag.
---
Lufthansa First Class
Lufthansa's First Class service takes care of the little things so you don't have to. From a personal assistant to guide to your gate to valet parking at the airport. From the moment you arrive your First Class experience with Lufthansa is made as stress-free as possible.
Lufthansa First Class Facilities
Passengers departing from Frankfurt Airport will have time to relax before their flight in the airline's First Class terminal and lounge. Enjoy food à la carte or from the buffet and choose from the luxurious range of cigars at the lounge's Cigar Bar. If you require privacy before your flight, you can make use of the airline's office units where you can make use of the complimentary WI-FI. Those who wish to freshen up before their flight can do so in one of the four shower rooms.
What are Lufthansa First Class seats like?
Expert design, high-quality materials and pleasant lighting mean that you can relax and enjoy your Lufhtansa flight in peace. First Class seats on Lufthansa flights convert into a two-metre-long bed with a comfortable mattress and temperature-regulating duvet. All passengers will also be equipped with an amenity kit and a selection of high-quality toiletries.
---
Lufthansa Business Class
Lufthansa Business Class passengers are granted priority check-in, more baggage and access to the Lufthansa loung services. Passengers can enjoy priority boarding as well as more personal space.
Lufthansa Business Class Facilities
In Lufthansa's Business Class lounges passengers can relax and freshen up before their flight. Once onboard even short-haul passengers can enjoy a full meal. Lufthansa Business Class meals are of the highest quality, offering passengers a well-balanced and varied meal. Passengers an choose from an exclusive range of wines and beverages which are served in stylish wine glasses.
What are Lufthansa Business Class seats like?
Lufthansa Business Class seats fully recline so passengers can get the sleep they need.
---
Lufthansa Premium Economy
Premium Economy Class passengers are able to check two items of baggage weighing 23kg each at no additional cost.
Premium Economy Facilities
Passengers wishing to spend time at the Lufthansa lounge are able to do so at an additional cost.
What are Premium Economy Class Seats like?
Sit back and enjoy great legroom and room to stretch out on your Premium Economy Flight with more than 50% more room on all sides. Enjoy a complimentary amenity travel kit as well as an adjustable headrest to make sure that you arrive at your flight feeling refreshed and well rested.
---
Economy Class
Economy Class on Lufthansa is comfortable on all short, medium and long-haul flights. The facilities and seating varies from short to long-haul flights
Economy Class Facilities
On Short-haul Lufthansa flights in-flight meal services are not available on both meals and drinks, for example, on flights from Frankfurt to Luxembourg). On Medium-haul Lufthansa flights, provisions of snack and beverages are available. On Long-haul Lufthansa flights, beverages will be served and on request. This includes alcoholic and nonalcoholic, coffee and tomato juice.
What are Economy Class Seats like?
You are offered the opportunity to reserve your seats in Economy Class. Depending on your Economy fare, you can request to have a preferred seating zone or seat with additional legroom. You can reserve this with Alternative Airlines who will be happy to help with your seating arrangements.
---
Check-in Information
Online Check-In
You can check-in for your Lufthansa reservation using our online check-in page. Click on the Lufthansa logo and enter your flight details on the following page to check-in. Lufthansa web check-in opens 23 hours before scheduled flight departure time.
Airport Check-In
Passengers flying on Lufthansa can check-in at the airport by either visiting the Lufthansa check-in desks or by using the self-service check-in machines. We recommend arriving in plenty of time if you're checking-in at the airport. Arrive at least 2 hours before for domestic flights and 3 hours for international flights.
---
Destinations
Domestic
| | | | |
| --- | --- | --- | --- |
| Berlin | Bremen | Cologne/Bonn | Dresden |
| Düsseldorf | Frankfurt | Friedrichshafen | Hamburg |
| Hanover | Leipzig/Halle Airport | Munich | Münster |
| Nuremberg | Paderborn | Rostock | Stuttgart |
| Westerland | | | |
International
Aalborg,
Denmark
Abuja,
Nigeria
Addis Ababa,
Ethiopia
Algeria,
Algiers
Alicante,
Spain
Almaty,
Kazakhstan
Amman,
Jordan
Amsterdam,
Netherlands
Ancona,
Italy
Antalya,
Turkey
Athens,
Greece
Atlanta,
United States
Austin,
United States
Baku,
Azerbaijan
Bangalore,
India
Bangkok,
Thailand
Barcelona,
Spain
Bari,
Italy
Basel, Mulhouse, Freiburg,
Switzerland, France, Germany
Bastia,
France
Bilbao,
Spain
Billund,
Denmark
Birmingham,
UK
Bodrum,
Turkey
Bogota,
Colombia
Bologna,
Italy
Bordeaux,
France
Boston,
United States
Brussels,
Belgium
Bucharest,
Romania
Budapest,
Hungary
Cagliari,
Italy
Cairo,
Egypt
Cancún,
Mexico
Cape Town,
South Africa
Cardiff,
UK
Casablanca,
Morocco
Catania,
Italy
Charlotte,
United States
Chennai,
India
Chicago,
United States
Chisināu,
Moldova
Cluj-Napoca,
Romania
Copenhagen,
Denmark
Dallas,
United States
Dammam,
Saudi Arabia
Delhi,
India
Denver,
United States
Detroit,
United States
Dubai,
UAE
Dublin,
Ireland
Dubrovnik,
Croatia
Edinburgh,
UK
Eliat,
Israel
Erbil,
Iraq
Faro,
Portugal
Florence,
Italy
Gdańsk,
Poland
Geneva,
Switzerland
Genoa,
Italy
Glasgow,
UK
Gothenburg,
Sweden
Graz,
Austria
Helsinki,
Finland
Heraklion,
Greece
Hong Kong,
China
Houston,
United States
Ibiza,
Spain
Innsbruck,
Austria
Inverness,
UK
Istanbul,
Turkey
Izmir,
Turkey
Jeddah,
Saudi Arabia
Jersey,
Jersey
Johannesburg,
South Africa
Katowice,
Poland
Kiev,
Ukraine
Kittlä,
Finland
Knock,
Ireland
Krakow,
Poland
Kuwait City,
Kuwait
Lagos,
Nigeria
Lamezia Terme,
Italy
Larnaca,
Cyprus
Lisbon,
Portugal
London,
UK
Los Angeles,
United States
Luanda,
Angola
Lublin,
Poland
Luqa,
Malta
Luxembourg City,
Luxembourg
Lviv,
Ukraine
Lyon,
France
Madrid,
Spain
Malabo,
Equatorial Guinea
Málaga,
Spain
Malé,
Maldives
Manama,
Bahrain
Manchester,
UK
Marrakech,
Morocco
Marseilles,
France
Mexico City,
Mexico
Miami,
United States
Milan,
Italy
Minsk,
Belarus
Montpellier,
France
Montreal,
Canada
Moscow,
Russia
Mumbai,
India
Nagoya,
Japan
Nairobi,
Kenya
Nanjing,
China
Nantes,
France
Naples,
Italy
New York City,
United States
Newark,
United States
Newquay,
UK
Nice,
France
Kazakhstan,
Nur-Sultan
Odessa,
Ukraine
Olbia,
Italy
Orlando,
United States
Osaka,
Japan
Oslo,
Norway
Palermo,
Italy
Palma de Mallorca,
Spain
Panama City,
Panama
Paris,
France
Philadelphia,
United States
Pisa,
Italy
Port Harcourt,
Nigeria
Port Louis,
Mauritius
Porto,
Portugal
Poznań,
Poland
Prague,
Czech Republic
Qingdao,
China
Reykjavik,
Iceland
Riga,
Latvia
Rijeka,
Croatia
Rio de Janeiro,
Brazil
Riyadh,
Saudi Arabia
Rome,
Italy
Rzeszów,
Poland
St.Petersburg,
Russia
San Diego,
United States
San Francisco,
United States
São Paulo,
Brazil
Sarajevo,
Bosnia & Herzegovina
Seattle,
United States
Seoul,
South Korea
Seville,
Spain
Shanghai,
China
Shannon,
Ireland
Shenyang,
China
Sibiu,
Romania
Singapore,
Singapore
Sofia,
Bulgaria
Stockholm,
Sweden
Tallinn,
Estonia
Tampa,
United States
Tbilisi,
Georgia
Tehran,
Iran
Tel Aviv,
Israel
Timisoara,
Romania
Tirana,
Albania
Tokyo,
Japan
Toronto,
Canada
Toulouse,
France
Trieste,
Italy
Tromsø,
Norway
Tunis,
Tunisia
Turin,
Italy
Valencia,
Spain
Vancouver,
Canada
Venice,
Italy
Verona,
Italy
Vienna,
Austria
Vilinius,
Lithuania
Warsaw,
Poland
Washington, D.C,
United States
Wroclaw,
Poland
Zadar,
Croatia
Zagreb,
Croatia,
Zürich,
Switzerland
---
Lufthansa WIFI
Available on both short and long-haul flights, Lufthansa WIFI 'Lufthansa FlyNet' allows you to stay connected inflight so you can enjoy using the internet just as if you were at home! Whether you're scrolling through your social networks or catching up with work, Lufthansa's high-speed WIFI has you covered!
Lufthansa WIFI Price
Lufthansa WIFI is available at the following prices:
€9 EUR/$10 USD for one hour
€14 EUR/$15.50 USD for four hours
€17 EUR/$19 USD for the whole flight
---
Lufthansa Inflight Entertainment
Lufthansa provides passengers with an expansive selection of TV and Movies to help them make the most of their inflight experience.
Lufthansa Movies
Lufthansa offers a range of movies to help its passengers have the most enjoyable flight possible. Lufthansa regularly updates its selection of movies, adding new releases in a range of languages to keep passengers of every taste entertained. From award-winning classics to action-packed new releases, there's something for everyone on board your Lufthansa flight!
Lufthansa TV
Lufthansa lets passengers choose from a range of Emmy-award winning TV shows as well as classic shows from a range of European countries. From comedies to documentaries, there's a TV show for every taste on board your Lufthansa flight.
---
Lufthansa Speciality Items and Sports Equipment
When flying with large sports equipment it is important to check the airline's height and weight policy. Standard sports baggage (such as a regularly sized bicycle) can be checked onto your Lufthansa flight for a fee which will vary according to your flight's destination. If flying with a bicycle, please visit our "Flying with a Bike" FAQ page for more information.
---
Lufthansa Seat Selection
You can now browse the remaining seats on your Lufthansa flight and select the seat of your choice with Alternative Airlines! Find out how to book your Lufthansa seats here.
---
Lufthansa Discount Codes and Deals
With Alternative Airlines' promo codes and flight voucher codes, you can get Lufthansa ticket discounts. Save money with a PayPal promo code on your next Lufthansa flight ticket.
---
Lufthansa Food
Lufthansa Meal Options
Lufthansa passengers receive free meals and snacks on board their flights, tailored to the region of the destination you are travelling to. Passengers in First, Business and Premium Economy can view the menu for their flights before departing. To view the menu, enter your flight number, flight class and date on the Lufthansa website.
In-flight food is offered on most flights, except on especially short routes where there is not sufficient time to provide this service, for example on the Frankfurt - Luxembourg routes. The route and duration of your flight will determine which meal, hot or cold, or snack you will receive.
Lufthansa Special Dietary Requirements
Special meals for diabetics, vegetarians, religious can be ordered up to 24 hours before departure at no extra cost. The following is a list of the special meals available for order with Lufthansa:
| | | | | | | |
| --- | --- | --- | --- | --- | --- | --- |
| | | | Dietary Meals | | Diabetic Meal | |
| | | | | | Gluten-free Meal | |
| | | | | | Low-calorie Meal | |
| | | | | | Low-cholesterol Meal | |
| | | | | | Low-sodium Meal | |
| | | | | | Lactose-free Meal | |
| | | | Vegetarian or wholefood | | Vegan Meal | |
| | | | | | Vegetarian (lacto-ovo) meal | |
| | | | | | Vegetarian-Asian (Indian) meal | |
| | | | | | Vegetarian-Oriental meal | |
| | | | | | Light wholefood meal | |
| | | | Religious Meals | | Kosher Meal | |
| | | | | | Muslim Meal | |
| | | | | | Hindu Meal (non vegetarian) | |
| | | | Children's Meals | | Baby Meal | |
| | | | | | Children's Meal | |
Lufthansa Drinks & Alcohol
No matter the class travelling in, passengers travelling with Lufthansa can expect a variety and choice of complimentary drinks on board. There will be a choice of hot and cold, non-alcoholic and alcoholic drinks.
---
Pets, Emotional Support Animals and Service Animals on Lufthansa
Thinking of flying with either an emotional support animals, service animal or pet, see all information and advise by Alternative Airlines about taking an animal on a plane.
---
Lufthansa Route Map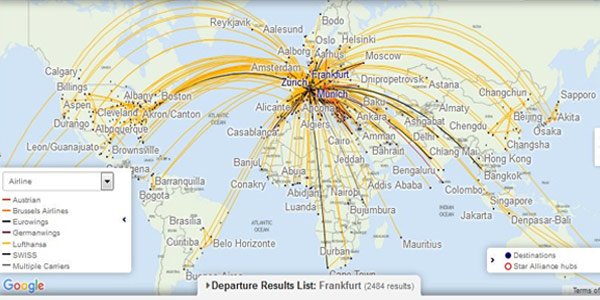 Lufthansa Hub Airport
Frankfurt International Airport
Frankfurt International Airport is the main airport located in Frankfurt and the airport hub for Lufthansa. The airport is split into two terminals. Terminal 1 is the older airport of the two and the terminal in which Lufthansa and its subsidiaries operate all of their services within Frankfurt airport. Terminal 2 is estimated to hold around 50 million passengers each year.
Terminal 2 is smaller than Terminal 1, with around 15 million passengers passing through each year. This terminal is used by some of the world's biggest international airlines, such as American Airlines, British Airways, LATAM and China Eastern Airlines.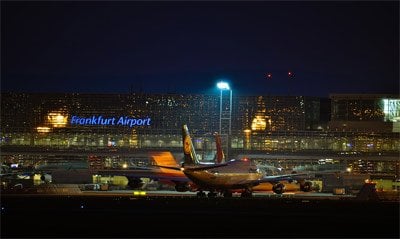 ---
Alternative Airlines to Lufthansa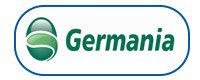 ---