Flying with a Bike
Let's fly!

Select your payment method to view total prices including any payment fees:


Flying With a Bike FAQS
Here at Alternative Airlines we hope you and your bike have the smoothest ride possible, so, we've created a guide to flying with a bike to answer your queries about packing, airline policies and fees, as well as how to make group cycle tour bookings.
Can I Bring
my Bicycle on a Flight?
Yes. Many airlines will allow bikes in the hold as long as they are properly packaged. Just be aware that fees and policies will vary according to the policy of the airline you're flying with.

How do I book my bike
onto my flight?
STEP
1
First, enter the Alternative Airlines website and select the flight you wish to purchase.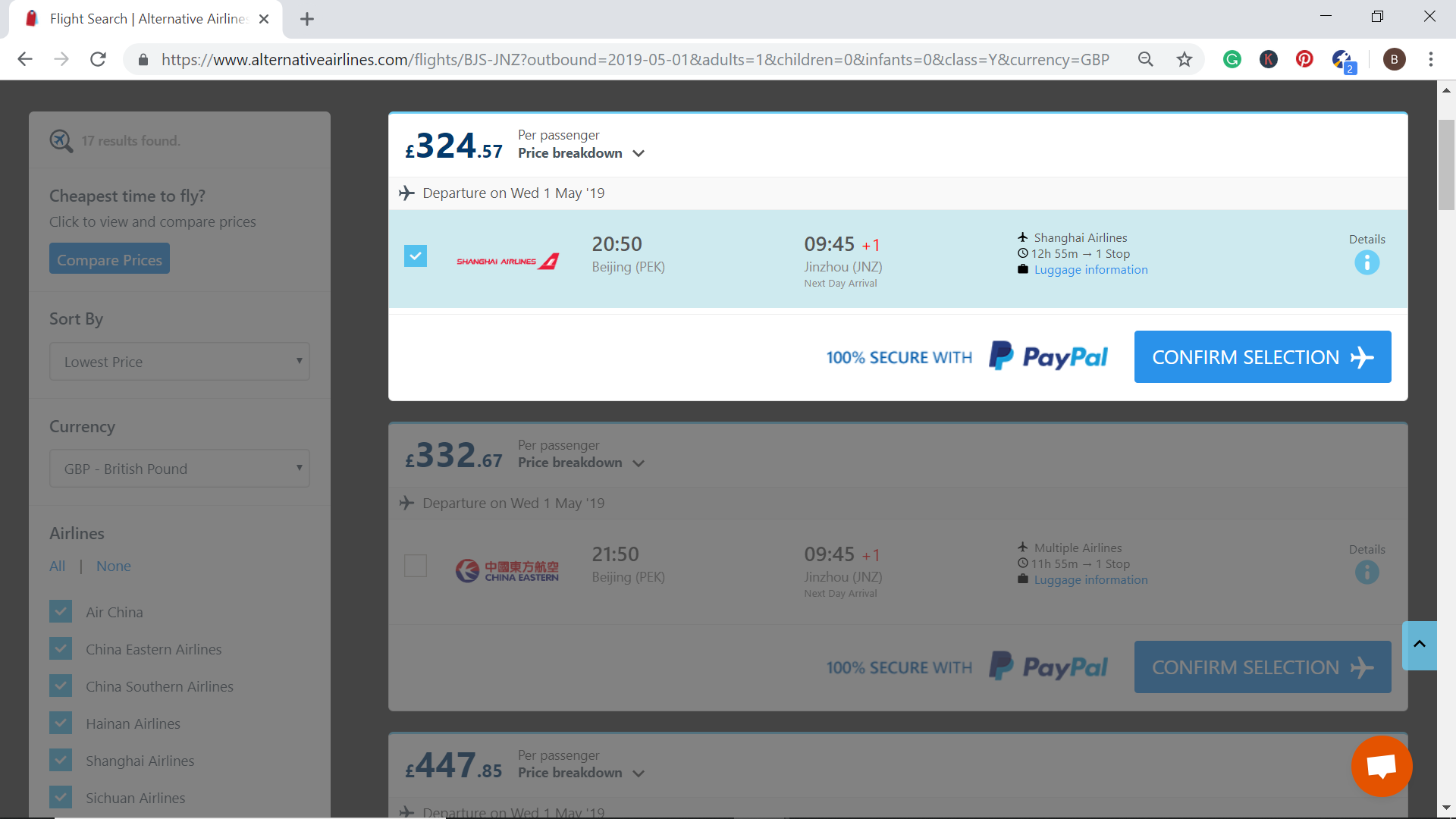 STEP
2
After you have selected the flight, click the drop-down menu "Seat, Meal, Special Assistance and more." Then request to book your bike by filling the "Additional requests" box. We will contact you to let you know if it is possible to add a bike to your booking.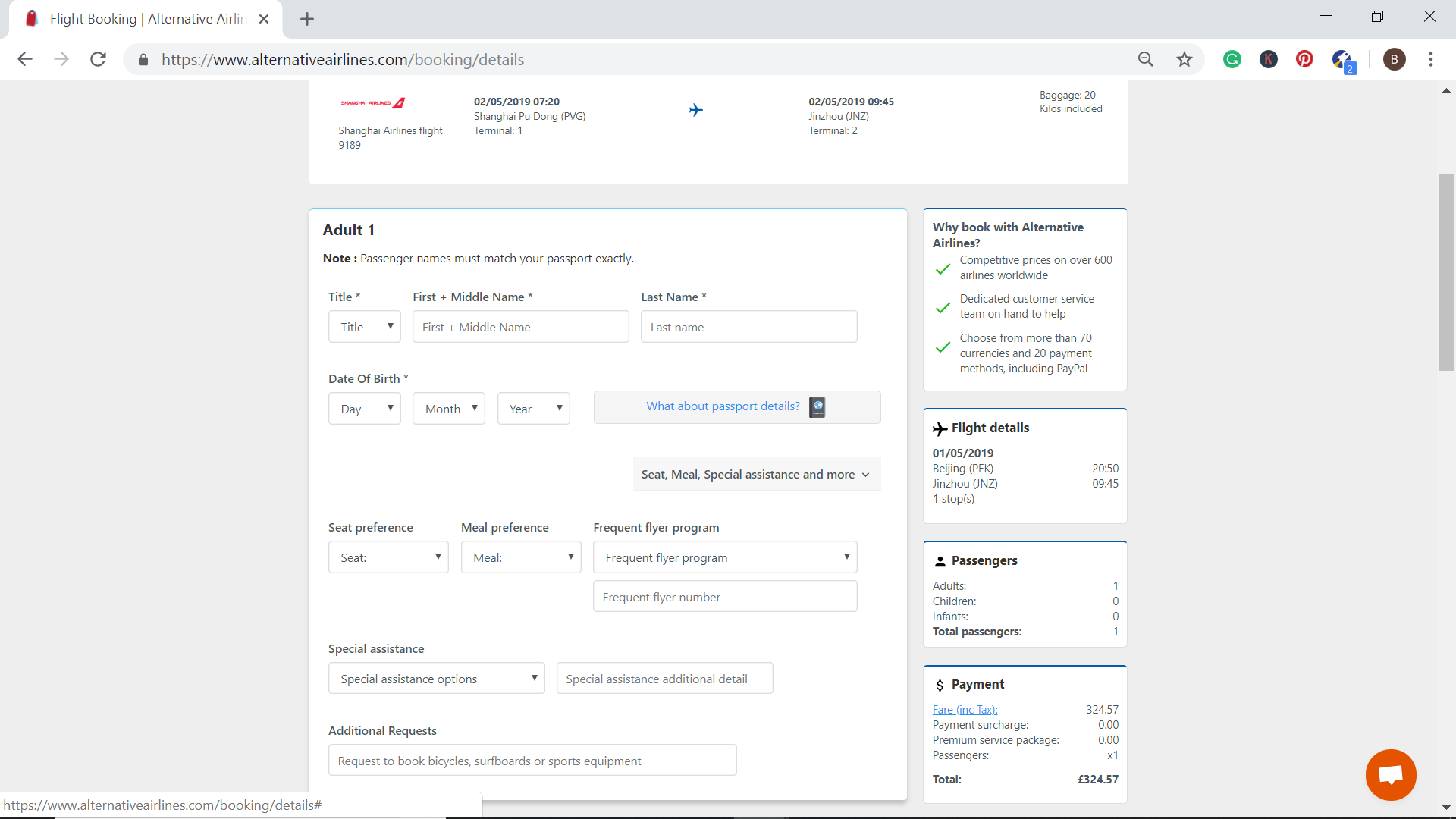 If you have already made your booking and you wish to add a bike, you can call our customer service team on 01293 874 920 from 8am to 8pm (GMT). Or send us a message using our live chat.
How can I book multiple bikes
for a group cycle tour?
If you're planning a cycling tour, and want to make bookings for multiple people on your trip, check out the Alternative Airlines' group booking page. You can book for us many people as you like and add as much baggage as you need. It's the perfect way to have a hassle-free group cycling tour. Similarly, to find out how to book flights that arrive and return from different destinations (known as open jaw flights) check out our page on "How to book open-jaw flights."
How do I pack my bike
for air travel?
What do I need to pack my bike?
Make sure you have: A multitool/ set of allen keys, a pedal spanner, bubble wrap, styrofoam and some cardboard.
STEP
1
First of all, choose the right case. Purpose-built, hardshell cases are the best option for ensuring your bike arrives safely to its destination. For those who are unable to take a hardshell case with them, dismantling your bike and putting it in a cardboard box or bike bag can often be the best option.
STEP
2
Before check-in, remove the pedals and handlebars or rotate them in line with the front wheel. Do not leave any part of your bicycle sticking out of the box or case.
STEP
3
If removing the wheels, make sure to remove the rear derailleur as well by loosening the hangar bolt. The derailleur can then be wrapped in bubble wrap or cloth and taped to the chainstay.
STEP
4
Once the wheels are removed, you must deflate them partially to protect the rims from becoming damaged.
STEP
5
To stop the disk brake pads from touching each other, and becoming damaged during the flight, use cardboard to create a barrier between them. Some bikes will come with spacers for this purpose, if not it is possible to ask for plastic spacers at your local bike shop.
STEP
6
Next, take any loose chain and ziptie it to the bike's frame. Finally, cover your bike's frame in bubble wrap or styrofoam to prevent it from becoming scratched.

Can I dismantle my bike at the airport?
In general, yes. Some airports, such as Amsterdam Schiphol and Portland International, even have bicycle assembly stations equipped with tools to help passengers assemble and disassemble their bikes.
How do I
check my bike at the airport?
Do I need to arrive early at the airport when flying with a bike?
Yes. In general try to leave an extra 30-45 minutes before your flight when traveling with a bike. Especially if you plan on dismantling your bike at the airport.
Where do I check my bike in?
Normally, bikes will have to be checked in as oversized baggage. This will often be a separate desk to the airline's usual bag-drop off points.
Will I be charged extra for
flying with a bike?
Airline policies often vary depending on the destination of travel. Here's a comparison of different bike policies from some of our most popular airlines. For further information, please make sure to contact Alternative Airlines or the airline you are flying with before you travel.
What are the best airlines


for flying with a bike?
Airline policies often vary depending on the destination of travel. Here's a comparison of bike fees and policies from some of our most popular airlines.
American Airlines Bike Policy
Cost: According to American Airlines bicycle policy, a bike is considered as one piece of checked luggage as long as they are less than 62 inches long (157 cm) and under 50lbs (22kg). For bikes in excess of these measurements, American Airlines customers will be charged $150 (£115).
Requirements: The American Airlines policy requires bikes to be transported in a hard-sided bicycle box, bike bag or similar purpose-built box. The handlebars should be fixed sideways with the pedals either removed or wrapped in plastic foam or similar. If the bike is not in a hard-sided case it will be treated as a fragile item.
Frontier Airlines Bike Policy
Cost: The Frontier Airlines policy allows customers to check bikes onto their flight at a cost of $75 (£58).
Requirements: The Frontier Airlines bike policy requires that passengers flying with bikes ensure the handlebars are fixed sideways and the pedals removed and encased in a protective, durable case or hard-sided bicycle box. Pedals do not need to be removed if wrapped in plastic foam or similar material. Items which exceed 99.9 pounds (45kg) or 109 linear inches (209cm) will not be accepted. Please allow an extra 30 minutes for check-in.
Spirit Airlines Bike Policy
Cost: Spirit Airlines charges its customers $75 (£58) to check bikes into the hold.
Requirements: The Spirit Airlines bike policy requires customers to deflate their bicycle tyres in order to prevent them from being damaged during the flight. For their protection, bicycles must be encased in cardboard or a hard-sided bicycle box for travel.
Avianca Bike Policy
Cost: Avianca bike fees vary according to the destination being flown to, but are usually around $100 (£77)
Requirements: Non-motorised bikes are accepted as long as the handlebars are folded and pedals loose. The maximum weight is 32kg (70lbs) and the bike's total dimensions should not exceed 230cm in length (90 inches).
Lufthansa Bike Policy
Cost: Lufthansa charges customers 50€ ($70) per bicycle or 100€ ($150) per bicycle for intercontinental flights.
Requirements: Motorised or electric bikes are not included in the Lufthansa bicycle policy.
Norwegian Bike Policy
Cost: Norwegian charges customers up to £45 ($58) online or up to £70 ($91) at the airport to check bikes onto short haul flights. For international, long-haul flights customers will be charged £60 ($78) online and £70 ($91) at the airport.
Requirements: Bikes over 25kg will not be accepted. According to the Norwegian bike policy, passengers should arrive early at the airport in order to make sure there is space on the aircraft for their cycle. They also recommend using hard-sided boxes designed specifically for transporting bikes. For bikes not packed in purpose-built hard cases, the handles must be turned around, pedals taken off, tires deflated and other additional parts removed or covered. Flights departing from Los Angeles (LAX) and Bangkok (BKK) refuse soft bags and require that all bikes are packed in hard-sided bicycle boxes.
Easyjet Bike Policy
Cost: Bicycles can be checked onto your easyjet flight for an additional cost. Easyjet charges a £42 ($55) fee when booking "large sports equipment." (including bicycles). The fee increases to £52 ($68) when paying at the airport.
Requirements: According to easyjet's bicycle policy, all bicycles must be packaged in a bicycle box or bicycle bag (one per bag). No other items are permitted in the same bag (i.e. clothing). The handlebars must be in line with the frame and the pedals removed. EasyJet will also accept bicycles with hydraulic suspensions or brake systems.
JetBlue Bike Policy
Cost: The cost of checking a bike onto a JetBlue flight is normally $100 (£76)
Requirements: JetBlue accepts bikes in hard-sided biycle boxes as well as in padded case designed for bicycles. JetBlue will also accept bikes will also be accepted in alternative packaging if the handlebars are secured sideways and pedals removed. The bicycle must also be packaged in plastic foam, a cardboard box, or similar material to prevent damage.
Please note: Prices are correct according to each airline's bicycle policy as of 2018 and are subject to change.