Search & Buy Frontier Airlines Flights
Let's fly!

Select your payment method to view total prices including any payment fees:
Airlines will always try to sit children with their parents (subject to check-in)
Some airlines will allow travel for unaccompanied minors. Please email us to check.
The fare is based on the child's age on the date of travel.
More detailed information can be found here Traveling with children
Most airlines will let infants travel with their parent(s) for free. However some airlines will charge up to 10% of the adult ticket price. Click on 'Price Breakdown' to find out more.
If you are pregnant, but due before the flight departure date, please contact us once your baby is born and has a name. We can then add him/her to your ticket.
Infants will not be given a seat. The airlines expect parents to travel with them on their lap.
Airlines regard infants as being under 24 months old.
The fare is based on the child's age on the date of travel.
More detailed information can be found here Traveling with children

Buy
Frontier Airlines

Flights

Frontier Airlines Reservations with Alternative Airlines
Make a Frontier Airlines Booking and Find Some Amazing Deals
---
About Frontier Airlines
Frontier Airlines is a United States low-cost carrier headquartered in Denver, Colorado, USA.The airline maintains a hub at Denver International Airport with focus cities in: Chicago O'Hare International Airport in Chicago (Frontier Airlines' Chicago routes reservations are a favourite with our customers); Cleveland Hopkins International Airport in Cleveland, Ohio; Miami International Airport in Miami, Florida; Orlando International Airport in Orlando, Florida and Trenton–Mercer Airport near Trenton, New Jersey.
You can easily make Frontier reservations online with us: just use the search bar above! Frontier has recently renewed its frequent-fliers programme which will now be known as "Frontier Miles" and offer its regular customers new and exciting benefits.You can easily make Frontier reservations online with us: just use the search bar above!
---
Frontier Airlines Codeshare Agreement
Frontier Airlines, under a code-share agreement with Great Lakes Airlines, the airline connects passengers to surrounding the Rocky Mountain States through the Denver hub.Frontier Airlines currently flies to 55 destinations throughout the Dominican Republic, Jamaica, Mexico and the United States. In 2016 Frontier expanded its route network, adding four new destinations to its schedule with Pittsburgh International Airport, San Antonio International Airport, Port Columbus International Airport and Colorado Springs Airport..
---
Frontier Airlines Seat Selection
We offer our customers the opportunity to check seat availibility and select a seat before making their Frontier Airlines reservation. Whether you need some extra legroom or you love to sit by the window, we give our customers the chance to choose where they want to sit on the plane to make their journey as comfortable as possible. Find out how to book your Frontier Airlines seats.
---
Frontier Airlines Baggage
Carry-on Baggage
Carry-On bag charges vary based on when you purchase. Carry-On bags can be no larger than 10" tall, 16" wide, and 24" long (including handles, wheels, and straps) and no heavier than 35 pounds. Carry-On bags must fit in the overhead bin. Carry-on fees are non-refundable.
Checked Baggage
Checked bags must be within 62 linear inches (that's length + width + depth) and no heavier than 50 pounds.
Additional Baggage
Baggage that exceeds these limits will have an additional charge of $75 for each bag that is overweight and $75 for each oversized bag, and bags over 100 pounds or in excess of 110 linear inches will not be accepted.
Codeshare Agreements Baggage Allowance for frequent flyers
EarlyReturns Elite members always receive a free carry-on bag in addition to the personal item.
---
Frontier Airlines Check-In Information
Online Check-In
Passengers can check-in online using the Frontier Airlines online check-in page and entering the relevant details. Online check-in closes 60 minutes before scheduled flight departure time on both international and domestic flights.
Airport Check-In
Frontier Airlines passengers can check-in at the airport by visiting the Frontier Airlines check-in counters. Passengers should arrive at the airport no later than two hours before their flight departs. Airport check-in closes 60 minutes before flight departure time for international flights and 45 minutes before flight departure time for domestic flights.
---
Frontier Airlines Speciality Items and Sports Equipment
Specific restrictions apply to sports equipment. We recommend checking the height and weight restrictions of items such as surfboards and golf clubs with the airline before flying. Bicycles are checked at an additional fee. For information on how to pack your bike for air travel, as well as a breakdown on airline bicycle policies please visit our FAQ page on "Flying with a Bike."
---
Frontier Airlines In-flight Entertainment
To keep costs down for passengers, Frontier Airlines does not currently offer in-flight entertainment on its flights.
Frontier Airlines TV
Frontier Airlines does not offer in-flight TV shows on its flights.
Frontier Airlines Movies
In order to keep prices low for its passengers, Frontier Airlines does not offer in-flight movies.
---
Frontier Airlines Food
Frontier Airlines Meal Options
Passengers on Frontier flights can purchase food and snacks for their flights. Passengers can buy snack and drink bundles to save money, including items such as chocolate, crisps, beef jerky, nuts and confectionery.
Frontier Airlines Special Dietary Requirements
Because Frontier do not provide any meals free of charge, there are no special meals provided. Passengers can purchase snacks and check the ingredients in flight to see if they meet their needs, or alternatively passengers can bring their own food onto the plane.
Frontier Airlines Drinks & Alcohol
Frontier do not provide any complimentary drinks as part of their service. Passengers can purchase a selection of drinks on board their Frontier flights, including alcoholic beverages like spirits, beer and wine and also soft drinks such as soda, water, coffee and tea.
---
Pay for Frontier Airlines flights with PayPal
Use PayPal on any Frontier Airlines flight when making a reservation with Alternative Airlines. PayPal is a secure and convenient way to pay for flights so buy Frontier Airlines plane tickets with PayPal. Pay using on all Frontier Airlines flights when you book with Alternative Airlines!
Find out more reasons to pay for flights using PayPal.
---
Frontier Airlines Payment Plan
You can buy Frontier Airlines flights on finance when booking with Alternative Airlines. There are many options to choose from that allows you spread the cost of your Fronter Airlines flights. You choose to use Affirm if you are based in the US or Fly Now Pay Later if you are a UK resident. PayPal Credit can also be used to pay for Frontier Airlines when reserving with Alternative Airlines.
---
Alternative Airlines to Frontier Airlines
Please click on the logos below to find out more about airlines that fly similar routes to Frontier Airlines:
---
Frontier Airlines Destinations
Below are some of the most popular Frontier Airlines destinations:
| | | | | | | |
| --- | --- | --- | --- | --- | --- | --- |
| | | | Canada | | Calgary | |
| | | | Dominican Republic | | Punta Cana | |
| | | | Jamaica | | Montego Bay | |
| | | | Mexico | | Cancun | |
| | | | | | Guadalajara | |
| | | | | | Mexico City | |
| | | | | | Cabo San Lucas | |
| | | | | | Leon | |
| | | | Puerto Rico | | San Juan | |
| | | | United States | | Albany | |
| | | | | | Atlanta | |
| | | | | | Austin | |
| | | | | | Burlington | |
| | | | | | Charleston | |
| | | | | | Charlotte | |
| | | | | | Chicago | |
| | | | | | Cincinnati | |
| | | | | | Dallas | |
| | | | | | Detroit | |
| | | | | | Fort Myers | |
| | | | | | Houston | |
| | | | | | Indianapolis | |
| | | | | | Jackson | |
| | | | | | Kansas City | |
| | | | | | Las Vegas | |
| | | | | | Los Angeles | |
| | | | | | Madison | |
| | | | | | Miami | |
| | | | | | Milwaukee | |
| | | | | | New Orleans | |
| | | | | | New York | |
| | | | | | Orlando | |
| | | | | | Philadelphia | |
| | | | | | Phoenix | |
| | | | | | Sacramento | |
| | | | | | San Diego | |
| | | | | | San Francisco | |
| | | | | | Seattle | |
| | | | | | Tampa | |
| | | | | | Washington, D.C. | |
---
Frontier Airlines Discounts and Deals
You can save money on Frontier Airline tickets with Alternative Airlines. Find all our great Frontier tickets coupons and discounts.
What is Frontier Deal Den?
Frontier Den, or Discount Den, is a new membership scheme with Frontier Airlines. It offers low fares through a subscription and is available for up to 6 people on the itinerary. Find out more information on Discount Den with Frontier Airlines
Even if you are child or a senior, you can still get a discount on your Frontier Airlines ticket with Alternative Airlines. Save on Frontier Airlines senior discount and on any flight ticket with Alternative Airlines offers and PayPal discount codes.
---
Frontier Airlines Route Map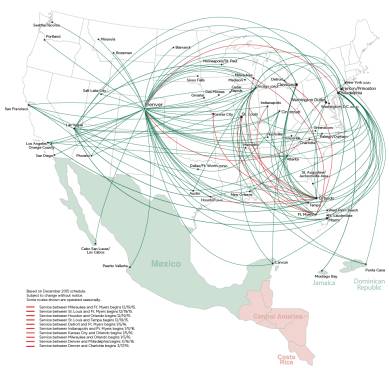 Frontier Airlines Popular Routes
Santa Ana

New York
Santa Ana

Chicago
Los Angeles

New York
Denver

San Fransisco
Washington DC

Santa Ana
Denver

Santa Ana
---
The Fleet

Airbus A319
Airbus A320
Airbus A321
---
Frontier Airlines Hub Airport
Denver International Airport
The airport is the main hub for Frontier Airlines and Great Lakes Airlines. It is also the fourth-largest and Central U.S. hub for United Airlines with 375 daily departures to 141 destinations. Within the past decade DIA has become a major focus city for Southwest Airlines. It also has the third largest domestic connection network in the country. 141 gates spread out over three detached, yet internally connected, concourses (A, B & C) helps to organize the high volume of passenger traffic. Airlines that fly from and to Denver International Airport include AirCanada, Southwest Airlines, Skywest Airlines United and Lufthansa.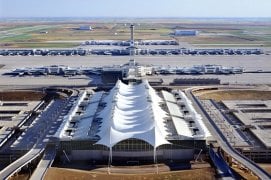 ---
Frontier Airlines Spring Break Flights
With spring break 2019 just around the corner, now is the perfect time to buy your spring break flights on Frontier Airlines. Frontier Airlines offers both domestic and international flights to many of the most popular destinations for spring break, from the US.
---
Buy Discounted Frontier Airlines Tickets at Alternative Airlines
---
Frontier Airlines News
18th June 2018
First Frontier Airlines flight from Denver lands at Branson Airport — plane fully booked
The Branson Airport announced last week that it welcomed its first inbound Frontier Airlines flight from Denver, Colorado. The plane was full, according to a news release from the airport.Frontier, a budget airline that operates out of 90 cities across the United States, Canada, the Dominican Republic and Mexico, made a deal to provide service to the privately owned airport in early February, the News-Leader previously reported.The first Frontier Airlines flight from Denver, Colorado arrived at Branson Airport on June 13, 2018.
To celebrate the new service connection, the Branson Airport threw an Ozark Mountain "Tail" Gate party in honor of the animals that decorate the tails of Frontier airplanes. The event included several Branson entertainers, along with food, games and a round-trip airfare contest.Barry Williams, the "Brady Bunch" actor and Branson entertainer, was on stage with Branson dignitaries including Mayor Karen Best and chamber of commerce leader Jeff Seifried, during a welcome party at Branson Airport for Frontier Airlines held June 13, 2018.
"We are pleased to return to Branson and introduce a new and more affordable way to travel to and from the area," said Sean Morahan, a Frontier Airlines official, in a news release from the Branson Airport. Morahan noted that Frontier is offering "incredibly low fares" right now for flights connecting Branson and Denver. Jeff Bourk, executive director of the Branson Airport, welcomed Frontier. "We know people want to come here from all over the United States," he said in a news release, "but without good, affordable air service people need to work really hard to get here. Frontier Airlines changed that today."Frontier's fleet consists of Airbus A320 Family jet aircraft, which it touts as "one of the youngest fleets in the industry." The airline has ordered almost 200 new aircraft.
12th June 2018
Frontier Airlines to fly to 15 new routes this summer
Frontier Airlines has announced 15 new city pairings, all to be launched this in August 2018. The new routes will fly from a number of different American cities, including, Austin, Las Vegas, Orlando, San Antonio and San Diego, to other cities in North America. Of particular note are services to Canada, with Frontier flying to both Calgary (from Las Vegas) and Ontario (from Orlando). The new routes will be operated using its fleet of Airbus family.
Here is a list of the new routes from Frontier Airlines:
From Austin — Louisville (two times a week) and Orange County (three times a week)
From Las Vegas — Calgary (three times a week), Norfolk (three times a week) and Spokane (two times a week)
From Orlando — Ontario (daily) and Pittsburgh (two times a week)
From San Antonio — Orange County (four times a week) and Salt Lake City (two times a week)
San Diego — Cleveland (two times a week), Indianapolis (two times a week), Milwaukee (two times a week), Pittsburgh (two times a week) and Raleigh/Durham (two times a week)
15th May 2018
Frontier Airlines has moved its hub!
Frontier Airlines has relocated ! from now on its operations will be based at Terminal 5, which now serves as O'Hare's principal international terminal, instead of Terminal 3 at O'Hare International Airport. Frontier's move over the weekend became the second peg to fall into place in the massive $8.5 billion, multi-year O'Hare redevelopment project announced by Chicago Mayor Rahm Emanuel in March. The first piece of the plan debuted last Friday when American Airlines unveiled five new gates in Terminal 3 that will be used for the carrier's regional flights. American eventually will have access to three more common-use gates expected to be built out as part of a compromise gate allocation worked out between American Airlines and the City of Chicago during heated negotiations in March. Frontier Airlines are happy to join the other SkyTeam Airline Alliance carriers.
19th April 2018
Frontier Airlines has upped its route count for S18
Frontier Airlines has upped its route count for S18 by adding a further 10 services to its network this week, adding to the 56 routes it inaugurated last week. It means that so far in 2018 the airline has launched 73 new routes. Of the 10 launched this week, only four will face direct competition, while the 10 services started this week also incorporate a new airport on the airline's network – Birmingham (BHM). The largest city in Alabama is now connected to Philadelphia (PHL), Denver (DEN) and Orlando (MCO), with all three poised to face direct competition. The average weekly sector length of Frontier's new routes this week is 1,624 kilometres, while the average weekly frequency is 2.1.
Launched
From
To
Aircraft (WF)
Competition
10-Apr
Austin (AUS)
Charleston (CHS)
A320 (2)
Indianapolis (IND)
Allegiant Air (2), Southwest Airlines (1)
Reno-Tahoe (RNO)
11-Apr
Philadelphia (PHL)
Birmingham (BHM)
American Airlines (14)
Raleigh-Durham (RDU)
Buffalo (BUF)
San Juan (SJU)
San Jose (SJC)
Tulsa (TUL)
A319 (2)
Washington Dulles (IAD)
12-Apr
Denver (DEN)
Birmingham (BHM)
A320 (3)
United Airlines (12)
13-Apr
Orlando (MCO)
A320 (2)
Southwest Airlines (14)
Source: OAG Schedules Analyser w/c 17 April. WF = Weekly frequencies.
9th April 2018
Frontier Airlines to launch new San Jose routes
Frontier Airlines on Monday intensified the competition for air travelers using Silicon Valley's airport with new flights to five cities serving Mineta San Jose International Airport. This comes as part of a company-wide expansion for Frontier airlines. "These new routes edify our commitment to deliver low fares nationwide," said Daniel Shurz, senior vice president commercial for Frontier Airlines. This will be super-low cost fares connecting the capital city to many places in the United States. On Sunday, Frontier launched service connecting San Jose and Austin, as well as San Jose and Cincinnati. Frontier followed up with new service Monday for routes between San Jose and Atlanta, and between San Jose and San Antonio. Wednesday, Frontier was slated to begin service connecting San Jose and Tulsa.
17th August 2017
Frontier Airlines launch weekly Airbus A320 Services
From October 2017, Frontier Airlines will launch 4 X weekly Airbus A320 services from San Antonio, Texas (SAT) to Washington Dulles and Ontario, California (ONT).
14th August 2017
Frontier Airlines begins service to T.F. Green Airport from Orlando, Florida, Monday, August 14th 2017
The first arrival was scheduled to land at about 10:15 a.m. from Orlando, Florida. The flight was greeted with a traditional "water salute."The airline's first departure from Green was a flight to Denver at 11 a.m."We really identified that this market is underserved in affordable, low-cost air travel. We think we're going to be very successful here. We would not already be expanding. We want people to get off the couch, fly, go see family, friends," said Frontier spokeswoman Tyri Squyres.
Frontier will be adding service to six additional cities from T.F. Green Airport in the months ahead. Flights to Miami, Tampa, Fort Myers and New Orleans begin in October. The airline will add Charlotte and Raleigh-Durham in the spring. The addition of Frontier brings the number of airlines at T.F. Green Airport to 11, two of which fly to Europe. The runway expansion at Green is scheduled to open in December.
24th July 2017
Frontier Airlines launching low-fare flights to Denver, four Florida cities
Among the new airlines, both Frontier and Norwegian will have 8 new non-stops routes from Green Airport. The low-priced airline will offer non-stop flights from Grand Rapids to Denver and from Grand Rapids to Orlando, which the airport said is the number-one market for non-stop service out of the airport. Frontier will offer 18 flights from Tampa by the end of the year. Another air carrier plans to launch service between the Holy City and the Mile High City. The new destinations join a previously announced daily nonstop Frontier flight to Orlando International Airport.
Frontier is focused on more than low fares. The airport is making an announcement Tuesday regarding air service operations. Green Airport has (nearly) doubled the numbers of non-stops from 17, just a few months ago, to 33 with this announcement. Global destinations like Dublin, Amsterdam and Manchester, England, are also on that list. "These new flights achieve both goals."Service to Tampa begins December 6 with flights on Monday, Wednesday, Friday and Saturday. Copa Airline's service to Panama City, which began 2013, was Tampa Bay's first nonstop flight to a major Latin America hub. Frontier Airlines is the proud recipient of the Federal Aviation Administration's 2016 Diamond Award for maintenance excellence and was recently named the industry's most fuel-efficient airline by The International Council on Clean Transportation (ICCT) as a result of superior technology and operational efficiencies.
20th July 2017
Frontier Airlines to offer six new non-stop flights from San Antonio
Frontier Airlines is launching new non-stop service to six destinations. You'll be able to fly to Cincinnati, New Orleans, Orlando, Phoenix, San Diego and San Jose, California. Beginning in October, year round service will be offered to New Orleans, Phoenix and San Diego. Seasonal service will be offered in the spring to Cincinnati, Orlando and San Jose.
"With today's announcement, Frontier now offers our Low Fares Done Right product to 11 great destinations," said Doug Bertram, Director of Digital Marketing, Advertising, and Distribution for Frontier Airlines. "Customers traveling from San Antonio now have new significantly lower-cost options to reach these great destinations."You can purchase tickets now for flights to New Orleans, Phoenix and San Diego. Tickets to Cincinnati, Orlando and San Jose will be available starting in October.
April 2017
Frontier Airlines has announced it will being back services to some cities from Denver International Airport
As part of the airline's summer schedule, the routes will be to 14 destinations that include: Cedar Rapids, Iowa; Cleveland; Detroit; Pittsburgh; Bozeman and Missoula.
April 2017
Frontier Airlines announced it has begun new, non-stop service in eight markets over the past week and returned its summer seasonal routes in nearly 40 markets across the U.S.
That includes 14 cities that can be reached from Denver International Airport this summer, including: Pittsburgh; Cleveland; Bismarck, N.D.; Cedar Rapids, Iowa; Charlotte; Detroit; Greensboro, N.C.; Knoxville, Tenn.; New York's LaGuardia Airport; Raleigh–Durham International Airport; Sioux Falls, S.D. and Washington Dulles International Airport. Frontier says it will also reinstate non-stop flights from Denver to Bozeman, Mont. on April 30 and Missoula, Mont. on April 28.
Frontier says its flights between Austin and both San Diego and Washington, D.C., are scheduled to operate year-round. The airline also will bring back summer seasonal service between Atlanta and Austin; Cincinnati; Cleveland; Houston's George Bush Intercontinental Airport; Kansas City, Mo.; Miami; St. Louis; and San Antonio.
---