Trusted Choice
Secure Booking
Airlines will always try to sit children with their parents (subject to check-in)
Some airlines will allow travel for unaccompanied minors. Please email us to check.
The fare is based on the child's age on the date of travel.
More detailed information can be found here Traveling with children
Most airlines will let infants travel with their parent(s) for free. However some airlines will charge up to 10% of the adult ticket price. Click on 'Price Breakdown' to find out more.
If you are pregnant, but due before the flight departure date, please contact us once your baby is born and has a name. We can then add him/her to your ticket.
Infants will not be given a seat. The airlines expect parents to travel with them on their lap.
Airlines regard infants as being under 24 months old.
The fare is based on the child's age on the date of travel.
More detailed information can be found here Traveling with children
Search & Book Flights

With Delta Air Lines
Cancellation Protection
Protects
Trusted Choice
65,000 happy customers
Rated 4.5 Stars. Based on 3,581 service ratings over the past year
Dedicated customer service team on hand to help
Secure payments
Cancellation Protection
Protects
Trusted Choice
65,000 happy customers
Rated 4.5 Stars. Based on 3,581 service ratings over the past year
Dedicated customer service team on hand to help
Secure payments
Buy
Delta Air Lines

Flights
Delta Air Lines Tickets and Reservations with Alternative Airlines
Book Your Flight Tickets and Find Some Amazing Deals
---
About
Delta Air Lines, is a major American airline, with its headquarters and largest hub at Hartsfield–Jackson Atlanta International Airport in Atlanta, Georgia. The airline operates over 5,000 flights daily and serves 200 million passengers per year. The airline also serves an extensive domestic and international network that includes over 300 destinations in more than 50 countries and on six continents. The American airline's route network is centred around a system of hubs, international gateway and key airports that it operates in Atlanta, Boston, Detroit, London-Heathrow, Los Angeles, Minneapolis-St. Paul, New York-La Guardia, New York-JFK, Paris-Charles de Gaulle, Salt Lake City, Seattle and Tokyo-Narita.
The airline was one of the four founding members of the SkyTeam airline alliance and has codeshare agreements with Air France-KLM, Alitalia, Virgin Atlantic, Virgin Australia and Korean Air. These joint-ventures serve over 600 destinations in 127 countries. Their regional service is operated under the brand name Delta Connection.
---
Baggage Allowance
Carry-on Baggage
One piece of carry-on baggage and one small personal item are permitted per passenger. Carry-on baggage for flights must not exceed total dimensions of 45 linear inches (115cm). There are no weight restrictions on carry-on baggage on most of the routes except destinations like Singapore (7kg), Beijing (10kg) and Shanghai (10kg).
Checked Baggage
Checked baggage allowance will vary depending on the ticket purchased but the baggage size must not exceed the maximum dimensions of 62in (157cm) for all passengers. However, the checked baggage must not weigh over 50lbs (23kg) for Basic Economy, Main Cabin and Delta Comfort passengers. First Class, Delta Premium Select and Delta One passengers' checked baggage must not weigh over 70lbs (32kg).
Musical Instrument Policy
The airline will allow musical instruments that fit in their overhead bin as carry-on luggage. Larger instruments must be taken as checked baggage. Find out more about their musical instrument policy.
---
Check-in
Online Check-In
If you have made a reservation with Alternative Airlines, you will be able to check-in online up to 24 hours before flight departure by entering using our online check-in page. Once you have checked in online, you can print your boarding pass or download your e-boarding boarding pass onto your handheld device.
Airport Check-In
If you prefer to check-in at the airport for your flight, you can do so at the airport check-in desk. For domestic flights, the airport check-in closes 30 minutes before scheduled flight departure time on most flights. However, airport check-in closes one hour before on international flights. For more detail, please check the U.S. Airport check-in times here and the International Airport check-in times here.
---
Destinations
Domestic Destinations
| | | | | |
| --- | --- | --- | --- | --- |
| Akron | Albany, NY | Albuquerque | Allentown | Anchorage |
| Appleton | Asheville | Atlanta | Augusta | Austin |
| Baltimore | Baton Rouge | Billings | Birmingham, AL | Bismarck |
| Boise | Boston | Bozeman | Bristol, TN | Buffalo |
| Burbank | Burlington | Cedar Rapids | Charleston | Charleston, WV |
| Charlotte | Charlottesville | Chattanooga | Chicago | Chicago |
| Cincinnati | Cleveland | Colorado Springs | Columbia | Columbus |
| Dallas | Dallas | Dayton | Daytona Beach | Denver |
| Des Moines | Detroit | El Paso | Fairbanks | Fargo |
| Fayetteville | Flint | Fort Lauderdale | Fort Myers | Fort Walton Beach |
| Gainesville | Grand Rapids | Green Bay | Greensboro | Greenville |
| Gulfport | Harlingen | Harrisburg | Hartford | Hayden |
| Honolulu | Houston | Houston | Huntsville | Indianapolis |
| Jackson | Jackson Hole | Jacksonville | Juneau | Kahului |
| Kalispell | Kansas City | Key West | Knoxville | Kona |
| Las Vegas | Lexington | Lihue | Little Rock | Long Beach |
| Los Angeles | Louisville | Madison | Manchester, NH | Melbourne, FL |
| Memphis | Miami | Milwaukee | Minneapolis-Saint Paul | Missoula |
| Mobile | Montrose | Myrtle Beach | Nashville | New Orleans |
| New York City | New York City | Newark | Newport News | Norfolk |
| Oakland | Oklahoma City | Omaha | Ontario | Orlando |
| Palm Springs | Panama City, FL | Pensacola | Philadelphia | Phoenix |
| Pittsburgh | Portland, ME | Portland, OR | Providence | Raleigh |
| Reno | Richmond | Roanoke | Rochester, NY | Sacramento |
| St. Louis | Salt Lake City | San Antonio | San Diego | San Francisco |
| San Jose, CA | Santa Ana | Sarasota | Savannah | Seattle |
| Sioux Falls | Spokane | Springfield | Syracuse | Tallahassee |
| Tampa | Traverse City | Tucson | Tulsa | Vail |
| Washington, D.C. | Washington, D.C. | West Palm Beach | White Plains | Wichita |
| Wilkes-Barre | Wilmington | | | |
International Destinations
Antigua and Barbuda
St. John's
Argentina
Buenos Aires
Aruba
Oranjestad
Australia
Sydney
Bahamas
George Town
Bahamas
Nassau
Belgium
Brussels
Belize
Belize City
Bermuda
Hamilton
Bonaire
Kralendijk
Brazil
Rio de Janeiro
Brazil
São Paulo
Canada
Calgary
Canada
Edmonton
Canada
Toronto
Canada
Vancouver
Canada
Winnipeg
Canada
Montréal
Cayman Islands
Grand Cayman
Chile
Santiago
China
Beijing
China
Shanghai
Colombia
Bogotá
Colombia
Cartagena
Costa Rica
Liberia
Costa Rica
San José
Cuba
Havana
Czech Republic
Prague
Denmark
Copenhagen
Dominican Republic
Punta Cana
Dominican Republic
Santiago de los Caballeros
Dominican Republic
Santo Domingo
Ecuador
Quito
El Salvador
San Salvador
France
Nice
France
Paris
Germany
Berlin
Germany
Düsseldorf
Germany
Frankfurt
Germany
Hamburg
Germany
Munich
Germany
Stuttgart
Ghana
Accra
Greece
Athens
Grenada
St. George's
Guatemala
Guatemala City
Honduras
Roatán
Honduras
San Pedro Sula
Honduras
Tegucigalpa
Iceland
Reykjavík
India
Mumbai
Ireland
Dublin
Ireland
Shannon
Israel
Tel Aviv
Italy
Milan
Italy
Rome
Italy
Venice
Jamaica
Kingston
Jamaica
Montego Bay
Japan
Nagoya
Japan
Osaka
Japan
Tokyo
Japan
Tokyo
Mexico
Cancún
Mexico
Cozumel
Mexico
Guadalajara
Mexico
Ixtapa
Mexico
Mazatlán
Mexico
Mexico City
Mexico
Monterrey
Mexico
Puerto Vallarta
Mexico
San José del Cabo
Netherlands
Amsterdam
Nicaragua
Managua
Nigeria
Lagos
Palau
Koror
Panama
Panama City
Peru
Lima
Philippines
Manila
Portugal
Lisbon
Puerto Rico
San Juan
Saint Kitts and Nevis
Saint Kitts
Saint Lucia
Vieux-Fort
Senegal
Dakar
Sint Maarten
Philipsburg
South Africa
Johannesburg
South Korea
Seoul
Spain
Barcelona
Spain
Madrid
Switzerland
Zürich
Turks and Caicos Islands
Providenciales
U.S. Virgin Islands
Saint Croix
U.S. Virgin Islands
Saint Thomas
United Kingdom
Edinburgh
United Kingdom
Glasgow
United Kingdom
London
United Kingdom
London
United Kingdom
Manchester
---
Economy Class
Economy Class varies between the type of seat you have purchased, please check with our customer service team if you are unsure.
Economy Class facilities
Amenities included in Basic Economy Class is a selection of snacks such as chocolate, pretzels and peanuts and non-alcoholic beverages such as tea, juices and Starbucks Coffee. Alcoholic beverages are not served on flight journeys less than 250 miles. Wi-Fi is available to buy at a small fee on may flights and you will receive complimentary access to in-flight messaging. Delta Studio is available with a wide range of shows, movies and entertainment. Carry-on bag is permitted but may be checked at the boarding gate due to overhead locker space being limited. Ticket refunds and changes are not available in this class.
What are Economy Class seats like?
Assigned seats are free after check-in. If a seat number is not displayed on your boarding pass, then your seat will be assigned at the boarding gate, before boarding the aircraft. Your boarding pass will instead display, "Seat Assigned at Gate".
From April 2019, the airline will be experimenting with reducing the recline on its A320 economy seats to 3.5 inches, rather than 5.5. The aim is to prevent flyers from leaning their seats into the neighbour. The A320's makeup 7% of Delta's fleet and are typically used for short and medium-haul flights.
---
Premium Economy Class
Premium Economy comes in two fares; Main Cabin and Delta Comfort+. In the main cabin, passengers will receive select premium amenities at a much lower price, such as entertainment, an improved service, and the ability to select a seat for their flight.
Premium Economy Class Facilities
Passengers in Comfort+ will receive premium meals and snacks on their flights, improved from the standard served in the main cabin. They will also receive complimentary priority boarding.
Premium Economy Seats
Delta Comfort+ seats are larger than those in the main cabin, with improved and increased amounts of legroom. Seats in the premium economy include in-seat power, a personal entertainment screen and amenity kits to help aid better sleep.
---
Business Class
Business Class passengers get the best in-flight experience possible with optimum dining, entertainment and customer service on their flights. Find Business Class reservations by typing your desired destination into the search bar above.
Business Class Facilities
The gourmet meals on offer on your Business Class flight are curated by chefs so that you can enjoy a delicious meal up in the air. Passengers can also choose from an excellent range of complimentary beers, wines and spirits. Business Class passengers with Delta don't have to worry about spending a moment bored on board with Delta Studio's in-flight entertainment and noise-cancelling headset.
What are Business Class seats like?
Business Class passengers enjoy 180-degree flat-beds set with direct aisle access on most flights. Westin Heavenly In-Flight bedding means passengers will have maximum comfort onboard their flight. Passengers can also easily adjust their seat for work, play or relaxation. Never run out of battery before you reach your destination with power sockets built into your bedside table. Delux skincare products and amenity kits mean you'll arrive revitalised and ready to head the road at your destination.
---
First Class
First Class passengers will enjoy personalised service at the airport and throughout the duration of the flight. Passengers are taken care of, allowing them to relax in comfort or focus and increase their productivity for work. Passengers in first will have their own personal flight attendant, priority check-in, security and boarding and express collection of checked baggage. There are 3 different first-class tickets; First Class is available on domestic and selected international flights, Delta Premium Select is available on selected long-haul international flights and Delta One is available on long-haul international, and selected domestic flights.
What does First Class Include?
Seats in first class are premium, with at least 50% more room than a seat in the main cabin, rising up to a flat-bed in Delta One. Passengers will receive an amenity kit, helping you stay refreshed and prepared for better sleep and relax during your flight. Premium fine-dining meals are served on premium plates, with complimentary alcoholic beverages if desired. Entertainment is provided on bigger personal screens, with in-seat power charging points should you wish to charge your own devices.
Does First Class Have a First Class Lounge?
Delta Sky Club is available to passengers travelling in first class. It provides the best experience for waiting for your flight at the airport, with a relaxing atmosphere and comfort seats. WiFi and charging points are complimentary, and fresh and healthy food and premium drinks are available. The menu for your selected Delta Sky Club lounge can be viewed online.
---
Food
Meal Options
The airline offers a wide range of food options on its flights, from snacks of Biscoff biscuits to 3-course meals. Passengers in Basic Economy and Main cabin are given complimentary snacks and can purchase meal items from the Flight Fuel menu, for flights over 900 miles. Passengers in first class are given complimentary food on flights, from premium snacks on short flights, lighter meals on medium flights and full meal service on longer flights. Passengers flying in First class are given premium seasonal and regional menus.
Special Dietary Requirements
The airline can offer a variety of meals to suit special dietary requirements. This must be done by calling or booking online in MyTrips, at least 24 hours before flying. The following are the meals available:
Drinks & Alcohol
All passengers are given complimentary soft drinks. Coffee, tea, wine and water are provided on all long-haul flights. For flights over 250 miles will have Starbucks, beer, wine and spirits onboard but passengers must be 21 or over to consume alcohol onboard.
---
In-flight Entertainment
With Delta's excellent in-flight entertainment system, you won't notice the time passing during your journey. Choose from a range of TV shows, movies, songs and interviews and sit back and enjoy your flight. To enhance your in-flight entertainment, the airline recommends downloading the Gogo Entertainment app before your flight.
TV
As well as popular movies, the top of the range in-flight entertainment service offers travel documentaries, news broadcasts, sitcoms, dramas and lifestyle programmes on its in-flight entertainment system. Browse popular sitcoms as well as award-winning TV dramas.
Movies
No matter what your taste in movies, you'll find something offers films for all interests and ages. Whether you're looking for that Hollywood blockbuster that you missed on the big screen or that indy cult classic, with over 300 films available, you're bound to find the right movie.
---
WIFI
With over 1,000 aircraft with WIFI available, Delta is one of the world's best airlines to fly on when it comes to staying connected online. Stream your favourite films and television shows, or waste no time and catch-up with work when you fly and connect to the DeltaWIFI network. The inflight WIFI is powered by GoGo and uses KU and 2KU technology ensuring a fast and reliable WIFI service.
Free Messaging
Delta offers passengers free mobile messaging onboard but only iMessage, Facebook Messenger and WhatsApp are allowed. Passengers cannot send pictures, videos or SMS with this feature though.
WIFI Price
This airline offers a number of different passes which give access to the DeltaWIFI network. The price of these passes will differ depending on the route flown and the plan chosen.
- North American Day Pass
The North American Day Pass gives unlimited WIFI access on flights flying within North America for 24 hours and is available to pre-purchase online from $16.00 USD.
- Global Day Pass
The Global Day Pass gives unlimited WIFI access on flights flying globally for 24 hours and is available to pre-purchase online from $28.00 USD.
- North America Monthly Pass
The North America Monthly Pass gives unlimited WIFI access on flights flying within North America for an entire month and is available to pre-purchase online for $49.95 USD.
- North America Annual Pass
The North America Annual pass gives unlimited WIFI access on flights flying within North American services for the entire year and is available to pre-purchase online for $599.99 USD.
Pre-purchase the North American Day Pass, North America Monthly Pass, North America Annual Pass and Global Day pass.
---
Frequent Flyer Programme
Passengers can earn miles through Skymiles and once a member, passengers can then earn miles towards Award Travel based on ticket price and their SkyMiles status. In 2013, Delta was the world's largest airline in terms of scheduled passengers carried and capacity. Passengers can earn miles on flights & travel (including partner flights), with the Delta SkyMiles American Express Card and from SkyMiles Partners. Explore more here.
---
Pets, Emotional Support and Service Animals
Get all information and rules on taking a pet on a Delta Air Lines flight. To fly with a service animal, pet, or an emotional support animal on Delta is advised by Alternative Airlines about taking an animal on a plane.
---
Hub Airport
Hartsfield Jackson Atlanta International Airport
One of Delta's largest hubs is Hartsfield–Jackson Atlanta International Airport, which is located seven miles south of the central business district of Atlanta, Georgia, United States. It has been the world's busiest airport by passenger traffic since 1998. In 2019, the airport held its title as the world's busiest airport by accommodating 109 million passengers. 150 U.S. destinations and more than 75 international destinations are served. The airport has 192 domestic and international gates. Other airlines that operate out of the airport include but not limited to Southwest, Spirit, United Airlines and WestJet.
---
Fleet
| AIRCRAFT | IN SERVICE | ORDERS |
| --- | --- | --- |
| A220-100 | 29 | 15 |
| A220-300 | / | 9 |
| A319-100 | 51 | / |
| A320-200 | 56 | / |
| A321-200 | 97 | 4 |
| A330-200 | 11 | / |
| A330-300 | 30 | / |
| A330-900N | 4 | 4 |
| A350-900 | 13 | 4 |
| B717-200 | 88 | / |
| B737-700 | 10 | / |
| B737-800 | 75 | / |
| B737-900(ER) | 130 | / |
| B757-200 | 109 | / |
| B757-300 | 16 | / |
| B767-300(ER) | 53 | / |
| B767-400(ER) | 19 | / |
| B777-200(ER) | 8 | / |
| B777-200(LR) | 10 | / |
| MD-88 | 47 | / |
| MD-90-30 | 25 | / |
---
SkyTeam Airline Alliance
Delta is part of SkyTeam Airline Alliance, which is a leading global airline network, with 19 member airlines. SkyTeam alliance was founded in 2000 and now consists of member airlines such as Aerolineas Argentinas, AeroMexico, Air Europa, Alitalia, China Airlines, Garuda Indonesia, Kenya Airways, KLM and others. SkyTeam Alliance network has more than 14,500 daily flights, with 1,150 destinations in 175 countries.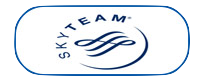 ---
Alternative Airlines
Please click on the logos below to find out more about airlines that operate similar flights:
---
Payment Plan
Alternative Airlines offer a wide range of payment plans when you make your reservation. Choose to buy tickets now and pay later with PayPal Credit, Affirm or Klarna. You can even buy Delta airfares and pay off in instalments. Never miss out on a great deal on your Delta reservation again! See all the ways you can buy flights on finance.
---
Pay for Flights with PayPal
Use Alternative Airlines to make your reservation and pay with PayPal. PayPal is a quick, safe and secure way to pay for tickets and Alternative Airlines offers passengers the option to pay with PayPal on all reservations. Make your reservations with Paypal for a swift and convenient flight booking! You can pay for airline tickets with PayPal by searching Delta flights from all allocated airports and routes with the search bar at the top of this page, you can check out with PayPal and PayPal Credit. As an example, fly from Las Vegas to Los Angeles and choose PayPal at checkout.
Alternative Airlines also gives you the option to be billed later on Delta flights with PayPal Credit which means you can buy any Delta Air Lines airfare and pay off later in instalments.
Still not convinced? Have a look at our blog on the best reasons to pay for flights with PayPal.
---
Split Your Payment on Delta Air Lines ticket
Split Your Payment on Delta Air Lines tickets. Split Your Payment allows you to divide the total amount of your flight purchase between two different payment methods. For example, you can use a debit or credit card to pay off one portion of your flight and PayPal to pay for the other portion. Both payments must be made at the time of purchase.
With Alternative Airlines, you can split your payment on all airline tickets, including airlines such as Southwest, Virgin, Norwegian and LATAM.
---
Deals and Discounts
Get great deals on your tickets with flight coupons and discounts on any Delta reservation so grab some amazing deals today! If you are looking for student discount code, you can get a discount for Students, Seniors or young adults with Alternative Airlines. Just pay with PayPal and use the PayPal discount code.
---
Emergency and Bereavement Flights
Looking to buy an emergency flight? If you are needing to buy a last-minute flight or need a refund for your flight due to sudden death or in an emergency, Alternative Airlines will help you through this stressful process. See all information on flying in an emergency with Delta and Alternative airlines and flying for a funeral.
---
News
2 March 2020
Delta suspends flights to Italy
Due to the coronavirus outbreak in Italy, Delta have decided to temporarily suspend flights from New York to Milan. The US airline is planned to resume flights from the 1st of May.
17 February 2020
Delta's New Livery Dedicated To Their 90,000 Employees
The new livery on the Airbus A321 features the word 'Thank You'. The names of the 90,000 employees are printed inside the word 'Thank You'. At the front of the plane, the company also printed 'Dedicated to the world's best employees & customers' celebrating their $1.6 billion profit.
Delta's CEO Ed Bastian said "Delta would be nothing without our 90,000 people worldwide. They deserve all the credit for our success, and we are proud to recognize their extraordinary work with a $1.6 billion payout – marking the sixth year in a row that Delta's profit sharing has exceeded $1 billion."
14 February 2020
Delta Investing $1 Biliion To Be Carbon Neutral
The airline is aiming to invest $1 billion over the next decade as the UK aviation industry commits to carbon neutral by 2050. There are three objectives that the U.S. airline is aiming to achieve, carbon reduction, carbon removal and stakeholder engagement.
The CEO of Delta said "There's no challenge we face that is in greater need of innovation than environmental sustainability, and we know there is no single solution. We are digging deep into the issues, examining every corner of our business, engaging experts, building coalitions, fostering partnerships and driving innovation,"