Virgin Atlantic Reservations with Alternative Airlines
Make a Virgin Atlantic Booking and Find Some Amazing Deals
---
About Virgin Atlantic
Virgin Atlantic is a British airline whose hub airport is located at London Gatwick Airport. The airline was established in 1984 as British Atlantic Airways by its co-founders Randolph Fields and Hellary. Shortly after the airline was renamed to 'Virgin Atlantic' and Richard Branson took over the company. Virgin Atlantic as well as Virgin Holidays is controlled by a holding company, Virgin Atlantic Limited, which is 51% owned by the Virgin Group and 49% by Delta Air Lines.
Virgin Atlantic flies to many destinations including Cancun, Detroit, Dubai, Barbados, Atlanta, Hong Kong, Delhi, New York, Havana, Boston, London, Manchester, Miami, Lagos, Newark, Chicago, Johannesburg, Orlando, San Francisco, Montego Bay, Shanghai, Antigua and Washington.
Looking to buy Virgin Atlantic flights? Book a Virgin Atlantic flight ticket today and pay the way you want! We offer 40+ different payment methods worldwide, including 'buy now, pay later' options like Clearpay and Afterpay, virtual wallets and even cryptocurrency. Begin your search for Virgin Atlantic flights using the search form at the top of the page.
---
Baggage Information
Carry On
On all its Economy and Premium Economy fares, Virgin Atlantic allows one piece of carry-on luggage, measuring 23x36x56cm and 10kg or under. Additionally, passengers are allowed a small handbag or rucksack.
The Virgin Atlantic baggage allowance for 'Upper Class' passengers is two items of hand luggage with a combined weight of 16 kg/ 35 lbs, with no one item exceeding 12 kg/ 26 lbs. Each item must also not exceed the standard dimensions of 23 x 36 x 56 cm.
Babies aged 0-23 months flying with Virgin Atlantic are allowed to bring one carry-on bag weighing no more than 6kg / 13lbs. Children over the age of 2 are allowed to bring the same amount of carry-on baggage as an adult.
Checked Luggage
Virgin Atlantic allows one 23kg bag on most of its economy fares, free of charge. If you are going on a long trip, Atlantic offers a Ship Your Luggage service, where you can send your luggage pre-flight, and have to lug around your bags on the day of travel.
Sports Equipment
If you wish to bring your sports equipment with you (e.g. skis, snowboard, canoe) you can take it in place as one of your included bags. Please note that it mustn't weight more than 23kg (50lb).
---
Class Information
Enjoy the comforts of picking your own seat when making a Virgin Atlantic reservation with Alternative Airlines. Use the interactive map to see Virgin Atlantic seat availability on your chosen flight and choose the best seat for you! Alternative Airlines allow you to choose your Virgin Atlantic preferred seat on all flights — whether you're flying domestically or internationally!
Economy Class
All Economy seats come with onboard Wi-Fi, TV and films, complimentary drinks and snacks, in-seat power for your devices, and a choice of a 3-course meal. There are three levels of Economy: Economy Light, Classic, and Delight.
What are Economy Class Seats Like?
Economy Light means you still get everything you'd expect on a great flight - but at a price, you wouldn't.
Economy Classic comes with advanced seat assignment included, so there are no worries about paying extra to get the seats you want, next to the people you want.
Economy Delight means you can speed through the airport by using Premium check-in desks, enjoy priority boarding, and get first dibs on overhead storage before settling into your extra legroom seat with 34" seat pitch.
Business Class
Virgin's Business class, which it calls Premium, comes will numerous extra benefits to make your entire journey as comfortable and seamless as possible. Those extra few inches of space, a glass of bubbly as you board, and a tasty meal served on china crockery with proper cutlery.
What are Business Class Seats Like?
Comfortable leather seats let you fly in luxury. A complimentary drink and newspaper will greet you, and, on night flights, you'll be given a Premium amenity kit.
Upper Class
As an Upper-Class passenger, you'll never have to worry about missing a meeting. After landing, you'll be one of the first to disembark and one of the first to pick up your luggage.
What are Upper-Class Seats Like?
Upper-Class passengers can take advantage of Virgin's complimentary chauffeur service, and have access to the Virgin Atlantic Upper Class wing at London Heathrow, complete with private access and Clubhouse. Onboard, seats recline fully and convert into beds. Virgin has also worked with innovative chefs to develop an incredible dining experience.
---
Check-in Information
Online
Online Check-in is the fastest, simplest way to do it. It's open from 24 hours before your flight until 70 minutes before departure.
Why not check in online via the Virgin Atlantic mobile app?
At the Airport
Airport check-in desks generally close 60 minutes before departure. This time can vary so we recommend you check the airport guide for your departure airport.
---
Frequent Flyer Programme
Virgin Atlantic's Flying Club lets passengers earn miles on every Virgin Atlantic flight, and spend them on fabulous rewards like upgrades and flights. The programme lets passengers earn Tier Points on flights and move up the tiers, unlocking more benefits as you go.
---
Popular Routes
London

Johannesburg
Hong Kong

London.
London

Tokyo
London

Shanghai
London

Montego Bay
Washington

London.
---
Route Map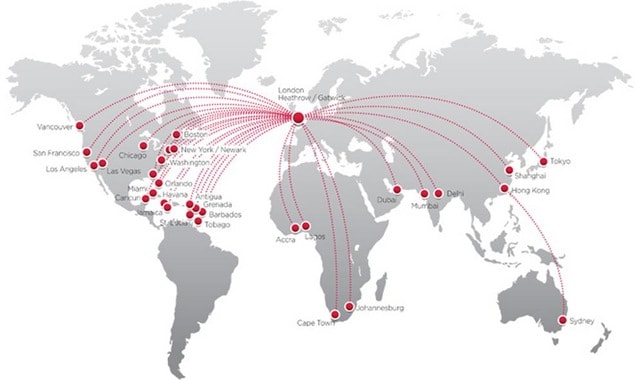 ---
Fleet
Virgin Atlantic operates a fleet consisting entirely of both Airbus and Boeing widebody aircraft. This includes:
Airbus A33-300
Airbus A340-600
Boeing 787-9
---
Hub Airport
Heathrow Airport
The Hub Airport for Virgin Atlantic is Heathrow Airport. Heathrow is a major international airport in west London, England. Heathrow is the busiest airport in the United Kingdom, the busiest airport in Europe by passenger traffic, and the fifth busiest airport in the world by total passenger traffic. In 2014, it handled a record 73.4 million passengers, a 1.4 per cent increase from 2013.
Heathrow Airport (LHR) operates over 80 airlines which fly to over 185 destinations across 80+ countries. This airport has 4 passenger terminals and a cargo terminal.
Airlines that fly from and to Heathrow Airport include Delta Airlines, Emirates, Aegean, KLM, Scandinavian Airlines Ireland, Virgin Atlantic and more.
---
In-Flight Entertainment
Virgin Atlantic offers its passengers a number of in-flight entertainment on board. Ranging from a variety of movies, music and TV shows - Vera offers handpicked special entertainment each month so you don't miss out on the latest. Recent movies added to Virgin's in-flight entertainment includes 'Don't Worry Darling', 'Easter Sunday', 'Catch the fair one' and 'Tad the Lost Explorer and the Curse of the Mummy'.
Travelling with kids? No worries, with the help of Virgin Atlantic your little one can keep entertained with movies, TV, audio and games suitable for their age. We've also added parental control as part of our in-flight entertainment system, so you can sit back and enjoy your flight.
---
WiFi
WIFI is available on Virgin Atlantic flights so you can stay connected and send emails, catch up on the latest social updates or browse through the news. In order to connect to Virgin Atlantic's WiFi you must turn aeroplane mode on and turn off your mobile data.
---
Food
The food available on Virgin Atlantic flights will depend on the time of your journey, where you're flying to and the cabin class you're flying in.
Economy
When flying Economy class, Virgin Atlantic offers a variety of drinks including soft drinks, wines, beers and spirits. You'll also have a choice of hot main dishes, dessert, bread, butter, cheese and biscuits. A second serve will also be offered, which includes Mile High Tea or breakfast served later during your flight.
Premium
When flying in premium, you'll be welcomed onboard with a glass of bubbly. For your main meal, you'll be able to choose from a selection of delicious meals, vegetarian options are available. If you're feeling pecking, then pop over to the onboard Wander Wall - there will be a number of sweet and savoury treats that you can munch on. Depending on the flight journey you'll also be served a second serve - this includes Mile High Tea, a light meal or breakfast before your arrival.
Upper Class
First of all, you'll be welcomed onboard the Virgin Atlantic flight with a chilled glass of Champagne or Sparkling Wine. In Upper class, you'll be able to enjoy fine dining, a deli bar, breakfast options and a selection of high-quality beverages. Virgin Atlantic's four-course menu includes a selection of starters, mains, desserts and finally, a divine cheese course served with port. Feeling peckish? No worries, head over to the bar and select from a range of sweet and savoury snacks or order some picky bits from our Extra Bites Menu.
---
Special Assistance
Unaccompanied Minors
Virgin Atlantic allows children 14 years or older to travel alone. All young adults under the age of 16 travelling alone must present parent or guardian travel consent. If you wish to make a booking for a person under the age of 16, please contact Virgin Atlantic as they guide you with the correct help.
Wheelchair Assistance
If you or a member of your booking require wheelchair assistance for the airport journey, then please Contact Us as soon as possible. We'll inform the airline that you'll need wheelchair assistance getting to/from your aircraft. Virgin Atlantic's cabin crew is also willing to help you get to and from the toilet door, using the onboard wheelchair.
---
Alternative Airlines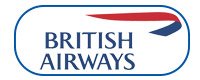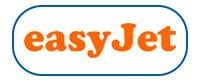 ---
Buy Discounted Tickets at Alternative Airlines
Save money on any Virgin Atlantic reservation with Alternative Airlines. See all our flight ticket coupons and deals when you pay with PayPal or PayPal Credit and save on your Virgin Atlantic flight tickets.
Get all Virgin flight deals today!