Aegean Airlines Reservations with Alternative Airlines
Make an Aegean Airlines Booking and Find Some Amazing Deals
---
About Aegean Airlines
Aegean Airlines is the largest Greek carrier, having carried 6.6 million passengers in 2009. It began scheduled passengers operations in May 1999, providing full service, premium quality, short and medium haul flights.
Aegean has been listed on the Athens stock exchange since July 2007 and in 2015, was honoured with the Skytrax World Airline Award for the sixth time as the Best Regional Airline in Europe. It also owns part of the Romanian airline, Animawings.
---
Destinations
Aegean Airlines flies to both domestic destinations within Greece and International, across Africa, Asia-Pacific, Europe, The Middle East and North America.
COUNTRY
CITY
Albania
Tirana
Armenia
Yerevan
Austria
Vienna
Azerbaijan
Baku
Belgium
Brussels
Bosnia and Herzegovina
Sarajevo
Bulgaria
Sofia

Croatia

Dubrovnik
Split
Zadar
Zagreb
Cyprus
Larnaca
Paphos
Czech Republic
Prague
Denmark
Billund
Copenhagen
Eqypt
Alexandria
Cairo
Sharm El Sheikh
Estonia
Tallinn
Finland
Helsinki
France
Bordeaux
Brest
Deauville
Dole
Lille
Lyon
Marseille
Metz/Nancy
Nantes
Nice
Paris
Strasbourg
Toulouse
Georgia
Tbilisi
Germany
Berlin
Cologne
Dusseldorf
Frankfurt
Friedrichshafen
Hamburg
Hanover
Karlsruhe
Kassel
Memmingen
Munster
Munich
Nuremberg
Stuttgart
Greece
Alexandraoupoli
Athens
Cephalonia
Chania
Chios
Corfu
Heraklion
Ioannina
Kalamata
Kavala
Kos
Lemnos
Mykonos
Mytilene
Rhodes
Samos
Santorini
Sitia
Skyros
Thessaloniki
Zakynthos
Hungary
Budapest
Iran
Tehran
Ireland
Dublin
Israel
Tel Aviv
Italy
Bari
Bologna
Catania
Florence
Genoa
Lamezia Terme
Milan
Naples
Olbia
Palermo
Pisa
Rome
Turin
Venice
Verona
Jordan
Amman
Kuwait
Kuwait City
Latvia
Riga
Lebanon
Beirut
Lithuania
Santo Domingo, Dominican Republic
Luxembourg
Luxembourg City
Malta
Valletta
Morocco
Casablanca
Marrakesh
Montenegro
Podgorica
Netherlands
Amsterdam
Eindhoven
Norway
Oslo
Poland
Krakow
Warsaw
Portugal
Lisbon
Porto
North Macedonia
Skopje
Romania
Brasov
Bucharest
Cluj-Napoca
Russia
Moscow
Nizhny Novgorod
Perm
Rostov-on-Don
Saint Petersburg
Yekaterinburg
Saudi Arabia
Dammam
Jeddah
Riyadh
Serbia
Belgrade
Slovakia
Bratislava
Slovenia
Ljubljana
Spain
Barcelona
Bilbao
Ibiza
Malaga
Madrid
Palma de Mallorca
Seville
Valencia
Sweden
Stockholm
Switzerland
Geneva
Zurich
Tunisia
Tunis
Turkey
Istanbul
Izmir
Ukraine
Kyiv
Mariupol
United Arab Emirates
Abu Dhabi
United Kingdom
Birmingham
Bristol
Edinburgh
London
Manchester
Newcastle upon Tyne
---
Aegean Airlines Baggage
Carry-on Baggage
Aegean Airlines allows passengers in GoLight and Flex Classes one free hand baggage allowance with a maximum weight of 8kg and Business Class passengers two free hand baggage allowance with a maximum weight of 5 kg.
Checked Baggage
For checked baggage, Aegean Airlines enables passengers in Business Class two pieces of up to 32 kg
Economy-Flex passengers are allowed one piece of up to 23 kg
Economy - GoLight passengers are not given any free checked baggage on Aegean Airlines flights.
Unlimited ticket changes without rebooking fee to Flex or Business, Miles+Bonus mileage accrual, the ticket is refundable in case of cancellation, special check-in counters, use of Business Class lounges and Priority baggage pick-up.
---
Fleet
Aegean Airlines' fleet consists of A320 and Bombardier Q Series family aircraft. The company operates a fleet of 28 aircraft and has already taken delivery of 22 new Airbus A320/32.
---
Wi-Fi
Aegean Airlines offer its passengers a Wi-Fi service onboard its aircraft. There are 2 options to purchase, 'Text & Surf' and 'Stream'.
Text & Surf: Text and Email, and Surfing and Social Media
Stream: High-Speed Web Browsing and Audio/Video Streaming
---
Aegean Airlines Frequent Flyer Program
Aegean Airlines offers a loyalty program called Miles+Bonus to reward regular passengers with the airline. Passengers can earn miles for flying with Aegean Airlines and its airline partners. These miles can be exchanged for miles on airline tickets, seat upgrades, hotels, car rentals and shopping.
---
Aegean Airlines Seat Selection
Pre-book your Aegean Airlines seat before flying with Alternative Airlines. With our interactive seat map, passengers can view the available seats along with seat features such as extra legroom, aisle or window seat or exit row seats. This helps our passengers select their desired seats for flying based on their preferences.
---
Economy Class
Although Aegean Airlines most basic cabin class, Economy Class offers passengers a high standard of service. Passengers can choose between the airlines GoLight and Flex fare.
Economy Class Facilities
The facilities for GoLight and Flex fare are the same. Passengers sit in the same seats in the same section of the cabin. The only difference is that the Flex fare is a lot more flexible when it comes to changes and cancellations. Plus, Flex fare passengers are given a checked baggage allowance of 23kg included within their ticket. Whereas passengers that purchase the GoLight fare have to pay for any checked baggage they wish to bring on the flight.
All passengers in Economy Class are entitled to 8kg of free carry-on baggage. In addition to this, Economy Class passengers are given a complimentary snack and drink on all domestic flights and a hot meal and unlimited drinks and refreshments on international flights.
Economy Class passengers can check-in for their flight online from 48-hours before the flight.
All passengers can connect to the airline's inflight entertainment system, Aegean STREAM, through their own personal electronic device.
Economy Class Seating
All seats are set out in a 3 x 3 formation. Seats are made from genuine leather and give up to 30 inches of legroom.
---
Premium Economy Class
Aegean Airlines don't offer Premium Economy on its flights.
---
Business Class
Business Class is Aegean Airlines' most luxurious class of a cabin with its highest standard of service.
Business Class Facilities
Business Class passengers are given two carry-on bags and two checked bags included in the price of their ticket, as well as free cancellation and changes on their flight.
Passengers can also enjoy the airline's business class lounge, priority boarding, priority check-in and priority baggage pick-up.
Passengers are greeted onboard with a complimentary welcome drink, free access to the airline's offering of alcohol and soft drinks as well a cold snack/meal on domestic flights and a hot meal and dessert on international flights.
All passengers are given access to Aegean STREAM, which is the airline's inflight entertainment system. Aegean STREAM can be enjoyed on passengers personal electronic devices.
What are Business Class Seats Like?
Business Class seats are set out in a 3 x 3 formation. Each seat is extra wide and comfortable, with the middle seat unoccupied to give passengers more privacy and space.
---
First Class
Aegean Airlines doesn't have a First Class cabin. We suggest opting for Business Class if looking to upgrade from Economy Class.
---
Book Aegean Airlines Flights in English
Book your flights in English when you choose Aegean Airlines on Alternative Airlines. We are the company to use to ensure a safe and secure flight booking service, to ensure great communication in English to ensure you have the best experience where any queries can be answered.
---
Aegean Airlines Promotions
You can get an Aegean Airlines discount when you book with Alternative Airlines and use our flight voucher codes! Search flights to Greece, use an Aegean Airlines discount code and then you have just saved money on your next Aegean Airlines flight! Alternative Airlines wants to make buying flight convenient as possible so get any Aegean Airlines promo code and pay with PayPal.
---
Aegean Airlines Route Map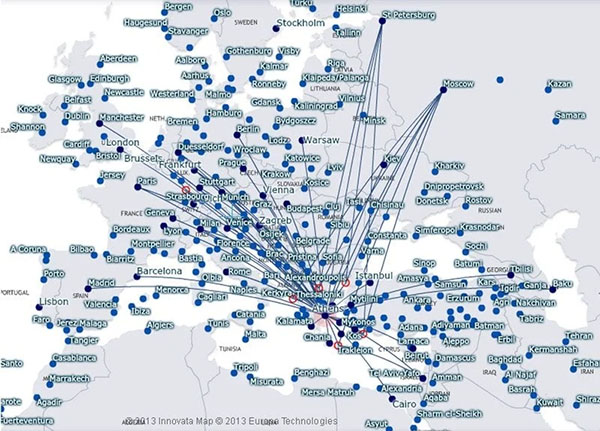 Aegean Airlines Popular Routes
London

Athens
Thessaloniki

Athens
Heraklion

Athens
Rhodes

Athens
Athens

Mykonos
Thessaloniki

Chania
---
Aegean Airlines Hub Airport
Athens International Airport
Athens International Airport is the Greek airport that has the most amount of air traffic in Greece and is currently the home base airport for Aegean Airlines. The airport has two runways and can handle 17 million capacity per annum. Other airlines which use Athens International Airport include Air China, Air France, Air Serbia, Astra Airlines, Austrian Airlines, EgyptAir, Scandinavian Airlines, Turkish Airlines and Vueling. Aegean also has secondary hubs at Larnaca International Airport.
---
Alternative Airlines to Aegean Airlines
Click on the following logos if you are looking for an alternative flight to Aegean Airlines: