Search & Buy Aegean Airlines Flights
Let's fly!

Select your payment method to view total prices including any payment fees:
Airlines will always try to sit children with their parents (subject to check-in)
Some airlines will allow travel for unaccompanied minors. Please email us to check.
The fare is based on the child's age on the date of travel.
More detailed information can be found here Traveling with children
Most airlines will let infants travel with their parent(s) for free. However some airlines will charge up to 10% of the adult ticket price. Click on 'Price Breakdown' to find out more.
If you are pregnant, but due before the flight departure date, please contact us once your baby is born and has a name. We can then add him/her to your ticket.
Infants will not be given a seat. The airlines expect parents to travel with them on their lap.
Airlines regard infants as being under 24 months old.
The fare is based on the child's age on the date of travel.
More detailed information can be found here Traveling with children

Buy
Aegean Airlines

Flights

Aegean Airlines Reservations with Alternative Airlines
Make an Aegean Airlines Booking and Find Some Amazing Deals
Check out what people say about Alternative Airlines - Alternative Airlines Reviews
---
About Aegean Airlines
Aegean Airlines is the largest Greek carrier, having carried 6.6 million passengers in 2009. It began scheduled passengers operations in May 1999, providing full service, premium quality, short and medium haul flights.
The company operates a fleet of 28 aircraft and has already taken delivery of 22 new Airbus A320/32.
Aegean has been listed on the Athens stock exchange since July 2007.
In 2015, Aegean Airlines was honoured with the Skytrax World Airline Award for the sixth time as the Best Regional Airline in Europe.
---
Aegean Airlines Baggage
Carry-on Baggage
Aegean Airlines allows passengers in GoLight and Flex Classes one free hand baggage allowance with a maximum weight of 8kg and Business Class passengers two free hand baggage allowance with a maximum weight of 5 kg.
Checked Baggage
For checked baggage, Aegean Airlines enables passengers in Business Class two pieces of up to 32 kg
Economy-Flex passengers are allowed one piece of up to 23 kg.
Economy - GoLight passengers are not given any free checked baggage on Aegean Airlines flights.
Unlimited ticket changes without rebooking fee to Flex or Business, Miles+Bonus mileage accrual, the ticket is refundable in case of cancellation, special check-in counters, use of Business Class lounges and Priority baggage pick-up.
---
Aegean Airlines Frequent Flyer Program
Aegean Airlines offers a loyalty program called Miles+Bonus to reward regular passengers with the airline.
Passengers can earn miles for flying with Aegean Airlines and its airline partners.
These miles can be exchanged for miles on airline tickets, seat upgrades, hotels, car rentals and shopping. Aegean Airlines' fleet consists of A320 and Bombardier Q Series family aircraft.
---
Book Aegean Airlines Flights in English
Book your flights in English when you choose Aegean Airlines on Alternative Airlines. We are the company to use to ensure a safe and secure flight booking service, to ensure great communication in English to ensure you have the best experience where any queries can be answered.
---
Aegean Airlines Promotions
You can get an Aegean Airlines discount when you book with Alternative Airlines and use our flight voucher codes! Search flights to Greece, use an Aegean Airlines discount code and then you have just saved money on your next Aegean Airlines flight! Alternative Airlines wants to make buying flight convenenient as possible so get any Aegean Airlines promo code and pay with PayPal.
---
Aegean Airlines Route Map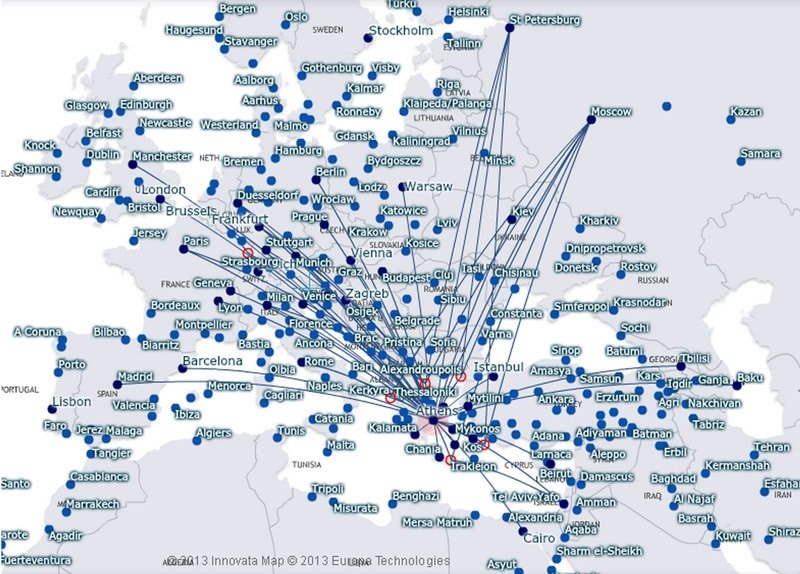 Aegean Airlines Popular Routes
London

Athens
Thessaloniki

Athens
Heraklion

Athens
Rhodes

Athens
Athens

Mykonos
Thessaloniki

Chania

---
The Fleet
---
Aegean Airlines Hub Airport
Athens International Airport
Athens International Airport is the Greek airport that has the most amount of traffic in the country. Currently the most important airline that has its home base at this airport is Aegean Airlines.
Athens Airport has two runaways and can handle 17 million capacity per annum. Other airlines which use Athens International Airport include Air China, Air France, Air Serbia, Astra Airlines, Austrian Airlines, EgyptAir, Scandinavian Airlines, Turkish Airlines and Vueling.


Star Alliance is the leading global airline network, which has 27 member airlines. Star Alliance was founded in 1997 with the five founding airlines: Scandinavian Airlines, Thai Airways International, Air Canada, Lufthansa and United Airlines. The alliance has grown considerably now to airlines which fly to 1,321 airports and 193 countries, carrying 637 million passengers every year!
Alternative Airlines to Aegean Airlines
---
---
Aegean Airlines Seat Selection
Pre-book your Aegean Airlines seat before flying with Alternative Airlines. With our interactive seat map, passengers can view the available seats along with seat features such as extra legroom, aisle or window seat or exit row seats. This helps our passengers select their desired seats for flying based on their preferences.
---
Aegean Airlines News
26th June 2018
Aegean Airlines launch three new routes
Aegean Airlines has launched three new routes that will run as seasonal services this summer from Athens International Airport (ATH) — the first is a service to Cluj International Airport (CLJ), the second is a service to Genoa Cristoforo Colombo Airport (GOA) and the third is a service to Verona Villafranca Airport (VRN). Aegean Airlines will flly each route two times a week and use its fleet of Airbus A320 to transport passengers on the service.
Aegean Airlines flew the first service on 12th June 2018 to Cluj-Napoca, where the airline was greeted by a giant Aegean airlines themed cake. Journalist gathered round executives of both Aegean and Cluj airport as representatives from each establishment celebrated by cutting the cake.
7th June 2018
Aegean Airlines named 7th best airline in the world by AirHelp
Flight compensation company, AirHelp, have released the results of their annual AirHelp score rating, which is an algorithm that rates airlines based on their quality of service, punctuality rate and claim processing (how the airline deals with customer complaints).
Aegean Airlines received an overall score of 8.19. Aegean was given an impressive service score of 8 and a punctuality score of 90%, which is a higher on-flight rate than any other airline ranked in the top 10 of AirHelp's list.
15th May 2018
Aegean Airlines connects Zagreb and Athens
The inaugural Aegean Airlines flight from Athens to Zagreb landed yesterday in the Croatian capital and marked the opening of this new route. Aegean Airlines, the largest Greek airline, will operate this link three times a week, on Mondays, Wednesdays and Saturdays during the summer.
The first flight from Athens was welcomed in the Zagreb International Airport by its CEO, Jacques Feron, who said that the line to Athens will contribute to the development of tourist and business connections between Greece and Croatia, as well as the continued growth in passengers in the Zagreb Airport.
Aegeain Airlines' Airport Services Manager, Sergios Diplarakos, said the new line meant the strengthening of the network to Zagreb, a popular vacation and business destination. He added he was looking forward to all the Croats who will choose Greece as the destination of their travels.
"We have been waiting a long time for this line, and there is a lot that the peoples of Croatia and Greece can learn from one another, considering that both countries are recognised historical and gastronomical tourist destinations," said the Ambassador of the Hellenic Republic, Stavros Tsiepas.
2nd April 2018
Aegean Airlines plans on spendig $5 billion on a large jet order
The Greek Airline has ordered 42 aircraft worth $5 billion (4 billion euros) from Airbus, to renew its fleet of single-aisle planes and add capacity for future expansion. This is one of the largest investments made in the Greek Airline industry since the 2010 economic crisis in the country. This is the third time in under twi decades that the carrier has put money into new aircraft. Aegean signed a Memorandum of Understanding with Airbus. It said the agreement included a firm order of 30 aircraft from the A320neo family, with an option of 12 additional jets with new generation engines offering fuel savings of 15 percent. This expansion is set to go ahead between 2020 and 2025.
11th January 2018
Aegean Airlines hits new passenger record in 2017
The Greek Airline group carried 13.2 million passengers in 2017, up 6% on 2016's statistics, making it a new record for Aegean. The figures include subsidiary, Olympic Air, and attributes the success to the better utilisation of its network. The load factor for the group for 2017 was 83.2%, up from 77.4% in 2016. International traffic was one of the key factors in the rise, increasing by 9% to 7.3 million. Domestic traffic also increased by 3% to 5.9 million passengers. New plans for 2018 include adding another 18 destinations to their routes and another 700,000 seats.
3rd November 2017
Best Regional Airline Award 2018 for Aegean
The Athens-based airline is celebrating its 18th year with a prestigious award Athens-based Aegean Airlines is celebrating its 18th year with a prestigious award and an expansion that includes 18 new routes. The Greek commercial aviation company has just won Best Regional Airline 2018, a long way from its tiny two-jet fleet flying from Thessaloniki to Heraklion, Crete back in 1999. Aegean now consists of 47 jet aircrafts that includes turboprop subsidiary Olympic Air (former Olympic Airways), which mainly flies A320s and A321s on short to medium-haul routes joined by a brand new A319.
"It is now Greece's biggest airline with a fleet of modern Airbus A320 family aircraft, a good reputation among travellers and bold plans for expansion," said the judges of the website Airline Ratings that organised the awards.
"The airline is also heavily involved in promoting its home country by providing a platform for Greek regions and products."
Aegean was also the recipient in 2017 of the International Air Transport Association (IATA) Fast Travel Gold Award for simplifying and speeding up the passenger experience. In 2016 the airline flew 12.5 million passengers in 2016 to destinations ranging from Amsterdam, Frankfurt, and London to Cairo, Moscow and Tel Aviv.Even though Aegean currently offers 30 inches in economy and 33 inches in business, its frequent flyer program and connectivity benefits through its Star Alliance membership have made it more competitive.
Meanwhile, Aegean plans on expanding available seats by 700,000 in 2018, reaching 16.6m while upgrading passenger facilities. The lounges in Thessaloniki and Larnaca have been upgraded, the Athens International Airport lounge will be completed by December and a second lounge in Athens is also due by early next year.
10th October 2017
Greek Airline Aegean to Add New Routes, Fleet Decision by Year-End
Greece's largest carrier Aegean Airlines will add 11 new routes in 2018 and choose between Airbus and Boeing planes by the end of this year to renew its fleet, executives said on Monday. Aegean, which currently operates mostly Airbus narrow body jets, is evaluating the new generation Airbus A320neo family and Boeing's 737MAX to renew its fleet of 60 aircraft, as most of its leases need to be replaced between 2019 and 2023.
"We will need to make a long-term $2.5-$3.0 billion investment decision in the coming months," Vice Chairman Eftyhis Vassilakis told reporters. He said the company, a member of the Star Alliance airline group, had been in talks with Airbus and Boeing since the summer to pick the type of aircraft that will form the core of its fleet. It currently operates 46 Airbus A320 jets:
"By the end of the year we will make our choice, it will be an investment that will follow us for the next 15 years," Vassilakis said.
Riding on a strong tourism year, Aegean will expand its fleet with three new aircraft next year. It will also fly to 11 new destinations, including Basel in Switzerland, Malaga in Spain and Palermo, Turin and Bologna in Italy. Aegean's passenger traffic will grow to 13 million this year from 8.8 million in 2013 when the carrier acquired state-run Olympic Airlines. The airline expects to carry around 15 million passengers a year by 2023.
6th October 2017
Aegean honoured by voters at World Travel Awards
The high level of services that Aegean provides to its passengers has once again been recognised at a European level. The carrier was honoured with the title of for Europe's Leading Regional Airline at the glamorous World Travel Awards Europe Gala Ceremony earlier. The event took place in the Marble Hall at the Russian Museum of Ethnography in St. Petersburg, Russia, and was attended by major representatives of the global tourism community.
Aegean was named Europe's Leading Regional Airline for the third time, through a public vote organised as part of the 24th World Travel Awards. The title reaffirms its position as one of the most preferred airlines by passengers worldwide. The World Travel Awards were established in 1993 to acknowledge, reward and celebrate excellence across all key sectors of the travel, tourism and hospitality industries. Today, the World Travel Awards brand is recognised globally as the ultimate hallmark of industry excellence. The award was received by Roland Jaggi, Aegean's director of revenue management, pricing, sales and distribution. He stated:
"All of us at Aegean are particularly proud that a Greek company was successful in being recognised as the best among so many acclaimed airline companies by passengers who fly to European and other destinations.
"This repeated distinction for Aegean is an advertisement for the Greek hospitality services and Greek tourism, as well as recognition of the passionate and dedicated services our colleagues deliver daily to our passengers.
"We will continue to offer innovative services and products to our customers who are the best ambassadors of our values and this is once again proven through World Travel Awards golden distinction."
14th September 2017
Aegean Airlines launching new services to Zadar and Zagreb
Greece's largest carrier Aegean Airlines will launch new flights to the Croatian capital Zagreb and Zadar on the Dalmatian coast next year from Athens. Aegean Airlines will start three weekly flights between Athens and Zagreb from 14 May 2018. The flights will operate on Mondays, Wednesdays, and Saturdays with a 78-seat Bombardier Dash 8 aircraft from its Olympic subsidiary, Flights between Zadar and Athens will commence on 22 May 2018 and will operate twice weekly throughout the tourist season on Tuesdays and Saturdays. The flights to Zagreb are expected to continue year round.
22nd August 2017
Gulf Air and Aegean Airlines enter Codeshare Agreement
Gulf Air, the national carrier of the Kingdom of Bahrain, and Aegean Airlines, Greece's largest carrier, have entered into a codeshare partnership widening their respective networks across Europe and the Middle East. Specifically, travelers can now codeshare on flights from Bahrain, via Athens, to and from the European cities of Brussels and Rome while travelers from Geneva, Milan and Vienna can now codeshare on flights, via Athens, to the Kingdom of Bahrain with Gulf Air. Mr. Ahmed Janahi, Gulf Air Chief Commercial Officer, said:

"Our commitment to strengthening Gulf Air's network is reinforced with this codeshare agreement – allowing us to connect our passengers to popular destinations across Europe that extend beyond our network, while giving passengers from more cities in Europe the distinctive opportunity to visit the Kingdom of Bahrain while experiencing our unique product and service offering."
"We are welcoming this new codeshare with Gulf Air and we strongly believe that the combined networks of our two carriers will offer our guests new travel opportunities not only between Greece and Bahrain, but also beyond," stated Tassos Raftopoulos, Network Planning and Alliances Director of Aegean Airlines.
The national carrier operates a year-round direct four weekly service between Bahrain and the Greek capital in addition to operating double daily flights or more to ten regional cities across the GCC and MENA region – allowing passengers to easily and conveniently transit through Bahrain for seamless onwards travel across the Gulf Air network.
26th June 2017
Aegean Airlines awarded "Best Regional Airline in Europe" at the 2017 Skytrax World Airline Awards
Aegean Airlines have once again been awarded the Best Regional Airling in Europe at the 2017 Skytrax World Airline Awards held in Paris:
"For the seventh year in a row, through an international institution, we proved that a Greek company can stand out among 325 airlines for its quality and efficiency," said AEGEAN CEO Dimitris Gerogiannis.
"This distinction is more valuable to us, as it comes directly from the passengers, who trust the airline daily," he added.
Referred to as the "Oscars of the aviation industry" the World Airline Awards are based on a worldwide survey, allowing travellers to decide which airline they love best. Approximately 19.87 million eligible survey entries were counted in the final results, and 105 nationalities participated in the survey from August 2016 to May 2017. The survey covered over 325 airlines, from largest international airlines to smaller domestic carriers.
16th May 2017
Aegean Airlines will increase flights to Georgia
Greek Aegean Airlines, which has been operating in Georgia since 2012, also launched seasonal charter service from Heraklion (Crete) to Georgia's capital of Tbilisi. Heraklion-Tbilisi-Heraklion flights will be performed once a week, on Thursday's from June 14 until September 13, on Airbus A319/A320/A321.
24th April 2017
Olympic Air up 5% in 1st quarter
Aegean Airlines and subsidiary Olympic Air carried 2.1 million passengers in the 1st quarter of 2017, which is up 5% compared to 2.01 million the year-ago quarter in 2016. International passenger traffic rose 17% year-over-year to 1.1 billion. The evolution of load factors as well as pre-bookings for the summer season remains encoruaging for the full year, according to Aegean Airlines management. Domestic traffic was down 6% to 992 million as the Star Alliance member adjusted demand with lower fares and reduced flights, which improved load factors on both domestic and international routes to 76.8%, up 7.5 points year-over-year.
13th April 2017
Additional flights over Easter weekend
Aegean Airlines and Olympic Air they will make additional domestic flights over the Easter weekend to transport the "holy flame" to 17 destinations around Greece. The 2 airlines will charter 3 extra aircraft on Holy Saturday (April 15) to transfer what in the Orthodox tradition is called the "Holy Light" to Larisa, Alexandroupoli, Lemnos, Samos, Chios, Zakynthos, Kefallonia, Mykonos, Santorini, Heraklion, Ioannina, Thessaloniki, Chania, Kos, Lesvos, Rhodes and Corfu.
9th March 2017
Aegean Airlines introduces new route
Aegean Airlines is introducing a new route from late June 2017 from Athens to Podgorica. From 21st June 2017 to 10th September, Aegean Airlines subsidiary, Olympic Air will operate this route twice weekly with a Dash8-Q400 aircraft
19th October 2016
Aegean Airlines plans to revise the capacity for Athens to Istanbul Ataturk route.
Aegean Airlines plans to revise the capacity for Athens to Istanbul Ataturk route. The planned three daily service remains unchanged from 26th March 2017 to 28th October 2017.
In August 2016, Aegean Airlines were ranked in the world's top ten best-loved airline as conducted by air travel website Skytrax. Skytrax said in a statement that the most-loved airlines are chosen based on reviews of flight services, including seat comfort, onboard services, inflight entertainment, onboard Wi-Fi, airport services, value for money, food and beverages. In June 2016, Aegean Airlines commenced services on three routes starting on 21 June between Athens and Krakow, following which Athens-Riga route was launched and finally the Rhodes-Milan Malpensa route was launched. Rhodes becomes the fourth connection for Aegean from Malpensa, with the airline already serving Athens, Heraklion and Kalamata from the Northern Italian gateway. Krakow and Riga are both new destinations for Aegean which will be served seasonally until the end of September, with the latter meaning that Latvia is a new country market for the carrier.
In March 2017, Aegean Airlines announced it is currently deciding on its options with regards to a fleet renweal plans. Aegean Airlines currently operates a mainline fleet of one A319-100, thirty-seven A320-200s, and eight A321-200s, the majority of whose leases will need to be replaced between 2019 and 2023. Aegean Airlines is currently looking at the A320neo Family from Airbus alongside the B737 MAX from Boeing. A possible decision is due either late this year or early next. The Star Alliance operator's Olympic Air unit operates a fleet of fourteen turboprops - two ATR42-600s, four Dash 8-100s, and eight Dash 8-400s - on flights throughout Greece.
---
Book Flights with Aegean Airlines
Make an Aegean Airlines reservation and find some amazing deals with discounted Aegean Airlines tickets at Alternative Airlines. Aegean Airlines flies to 125 destinations offering a cost effective and safe service to all its passengers. Let Alternative Airlines help find you cheap Aegean Airlines tickets and make international and domestic flight reservations on Aegean Airlines today.
Browse the most popular Aegean Airlines flight routes to destinations in Europe and worldwide. Alternative Airlines can help you make reservations on Aegean Airlines for international flights to lots of destinations. Use the following list of routes to help you plan your next flight. Book Aegean Airlines flights on Alternative Airlines to save big! Alternative Airlines is an online travel agency, specialising in booking lesser known airlines and remote destinations.
Alternative Airlines is an Online Travel Agency bonded by the International Air Transport Association (IATA). We specialise in finding the best available fares on the widest range of airlines and making them available to you online, with prices in the currency of your choice.
Alternative Airlines handles all your travel arrangements and payments, complete with ticketed confirmation. We do not direct you to other websites or service providers.
We help you through the process. This is what makes us Alternative Airlines.
Browse for flights, find some amazing deals, make a reservation and pay in the currency of your choice today with Alternative Airlines.
Let Alternative Airlines help find you the best prices and make international and domestic flight reservations with us today.
Join the Alternative Airlines Members Club and get £100.00 back on your 5th booking with Alternative Airlines. You will have insight to many benefits and exclusive deals on over 650 airlines. Click on the Members section on the Alternative Airlines website for more information and join today.
We are open every day from 8am until 8pm (UK local time)