Astra Airlines Reservations with Alternative Airlines
Make an Astra Airlines Booking and Find Some Amazing Deals
---
About Astra Airlines
Astra Airlines is a regional Greek airline based in Thessaloniki Airport, Thessaloniki. The airline was founded by the CEO of Olympic Aviation and in 2008. Astra Airlines is headquartered at Athens International Airport. The airline currently services 37 destinations, including 5 international destinations. The airline has 4 aircraft in its fleet and focusses primarily on carrying passengers on domestic routes.
---
Astra Airlines Baggage
Carry-on Baggage
Each passenger is permitted one cabin bag with a maximum weight of 7kg and with a maximum dimension of 50cm x 30cm x 30cm.
Checked Baggage
For domestic flights, the maximum weight is 15kg. For flights from or to Mineralnye Vodi the limit is 18kg and for flights to or from Germany the maximum weight is 23kg. Luggage in excess of the weight limit will incur a cost of €2.00 per kilogram.
---
Astra Airlines Check-In Information
Online Check-In
Online check-in is available from 48 hours before the flight and closes 3 hours before departure. Unfortunately, for flights to and from Germany, online check-in is not available.
Airport Check-In
Passengers who have not checked-in online must check in at the airport. To do so, go to the Astra Airlines check-in desk with plenty of time to spare.
---
Economy Class
Currently, this airline only operates one class on its flights; economy. Although the level of service, boarding and in-flight entertainment will all be the same on all service, the set-up and layout of economy class will depend on the aircraft you are flying in.
For example, in the Bae-146-300 aircraft, the seats are arranged in a 3 x 3 formation, with a seat pitch of 31 inches.
On the ATR72-202 aircraft, the seat pitch is 31 inches, and on the ATR42-300, there is a seat pitch of 30inches.
---
Destinations
Munich,
Germany
Athens,
Greece
Chios,
Greece
Corfu,
Greece
Heraklion,
Greece
Ikaria,
Greece
Kalamata,
Greece
Karpathos,
Greece
Kastoria,
Greece
Kithira,
Greece
Kos,
Greece
Kozani,
Greece
Lemnos,
Greece
Milos,
Greece
Mykonos,
Greece
Mytilene,
Greece
Samos,
Greece
Santorini,
Greece
Sitia,
Greece
Thessaloniki,
Greece
Zakynthos,
Greece
Tel Aviv,
Israel
Gällivare,
Sweden
Örnsköldsvik,
Sweden
Stockholm,
Sweden
---
Alternative Airlines to Astra Airlines
Please click on the logos below to find out more about airlines that fly similar routes to Astra Airlines:
---

Astra Airlines Hub Airport
Thessaloniki Airport
Thessaloniki is the third largest airport in Greece, second only to Athens and Heraklion International Airports. It is the main airport in Northern Greece and one of the busiest in terms of passengers. In 2016, 6 million passengers passed through its doors.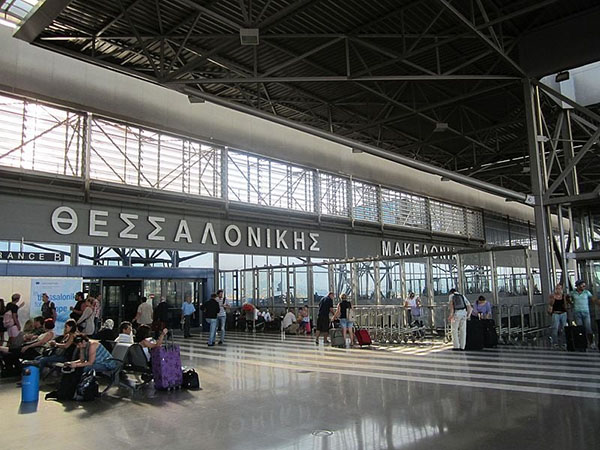 Photo credit: Tomisti
---
Astra Airlines News
18th May 2018
Astra Airlines deal with an unruly passenger
Astra Airlines was put in a difficult situation earlier this week when they had to contend with a passenger assaulting a crew member on an Astra Airlines flight which was flying from Hurghada beach resort town in Egypt to Hanover in Germany. The other crew members dealt with the other crew members and passengers to overpower the unruly traveler and tied him to a seat to ensure the safety of the flight.The 27-year-old passenger was later handed over to the German federal police on landing at Hanover International Airport. The assault was caused by the man locking himself in a toilet cubicle to smoke, breaking ailine violations. When the flight attendant worked to remove him, the assault occurred. Well done Astra Airlines for dealing with this situation!
---