Search & Buy Austrian Airlines Flights
Let's fly!

Select your payment method to view total prices including any payment fees:
Airlines will always try to sit children with their parents (subject to check-in)
Some airlines will allow travel for unaccompanied minors. Please email us to check.
The fare is based on the child's age on the date of travel.
More detailed information can be found here Traveling with children
Most airlines will let infants travel with their parent(s) for free. However some airlines will charge up to 10% of the adult ticket price. Click on 'Price Breakdown' to find out more.
If you are pregnant, but due before the flight departure date, please contact us once your baby is born and has a name. We can then add him/her to your ticket.
Infants will not be given a seat. The airlines expect parents to travel with them on their lap.
Airlines regard infants as being under 24 months old.
The fare is based on the child's age on the date of travel.
More detailed information can be found here Traveling with children

Buy
Austrian Airlines

Flights

Search and Buy Austrian Airlines Flights Online with Alternative Airlines
Make an Austrian Airlines reservation and find some amazing deals with discounted Austrian Airlines

tickets at Alternative Airlines
---
About Austrian Airlines
Austrian Airlines is the national airline of Austria and a subsidiary of the Lufthansa Group. It is also a member of the Star Alliance. The airline is headquartered at Vienna International Airport, in Schwechat. The airline flies many international flights worldwide to destinations including: Addis Ababa, Agadair, Alexandria, Athens, Baghdad, Baku, Beijing, Bologna, Bremen, Brussels, Bucharest, Delhi, Denpasar, Istanbul, Kuwait City, Lagos, Lahore and New York City.
---
Austrian Airlines Codeshares
Austrian Airlines has codeshare agreements with the following airlines: Air Astana, airBaltic, Air France, Air Malta, Azerbaijan Airlines, Belavia, Georgian Airways, Iran Air, Luxair, Montenegro Airlines, TAROM and Transaero Airlines.
---
Austrian Airlines In-Flight Entertainment
Austrian Airlines provides passengers with over 350 hours of video and audio on demand. In-flight entertainment is offered on many long-haul flights.
TV
Sit back and enjoy all of your favourite TV shows with Austrian Airlines. From sports entertainment to your favourite series, you can find the TV program you need on your flight.
Movies
There's classic comedies, new releases and so much more on your flight. There's award-winning films in English, German and French to keep you entertained while you fly.
---
Austrian Airlines Loyalty Program
Austrian Airlines offers a loyalty program called Miles+Mores to reward regular passengers with the airline. Passengers can earn miles and with the airline's codeshares.
You can find out more about Miles & More and the airlines that are linked to the loyalty program. The more you collect miles with the airline and affiliate airlines, the more you benefits you receive. See all the airlines that offer Miles & More loyalty program.
These miles can be exchanged for miles on airline tickets, seat upgrades, hotels, car rentals and shopping.
---
Austrian Airlines Check-in
Web Check-in
Passengers can check in for their flight online. This can be done from 47 hours before scheduled departure time for most flights. Complete check-in online from the Austrian Airlines website here.
Airport Check-in
Passengers can also check in at the airport for their flights. To do so, visit a self-service check-in desk, or a check-in counter where you can complete the check-in process. Please be aware that different airports have different check-in open and closing times, and passengers in economy and business will often have different check-in deadlines.
---
Austrian Airlines Baggage
Carry-on Baggage
Passengers in economy class are permitted 1 x 8kg carry-on bag.
Passengers in premium economy class are permitted 1 x 8kg carry-on bag.
Passengers in business class are permitted 2 x 8kg carry-on bag.
Checked Baggage
All checked bags must fit within the dimensions of 158cm, when combining the width, height and depth.
European Routes
Passengers in Economy Light are permitted no free luggage, but this can be purchased from the Austrian Airlines website.
Passengers in Economy Classic and Flex are permitted 1 x 23kg.
Passengers in Business Class are permitted 2 x 32kg.
Intercontinental Routes
Passengers in Economy Light are not permitted any luggage. However, passengers travelling in economy light who wish to purchase checked luggage can do so from the airline website.
Passengers in Economy Saver, Basic and Flex are permitted 1 x 23kg.
Passengers in Premium Economy Saver, Basic and Flex are permitted 2 x 23kg.
Passengers in Business Saver and Flex are permitted 2 x 32kg.
---
Austrian Airlines Seat Selection
You can now select the seat of your choice on your Austrian Airlines flight with Alternative Airlines. Browse the available seats on your flight and choose your favourite place to sit on the plane. Visit our seat selection page to find out how to book your seat.
---
News
24th July 2018
Austrian Airlines Announces New Routes and Provides Tips for Members of Miles & More Loyalty Program
In June 2018, Austrian Airlines announced additions to it's flight schedule with more frequencies of flights and new routes. This is to make flight travel for Miles & More members between Europe and the USA.
The new flight schedule includes:
Daily flights to Chicago
6 x weekly flights to Newark
5 x weekly flights to JFK.
The airline is decreasing flights and removing connections to Havana, Hong Kong and Colombo.
7th June 2018
Austrian Airlines rated as 6th best airline worldwide
Flight compensation company, AirHelp, have released the results of their annual AirHelp score rating, which is an algorithm that rates airlines based on their quality of service, punctuality rate and claim processing (how the airline deals with customer complaints).
AirHelp named Austrian Airlines as the 6th best airline in the world, with an overall score of 8.25. The airline scored evenly and above average for each category, which gave them the high score. It's quality of service rating was of particular note — Austrian Airlines scored 8.25.
1st June 2018
Austrian Airlines delegate its service between Budapest and Vienna to Adria Airways
Slovenian Airline, Adria Airways, will operate flights between Budapest Ferenc Liszt International Airport (BUD) and Vienna International Airport (VIE) on behalf of the airline. While the frequency of the flight is currently undisclosed, the flight is expected to only take 45 minutes and Adria Airways will use its CRJ-900 aircraft to transport passengers. Including the service operated by Adria Airways on Austrian Airlines' behalf, Budapest Airport has four flights going to Vienna each day.
This isn't the first time Adria Airways and Austrian Airlines have combined to do business. Back in 2017 the airline wet-leased two CRJ-900 aircraft to Adria Airways, which is the same aircraft that Adria will be using on the service between Budapest and Vienna.
9th May 2018
Austrian Airlines signs new contract with Magnetic MRO
Austria's biggest airline recently signed a contract to expand its dealings with MRO company, Magnetic MRO. The new contract runs through the 2019/2020 winter period and will take up 75% of available maintenance slots in Tallinn, Estonia. With the new contract, Magnetic MRO will work with the Austrian Airlines' Airbus A320 fleet, which it has dealt with extensively in the past.
The head of MRO for the airline, Markus Besta, spoke highly of the airlines' relationship with Magnetic MRO. Stating that they have worked alongside them for over 10 years, and as a result, they are confident they will continue to provide them with a reliable service going forward.
2nd May 2018
Austrian Airlines new collective wage agreement
Austrian Airlines, a subsidiary of Lufthansa, has agreed to a new collective wage constitution or flight attendants and pilots that maps out salary increases and flexible flight duty regulations through 2021. The company hope that this new innovation will satisfy the staff and open up new doors for it's employees. As well as this, the carrier said flight service regulations should be significantly more flexible to better compensate for seasonal fluctuations in passenger demand.
3rd April 2018
Austrian Airlines amongst top 10 most popular airlines in the world
The major leading airline in Austria has been ranked among the world's most popular airlines, according to a survey published by eDreams. The survey was carried out from 60,000 passenger reviews and saw Austrian Airlines soaring above competition such as Air France and TAP Portugal and even the big dog of the sky, Emirates, to receive 5th position. The state-run carrier reportedly received high marks from foreign travellers based on four major characteristics: comfort, flight check-in, onboard service and prices for tickets. A quote from a reviewer said "A very pleasant flight with extremely friendly on-board staff. I'll be very happy to fly with Austrian Airlines again!"
22nd February 2018
Austrian Airlines launches New Senator Lounge at Vienna Airport
Austrian Airlines has unveiled the first brand new Senator Lounge at Vienna Airport. Two Business Class Lounges have also already been upgraded. The designs boast themes of Austria and individuality which are manifested in the overall concept of all the lounges in Austria Airport. One of the highlights of the Senator Lounges are the real Austrian beech trees, which are preserved using a special preservation technique.
In addition to customised furniture from Austria as well as a new textile concept highlighting individually designed carpets and curtains, the lounges will also feature selected pictures from Austrian artists such as Gustav Klimt.
22nd January 2018
Austrian Airlines' fantastic passenger flight booking statistics
In 2017, a total of 630,000 passengers took advantage of Austrian Airlines' lounge offering at Vienna Airport. Particularly popular are the various relaxation zones and the culinary offering provided by Do&Co. Moreover, the digital offering was also increasingly used, and 87,300 e-Journals were downloaded in the lounges in 2017.
The airline operates seven lounges at Vienna Airport – three Business Class lounges, two Senator and two HON lounges.
13th September 2017
Austrian extends Fokker 100 service to late-Dec 2017
Austrian Airlines in recent schedule update extended planned Fokker 100 scheduled operation. Previously scheduled until 02DEC17, the Star Alliance member's Fokker 100 service is now scheduled until 23DEC17 inclusive.

Revised Fokker 100 operation between 29OCT17 and 23DEC17.

Vienna – Basel/Mulhouse 01NOV17 – 27NOV17 ;Day 3
Vienna – Belgrade 30OCT17, 16DEC17, 19DEC17
Vienna – Brussels 05NOV17 – 17DEC17 Day 7 (Also scheduled on 16DEC17)
Vienna – Chisinau 7 weekly until 22DEC17 (4 weekly from 30NOV17, 3 weekly from 11DEC17, 1 flight on 22DEC17)
Vienna – Geneva Multiple frequencies until 22DEC17
Vienna – Leipzig 06NOV17 – 27NOV17 Day 1
Vienna – Milan Malpensa 09DEC17
Vienna – Minsk 29OCT17
Vienna – Munich 23DEC17 (Tentatively scheduled as final Fokker 100 service)
Vienna – Naples 30OCT17
Vienna – Nice 05DEC17, 12DEC17
Vienna – Sarajevo 09DEC17, 23DEC17
Vienna – Sibiu 03DEC17, 04DEC17, 10DEC17, 17DEC17
Vienna – Sofia 03NOV17 – 03DEC17 Day 57
Vienna – Stockholm Arlanda 29OCT17
Vienna – Warsaw 1 weekly (Additional weekly frequencies added in Dec 2017, until 23DEC17)

Further changes to planned Fokker 100 service remain highly possible.
11th September 2017
Austrian Airlines Signs Wet Lease Agreement With Adria Airways
Austrian Airlines will start a wet lease agreement with its Star partner Adria Airways. The aim of the agreement is to have reserve aircraft available to enable greater flexibility in flight planning. Austrian will lease the aircraft along with cockpit and cabin crew – one as of September 16, 2017 and the other as of October 1st, 2017. The CRJ 900 jets offer room for 86 passengers and thus have a larger seating capacity than the Bombardier Q400.
The aircraft will be operated in the airlines' route network. Planned destinations amongst others include Warsaw, Venice and Bucharest. Passengers on board will enjoy the customer service provided by DO&CO. The hub of Adria Airways is at Ljubljana Airport, near the capital of Slovenia. The Slovenian home carrier is a member of Star Alliance, and has thus been a reliable partner of Austrian Airlines for many years. Adria Airways links Slovenia with numerous European cities and offers very good flight connections to South East Europe. The airline's headquarters are located at Jože Pučnik Ljubljana Airport.
March 2016
Austrian Airlines announced it is offering flight services to Hong Kong
Austrian Airlines will fly up to five times per week to Hong Kong, deploying a Boeing 777 aircraft. In its summer 2016 flight schedule, the airline will offer a total of 31 weekly non-stop flights to Asia.
The airline has outlined its proposed Air Berlin wet-lease operations, set to begin on March 10. They will use three Air Berlin A320-200s to serve Dusseldorf, Bucharest Otopeni, Skopje, Nice, Zurich, and Copenhagen Kastrup from its Vienna hub initially. Thereafter, flights to each of Hamburg Helmut Schmidt and Tirana will begin on March 21 and 26 respectively. Austrian is expected to take a total of five A320 Family aircraft on lease from the German carrier. The remaining two aircraft are scheduled to be placed in April.
The first of five Air Berlin Airbus A320s, operating in Austrian Airlines colours, launched March 7 on services from Vienna, Austria to Skopje, Macedonia. The flight is part of a six-year wet-lease agreement between Air Berlin and the Lufthansa Group, which was approved unconditionally at the end of January by federal antitrust authorities. Austrian is a subsidiary of the Lufthansa Group. Under the agreement, Air Berlin is wet leasing 38 Airbus A319/A320 aircraft—which are stationed at German and Austrian airports—to Lufthansa and its subsidiaries Eurowings and Austrian Airlines. Eurowings is taking 33 of the aircraft and Austrian is taking the remaining five. The deal also includes a codeshare between Lufthansa and Air Berlin equity parent Etihad Airways
---
Route Map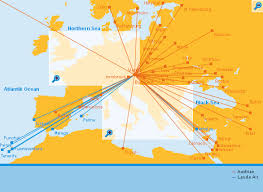 Popular Routes
Manchester

Vienna
London

Salzburg
Split

London
Vienna

Berlin
Zurich

Vienna
Frankfurt

Salzburg

---
The Fleet
Airbus A319-100
Boeing 767-300ER
Airbus A320-200

Boeing 777-200ER
Airbus A321-200

Bombardier Dash 8 Q400
---
Vienna International Airport
HUB Airport
Vienna International Airport is the international airport of Vienna, the capital of Austria. It is the country's biggest airport and serves as the hub for Austrian Airlines and Niki. Vienna International Airport has two runaways and can handle nearly 25 million passengers per annum. Airlines which fly to and from Vienna Airport include Adria Airways, Aegean Airlines, Air France, Air China, Alitalia, Estonian Airlines, Ethiopian Airlines, EVA Air, Finnair, Laudamotion, Montenegro Airlines, Onur Air, Pegasus Airlines UTAir and Turkish Airlines.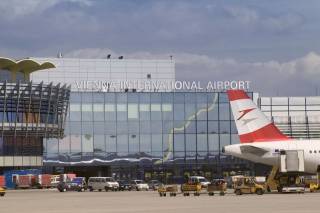 Star Alliance
Star Alliance is a global airline network, comprising of 27 member airlines is the leading global airline network, which has 27 member airlines. Star Alliance was founded in 1997 with the five founding airlines: Scandinavian Airlines, Thai Airways International, Air Canada, Lufthansa and United Airlines. The alliance has grown considerably now to airlines which fly to 1,321 airports and 193 countries, carrying 637 million passengers every year!
---