Search and Buy Georgian Airways Reservations with Alternative Airlines
Make a Booking and Find Some Amazing Deals
---
About
Georgian Airways, formerly named Airzena, is the flag carrier of Georgia. Despite being the flag carrier, the airline is privately-owned and is separate from the Georgian government. The airline became the flag carrier of Georgia in 1999 and rebranded as Georgian Airways in 2004, which is the name it operates as today.
The airline is based at Tbilisi International Airport and flies to many destinations in Europe and Asia. Privately owned and professionally run, Georgian Airways flies to over 25 destinations overall.
The airline was founded in September 1993 under the name Airzena and began operating charter flights to the United Arab Emirates, Italy, China, Egypt, India, Syria. Shortly after, it started operating its first scheduled flights to Austria.
It has a codeshare agreement with airBaltic, Air France, Armenia Aircompany, Austrian Airlines and KLM.
---
Destinations
Georgian Airways flies to a number of destinations, with connections to cities such as Vienna, Amsterdam, Vienna, Athens, Batumi, Moscow, London, Tel Aviv and many more.
Domestic Destinations
| CITY | AIRPORT |
| --- | --- |
| Batumi | Alexander Kartveli Batumi International Airport (BUS) |
| Tbilisi | Shota Rustaveli Tbilisi International Airport (TBS) |

International Destinations
COUNTRY
CITY
AIRPORT
Armenia
Yerevan
Zvartnots International Airport (EVN)
Austria
Vienna
Vienna International Airport (VIE)
Bahrain
Manama
Bahrain International Airport (BAH)
Belgium
Brussels
Brussels Airport (BRU)
Czech Republic
Prague
Vaclav Havel Airport Prague (PRG)
France
Paris
Paris Charles de Gaulle Airport (CDG)
Germany
Berlin
Berlin Schönefeld Airport (SXF)
Cologne Bonn
Cologne Bonn Airport (CGN)
Greece
Athens
Athens International Airport (ATH)
Thessaloniki
Thessaloniki International Airport (SKG)
Iran
Tehran
Tehran Imam Khomeini International Airport (IKA)
Israel
Tel Aviv
Tel Aviv Ben Gurion International Airport (TLV)
Italy
Bologna
Bologna Guglielmo Marconi Airport (BLQ)
Jordan
Amman
Queen Alia International Airport (AMM)
Lithuania
Vilnius
Vilnius Airport (VNO)
Netherlands
Amsterdam
Amsterdam Airport Schiphol (AMS)
Russia
Kazan
Kazan International Airport (KZN)
Moscow
Vnukovo International Airport (VKO)
St. Petersburg
St. Petersburg (LED)
Ufa
Ufa International Airport (UFA)
Voronezh
Voronezh International Airport (VOZ)
Slovakia
Bratislava
Bratislava Airport (BTS)
Spain
Barcelona
Barcelona–El Prat Airport (BCN
Ukraine
Kiev
Boryspil International Airport (KBP)
United Kingdom
London
Gatwick Airport (LGW)
---
Route Map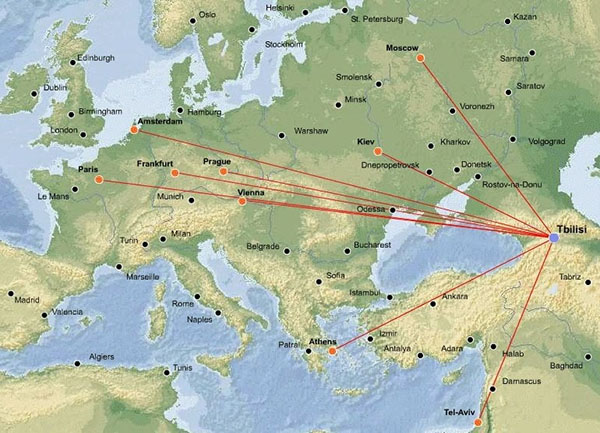 ---
Baggage
Carry-on Baggage
Passengers in Economy Class are entitled to one item of carry-on baggage that is no heavier than 8 kg.
Passengers in Business Class are entitled to one item of carry-on baggage that is no heavier than 12kg.
Baggage must not exceed the overall dimensions of 155 cm.
Checked Baggage
The checked baggage allowance for Georgian Airways flights will depend on the cabin class and fare purchased. Here's a table detailing the different baggage allowance for each class/fare:
| TICKET FARE | NO OF. FREE BAGGAGE | WEIGHT ALLOWANCE |
| --- | --- | --- |
| Economy Light | No free baggage | n/a |
| Economy Standard | 1 | 23 kg |
| Economy Flexi | 1 | 23 kg |
| Business Class | 2 | 32 kg (per piece) |
| Infants (under 2 years) | 1 (+1 stroller/child car seat) | 10kg (+ weight of stroller/child car seat) |
Each piece of checked baggage must not exceed the overall dimensions of 115 cm, regardless of the class/fare purchased.
---
Economy Class
Ther Economy Class cabin is both clean and comfortable. There are three different economy fares:
Economy Light — inclusive of carry-on baggage but not checked baggage, plus seat selection
Economy Standard — inclusive of carry-on baggage, checked baggage and seat selection
Economy Flexi — Inclusive of carry-on baggage, checked baggage, seat selection and offers free changes
Regardless of which fare you choose, the in-flight experience in Economy Class remains the same.
Economy Class Seats
Economy offers comfortable padded seating. Depending on the aircraft flown on, the Economy Class cabin has between 50–132 seats.
---
Business Class
Business Class is Georgian Airways most luxurious cabin class, with a special service delivered by the airline's attentive cabin crew, in an exclusive separate section of the plane.
Business Class Facilities
The business class fare includes a special onboard three-course meal, included in the fare.
Business Class flights are fully refundable and exchangeable without any surcharges.
Business Class passengers are given access to Business Class lounges at the following airports Moscow (VKI), Amsterdam (AMS), St.Peterburg(LED) and Tel Aviv (TLV).
Business Class Seats
Business Class offers an upgraded seat on the plane, in a private and separate cabin. Passengers will enjoy comfortable and spacious seating with a generous amount of legroom.
---
In-Flight Entertainment
Passengers can enjoy reading materials from the airline's in-flight magazine.
There's no in-flight entertainment system on any of Georgian Airways' flights. Some of its larger aircraft have TV screens fitted, however, these are inactive.
---
WIFI
WIFI isn't available on any flight operated by Georgian Airways.
---
Food
Georgian Airways offers hot meals, hot, cold and alcoholic drinks and a selection of snacks onboard its flights. The menu differs for Economy Class and Business Class passengers. However, regardless of the cabin class, food is always made from locally sourced, high-quality food that is inspired by Georgian cuisine.
Economy Class
Passengers in Economy Class can choose between a selection of salads, Georgian cheeses, main meals (lamb, beef, poultry or fish) that are cooked Georgian style, khachapuri and bread, cakes, tarts, muffins and fruit.
Business Class
Passengers in Business Class are treated to a special meal with a choice of salads, cheese platter, main meals (with fresh lamb, beef, poultry or fish), bakery basket, homemade cakes, tarts, muffins and fruit.
Business Class passengers also have a choice of some of Georgia's finest red and white wine.
---
Check-In Information
Online Check-In
Passengers can check-in online for their flights from 24 hours before departure by visiting the airline website.
This is only available for flights departing from Amsterdam (AMS), Batumi (BUS), Berlin (SXF), Kiev (KBP), Moscow (VKO), Prague (PRG), St.Petersburg (LED), Tbilisi (TBS), Vienna (VIE) and Yerevan (EVN).
Airport Check-In
Passengers can also check-in for their flights at the airport by visiting the check-in counter. It is recommended that passengers arrive three hours before the scheduled departure time to ensure they have enough time for check-in, security and to get to the boarding gate.
---
Frequent Flyer
Georgian Airways doesn't have a frequent flyer program at this time.
---
Airline Alliance
Georgian Airways isn't currently a member of an airline alliance. However, it does have an interline agreement with the following airlines:
---
Fleet
Georgian Airways has a mixed fleet, with larger aircraft from manufacturers Boeing and Embraer and smaller, regional jets from Bombardier. Overall, the airline has 9 aircraft within its fleet.
---
Hub Airport
Tbilisi International Airport
Shota Rustaveli Tbilisi International Airport (TBS) is the main international airport in Georgia and is the hub airport for Georgian Airways. The airport is located southwest of Georgia's capital Tbilisi.
Georgian Airways has used Tbilisi International as its primary hub since it began flying in 1994. Other than Georgian Airways, MyWay Airlines is the only passenger airline that uses Tbilisi International as a hub airport.
Other airlines that fly from and to Tbilisi International Airport include Turkish Airlines, Aeroflot, Air Astana, Armenia Aircompany, Flydubai, Wings of Lebanon, Qatar, YanAir and previously Saratov Airlines before it ceased operations.
---
Alternative Airlines
Please click on the logos below to find out more about airlines that fly similar routes:
---