Search & Buy S7 Airlines Flights
Airlines will always try to sit children with their parents (subject to check-in)
Some airlines will allow travel for unaccompanied minors. Please email us to check.
The fare is based on the child's age on the date of travel.
More detailed information can be found here Traveling with children
Most airlines will let infants travel with their parent(s) for free. However some airlines will charge up to 10% of the adult ticket price. Click on 'Price Breakdown' to find out more.
If you are pregnant, but due before the flight departure date, please contact us once your baby is born and has a name. We can then add him/her to your ticket.
Infants will not be given a seat. The airlines expect parents to travel with them on their lap.
Airlines regard infants as being under 24 months old.
The fare is based on the child's age on the date of travel.
More detailed information can be found here Traveling with children

Buy
S7 Airlines

Flights
S7 Airlines Reservations with Alternative Airlines
Make an S7 Airlines Booking and Find Some Amazing Deals
---
About
S7 Airlines, legally known as PJSC Siberia Airlines, is a Russian Airline whose main hubs are located at Moscow Domodedovo International Airport and Tolmachevo Airport. The airline has a wide domestic route network and performs regular flights to countries of the Commonwealth of Independent States, Europe, the Near East, Southeast Asia. S7 Airlines flies to many destinations including Abakan, Alicante, Almaty, Anapa, Ashgabat, Astrakhan, Athens, Baku, Bangkok, Barnaul, Beijing, Bishkek, Chisinau, Mirny, Kazan, Kiev, Kulob, Perm, Paphos, Osh, Oskemen, Pavlodar, Saint Petersburg and many others. S7 Airlines is a member of the Oneworld alliance.
This airline has codeshare agreements with airlines outside of the Oneworld alliance such as Aegean Airlines, Air Moldova, Belavia, El Al, Etihad Airways, Hainan Airlines, Ukraine International Airlines and previously Orenair before it merged into Rossiya. S7 Airlines received its official IATA certificate as an IOSA (IATA Operational Safety Audit) operator and in 2015 carried 10.5 million passengers.
Based in Novosibirsk (Siberia), they are probably the most progressive of the Russian airlines which emerged from the splitting up of Aeroflot. With a massive fleet of over 60 aircraft (and 49 more on order), they operate both scheduled services and charters from four major hubs in Russia at Novosibirsk, Moscow Domodedovo, Irkutsk and Chelyabinsk. Most of the routes reflect demand for outbound traffic from Russia but they also operate to four German cities, these are: Dusseldorf, Hamburg, Frankfurt and Munich. They also have a growing number flights to Central Asian destinations including: Almaty, Pavlodar and Ust-Kamenogorsk (Kazakhstan), Bishkek and Osh (Kyrgyzstan), Dushanbe and Khujand, (Tajikistan), Ashgabat (Turkmenistan) plus Tashkent and Urgench (Uzbekistan). S7 have been operating western aircraft along side their fleet of Ilyushin and Tupolevs since 2004. As new aircraft are delivered the older Ilushin II-86 aircraft will be withdrawn from service. The new funky S7 brand an innovative colour scheme makes them stand out form the crowd at Moscow's Domodedovo airport – which incidentally is 1000 times better than the inevitable battle to get through Sheremetyevo. If you're looking to get to Novosibirsk or Irkutsk then choose S7 and book it through the Alternative Airlines online booking engine to pay in pounds Sterling.
---
Baggage Allowance
Carry-on Baggage
For Economy Class passengers, the carry-on baggage allowance is 10kg with maximum dimensions of 55cm x 40cm x 20cm. For Economy Flex, Business Basic and Business Flex passengers the carry-on baggage limit is 15kg.
Checked Baggage
For Economy Class passengers, the paid baggage allowance is 23kg with total dimensions no greater than 203cm. For Economy Flex and Business Basic passengers, the baggage allowance is 32kg with total dimensions no greater than 203cm. Business Flex passengers are permitted two pieces of luggage weighing no more than 32kg each.
---
Check-In Information
Online Check-In
Online check-in opens 30 hours before departure and closes 40 minutes prior. At Novosibirsk airport the check-in opens 24 hours prior to departure and closes 40 minutes prior.
Airport Check-In
At Moscow Domodedovo Airport, check-in opens 46 hours before departure and closes 40 minutes prior.
---
The Fleet
The fleet consists of Airbus A319, A320, A321, Boeing 737-800, Boeing 767s.
---
Fare Classes
S7 Airlines operates four fare classes: Economy Basic, Economy Flex, Business Basic and Business Flex. Economy Basic includes the flight and 10kg hand luggage and is non-refundable. Economy Flex includes free baggage allowance of 1 piece of luggage weighing up to 23 kg in addition to the hand baggage and the choice of seats in the cabin. Business Basic enjoys the comfort of Business Class and business lounges and tickets are non-refundable. Business Flex allows tickets to be easily returned and modified without any fees. Passengers can carry two pieces of luggage weighing 32 kg each and experience the comfort of business lounges.
---
Frequent Flyer Programme
This airline operates a frequent flyer program called S7 Priority program to reward regular travellers with the airline. S7 priority program allows passengers to collect miles when travelling with oneworld members and using a credit card to redeem miles on flight, upgrades and other awards. Miles can be exchanged on 16 airlines.
---
Pay for S7 Airlines with PayPal
Pay for your S7 Airline reservation with PayPal and PayPal Credit with Alternative Airlines. Easy to set up and safe way for payment. You can also use available flight promo codes to get discounted tickets.
---
Alternative Airlines
Please click on the logos below to find out more about airlines that fly similar routes:
---
Destinations
Yerevan,
Armenia
Innsbruck,
Austria
Salzburg,
Austria
Vienna,
Austria
Baku,
Azerbaijan
Burgas,
Bulgaria
Plovdiv,
Bulgaria
Varna,
Bulgaria
Beijing,
China
Guangzhou,
China
Sanya,
China
Shanghai,
China
Ürümqi,
China
Dubrovnik,
Croatia
Pula,
Croatia
Larnaca,
Cyprus
Paphos,
Cyprus
Prague,
Czech Republic
Chambéry,
France
Nice,
France
Batumi,
Georgia
Tbilisi,
Georgia
Berlin,
Germany
Düsseldorf,
Germany
Frankfurt,
Germany
Munich,
Germany
Rhodes,
Greece
Hong Kong,
Hong Kong
Reykjavík,
Iceland
Dublin,
Ireland
Bari,
Italy
Cagliari,
Italy
Catania,
Italy
Genoa,
Italy
Naples,
Italy
Olbia,
Italy
Pisa,
Italy
Rome,
Italy
Turin,
Italy
Veona,
Italy
Osaka,
Japan
Tokyo,
Japan
Almaty,
Kazakhstan
Karagandy,
Kazakhstan
Kokshetau,
Kazakhstan
Nur-Sultan,
Kazakhstan
Oral,
Kazakhstan
Oskemen,
Kazakhstan
Pavlodar,
Kazakhstan
Semey,
Kazakhstan
Shymkent,
Kazakhstan
Taraz,
Kazakhstan
Bishkek,
Kyrgyzstan
Osh,
Kyrgyzstan
Tamchy,
Kyrgyzstan
Tivat,
Montenegro
Abakan,
Russia
Anapa,
Russia
Astrakhan,
Russia
Barnaul,
Russia
Belgorod,
Russia
Beloyarsk,
Russia
Blagoveshchensk,
Russia
Bratsk,
Russia
Bryansk,
Russia
Chelyabinsk,
Russia
Chita,
Russia
Gorno-Altaysk,
Russia
Irkutsk,
Russia
Kazan,
Russia
Kaliningrad,
Russia
Kaluga,
Russia
Kemerovo,
Russia
Khabarovsk,
Russia
Kogalym,
Russia
Krasnodar,
Russia
Krasnoyarsk,
Russia
Lipetsk,
Russia
Magadan,
Russia
Mineralnye Vody,
Russia
Mirny,
Russia
Moscow,
Russia
Murmansk,
Russia
Nadym,
Russia
Neryungri,
Russia
Nizhnekamsk,
Russia
Nizhnevartovsk,
Russia
Nizhny Novgorod,
Russia
Norilsk,
Russia
Novokuznetsk,
Russia
Novosibirsk,
Russia
Novy Urengoy,
Russia
Noyabrsk,
Russia
Omsk,
Russia
Penza,
Russia
Oern,
Russia
Petropavlovsk-Kamchatsky,
Russia
Rostov-on-Don,
Russia
Saint Petersburg,
Russia
Samara,
Russia
Saransk,
Russia
Saratov,
Russia
Sochi,
Russia
Stavropol,
Russia
Surgut,
Russia
Talakan,
Russia
Tomsk,
Russia
Tyumen,
Russia
Ufa,
Russia
Ulan-Ude,
Russia
Vladikavkaz,
Russia
Vladivostok,
Russia
Volgograd,
Russia
Voronezh,
Russia
Yakutsk,
Russia
Yaroslavl,
Russia
Yekaterinburg,
Russia
Yuzhno-Sakhalinsk,
Russia
Simferopol,
Russia
Seoul,
South Korea
Alicante,
Spain
Barcelona,
Spain
Ibiza,
Spain
Málaga,
Spain
Palma de Mallorca,
Spain
Tenerife,
Spain
Stockholm,
Sweden
Taipei,
Taiwan
Dushanbe,
Tajikistan
Khujand,
Tajikistan
Bangkok,
Thailand
Phuket,
Thailand
Antalya,
Turkey
Dalaman,
Turkey
Ashgabat,
Turkmenistan
Dubai,
United Arab Emirates
Bukhara,
Uzbekistan
Fergana,
Uzbekistan
Namangan,
Uzbekistan
Samarkand,
Uzbekistan
Tashkent,
Uzbekistan
Urgench,
Uzbekistan
Nha Trang,
Vietnam
---

Hub Airport
Moscow Domodedovo International Airport
Moscow's largest and busiest airport, Domodedovo International Airport sees an annual traffic of 30 million passengers every year. Transaero and Nordavia has this airport as one of its two main hubs. AK Bars Aero, Globus Airlines, RusLine, Red Wings Airlines, Ural Airlines, VIM Airlines and Yamal Airlines also have the airport as a hub. Other airlines which fly to and from Moscow Domodedovo include Ethiad Airways, Emirates, Air Malta, Air Moldova, Japan Airlines, Pegasus Airlines, Qatar Airways, Royal Jordanian, SriLankan Airlines, UT Air, Singapore Airlines, Komiaviatrans and many others.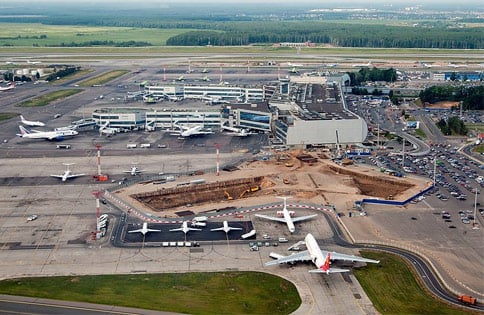 ---

Route Map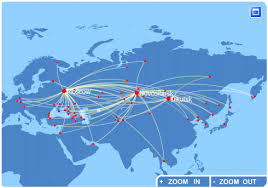 ---

Book S7 Airlines Flights in English
At Alternative Airlines we want your booking process to be as straightforward as possible. That's why we give our customers the opportunity to book S7 Airlines flights in English. Our booking process is simple and secure. We also have a fantastic customer service team to help you with your booking.
---

Oneworld Alliance
Oneworld alliance is a leading global airline network, with 15 member airlines. Oneworld alliance was founded and now consists of member airline such as Cathay Pacific, Finnair, LAN, TAM, Malaysia, Qantas, Qatar, Sri Lankan Airlines, Iberia, British Airways, American Airlines and many others. Oneworld alliance covers more than a thousand destinations in 155 countries.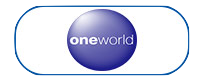 ---