Book Direct with Royal Jordanian Airlines and Alternative Airlines
Royal Jordanian Airlines is the flag carrier airline of Jordan and operates from its hub airport at Queen Alia International Airport in Amman, Jordan.
Royal Jordanian Airlines' fleet comprises of Boeing 787s, Airbus A330s, A321s, A320s, A319s, Embraer 195s and Embraer 175s.
Royal Jordanian Airlines is a member of the Oneworld global airline alliance. It has codeshare agreements with many airlines including Gulf Air, Syrian Air, TAROM, Meridiana Fly, Oman Air, Middle East Airlines and Turkish Airlines. Royal Jordanian Airlines flies to many destinations including Abu Dhabi, Accra, Aden, Bahrain, Basra, Belgrade, Berlin, Beirut, Brussels, Jakarta, Khartoum, Kuala Lumpur, Zurich, Vienna, Tunis, Tel Aviv, Tabuk and many others.
Royal Jordanian Airlines offers Crown Class where passengers can enjoy Premier Check-In area at Queen Alia International Aiport and the fully equipped Crown Lounge at the Airport. The Airbus A340 is equipped with sleeper seats that recline to a flat, 180 degree position.
Crown Class passengers are allowed two pieces of carry-on baggage in the cabin. Economy class passengers are allowed one piece of carry-on baggage whereby weight shall not exceed 7kg and the sum of the maximum dimensions shall not exceed 115cm. Crown Class passengers are entitled to 2 pieces of checked baggage of up to 32 kg. For Economy class passengers, they are allowed 2 pieces of baggage of up to 23 kg.
Royal Jordanian Airlines operates a frequent flyer program called Royal Plus whereby travellers are rewarded for regular traveller. Members' rewards include check-in at Business Class Counter, Access to all Royal Jordanian lounges, priorty in waitlist, a gift package, priority in upgrades and extra baggage allowance. The four tiers in the Royal Plus Program are Royal Plus Blue, Silver, Gold and Platinum.
In March 2016, Royal Jordanian Airlines started operating its new regular route to Guangzhou with three weekly flights. Guangzhou is RJ's second Chinese destination and the fifth in the Middle East. The others are Hong Kong, Bangkok, Kuala Lumpur and Jakarta.
In November 2016, Royal Jordanian announces it was to stop two of its Asia-Pacific services - to Guangzhou and Jakarta as due to financial reasons. The cancellation of these operations effectively ceases the airline's services to mainland China and Indonesia. Royal Jordanian currently operates a three-times-weekly Amman-Bangkok-Guangzhou service and a three-times-weekly Amman-Kuala Lumpur-Jakarta service. Following the closing of the two services, the carrier will still operate flights to three destinations in Asia-Pacific: Kuala Lumpur, Bangkok and Hong Kong. In November 2016, Royal Jordanian took delivery of its latest - sixth - Boeing 787 Dreamliner. This aircraft and a seventh B787, expected to join the RJ fleet at the beginning of next year, are being operated on a capital lease. The other five Dreamliners are being operated on an operational lease. The B787s are replacing Airbus A340s and A330s the carrier previously operated; five of these aircraft types were phased out two years ago and another two A330s are expected to be retired from the RJ fleet in the near future. In March 2017, Royal Jordanian Airlines announced it had banned any electronic or electrical devices on board flights to or from the United States.
Route Map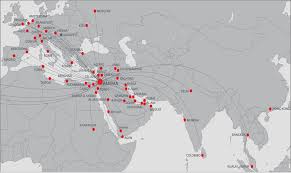 Popular Routes
Amman

Riyadh
Tabuk

Amman
Vienna

Amman
Amman

Tunis
Paris

Amman
Amman

Munich
Oneworld alliance is a leading global airline network, with 15 member airlines. Oneworld alliance was founded and now consists of member airline such as Cathay Pacific, Finnair, LAN, TAM, Malaysia, Qantas, Qatar, SriLankan Airlines, Iberia, British Airways, American Airlines and many others. Oneworld alliance covers more than a thousand destinations in 155 countries.ra, tempus feugiat felis egestas.
Make an Royal Jordanian Airlines reservation and find some amazing deals with discounted Royal Jordanian Airlines tickets at Alternative Airlines. Royal Jordanian Airlines flies to many destinations worldwide, offering a cost effective and safe service to all its passengers. Let Alternative Airlines help find you cheap Royal Jordanian Airlines tickets and make international and domestic flight reservations on Royal Jordanian Airlines today.
Browse the most popular Royal Jordanian Airlines flight routes to cities worldwide. Alternative Airlines can help you make reservations on Royal Jordanian Airlines for international flights to lots of destinations. Use the following list of routes to help you plan your next flight. Book Royal Jordanian Airlines flights on Alternative Airlines to save big! Alternative Airlines is an online travel agency, specialising in booking lesser known airlines and remote destinations.