Trusted Choice
Secure Booking
Airlines will always try to sit children with their parents (subject to check-in)
Some airlines will allow travel for unaccompanied minors. Please email us to check.
The fare is based on the child's age on the date of travel.
More detailed information can be found here Traveling with children
Most airlines will let infants travel with their parent(s) for free. However some airlines will charge up to 10% of the adult ticket price. Click on 'Price Breakdown' to find out more.
If you are pregnant, but due before the flight departure date, please contact us once your baby is born and has a name. We can then add him/her to your ticket.
Infants will not be given a seat. The airlines expect parents to travel with them on their lap.
Airlines regard infants as being under 24 months old.
The fare is based on the child's age on the date of travel.
More detailed information can be found here Traveling with children
Over 65,000 happy customers
Search & Book Flights With
Gulf Air
Buy
Gulf Air

Flights
Search and Buy Gulf Air Flights with Alternative Airlines
Make a Gulf Air Booking and Find Some Amazing Deals
---
About Gulf Air
Gulf Air is the national flag carrier of Bahrain and is headquartered in Muharraq with its main hub airport at Bahrain International Airport. The airline flies to many destinations over 30 countries in Africa, Asia, Europe and the Middle East.
The airline is one of the oldest carriers in the Middle East, with its history dating back to the 1940s, with an air taxi service between Doha and Dhahran. This air taxi service was registered in 1950 under the name Gulf Aviation Company Limited, with major stakeholders including British Overseas Airways Corporation (BOAC). In 1974, the governments of Bahrain, Qatar, Abu Dhabi and Oman each gained a 25% share in Gulf Aviation, where it was soon rebranded to Gulf Air. In 2002, however, Qatar announced that they would be withdrawing from Gulf Air to focus on its own flag carrier, Qatar Airways. Abu Dhabi did the same in 2005, announcing their focus on Etihad Airways, with Oman withdrawing in 2007, leaving Bahrain to claim full ownership of the airline.
---
Gulf Air Fleet
Gulf Air's current fleet consists of a mix of Airbus and Boeing aircraft as per the table below (correct as of October 2019):
---
Gulf Air Destinations
Gulf Air currently flies to over 30 countries, as per the tables below (correct of November 2019):
Domestic Destinations
| CITY | AIRPORT |
| --- | --- |
| Bahrain | Bahrain International Airport (BAH) |
International Destinations
| COUNTRY | CITY | AIRPORT |
| --- | --- | --- |
| Azerbaijan | Baku | Heydar Aliyev International Airport (GYD) |
| Bangladesh | Dhaka | Shahjalal International Airport (DAC) |
| Cyprus | Larnaca | Larnaca International Airport (LCA) |
| Egypt | Alexandria | Borg El Arab Airport (HBE) |
| Egypt | Cairo | Cairo International Airport (CAI) |
| Egypt | Sharm El Sheikh | Sharm El Sheikh International Airport (SSH) |
| Ethiopia | Addis Ababa | Addis Ababa Bole International Airport (ADD) |
| France | Paris | Charles de Gaulle Airport (CDG) |
| Georgia | Tbilisi | Tbilisi International Airport (TBS) |
| Germany | Frankfurt | Frankfurt Airport (FRA) |
| Germany | Munich | Munich International Airport (MUC) |
| Greece | Athens | Athens International Airport (ATH) |
| Greece | Mykonos | Mykonos Airport (JMK) |
| India | Bangalore | Kempegowda International Airport (BLR) |
| India | Chennai | Chennai International Airport (MAA) |
| India | Delhi | Indira Gandhi International Airport (DEL) |
| India | Hyderabad | Rajiv Gandhi International Airport (HYD) |
| India | Kochi | Cochin International Airport (COK) |
| India | Kozhikode | Calicut International Airport (CCJ) |
| India | Mumbai | Chatrapati Shivaji International Airport (BOM) |
| India | Thiruvananthapuram | Trivandrum International Airport (TRV) |
| Iraq | Baghdad | Baghdad International Airport (BGW) |
| Iraq | Erbil | Erbil International Airport (EBL) |
| Iraq | Najaf | Al Najaf International Airport (NJF) |
| Italy | Milan | Milan Malpensa Airport (MXP) |
| Jordan | Amman | Queen Alia International Airport (AMM) |
| Kuwait | Kuwait City | Kuwait International Airport (KWI) |
| Lebanon | Beirut | Beirut–Rafic Hariri International Airport (BEY) |
| Maldives | Malé | Velana International Airport (MLE) |
| Morocco | Casablanca | Mohammed V International Airport (CMN) |
| Oman | Muscat | Muscat International Airport (OOMS) |
| Oman | Salalah | Salalah International Airport (SLL) |
| Pakistan | Faisalabad | Faisalabad International Airport (LYP) |
| Pakistan | Islamabad | Islamabad International Airport (ISB) |
| Pakistan | Karachi | Jinnah International Airport (KHI) |
| Pakistan | Lahore | Allama Iqbal International Airport (LHE) |
| Pakistan | Multan | Multan International Airport (MUX) |
| Pakistan | Pashawar | Bacha Khan International Airport (PEW) |
| Pakistan | Sialkot | Sialkot International Airport (SKT) |
| Philippines | Manila | Ninoy Aquino International Airport (MNL) |
| Russia | Moscow | Domodedovo International Airport (DME) |
| Saudi Arabia | Gassim | Prince Nayef bin Abdulaziz International Airport (ELQ) |
| Saudi Arabia | Dammam | King Fahad International Airport (DMM) |
| Saudi Arabia | Jeddah | King Abdulaziz International Airport (JED) |
| Saudi Arabia | Medina | Prince Mohammad bin Abdulaziz International Airport (MED) |
| Saudi Arabia | Riyadh | King Khalid International Airport (RUH) |
| Spain | Málaga | Málaga Airport (AGP) |
| Sri Lanka | Colombo | Bandaranaike International Airport (CMB) |
| Sudan | Khartoum | Khartoum International Airport (KRT) |
| Thailand | Bangkok | Suvarnabhumi International Airport (BKK) |
| Turkey | Istanbul | Istanbul Airport (IST) |
| United Arab Emirates | Abu Dhabi | Abu Dhabi International Airport (AUH) |
| United Arab Emirates | Dubai | Dubai International Airport (DXB) |
| United Kingdom | London | London Heathrow Airport (LHR) |
---
Gulf Air Route Map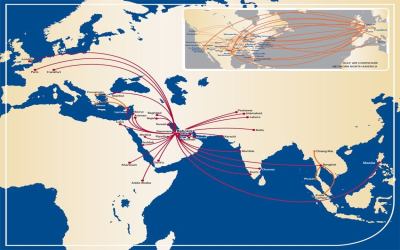 ---
Gulf Air Baggage
Carry-on Baggage
Passengers in economy class are permitted 1 x 6 kg bag, measuring a maximum of 45 x 40 x 30 cm.
Passengers travelling in the Falcon Gold class are permitted 1 x 9kg cabin bag and one briefcase. The bag must not measure more than 55 x 40 x 30 cm.
In addition, passengers are allowed a personal item onboard with them. This may be items such as a laptop, purse, umbrella or book etc.
Checked Baggage
Passengers in economy (on a deal or basic fare) are permitted 1 bag weighing a maximum of 23kg
Passengers in economy (on friendly & freedom fare or Falconflyer redemption ticket) are permitted 2 bags weighing a maximum of 23kg each.
Passengers in Falcon Gold (all fare family tickets or Falconflyer redemption tickets) are permitted 2 bags weighing up to 32kg each.
---
Gulf Air Check-In Information
Online Check-in
Passengers can check-in online via the Gulf Air website, from 24 hours before flying, up until 90 minutes before your flight is due to depart. Passengers can choose their seat at check-in, and print their boarding pass easily at home.
Airport Check-in
The airport check-in time varies depending on which airport you are departing from. However, passengers can often check-in 4 hours before their flight, with the check-in desk closing 1 hour before their flight departs. Make sure you check your check-in time on your eTicket before departing to ensure you do not miss the deadline and your flight.
---
Gulf Air Hub Airport
Bahrain International Airport
Bahrain International Airport is located in Muharraq and is the hub for the national carrier of Bahrain Gulf Air. It has two runways and can handle nearly 10 million passengers every year. Other airlines which fly to and from this airport include Air Arabia, Air India, Cathay Pacific, Etihad Airways, Georgian Airways (previously known as AirZena Georgian), Iran Air, Iraqi Airways, previously Sudan Airways, Jet Airways, Kuwait Airways and many others.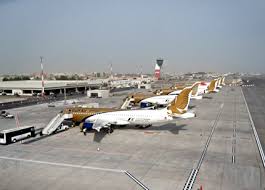 ---
Gulf Air Class Information
Economy Class
Gulf Air's Economy Class comes with comfort and space for all travellers on a budget.
Facilities
Facilities in Gulf Air's Economy Class includes meals, entertainment and 30kg of baggage. These are dependant of flight journeys. Breakfast meals include a hot meal and selection of pastries and coffee and teas. Hot meals are also provided at dinner.
Seats
Seats in Economy class can be booked in advance if you require more legroom, at an additional fee. Preferred seats are exit row seats and bulkhead seats and are subject to availability. Each Economy zone is at priced at different seat pricing. Please note that there are terms and conditions for prepaid seat selection. Any seat changes require a fee.
Premium Economy
This airline does not have a set Premium Economy. Passengers must choose to travel either in Economy or Business/First (Falcon Gold).
Business Class
In 2018 Gulf Air unveiled its new Business class, called Falcon Gold, which lets eligible passengers upgrade to a premium service.
Facilities
Pre-flight, Gold Falcon passengers access to Gulf Air's Falcon Gold Lounge (Bahrain, Dubai and London), which includes a Sky Nanny, quiet room, and range of refreshments. On-board, passengers can enjoy priority check-in, as well as a generous baggage allowance. Gulf Air's Sky Nanny will entertain your children while you enjoy a 5-star meal.
What are the Business Class Seats Like?
Falcon Gold Business Class boasts one of the longest flat-bed in the world with all direct aisle access. All seats have a privacy screen that can be elevated to create more privacy, noise-cancelling headphones, inbuilt massage function, and 22-inch flatscreen TV.
First Class
Gulf Air only has one premium class; Falcon Gold. Read the information in Business Class above to discover more about this class.
Does First Class Facilities Have a First Class Lounge?
The Falcon Gold lounge is available in Bahrain, Dubai and London. Passengers can enjoy their airport experience in comfort with exceptional service in privacy. Passengers are able to do as they please, whether that's sleep and relax or concentrate on work or catch up with events. Included in the lounge is a restaurant, free WiFi access, shower facilities and premium comfort seating.
---
Alternative Airlines to Gulf Air
Please click on the logos below to find out more about airlines that fly similar routes to Gulf Air:
---
Gulf Air In-Flight Entertainment
Gulf Air offers a great in-flight entertainment service, called Falcon Entertainment. This offers passengers a wide selection of entertainment, including radio shows, movies (classic, latest blockbuster and kids), music and TV shows.
---
Gulf Air Food
Gulf Air Meal Options
Gulf Air provides passengers with meals on board their flights. If passengers upgrade to the Falcon Gold class, they will experience the Sky Chef for a fine dining experience. This is much like the quality and service you would receive in a five-star restaurant, the only difference being that you are dining above the clouds. Food will be inspired by European and Middle Eastern cuisine in a contemporary mezze style, including a starter, main and dessert.
Gulf Air Special Dietary Requirements
All passengers on Gulf Air flights can request a special meal to suit their dietary needs and requirements, providing they pre-order it at least 24 hours in advance. The following are the meals that can pre pre-ordered with Gulf Air:
Gulf Air Drinks & Alcohol
For passengers in the Falcon Gold class, they will receive a recommendation for a beverage to accompany their meal, based on their meal choice. They can also indulge in fine wines, excellent spirits and vintage champagne in addition to non-alcoholic drinks. For all other passengers, there are the usual soft drinks and other beverages available.
---
Gulf Air WiFi
Gulf Air does not currently offer its passengers in-flight WiFi onboard.
---
Gulf Air Frequent Flyer
Gulf Air operates a frequent flyer program called Falconflyer to reward regular travellers with Gulf Air. Earn loyalty points to progress to higher levels of membership and exchange the awarded Miles for free tickets or upgrades. When you book a ticket with Gulf Air you can collect points to work towards special deals. Unfortunately, Gulf Air is not yet part of an airline alliance. It is very easy to collect frequent flyer points with your Alternative Airlines purchase, just check out our step-by-step frequent flyer guide.
---
Gulf Air Airline Alliance
Gulf Air is not part of any official Airline Alliance programme. However, Gulf Air has codeshare agreements with American Airlines, EgyptAir, KLM, Philippine Airlines, Royal Jordanian, and Thai Airways.
---
Gulf Air Special Services
Passengers with Disabilities
Some passengers may require medical clearance to travel on Gulf Air. A form can be obtained online on the airline's website, and can be filled in by the passenger's doctor stating that you're fit to travel.
Unaccompanied Minors
Gulf Air operates an unaccompanied minor programme on their flights. This can be booked for children aged between 5 and 11 who are travelling alone. A member of staff will meet them at the check-in desk and assist them through thte airport, through the flight and to the arrival hall of the destination airport.
Passengers with Disabilities
Passengers who are flying whilst pregnant can fly up to 28 weeks without problem (although a doctor's note saying they are fit to travel is recommended). Passengers who are in their 29th to 34th week of travel need pre-approval from the Gulf Air Doctor, at least 48 hours before travelling. Passengers in their 35th or 36th week of pregnant must have the above pre-approval, but also travel with a medical escort. Passengers who are 36 weeks pregnant or more are not permitted to travel.
---
Gulf Air Seat Selection
You can now pre-book Gulf Air seats with Alternative Airlines! Make sure you get to sit in your preferred seat by reserving ahead of time. Use our interactive seating map to view available seats and choose the right seat for you.
---
Buy Gulf Air Flights with PayPal
You can buy any Gulf Air ticket with PayPal when booking via Alternative Airlines. Fly on any Gulf Air flight and with pay with PayPal using AlternativeAirlines.com.
---
Gulf Air News
20th August 2018
Gulf Air adds maiden A320neo
Gulf Air started scheduled A320neo operations this weekend, following the delivery of its first of the type on Saturday. The A9C-TA, which began service on Sunday, will operate on select rotations from Bahrain Int'l to Dubai Int'l, Larnaca, Athens Int'l, Kuwait and Beirut. The Bahrain airline will add a further two A320neos in 2018 followed by four in 2019, three in 2021, and three in 2022.
18th June 2018
Gulf Air to start flying new service to Kozhikode
Today, Gulf Air flew its inaugural flight between Bahrain and Kozhikode. The new non-stop service will be operated by either an Airbus A320-100 or an Airbus A320-200. The flight is estimated to take 4 hours and 35 minutes. Kozhikode is the eighth destination in India that Gulf Air flies to. The other cities include Delhi, Mumbai, Hyderabad, Bengaluru and Kochi.
According to Gulf Air's scheduling, the airline will fly the service daily. Leaving at 9.15pm Bahraini local time and arriving at 4.30am local Indian time.
4th June 2018
Gulf Air to fly to North America in the next 5 years
Gulf Air is looking at the possibility of flying to a number of destinations in North America in 2023 as part of a larger plan to extend their network to more countries around the world. Recently, Gulf Air CEO Waleed Abdul Hamid Al Alawi, Deputy CEO Krishmir Kuchko and the US Ambassador to Bahrain met to discuss the expansion to North America.
Gulf Air already codeshares flights with American Airlines to connect Europe with North American cities, and North American cities with Bahrain, but the flights in 2023 would see Gulf Air operate the flights on their own. The cities that Gulf Air would fly to are yet to be undecided, but they're likely to be cities with big international airports that can act as potential gateways to other destinations in the area.
30th May 2018
Gulf Air's rebrand takes flight: a total re-design for Bahrain's pioneering national carrier
The rebrand comes as one of a broad spectrum of recent, positive developments by Gulf Air which include fleet modernisation, network expansion, enhanced product offering and a new long term strategic direction for the airline's continuous growth.
Global brand and design consultancies, Saffron and tangerine, announce the launch of their rebrand of the Kingdom of Bahrain's national carrier, Gulf Air.
---