Airlines will always try to sit children with their parents (subject to check-in)
Some airlines will allow travel for unaccompanied minors. Please email us to check.
The fare is based on the child's age on the date of travel.
More detailed information can be found here Traveling with children
Most airlines will let infants travel with their parent(s) for free. However some airlines will charge up to 10% of the adult ticket price. Click on 'Price Breakdown' to find out more.
If you are pregnant, but due before the flight departure date, please contact us once your baby is born and has a name. We can then add him/her to your ticket.
Infants will not be given a seat. The airlines expect parents to travel with them on their lap.
Airlines regard infants as being under 24 months old.
The fare is based on the child's age on the date of travel.
More detailed information can be found here Traveling with children
Boeing 787
Cancellation Protection
Protects
Trusted Choice
65,000 happy customers
Rated 4.5 Stars. Based on 3,581 service ratings over the past year
Dedicated customer service team on hand to help
Secure payments
Cancellation Protection
Protects
Trusted Choice
65,000 happy customers
Rated 4.5 Stars. Based on 3,581 service ratings over the past year
Dedicated customer service team on hand to help
Secure payments


Boeing Dreamliner
The Dreamliner, or Boeing 787, is a model of aircraft. Read on for more information about its technical specifications, features and which airlines use the aircraft.
About the
Dreamliner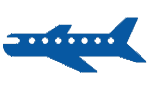 The Boeing 787, also known as the Dreamliner, is a mid-sized wide body aircraft manufactured by the company Boeing Commercial Airplanes. It is a twin-engine jet airliner, and made its first flight in 2009 and its first commercial flight in 2011 with the airline All Nippon Airways. The aircraft was designed to be more fuel-efficient than its predecessor, the Boeing 767, and has succeeded by being 20% more fuel-efficient. The features of the aircraft which makes it stand out is its flight systems which are mainly electrical, its raked wingtips and its noise-reducing chevrons on its engine nacelles.
There are different variants of the 787, with the first and shortest being the 787-8 in 2009 and then 4 years later the 787-9 which was longer than the -8. Finally, the 787-10, which is bigger than the two was produced in 2013.
The Dreamliner also prides itself on connecting the world by aiding airlines to open new nonstop routes in a profitable way. There are currently 210 non-stop news routes in place just for 2018 alone!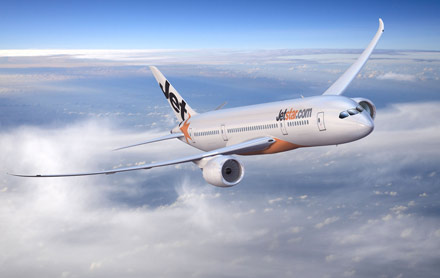 Photo Credit: Jetstar Airways on Flickr
Technical Spec of the

787
| Spec | 787-8 | 787-9 | 787-10 |
| --- | --- | --- | --- |
| Range | 13,620 km | 14,140 km | 11,910 km |
| Length | 57 m | 63 m | 68 m |
| Height | 17 m | 17 m | 17 m |
| Wing Span | 60 m | 60 m | 60 m |
| Passengers (2-class) | 242 | 290 | 330 |
| Cargo | 124.5 m3 | 154.4 m3 | 192.6 m3 |
Passenger Features of the
Boeing 787
Refreshed Experience
Passengers can arrive at their destination feeling better with jet lag symptoms minimised. This is achieved with features in the Dreamliner such as a lower cabin altitude, better humidity and cleaner and refreshed air.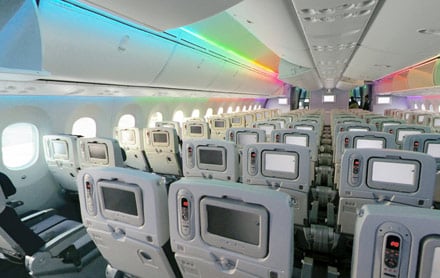 Photo Credit: Altair78
Quieter Sound
The Boeing 787 has features which allow passengers to enjoy the onboard entertainment, or catch up on their sleep. This includes technology which allows for a smoother ride, including isolation from vibrations of the aeroplane, quieter air conditioning, materials inside the planes which reduce squeaks and other noises, and technology in the engines to reduce 'buzzsaw' noise and engine noise.
Windows
The Boeing 787 introduced new windows, including a tinted shade and being larger in size. These windows are 19 inches tall, making them 65% larger than the standard aeroplane window. This means you can see more of your surroundings, and even passengers in the middle of the plane can see out the aircraft. The dimming feature means that you won't be blinded by sunlight, but can still look out at your surroundings. They can also be controlled by flight attendants in case of an emergency.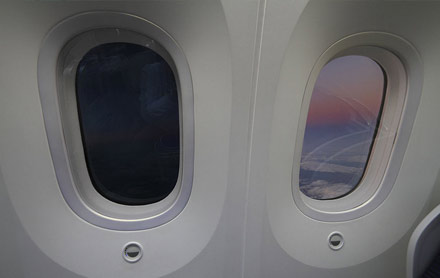 Photo Credit: Spaceaero2
Bar in the sky
Like the Airbus A380, the Dreamliner has the ability to facilitate an onboard bar. However, this is currently only available in upper-class cabins on Virgin Atlantic planes.
Environment
The Boeing 787 offers better fuel efficiency, which uses at least 20% less fuel than other aircraft. Its noise pollution is also 60% less, despite travelling at 590 mph with heavy loads.
Boeing is also committed to producing the most fuel-efficient family of aeroplanes in the world, by investing in research into innovative technology to improve negative impacts on the environment. Features of this include changing materials to be more lightweight, and having the best aerodynamics and also operational efficiencies to minimise waste.
Which airlines use the

Dreamliner

?
| | | |
| --- | --- | --- |
| AerCap | Aeroflot | Aeromexico |
| Air Astana | Air Austral | Air Canada |
| Air China | Air Europa | Air France |
| Air India | Air Lease Corporation | Air New Zealand |
| Air Tahiti Nui | ALAFCO | All Nippon Airways (ANA) |
| American Airline | Arik Air | Arkia |
| Avianca | Aviation Capital Group | Avolon |
| Azerbaijan Airlines | Biman Airlines | BOC Aviation |
| British Airways | CDB Aviation | China Eastern Airlines |
| China Southern Airlines | CIT Aerospace | Donghai Airlines |
| El Al Israel Airlines | Emirates | Ethiopian Airlines |
| Etihad Airways | EVA Air | GECAS |
| Gulf Air | Hainan Airlines | Hawaiian Airlines |
| Japan Airline Group | Jet Airways | Jetstar |
| Juneyao Air | Kenya Airways | KLM Royal Dutch Airlines |
| Korean Air | LATAM | LOT Polish Airlines |
| Neos | Norwegian Air Shuttle | Okay Airways |
| Oman Air | PrivatAir | Qantas |
| Qatar Airways | Royal Air Maroc | Royal Brunei |
| Royal Jordanian Airlines | Ruili Airlines | Saudia |
| Scoot | Singapore Airlines | Thai Airways |
| TUI Group | Turkish Airlines | United Airlines |
| Uzbekistan Airways | VALC | Vietnam Airways |
| Virgin Atlantic | WestJet | Xiamen Airlines |
Dreamliner
FAQs
How many Boeing 787s are there?
As of October 2018, there have been 754 Boeing 787s manufactured. As of August 2018, there are currently 674 in service, the most of which belonging to All Nippon Airways with 64 in their fleet and more on order.
Which is bigger Airbus A380 or Boeing 787?
The Airbus A380 is bigger than the Boeing 787, because it is the biggest aircraft in the world. However, the Boeing 787 is still a pretty large aeroplane, and isn't far behind in size.
How many seats on the Boeing 787?
The number of seats on the Boeing 787 depends on the configuration that the airline has chosen. For example, how many first class seats, how many economy class seats, and how much room is taken for other facilities. For example, the Thomson 787-8 has 47 premium seats and 241 standard seats, totalling 288, whereas the United 787-8 has 36 seats in Polaris class, 70 seats in Economy Plus and 113 in Economy, totalling 219.
How safe is the Boeing 787?
The Boeing 787 goes through rigorous safety checks before it is allowed to fly, and even harsher tests before it is allowed to fly commercially with passengers and airline staff on board. To pass these tests, the Boeing 787 has to be very safe. It has been approved by the US Federal Aviation Administration and the European Aviation Safety Agency, with features of its safety including the electric wing ice protection and its electric brakes. The aircraft previously experienced issues with its lithium-ion batteries in 2013, but after being grounded, reviewed by authorities and tested, the revised design was approved and the Boeings began flying passenger operations soon after.
What does a Boeing 787 cost?
The Boeing 787-3 will reportedly cost you US$150 million, the Boeing 787-8 variant costs around US$160 million and for the 787-9, it will set you back US$195 million. Luckily, a ticket on a Boeing 787 won't set you back that much! The price of a ticket on a Dreamliner plane depends on variables including your start and end location, duration of the flight and time of year. Want to find out more about when is the best time to buy a flight? Read our blog which answers this question here.