Passenger Features of the
A380
Quiet
The Airbus A380 is famous for its operating silence. It has much quieter engines and systems, which give passengers peace to enjoy their journey or relax and have an undisturbed sleep.
Long Routes
Its large flying range of over 15,000km means that its used on some of the longest non-stop flights on the world. Currently, Emirates use it for their Auckland to Dubai service, and Qantas are using it for their Dallas Fort Worth to Sydney service. They also fly shorter routes, with transatlantic flights from Europe to East Coast USA being some of the most popular!
Smooth Flying
The Airbus A380 is also known for having a great anti-turbulence system, meaning passengers enjoy a smoother and more stable journey. This is partly due to the aircraft's impressive size and weight.
Great Experience
Mood Lighten on the Airbus A380 does more than just create a nice aesthetic. The carefully placed lights allow passengers to adjust to the time zone in their destination and minimise jet lag. Alongside this, the cabin air is refreshed and recycled every 2 minutes to ensure passengers are left feeling fresh throughout the duration of your flight.
Extra Legroom
Even in economy class! With a 32-24 inch seat pitch in economy, going up to 86 inches in first. Economy seats are 18-inch wide, giving a comfortable seat in every class.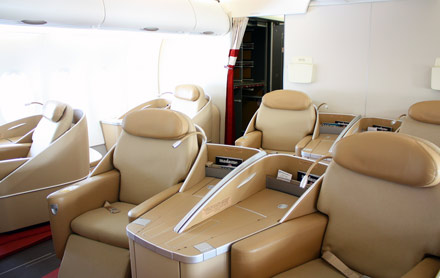 Photo Credit: Andy Mitchell
Entertainment
The Airbus A380 is one of the aircraft to include a tail camera which passengers can view in their in-flight entertainment system.
Environment
The Airbus A380 is one of the worlds most environmentally friendly aircraft, with carbon emissions amounting at just 75g per passenger per km, which is 17% less than its competitor. With its quiet aircraft, it also meets standards for operation in some of the most noise-sensitive airports in the world. Furthermore, the greater capacity of the plane means that more passengers are transported one less aircraft.
Additional Features
On the A380, there is so much room that there is even room for an onboard bar! This is available with Emirates, Korean Air, Virgin Atlantic and Qatar Airways and often only available to First and Business class passengers. Some airlines even include showers so you can freshen up above the clouds. In addition, airlines such as Etihad and Singapore Airlines have created luxury living spaces such as apartments which includes private sofas or double beds.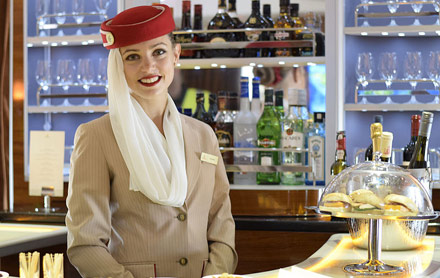 Photo Credit: Brussels Airport