Airlines will always try to sit children with their parents (subject to check-in)
Some airlines will allow travel for unaccompanied minors. Please email us to check.
The fare is based on the child's age on the date of travel.
More detailed information can be found here Traveling with children
Most airlines will let infants travel with their parent(s) for free. However some airlines will charge up to 10% of the adult ticket price. Click on 'Price Breakdown' to find out more.
If you are pregnant, but due before the flight departure date, please contact us once your baby is born and has a name. We can then add him/her to your ticket.
Infants will not be given a seat. The airlines expect parents to travel with them on their lap.
Airlines regard infants as being under 24 months old.
The fare is based on the child's age on the date of travel.
More detailed information can be found here Traveling with children
Eco-Friendly Airlines
Cancellation Protection
Protects
Trusted Choice
65,000 happy customers
Rated 4.5 Stars. Based on 3,581 service ratings over the past year
Dedicated customer service team on hand to help
Secure payments
Cancellation Protection
Protects
Trusted Choice
65,000 happy customers
Rated 4.5 Stars. Based on 3,581 service ratings over the past year
Dedicated customer service team on hand to help
Secure payments
Eco-Friendly Flights
Travel With the Greenest Airlines
As people get more environmentally conscious, it's important to know which airlines are taking the steps to improve their (and their customers) carbon emissions.
If you are looking for information on what airports are doing to be more eco-friendly, head over to our dedicated page.
What Makes an Airline Eco-Friendly?

Despite what many speculate about air travel, it's, in fact, one of the most environmentally-friendly ways of travelling - the average fuel consumption per transported passenger by an airplane is below 4 litres per 100km, and as airlines make efforts to improve fuel consumption to meet targets set internally and within the industry, this figure will be improved year on year.
There are many ways in which an airline can strive to be more eco friendly, including:
Upgrading to a more environmentally friendly fleet
Older aircraft use more kerosene, amongst other materials. Newer aircraft also have winglets, which are added to the end of wings to reduce drag and fuel consumption.
Using more environmentally friendly materials
Use of more environmentally friendly materials not only applies to the aircraft itself (such as installing carbon fibre seats), but also the materials used for magazines (and even cutting them out completely), beverage carts (making them lighter), and removing in-flight telephones.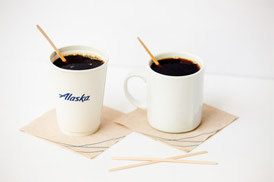 Serving environmentally friendly meals
Many airlines are expanding vegan and vegetarian in flight meal options, as a result of changing consumer demand. Meatless in-flight meals are more environmentally friendly, as industrial meat production has a negative impact on the environment.
Offering passengers more choice
Many low cost, no frills airlines lead the way with regards to being more environmentally friendly, due to the fact that they 'unbundle' fares, allowing passengers the choice of what to purchase and what to leave out. Not only can this save travellers money, but this can also be more environmentally friendly, due to many choosing carry-on bags only, which as described in our tips for environmentally friendly travel, is a greener way to fly.
The Most Eco-Friendly Airlines for Environmentally Conscious Travellers
Alaska Airlines
Alaska Airlines shows great transparency with regards to their CO2 emissons and other steps they are taking to improve their impact on the environment. They are always looking for innovative ways to reduce the environmental impact of their services, and steps that they have taken so far have included going strawless, composting grounds from coffee served in flight, and using avionics to use the 'Greener Skies' approaches in order to cut fuel consumption.
The airline has also formed a partnership with the Port of Seattle and Boeing with the aim to power all flights by all airlines at Seattle-Tacoma International Airport with sustainable biofuel.
Delta Air Lines
Delta is taking steps to improve their environmental impact - largely with regards to their fuel emissions, but also with regards to water waste, hazardous waste, and implementation of a recycling program.
On Earth Day 2019, Delta laid out plan for the future and made clear its intentions to invest in carbon offset by buying around 50,00 carbon offsets. Delta is also in the process of removing all single-use plastic items from their flights. This includes items such as stir sticks, wrappers and utensils. In total, Delta is estimated to remove over 300,000 pounds in plastic waste each year.
In March 2020, Delta Air Lines announced its commitment of $1 billion over the next 10 years on its journey to mitigate all emissions. In 2021, the airline will continue to invest in driving innovation, advancing clean air travel technologies, accelerating the reduction of carbon emissions and waste, and establishing new projects to mitigate the balance of emissions.
American Airlines
American Airlines has committed to invest in modern, more efficient aircraft - whether this be investing in brand new aircraft, or upgrading planes not yet ready for retirement. The airline looks for innovative ways to reduce costs and emissions, including installation of winglets to wing ends, shaving weight on aircraft, paperless cabins, and implementation of one-engine taxiing.
In 2020, the airline announced its goal to reach net zero carbon emissions by 2050.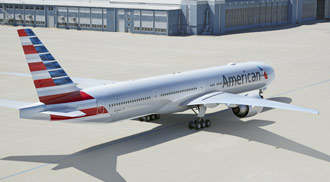 KLM
Since 2008, KLM's climate action plan has ensured that the airline is more sustainable in the sky and on the ground.
Responsable waste management, material recycling and measures to decrease noise pollution are just a few ways in which KLM has made steps to improve the environmental impact of the company.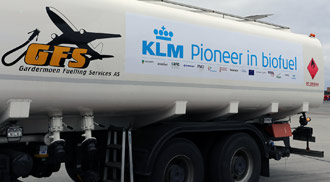 Jetblue
Jetblue is committed to improving the airline's environmental impact, and is proud to be transparent with regards to the steps taken in doing so.
The airline committed to moving away from using diesel and petrol for ground based electric equipment as bag tugs and belt loaders. In 2013, Jetblue introduced an onboard recycling program, alongside a partnership with Dunkin' Donuts, Jamba Juice and Royal Waste Services to compost food waste at JFK Airport's Terminal 5. The 'Jetblue T5 Farm' at New York's JFK Airport is the world's first blue potato farm based at an airport, and the T5 Rooftop is the only post-security outdoor space at a New York airport.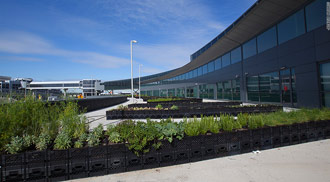 United Airlines
United Airlines is committed to a number of processes to ensure that the environmental impact of the company is as low as possible. This includes fuel efficiency and emissions reduction, using sustainable products, investing in sustainable fuel sources, and creating and maintaining partnerships to promote sustainability and protect the environment. In 2018, it announced that it would reduce its carbon emissions by 50% by the year 2050.
In June 2019, United launched a 'flight for the planet', which at the time, was billed as the most eco-friendly flight of all time. The carbon-neutral flight used sustainable biofuel and eliminated all cabin waste. Statistics from this flight included 3.3% of fuel was saved compared to a typical flight, 40 tonnes of carbon dioxide was offset, which made up for the aircraft's fuel consumption and also waste was down by about a third. United plans to learn from this flight, and turn these short-term initiatives into widespread policies.
Easyjet
Easyjet is committed to reduction of carbon emissions, and invests in projects to ensure that the environmental impact of the airlne is as minimal as possible. Example projects include new fleet investment, seat-weight reduction due to investment in new lightweight Recaro seats, paperless cockpits, adding 'sharklet' wing tips, and the addition of 6 more seats to existing A320 aircraft.
Cathay Pacific
Cathay Pacific endeavors to 'be the world's best airline' and focuses particularly on the following environmental issues: climate change, waste, air quality, noise, water, conservation, and biodiversity.
The Cathay Pacific 'Fly Greener' programme gives Cathay Pacific and Cathay Dragon passengers the opportunity to reduce the carbon dioxide generated from air travel in a simple, credible way. Customers are able to purchase carbon offsets for their journeys, and the airline offers an online carbon offset calculator which allows passengers to work out what their journeys will use, and what they can buy to help to offset this.
Ryanair
Ryanair classes itself as 'Europe's greenest, cleanest airline', and was the first airline to commit to being plastic free by 2023.
The airline's commitment to sustainability includes the following priorities: offering customers to offset the carbon cost of journeys, investing in new Boeing 737-MAX-200 aircraft, operating only point-to-point routes with industry-leading load factors, conducting operational efficiency, adding winglets to wings, and using single-engine taxiing between the runway and terminal.
Flybe
In February 2018, Heathrow Airport named Flybe the most environmentally friendly airline using Heathrow. The use of the Bombardier Q400 aircraft is the quietest aircraft in the world, with a noise footprint almost seven times smaller than single-aisle and wide-body aircraft. They are also as fuel efficient as an eco-friendly car, producing emissions that are 30-40% lower than other aircraft.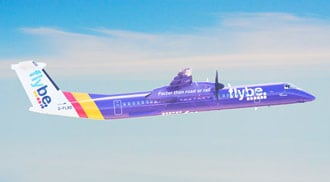 British Airways
British Airways strives to conduct business activities in an environmentally friendly manner, and does this by committing to preventing pollution as much as possible, reducing pollution impact to be as low as possible, protecting the natural environment, reducing carbon emissions per passenger, reducing noise per flight, and minimising wasted through increase of material re-use and recycling.
In June 2019, British Airways revealed its newest eco-friendly feature to the premium economy cabin. Since then, passengers travelling in the World Traveller Plus cabin receive new amenity kits made from recycled materials such as plastic bottles.
British Airways also has plans to create a plant that will turn everyday household and commercial waste into jet fuel to be used for its airplanes. The legacy carrier plans to build the plant on a site in Lincolnshire and predicts that it will transform more than 500,00 tonnes of waste into fuel a year.
Loganair
Loganair is forthcoming as the leading pioneer of electric aircraft. The Scottish regional airline wants to start using electric-powered planes by 2021 for their flights between Westray and Papa Westray in a bid to reach their goal to become carbon neutral.
Loganair are already making themselves more environmentally friendly, with their use of renewable energy produced in Orkney.
Qantas
The Australian airline Qantas has recently made a pledge to reach net zero emissions by 2050, and reduce 75% of waste to landfill by the end of 2021. They've also committed $50 million over the next 10 years to develop a sustainable aviation fuel in Australia.
Hi Fly
Cutting the quantity of plastic used has been crucial to Hi Fly's sustainability commitment. In January 2019, the Portuguese airline Hi Fly carried out the first single-use plastic-free flight; by Jan 2020, the airline became the world's first 'single-use plastic-free' airline, with no single-use plastics used onboard.
Virgin Atlantic
Virgin Atlantic's top environmental policy is concerned with aircraft fuel and reduction of carbon emissions, alongside aircraft waste and noise, combined ground operations, and supply chain work.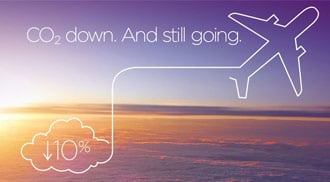 Etihad
Etihad Airways are partnering with the Abu Dhabi Waste Management Center on a project to explore how municipal waste can be converted into jet fuel. One of the aims of the project is to use the final jet fuel on Etihad Airways' flights. This shows the commitment that the airline has towards cutting-edge environmental advances, and reducing the airline's dependency on fossil fuels.
Xiamen Airlines
In 2018, Xiamen Airlines launched a number of themed flights as part of its #WEINACTION campaign. The themed flights included customised meals, videos, radios and souvenirs that were used to raise awareness for 'life on land' and to protect terrestrial biodiversity. Xiamen Airlines continues to operate these themed flights periodically.
Air Canada
Air Canada began reducing the use of single-use plastic on all of its flights in 2019. The airline started by eliminating plastic drink stirrers with wooden drink stirrers, which will get rid of 35 million plastic drink stirrers yearly.
In 2020, the airline progressed in it's work toward carbon-neutral growth for international aviation, and continued to support the development of lower-carbon Sustainable Aviation Fuels (SAF) in Canada.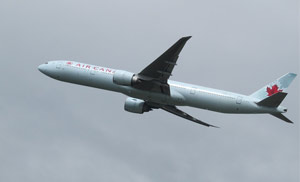 China Airlines
China Airlines offers 'ECO TRAVEL Carbon Offsetting' — a service that gives passengers the ability to partake in carbon offsetting and reduce the carbon footprint and emissions during their flight.
ECO TRAVEL Carbon offsetting lets China Airlines passengers track the emissions from their flight and — through UK company ClimateCare — gives them the opportunity to offset the carbon footprint with environmentally friendly carbon reduction projects.
SAS Scandinavian Airlines
SAS Scandinavian Airlines have set a goal to reduce its carbon emissions by 25% from 2005 to 2030. The airline has stated that updating its fleet and using biofuels will be the main two factors in achieving this. In 2018, the airline took in an order of Airbus A320 neo, which has reduced fuel consumption and emissions by roughly 15%. Furthermore, the airline plans to replace the amount of fuel used on all of its domestic flights with sustainable biofuel.
SAS has also invested in a carbon offsetting program which offsets for all business, Youth and EuroBonus passengers, as well as offering all other passengers the same option.
In 2019, SAS announced that it'll stop selling duty-free items inflight. This will help will reduce the overall weight carried on the aircraft and therefore result in the airline using less-fuel per flight.
Cape Air
Cape Air have the intent to order a number ("double digit") of Eviation Alice aircraft - an electric, 9 seater aircraft which is built from 95% composite materials, and set to be the first fully electric aircraft to enter commercial service.
How can travellers be more
Environmentally Conscious
when flying?

If you are looking for tips on how to make your flights more eco-friendly, check out our blog 'How to fly more eco-friendly'. Discover tips and tricks to help reduce your plastic waste and carbon emissions when flying, to help reduce the environmental impact of your flying.
Actions you can take include:
1. Fly in Economy Class
2. Choose to fly with more environmentally friendly airlines
3. Lower shades and open vents when flying
4. Purchase carbon offset credits
5. Fly with a no-frills, low cost airline
6. Take a non-stop flight rather than one with a layover
7. Pack light
8. Bring in-cabin items
9. Pack a plastic-free travel kit, using items such as bamboo toothbrushes instead of plastic ones
10. Choose vegan or vegetarian in flight meal options