Cathay Dragon (Dragonair) Reservations with Alternative Airlines
Make a Cathay Dragon Booking and Find Some Amazing Deals
As of result of COVID-19 pandemic, the Cathay Pacific Group has decided to suspend Cathay Dragon operation on October 2020. However, passengers can still travel with its parent company, Cathay Pacific Airways, which operates both regional and international flights from Hong Kong.
Alternative Airlines to Cathay Dragon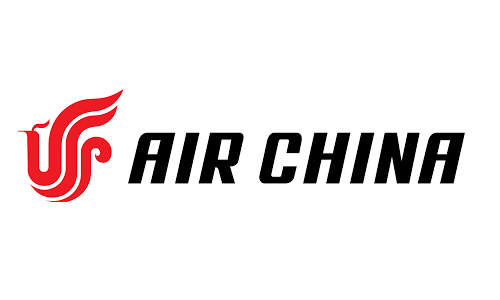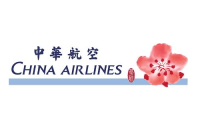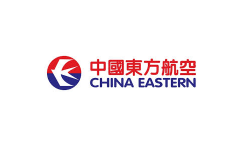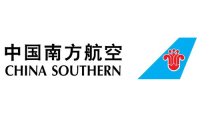 ---
About
Cathay Dragon (previously known as Dragonair) was an airline headquartered in Hong Kong, China. It's a subsidiary of Hong Kong's national airline, Cathay Pacific and focused on offering flights across the east and south of Asia, flying to more than 50 different destinations overall.
The airline launched independently in 1985 under the name Dragonair and flew its inaugural flight between Kai Tak International Airport, Hong Kong and Kota Kinabalu International Airport, Malaysia in the same year. In 2006, the airline was wholly acquired by Cathay Pacific and was renamed Cathay Dragon in 2016.
Throughout the years Cathay Dragon rapidly expanded its international route network and used to fly to destinations outside of east and south Asia, including to destinations such as Amsterdam, Frankfurt, Dubai and New York City. However, in recent years before operation was suspended, it decided to scale back on its long-haul flights and solely focuses on domestic flights within China and flights within Asia.
The airline had codeshare agreements with Air Canada, Air China, American Airlines, Bangkok Airways, Cathay Pacific, Finnair, Malaysia Airlines, Qantas, S7 Airlines and Shenzhen Airlines.
---
Fleet
Cathay Dragon had an all-Airbus fleet, with planes from the Airbus A320 and Airbus A330 families. Overall, the airline had over 45 aircraft within its fleet. The airline also has a larger order of Airbus A321neos which is expected to replace its current generations of Airbus A320ceos.
---
Destinations
Cathay Dragon flew to more than 50 destinations, with over 20 domestic routes and over 30 international routes.
China Destinations
CITY
AIRPORT
Beijing
Beijing Capital International Airport (PEK)
Changsha
Changsha Huanghua International Airport (CSX)
Chengdu
Chengdu Shuangliu International Airport (CTU)
Chongqing
Chongqing Jiangbei International Airport (CKG)
Fuzhou
Fuzhou Changle International Airport (FOC)
Guangzhou
Guangzhou Baiyun International Airport (CAN)
Guilin
Guilin Liangjiang International Airport (KWL)
Haikou
Haikou Meilan International Airport (HAK)
Hangzhou
Hangzhou Xiaoshan International Airport (HGH)
Hong Kong
Hong Kong International Airport (HKG)
Jinan
Jinan Yaoqiang International Airport (TNA)
Kunming
Kunming Changshui International Airport (KMG)
Nanning
Nanning Wuxu International Airport (NNG)
Nanjing
Nanjing Lukou International Airport (NKG)
Ningbo
Ningbo Lishe International Airport (NGB)
Qingdao
Qingdao Liuting International Airport (TAO)
Sanya
Sanya Phoenix International Airport (SYX)
Shanghai
Shanghai Hongqiao International Airport (SHA)
Shanghai Pudong International Airport (PVG)
Wenzhou
Wenzhou Yongqiang International Airport (WNZ)
Wuhan
Wuhan Tianhe International Airport (WUH)
Xiamen
Xiamen Gaoqi International Airport (XMN)
Xi'an
Xi'an Xianyang International Airport (XIY)
Zhengzhou
Zhengzhou Xinzheng International Airport (JDZ)
International Destinations
COUNTRY
CITY
AIRPORT
Bangladesh
Dhaka
Shahjalal International Airport (DAC)
Cambodia
Siem Reap
Siem Reap International Airport (REP)
Cambodia
Phnom Penh
Phnom Penh International Airport (PNH)
India
Bengaluru
Kempegowda International Airport (BLR)
India
Kolkata
Netaji Subhas Chandra Bose
International Airport (CCU)
Indonesia
Denpasar
Ngurah Rai International Airport (DPS)
Indonesia
Medan
Kualanamu International Airport (KNO)
Japan
Fukuoka
Fukuoka Airport (FUK)
Japan
Naha
Naha Airport (OKA)
Japan
Niigata
Niigata Airport (KIJ)
Japan
Tokushima
Tokushima Airport (TKS)
Japan
Tokyo
Haneda International Airport (HND)
Malaysia
Kuala Lumpur
Kuala Lumpur International Airport (KUL)
Malaysia
Penang
Penang International Airport (PEN)
Myanmar
Yangon
Yangon International Airport (RGN)
Nepal
Kathmandu
Tribhuvan International Airport (KTM)
Philippines
Angeles
Clark International Airport (CRK)
Philippines
Davao
Francisco Bangoy International Airport (DVO)
South Korea
Busan
Grimhae International Airport (PUS)
South Korea
Jeju
Jeju International Airport (CJU)
Taiwan
Kaohsiung
Kaohsiung International Airport (KHH)
Taiwan
Taichung
Taichung International Airport (RMQ)
Taiwan
Taipei
Taiwan Taoyuan International Airport (TPE)
Thailand
Chiang Mai
Chiang Mai International Airport (CNX)
Thailand
Phuket
Phuket International Airport (HKT)
Vietnam
Hanoi
Noi Bai International Airport (HAN)
Vietnam
Da Nang
Da Nang International Airport (DAD)
---
Baggage
Carry-On Baggage
Passengers were given one free item of carry-on baggage and an additional small item, regardless of which cabin class they're flying in.
Carry-on baggage must not be larger than the dimensions of 56 cm x 36 cm x 23 cm.
The small item must not be larger than the dimensions of 30 cm x 40 cm x 15 cm.
The combined weight allowance for the carry-on baggage and small item is as follows:
7kg in Economy Class and Premium Economy
10kg in Business Class
15kg in First Class
Oneworld Alliance and Marco Polo Club members might be given extended baggage allowances, depending on their membership level and the cabin class that they're flying in.
Checked Baggage
Passengers were given a free checked baggage allowance of:
Oneworld Alliance members and Marco Polo Club members were given an extended baggage allowance.
No one bag can exceed 32kg in weight and the overall dimensions can be no larger than 203cm.
---
Check-In Information
Online Check-In
Online check-in could be completed by visiting the Cathay Dragon online check-in page. Online check-in was open from 48 hours before scheduled flight departure time up until 90 minutes before.
Airport Check-In
Airport check-in could be completed by visiting one of the Cathay Dragon/Cathay Pacific check-in agents at the check-in desks.
---
Book Cathay Dragon (Dragonair) Flights in English
Here at Alternative Airlines we want our customers to have the best booking process possible, that's why we offer all of our reservations in English. Find Cathay Dragon (Dragonair) flights in English by looking for flights with the search bar above and use our trustworthy booking system to make your reservations.
---
Discounts and Offers
Save money on your next Cathay Dragon airfare and reservation with PayPal and Alternative Airlines. Use a Cathay Dragon discount code and benefit from cheaper travel when booking with Alternative Airlines.
---
Route Map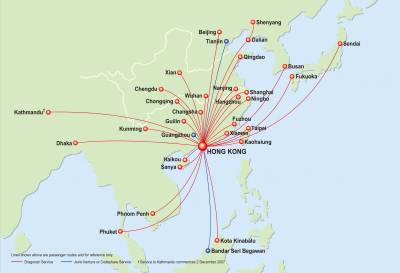 ---
Hub Airport
Hong Kong International Airport
Hong Kong International Airport is the main airport of Hong Kong, which is on the island Chek Lap Kok. It's the hub airport of Cathay Dragon, as well as for Cathay Pacific, Air Hong Kong, Hong Kong Airlines, Hong Kong Express Airways. It's also a focus city for China Airlines, China Eastern Airlines, Singapore Airlines, Ethiopian Airlines. The airport has two runways and handles around 70 million passengers each year.
---
Economy Class
Economy Class was Cathay Dragon's most basic cabin class.
Economy Class facilities
Economy Class passengers could enjoy the airlines' inflight food and drink menu. Each passenger could access the airlines' inflight entertainment system from their personal device, regardless of whether they're flying long-haul or short-haul. Additionally, Economy Class passengers could reserve a specific seat before their flight.
What are Economy Class Seats Like?
Economy Class seats were comfortable and adjustable, with a four-way adjustable headset to make the flight that much more comfortable.
---
Premium Economy Class
Premium Economy isn't available on Cathay Dragon flights.
---
Business Class
Business Class was the perfect cabin class for those looking to work or relax with a heightened level of service from the airline.
Business Class Facilities
Business Class passengers had access to the airlines exclusive Business Class check-in counters, as well as access to the Cathay Pacific and Cathay Dragon lounges. Flight attendants were expertly trained to give Business Class passengers a personalised service throughout the entire journey. Business Class passengers could enjoy complimentary food and drink from the airlines' world-class inflight menu, which includes an award-winning list of wines. Each seat had a personal workspace and a television which is connected to the airline's entertainment system.
What are Business Class Seats Like?
Business Class seats come fitted with a personal monitor for passengers to enjoy the airline's inflight entertainment system through. Business Class seats are wider and give more legroom than seats in Economy Class, with an extended headrest and leg rest.
---
First Class
First Class was Cathay Dragon's most luxurious cabin class with the most personalised.
What Does First Class Include?
First Class passengers could enjoy fast-track check-in and boarding and complimentary access to the airline's exclusive premium lounges. In-flight, passengers could order complimentary meals from the airline's fantastic inflight menu, which consists of a range of cuisines prepared by Michelin-starred chefs, as well as complimentary drinks from the inflight bar. First Class passengers would also receive an exceptional standard of service from the airline's masterfully trained flight attendants.
Each First Class seat completely adjusts as a semi or fully-flat bed for ultimate relaxation. Seats were made from soft fabrics and leather for comfort and are reclinable via a personal controller. Each seat came fitted with a personal monitor, with access to Cathay Dragon's inflight entertainment system.
Does First Class Have a First Class Lounge?
Yes, First Class passengers could enjoy the choice of two First Class lounges at Hong Kong International Airport which were exclusive to First Class passengers, certain Marco Poo Club members and frequent flyers of the Oneworld alliance.
The Wing, First Class lounge was located in the South departures hall of the airport and has an exclusive champagne bar, a fine-dining restaurant and a private sanctuary.
The Pier, First Class lounge was located at Terminal 1and has an in-lounge spa, a restaurant with an a la carte menu and a cocktail bar.
---
In-Flight Entertainment
Passengers could enjoy movies, TV and music through Cathay Dragon's in-flight entertainment system, StudioKA. StudioKA is updated each month with new content and was available on both short-haul and long-haul flights.
Passengers in Economy Class could access the in-flight entertainment with their own personal electronic devices, whereas passengers in Business Class and First Class had a television monitor fitted into the back of the chair in front of them with StudioKA built-in.
In addition to StudioKA, passengers could enjoy a range of newspapers and magazines provided by the airline.
---
Food
Cathay Dragon offered meals and snacks to all passengers during the flight. The Economy Class and Business Class menus had a selection of food made from locally sourced and sustainable ingredients. The First Class menu was made in partnership with Michelin-starred chefs from around the world. Each menu comes with an extensive drinks list, with fine wines and spirits offered in the higher-tier cabin classes.
---
WIFI
There's no WIFI available on Cathay Dragon flights
---
Frequent Flyer
Cathay Dragon offered its regular passengers the opportunity to join the frequent flyer program Marco Polo Club, which was also the loyalty programme of Cathay Pacific. Marco Polo Club points can be earned and redeemed on both Cathay Dragon and Cathay Pacific flights. This means that passengers can earn points on a Cathay Dragon flight and put them towards benefits on Cathay Pacific flights.
There are four tiers in the Club:
Green (20 points required)

Silver (300 points required)

Gold (600 points required)

Diamond (1,200 points required)
The more points that a passenger had, the higher tier of membership they are. Green was the lowest tier of membership and Diamond is the highest. The higher tier of membership a passenger was, the more benefits they're entitled to.
Members can enjoy benefits such as free cabin upgrades, priority boarding, extra baggage, lounge access and more.
---
Airline Alliance
Oneworld Alliance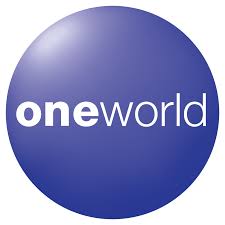 Cathay Dragon is a member of the Oneworld Alliance. The Oneworld Alliance is the second-largest airline alliance in the world. Cathay Pacific works together with the following airlines within the Oneworld Alliance to provide interline flights for passengers, extending each airline's reach across the world:
---