Search & Buy Latam Airlines Flights
Let's fly!

Select your payment method to view total prices including any payment fees:
Airlines will always try to sit children with their parents (subject to check-in)
Some airlines will allow travel for unaccompanied minors. Please email us to check.
The fare is based on the child's age on the date of travel.
More detailed information can be found here Traveling with children
Most airlines will let infants travel with their parent(s) for free. However some airlines will charge up to 10% of the adult ticket price. Click on 'Price Breakdown' to find out more.
If you are pregnant, but due before the flight departure date, please contact us once your baby is born and has a name. We can then add him/her to your ticket.
Infants will not be given a seat. The airlines expect parents to travel with them on their lap.
Airlines regard infants as being under 24 months old.
The fare is based on the child's age on the date of travel.
More detailed information can be found here Traveling with children

Buy
Latam Airlines

Flights

LATAM Airlines Reservations with Alternative Airlines
Make a LATAM Airlines Booking and Find Some Amazing Deals
---
About LATAM Airlines
LATAM Airlines is a South American airline group under the Brazilian and Chilean law and headquartered in Santiago, São Paulo, Brazil and Chile.
LATAM Airlines flies from many European countries to a wide range of Latin America destinations, which include: Chile, Argentina, Perú, Brazil and Colombia. LATAM airlines is a leading carrier of air travel, and has recently joined ONEWORLD alliance program. With a fleet of 172 aircraft LATAM is operating 800 departures daily. The airline provides domestic and international routes for worldwide customers with scheduled services to destinations within Brazil, as well as international flights to Europe and other parts of North and South America. Also customers can benefit from remote medical assistance on international flights, LATAM Loyalty Program, Fidelidade, and LATAM Cargo services.
In 2011 Chile's LAN Airlines and Brazil's TAM Airlines signed an agreement to merge and acquired LAN Colombia (formerly Aires). In 2015 LATAM Airlines announced that it would fully rebrand to LATAM, with one unified livery on all aircraft by 2018. The first one was introduced in 2016. The rebranding process is currently taking place and completion is expected by 2019.
The LATAM Airlines Group, founded in 2012, merged with TAM Airlines and rebranded to form LATAM Airlines. Subsidiaries of the LATAM Airlines Group include:
---
LATAM Airlines Baggage
Carry-on Baggage
LATAM Airlines carry-on baggage allowance comprises of 1piece of carry-on baggage, alongside 1personal item. The carry-on bag must be a maximum weight of 8kg (17 lb) for Economy passengers, and 16kg (35 lb) for Premium Economy and Premium Business passengers. Passengers flying in Economy class on a route with an origin and/or destination of Brazil, the maximum weight of the carry on bag is 10kg (22 lb. Maximum dimensions for carry-on baggage are 55cm (21 in) x 35cm (13 in) x 25cm (9 in), including pockets, wheels and handle.If carry-on baggage exceeds the permitted size and weight, it will be sent as checked baggage, which will be subject to excess baggage fees if it exceeds the permitted baggage allowance.
Checked Baggage
The maximum permitted weight and dimensions for one checked bag for passengers travelling with LATAM Airlines is 23kg (50 lb) weight and 158 linear (total of width, thickeness and height dimensions)cm (62 linear in). Checked baggage allowance will depend on the class of the ticket, and the route travelled - make sure to check the details on your ticket for more information on the luggage allowance for your ticket.
Overweight and special baggage
Baggage that exceeds the baggage allowance for a passenger will be subject to excess baggage fees, which vary depending on whether the item is oversized, overweight, and the baggage allowance of the ticket purchased.
Carry-on baggage that exceeds the carry-on allowance will be sent to the hold and subject to additional charges. Some items will count as special baggage and can be transported at an extra transportation fee - these fees can only be paid in person at the airport, and are subject to space on the aircraft.
---
LATAM Airlines Check-In Information
Online Check-In with LATAM Airlines Group
Online check-in is available between 48 and 2 hours before departure time. Online check-in is not available for those requiring special assistance, for those traveling with pets or for those traveling with more children than adults.
Online Check-In with LATAM Airlines Brazil or Paraguay
For international flights, online check-in is available between 72 hours and 2 hours before flight departure. If it is a domestic flight within Brazil, you can check in online up to 45 minutes prior to departure.
---
LATAM Airlines Seat Selection
You can now reserve your LATAM Airline seats ahead of time with Alternative Airlines. Find seats with extra legroom, window and aisle seats to make sure you have the most comfortable in-flight experience possible.
---
LATAM Airlines Fleet
48 Airbus A319-100
146 Airbus A320-200
2 Airbus A320neo
47 Airbus A321-200
7 Airbus A350-900
37 Boeing 767-300ER
10 Boeing 777-300ER
10 Boeing 787-8
12 Boeing 787-9
11 Boeing 767-300F
4 Boeing 777F
---
Pay for LATAM Airlines flights with Boleto Bancário
You can now pay for flights with Boleto Bancário on Alternative Airlines! Use the search bar above to search flights with LATAM Airlines and select Boleto at checkout. Download your boleto and make your payment at your local bank, Post Office or using your online banking service.
---
Alternative Airlines to LATAM Airways
Please click on the logos below to find out more about airlines that fly similar routes to LATAM Airlines:
---

LATAM Airlines Hub Airport
Mariscal Sucre International Airport
Mariscal Sucre International Airport is the busiest airport in Ecuador and one of the busiest airports in South America. It is located in the Tababela parish, east of Quito and serves as the largest hub of TAME, the flag carrier of Ecuador, with an average of over 220 weekly flights. Airlines that fly from and to Mariscal Sucre International Airport include Avianca Ecuador (formerly Aerogal) Copa Airlnes, Delta Airlines, Iberia, KLM, United Airlines and Aerolineas.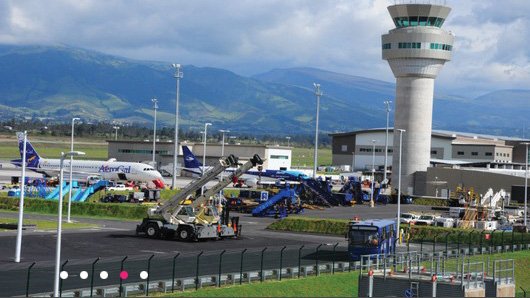 ---
LATAM Airlines In-flight Entertainment
On LATAM offers an exciting selection of movies, series, songs and daily news on board its aircraft. On planes that are not equipped with individual screens, passengers can download the LATAM Play App.
LATAM Airlines TV
There's a TV show for every taste on board your LATAM flight. Download the LATAM Play app before your flight and stream TV shows directly to your personal device.
LATAM Airlines Movies
Find movies and much more when flying with LATAM. Customers can also download the LATAM Play app to stream content on their mobiles, laptops and tablets.
---
LATAM Airlines News
7th June 2018
LATAM Group to add new routes to Europe
LATAM Airlines Group has revealed plans to offer its customers new routes to destinations throughout Europe. As part of a larger strategy growth plan, LATAM will launch a new flight between Lisbon Portela Airport (LIS), Portugal, and São Paulo–Guarulhos International Airport (GRU), Brazil, which will begin operations on 3rd September 2018. This flight will operate five times a week and carry passengers on a Boeing 767 aircraft. Additionally, LATAM Group will fly between Munich Airport (MUC) and São Paulo–Guarulhos International Airport early next year. With these two new routes, nine different European destinations will now be home to LATAM services.
LATAM Airlines Group CEO, Enrique Cueto, stated with these new flights LATAM continue to give Latin American's more opportunity to see the rest of the world. LATAM has launched 30 new routes since 2016 which have covered a lot of area across the world.
31st May 2018
LATAM airlines integrate with Sabre
LATAM Airlines, the parent company of LATAM Airlines Argentina the new brand name for Lan Airlines, has announced that it's in the final stages of integrating in two separate reservations systems into one across its combined carriers. LATAM and Sabre migrated LATAM Brazil from its legacy reservation system onto LATAM's SabreSonic passenger services system (PSS). The well-executed cutover now enables the airline to expand its differentiated yet consistent passenger experience across its entire network. This will allow the LATAM group to grow together, uniting all its airlines and carriers under one industry giant. LATAM will also use a broad portfolio of Sabre solutions to manage its extensive airline operations, such as the pricing and shopping for airline travel ticketing, and day-of-travel operations. LATAM is an important customer for Sabre as, with so many subsidiaries, it is a top priority and a huge undertaking of the company to combine them all under one management system, according to Sabre.
10th May 2018
LATAM Airlines group release statistics for April 2018
Reported by Nasdaq Corporate Solutions, LATAM Airlines Group and its subsidaries recently release a preliminary report with statistics comparing their monthly traffic for April 2018 and April 2017. Here are the highlights:
The airline group's system passenger traffic saw a 0.8% increase
Unfortunately, the group's load factor dropped 0.5%, from 83.9% to 83.4%
Capacity rose 1.4%
International passenger traffic made up an estimated 60% of the total passenger traffic for the month April
It will be exciting to see how this preliminary report will compare to when the definite numbers are released, presumably later this month or early June.
8th May 2018
LATAM Perú Opens Nonstop Route to Machu Picchu
One of the most visited tourist attractions in South America is the ancient Incan citadel of Machu Picchu, built around 1440 BC. For international travelers, getting to Cusco, near where the ruins begin, requires first reaching Lima and connecting to a domestic flight.
LATAM's local subsidiary, LATAM Perú, just announced that it will expand its operations in Cusco airport and will operate a nonstop flight to and from Santiago de Chile. With three flights per week starting on August 15, the aircraft selected for the operation is the 144-seat Airbus A319, which will represent a total of 45,000 seats per year on the route.
"As a part of our effort to offer an unprecedented connectivity in Latin America and to reinforce our commitment with the development of sustainable tourism in the region, we are happy to announce that starting in August we will offer our first international non stop flight to Cusco, Peru's Imperial City," said Enrique Cueto, CEO of LATAM Airlines.
"With 24 new routes programmed to start on 2018, we continue bringing the most remote places of the region to the world," he concluded.LATAM has flown the Lima to Cusco route since 1999, with up to 24 flights per day. From Lima, the carrier offers nonstop flights to 17 destinations within Peru, and 32 cities in Latin America, the U.S., and Europe.
The new route from Santiago to Cusco is the first international flight from the Peruvian city, and with the addition of three new domestic destinations, Pisco, Trujillos, and Iquitos, LATAM will reach eight destinations from the country's second busiest airport, serving approximately four million passengers per year.
9th April 2018
LATAM Airlines is the first airline to fly between Israel and Latin America for 6 years
Starting in December, Latam will fly three times a week from Santiago to Tel Aviv via Sao Paulo, ending a 6-year Hiatus. Latin America's largest airline will begin direct operations between the two cities to the joy of frequent flyers. Since El Al Airlines terminated business, passengers have had to take flights which have stopovers in Europe or Africa, increasing the total travel time to at least 18 hours. "This is a unique service for passengers across much of Latin America," said Jerome Cadier, CEO of Latam Airlines Brazil, which was formed in the 2012 merger of Chile's LAN and Brazil's TAM. "No other airline connects Latin America with Israel."
The stop via Sao Paulo on this new route may be influenced by Brazil's 120,000-strong Jewish community as well as pilgrims from the world's second-largest Christian population. The Sao Paulo-Tel Aviv leg will take 13 hours, with the return trip lasting 15 hours. Airfares will start at $999. Due to the increased efficiency of planes, this journey is an hour and a half faster than it was when El Al flew the route 6 years ago, however, this may also be beacuse, according to tourism industry sources, the Israeli carrier didn't fly over certain African countries.
21st March 2018
LATAM Airlines creates links with Rome, Fiumicino
LATAM Airlines has expanded its European operations by adding Rome Fiumicino (FCO) to its network of services from Sao Paulo Guarulhos( GRU). The Italian capital city joins the oneworld member's existing services to Milan Malpensa, Madrid, Barcelona, Frankfurt, London Heathrow and Paris CDG. Flown three times weekly, the 767-300-operated service, which commenced on 16 March, will face competition from Alitalia, which currently serves the city pair on a nine times weekly basis. A commemoration ceremony was held for the launch of the first flight going the 9424km to Italy. This route will be a passenger service thrice a week from now on.
5th February 2018
Positive media trends for LATAM Airlines
LATAM Airlines Group has been given a News Impact Score of 0.31, according to Accern Sentiment Analysis Reports. The research takes into account over 20 million news and blog articles in real time to produce a ranking of positive vs negative media inferences. Accern ranks these inferences on a scale of -1 to 1, meaning that LATAM's score is significantly positive. This is good news for the company's shareholders!
18th January 2018
LATAM Airlines flight attenndents get married by the pope mid-flight!
Pope Francis has married a couple of flight attendants on board a flight from Santiago Chile to the northern capital of Iquique. The couple, Carlos Ciuffardi and Paola Podest had planned to wed on February 27 2010 but a massive earthquake had devestaed their local church on their wedding day. Whilst the pope was on board, all flight attendants were allowed to go up and receive a photo with the renkowned figure.
When the leader of the Catholic Church asked them if they were married, the couple informed them of their dreadful tale. The pontiff asked if they would like to conduct an in-flight ceremony and they agreed without hesitation! The pop even gifted them each with a rosary to commemorate the special occasion.
17th November 2018
LATAM Airlines launches first scheduled Las Vegas-Brazil flights to launch in June
The first regularly scheduled flights connecting Las Vegas and Brazil will launch June 21, when LATAM Airlines offers nonstop seasonal service three times a week, airline officials said Monday. LATAM will fly from McCarran International Airport to São Paulo on Tuesdays, Fridays and Sundays for summertime flights through Aug. 30, airport spokeswoman Christine Crews said.Return flights from São Paulo-Guarulhos International Airport to Las Vegas will be on Mondays, Thursdays and Saturdays.
In addition to economy fares, LATAM's planes will also have business class seats capable of lying flat, airline officials said. The service to Las Vegas "reflects our commitment to evaluate every opportunity and to invest in sustainable operations that truly facilitate and expand travel options for the customer," Jerome Cadier, CEO of LATAM Airlines Brazil, said in a statement.
LATAM Airlines offers 1,300 daily flights to 140 airports, but Las Vegas will be the carrier's first destination in the Western United States, airport officials said. Brazil is the seventh-largest source of international visitors to Las Vegas, with more than 150,000 travelers annually, the Las Vegas Convention and Visitors Authority said.
17th November 2017
LATAM updates to routes
3 weekly flights connect Lima with Salta. This route sees the arrival of approximately 20,000 tourists per year. LIMA - ROSARIO with 4 flights weekly produces 27,000 passengers per year. From December 15th five flights daily between Buenos Aires -Bogota and from February 17th 2018 flights Lima – Mendoza
4th October 2017
LATAM Airlines links Tucuman and Santiago
Among those cutting the ribbon in Tucuman on the day of LATAM Airlines' inaugural service from Santiago were: Walter Andres Jorge, Regional Manager of LATAM Airlines (second-left); Luis Palma Cané, Internal Sales Manager, LATAM Airlines (fourth-left); and Sebastian Giobellina, President of Ente Tucumán Tourism (third-right), along with members of the Tucuman Bureau. LATAM Airlines will link Santiago to Tucuman three times weekly on its fleet of A320s.
LATAM Airlines commenced operations between Santiago (SCL) and Tucuman (TUC) on 2 October. The carrier will offer three weekly flights on the 909-kilometre route between the Chilean and Argentinian cities, an airport pair that is currently not offered by any other airline directly. With this launch, LATAM now offers eight routes to Argentina from the Chilean capital, while from Tucuman, Santiago becomes the third route to be flown, with LATAM already linking the city to Lima and Buenos Aires Aeroparque when referring to OAG schedules.
3rd August 2017
LATAM Airlines codeshare with Qatar
Qatar Airways has announced new codeshare agreement with LATAM Airlines Brazil starting August 1, which will provide Qatar Airways passengers with connections to 25 cities throughout Brazil. The agreement provides new codeshares on LATAM's routes between São Paulo's Guarulhos Airport and 25 domestic cities across Brazil including Rio de Janeiro (GIG), Salvador (SSA), Campo Grande (CGR), Foz do Iguaçu (IGU) and Recife (REC).

Qatar Airways began flying to Brazil in 2010 with a service from Doha, Qatar, to São Paulo, Brazil, and onwards to Buenos Aires, Argentina. The Doha-based airline will commence a new service to Rio de Janeiro, Brazil, in 2018.

Akbar Al Baker, Group chief executive, Qatar Airways, said, "We have witnessed significant growing demand between South America to Qatar and beyond. Our new codeshare destinations not only meet that demand, but provide a service for our valued passengers in Doha, and from dozens of destinations globally to new, exciting places to explore in Brazil. With this new codeshare, more than half of LATAM's domestic destinations in Brazil are accessible to customers flying on Qatar Airways."

Additionally, Qatar Airways Cargo has also expanded its footprint in South America, with commencement of freighter services to São Paulo, Brazil; Buenos Aires, Argentina; and Quito, Ecuador. Launched in February 2017, the new freighter service aims to meet the region's growing need for import and export trade with the Middle East and Asia.

Part of LATAM Airlines Group LATAM Airlines Brazil serves 44 destinations throughout Brazil, including 25 domestic airports from its hub in São Paulo Guarulhos Airport (GRU), offering seamless connections for Qatar Airways passengers travelling from Doha.

In December 2016, Qatar Airways had purchased a 10 percent stake in Chile's LATAM Airlines Group for USD 608 million. LATAM was created when Chile's LAN took over Brazil's TAM in 2012.
From 09JUL17 to 18AUG17, overall service will increase to 9 weekly, with additional flights served by Boeing 767 aircraft.
May 2017
LATAM Airlines new seasonal routes
LATAM Airlines Brasil during peak season plans to increase Sao Paulo Guarulhos – London Heathrow operation, currently served 7 weekly. From 09JUL17 to 18AUG17, overall service will increase to 9 weekly, with additional flights served by Boeing 767 aircraft.


May 2017
LATAM Airlines announces seat increase
LATAM Airlines announced it will increase seats on flights between Chile and North America and Europe, and add a new route to North America, as it seeks to win regulatory approval for a deal with IAG's British Airways and Iberia and American Airlines Group. The carriers, all members of the Oneworld Alliance, signed a deal in January 2016 to coordinate flight schedules and prices.
Brazil, Uruguay and Colombia have already approved the deal, with some restrictions to ensure passenger choice in Latin America. Chile's competition tribunal is expected to rule on the deal in coming weeks. LATAM Airlines also said it would also take steps to maintain competition on flights between Santiago and Madrid and Miami.
4th April 2017
LATAM Airlines flies the A350XWB to France from Brazil
LATAM Airlines, the largest airline group in Latin America, has become the first carrier to operate an Airbus A350XWB from Sao Paulo to Paris Charles de Gaulle. The service is operated daily. Paris is the 3rd destination in Europe, following commenced operations to Madrid and Milan in 2016.
From December 2016, LATAM Airlines is recognised as one of the largest airline groups worldwide due to its extensive connections and with a fleet of 319 passenger aircraft to 133 destinations and 15 cargo services aircraft to 149 destinations in 28 countries. In May 2017, LATAM Airlines announced that Spafax has been selected by LATAM Airlines Group to license, curate and deliver inflight entertainment (IFE) programming on its fleet of over 300 aircraft.
Spafax will add to LATAM's award-winning onboard experience with an innovative selection of films, television, music and original programming. Spafax Group companies already have a 14-year relationship with LATAM and this new agreement will mark the next chapter in this collaboration.
---