LATAM Airlines Reservations with Alternative Airlines
Make a Booking with Amazing Deals
---
About
LATAM Airlines is a South American airline group under the Brazilian and Chilean law and headquartered in Santiago, São Paulo, Brazil and Chile. The airline is a leading carrier of air travel and is part of the Oneworld alliance program. With a fleet of 172 aircraft, LATAM is operating 800 departures daily. The airline provides domestic and international routes for worldwide customers with scheduled services to destinations within Brazil, as well as international flights to Europe and other parts of North and South America. Also, customers can benefit from remote medical assistance on international flights, LATAM Loyalty Program, Fidelidade, and LATAM Cargo services.
In 2011 Chile's LAN Airlines and Brazil's TAM Airlines signed an agreement to merge and acquired LAN Colombia (formerly Aires. In 2015 LATAM Airlines announced that it would fully rebrand to LATAM, with one unified livery on all aircraft by 2018. The first one was introduced in 2016. The rebranding process is currently taking place and completion is expected by 2019.
The LATAM Airlines Group, founded in 2012, merged with TAM Airlines and rebranded to form LATAM Airlines. Subsidiaries of the LATAM Airlines Group include:
---
Destinations
LATAM Airlines flies from many European countries to a wide range of Latin America destinations, which include: Chile, Argentina, Perú, Brazil and Colombia. The LATAM Airline Group is one of the largest airlines groups in the world and provides passenger services to 137 destinations within 24 countries.
---
Baggage Allowance
Carry-on Baggage
LATAM Airlines carry-on baggage allowance comprises of 1 piece of carry-on baggage, alongside 1 personal item. The carry-on bag must be a maximum weight of 8kg (17 lb) for Economy passengers, and 16kg (35 lb) for Premium Economy and Premium Business passengers. Passengers flying in Economy class on a route with an origin and/or destination of Brazil, the maximum weight of the carry on bag is 10kg (22 lb). Maximum dimensions for carry-on baggage 55cm (21 in) x 35cm (13 in) x 25cm (9 in), including pockets, wheels and handle. If carry-on baggage exceeds the permitted size and weight, it will be sent as checked baggage, which will be subject to excess baggage fees if it exceeds the permitted baggage allowance.
Checked Baggage
The maximum permitted weight and dimensions for one checked bag for passengers travelling with LATAM Airlines is 23kg (50 lb) weight and 158 linear (total of width, thickness and height dimensions)cm (62 linear in). Checked baggage allowance will depend on the class of the ticket, and the route travelled - make sure to check the details on your ticket for more information on the luggage allowance for your ticket.
Overweight and special baggage
Baggage that exceeds the baggage allowance for a passenger will be subject to excess baggage fees, which vary depending on whether the item is oversized, overweight, and the baggage allowance of the ticket purchased.
Carry-on baggage that exceeds the carry-on allowance will be sent to the hold and subject to additional charges. Some items will count as special baggage and can be transported at an extra transportation fee - these fees can only be paid in person at the airport, and are subject to space on the aircraft.
---
Check-In Information
Online Check-In
Online check-in is available between 48 and 2 hours before departure time. Online check-in is not available for those requiring special assistance, for those travelling with pets or for those travelling with more children than adults.
Online Check-In (Brazil or Paraguay)
For international flights, online check-in is available between 72 hours and 2 hours before flight departure. If it is a domestic flight within Brazil, you can check-in online up to 45 minutes prior to departure.
---
Seat Selection
You can now reserve your LATAM Airline seats ahead of time with Alternative Airlines. Find seats with extra legroom, window and aisle seats to make sure you have the most comfortable in-flight experience possible.
---
Route Map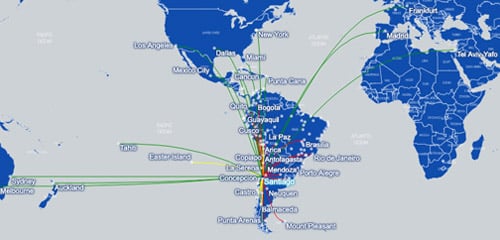 ---
The Fleet
As of January 2020, LATAM Airlines Group's fleet along with its subsidiaries fleet combined makes up 315 aircraft:
---
Economy Class
Economy Class is LATAM's standard cabin class, with its most basic features and level of service.
Economy Class Facilities
Economy Class has a full inflight menu, which is available to order from on both short-haul and long-haul flights.
On long-haul flights, passengers can enjoy the airline's inflight entertainment system, which includes the choice of over 150 films and more than 150 television shows, both suitable for children and adults.
Economy Class Seats
Economy Class seats are each fitted with a personal television monitor, which can be used to watch the airline's inflight entertainment.
Seats are spacious and comfortable, with adjustable headrests and reclinable backs.
---
Premium Economy
Premium Economy is perfect for business travellers who want extra space, comfort and privacy, in a separate section of the cabin. Premium Economy is exclusive for regional flights, short-haul flights. Premium Economy is available on all flights operated using the Airbus A319 or Airbus A320.
Premium Economy Facilities
Premium Economy passengers are given an increased baggage allowance, priority check-in, boarding, disembarkation and baggage collection, as well as access to LATAM's airport lounge.
Premium Economy passengers can enjoy access to over 300 TV shows and films combined through LATAM's inflight entertainment system. Passengers can also charge their own electronic devices through the charging ports that are located at each seat.
Premium Economy Seats
Premium Economy seats are located at the front of the aircraft. The cabin has enough space for 12 seats and is laid out in a 3 x 3 formation. The middle seat in each block of three is kept empty and is converted into a tablespace, which gives passengers extra space and privacy.
---
Business Class
Business Class Facilities
Business Class passengers are given access to the airline's airport lounge and can enjoy priority boarding, check-in, disembarkation and baggage collection.
Each Business Class passenger is given access to LATAM's inflight entertainment system, which is available through the personal 15.4-inch high-resolution screen that is fitted to each seat.
Passengers can indulge in the airline's inflight menu, which was created by some of South America's most prolific, world-class chefs. Passengers are given the option to order complimentary hot meals and unlimited alcoholic and soft drinks from the menu.
What are Business Class Seats Like?
Business Class seats transform into fully-flat beds with the touch of a button. Each seat has touch control which can be used to change the position of the head, back and foot of the seat to whatever position is desired. The seats are fitted with granite cocktail tables and a personal workspace.
The Business Class cabin is set out in a 1 x 2 x 1 formation, giving each passenger direct access to the cabin aisle. Seats are 23-inches wide and — when in a horizontal position — 76 inches in length. Each seat has a touch-control personal shutter, which gives the passenger ultimate privacy from the rest of the cabin.
---
First Class
LATAM doesn't have a First Class cabin.
---
Wi-Fi Connectivity
Inflight Wi-Fi service is offered for domestic flights and on selected flights.
---
In-flight Meals
Passengers are offered a range of meals to choose from that are handcrafted well to perfection and offering satisfaction from hunger. Special meals are also offered including vegan, vegetarian, religious and any dietary requirement meals.
---
In-flight Entertainment
On LATAM offers an exciting selection of movies, series, songs and daily news onboard its aircraft. On planes that are not equipped with individual screens, passengers can download the LATAM Play App.
TV Options
There's a TV show for every taste onboard the flight. Download the LATAM Play app before your flight and stream TV shows directly to your personal device.
Movie Options
Customers can also download the LATAM Play app to stream films and movies on their mobiles, laptops and tablets.
---
Pay for LATAM Airlines flights with Boleto Bancário
You can now pay for flights with Boleto Bancário on Alternative Airlines! Use the search bar above to search flights with LATAM Airlines and select Boleto at checkout. Download your boleto and make your payment at your local bank, Post Office or using your online banking service.
---
Alternative Airlines to LATAM Airways
Please click on the logos below to find out more about airlines that fly similar routes to LATAM Airlines:
---
Hub Airport
LATAM Airlines Groups main hubs are Comodoro Arturo Merino Benítez International Airport (SCL) in Chile, Jorge Chávez International Airport (LIM) in Peru, São Paulo–Guarulhos International Airport (GRU) in Brazil and El Dorado International Airport (BOG) in Columbia.
---
Airline Alliance
LATAM Airlines Group is part of the Oneworld Alliance however on 27th September 2019 the Group has plans to leave the alliance after Delta Air Lines announced that it will invest $1.9 billion in LATAM, and taking a 20% stake in the company.
---
Frequent Flyer Program
The Frequent-Flyer program is the LATAM Pass which has 4 membership categories: LATAMPASS, Premium (Oneworld Ruby), Premium Silver (Oneworld Sapphire) and Commodore (Oneworld Emerald).
As a member of LATAM Pass or LATAM Fidelidade Frequent Flyer Programmes, you can earn points towards your tier status each time you travel on eligible Oneworld flights. When you are ready to redeem your points, some 1,000 destinations await you across the Oneworld alliance.
---
News
1st January 2020
Delta buys 20% stake of LATAM
On 26th September 2019, Delta Air Lines announced plans to 20% buy LATAM Group for $1.9 billion and which will expand Delta Air Lines access to Latin America. On 1st January 2020, the deal has now been completed.
---