TAM Airlines with Alternative Airlines
Make a TAM Airlines Booking and Find Some Amazing Deals
---
After a merger with LAN Airlines, TAM Airlines now operates as LATAM Airlines. Please visit the LATAM Airlines page for more up-to-date information.
---

About TAM Airlines
TAM Airlines is part of the Brazilian LATAM Airlines Group, which operates through two major bases of Brazil, Sao Paulo, and Rio de Janeiro. With a fleet of 172 aircraft, TAM operated 800 departures daily. In June 2012, the union of LAN Airlines and TAM Airlines was finalised and the creation of LATAM Airlines Group was confirmed.
The airline provided domestic and international routes for worldwide customers with scheduled services to destinations within Brazil, as well as international flights to Europe and other parts of North and South America. Also, customers can benefited from remote medical assistance on international flights, TAM Loyalty Program, Fidelidade, and TAM Cargo services.
In March 2014, TAM Airlines withdrew from the Star Alliance and joined Oneworld. TAM Airlines had code-share agreements for domestic destinations with Passaredo Linhas Aereas and for international destinations with Oneworld partners.
---
TAM Airlines Destinations
Now as LATAM Airlines, TAM flew to numerous cities across Latin America including Bogotá, Brasilia, Buenos Aires, Campo Grande, Fortaleza, Manaus, Natal, Porto Seguro, Salvador da Bahia, Rio de Janeiro and many more.
---

TAM Airlines Frequent Flyer Program
TAM Airlines operated a frequent flyer program called Fidelidade, which rewards regular travellers with TAM Airlines. The TAM Fidelidade programme is made up of five categories - depending on points accumulated on flights. The 5 categories are white, blue, red, red plus and black.
---
TAM Airlines Baggage
Checked Baggage
For domestic flights within Brazil, TAM Airlines entitled its passengers to 1 piece of baggage of up to 23 kgs and maximum dimensions of 292 cm. For International flights, passengers are allowed one piece of baggage with a maximum weight of 23 kg. To find out about LATAM Airlines baggage restrictions please visit our LATAM Airlines page.
---

TAM Airlines Check-in
Airport Check-in
TAM Airlines is now part of LATAM Airlines, for up-to-date check-in information please visit the LATAM Airlines page.
---
Class Fares
Economy Class
LATAM offers economy as its most affordable option. Check out out LATAM page for more information.
Premium Economy Class
Affordable travel with additional comfort. LATAM offers a popular Premium Economy Class fare.
Business Class
TAM now operates as LATAM, and offers a Business Class fare.
First Class
LATAM does not currently offer a first class service.
---

TAM Airlines Popular Routes
São Paulo

New York
São Paulo

London
Rio De Janeiro

Bangkok
Rio De Janeiro

Las Vegas
Rio De Janeiro

London
---

TAM Airlines Route Map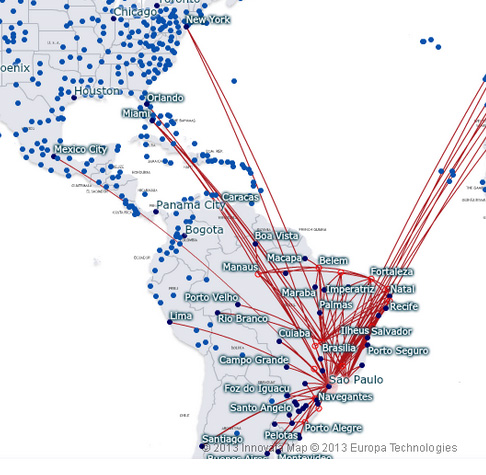 ---
Fleet
The TAM Airlines fleet consists of Airbus A319-100, Airbus A350-900, Airbus A321-200, Boeing 767-300ER, Airbus 330-200 and Boeing 777-300ER.
---
TAM Airlines Hub Airport
São Paulo–Guarulhos International Airport
Now rebranded as LATAM Airlines, TAM Airlines is based at São Paulo–Guarulhos International Airport in São Paulo. The airport serves 37 million passengers a year. Other airlines that serve the airport include Avianca Brazil and Gol Linhas Aereas.