Search and Buy GOL Airlines Flights Online with Alternative Airlines
Make GOL Airlines Reservations and Find Some Amazing Deals
---
About
GOL Transportes Aéreos (also known as VRG Linhas Aéreas) is a Brazilian airline headquartered in Sao Paulo, Brazil. The airline operates a growing domestic and international scheduled network – its main hubs are Sao Paulo, Rio de Janeiro and Brasilia. In addition, GOL Airlines has focus operations at Belo Horizonte, Porte Alegre, Salvador da Bahia and Punta Cana. The airline mainly focuses on offering flights within Brazil but also flies to various destinations across South, Central and North America.
The airline commenced operations in 2001 when it flew its first service from Brasilia to São Paulo. Today, GOL is one of the largest airlines in Brazil and the biggest low-cost airline in the country, offering flights to over 80 destinations across 11 countries.
---
Destinations
GOL flies to many destinations, with a large domestic route network, as well as flights to destinations across the Americas. Destinations include Belem, Campinas, Carajás, Fortaleza, Joinville, Natal, Petrolina, Rio de Janeiro, Salvador da Bahia, Buenos Aires, Santiago, Cancún, Miami, Montvideo and more.
Domestic Destinations
CITY
AIRPORT
Aracaju
Santa Maria Airport (AJU)
Araçatuba
Araçatuba Airport (ARU)
Araguaína
Araguaína Airport (AUX)
Barreiras
Barreiras Airport (BRA)
Belém
Val de Cans International Airport (BEL)
Belo Horizonte
Tancredo Nevel International Airport (CNF)
Boa Vista
Boa Vista International Airport (BVB)
Bonito
Bonito Airport (BYO)
Brasília
Brasília International Airport (BSB)
Cabo Frio
Cabo Frio International Airport (CFB)
Caldas Novas
Caldas Novas Airport (CLV)
Campina Grande
Campina Grande Airport (CPV)
Campinas
Viracopos International Airport (VCP)
Campo Grande
Campo Grande International Airport (CGR)
Carajás
Carajás Airport (CKS)
Cascavel
Adalberto Mendes da Silva Airport (CAC)
Caxias do Sul
Hugo Cantergiani Regional Airport (CXJ)
Chapecó
Serafin Enoss Bertaso Airport (XAP)
Cruzeiro do Sul
Cruzeiro do Sul International Airport (CZS)
Cuiabá
Marechal Rondon International Airport (CGB)
Curitiba
Afonso Pena International Airport (CWB)
Fernando de Noronha
Fernando de Noronha Airport (FEN)
Florianópolis
Hercílio Luz International Airport (FLN)
Fortaleza
Fortaleza International Airport (FOR)
Foz do Iguaçu
Foz do Iguaçu International Airport (IGU)
Goiânia
Santa Genoveva Airport (GYN)
Ilhéus
Ilhéus Jorge Amado Airport (IOS)
Jericoacoara
Comte Ariston Pessoa Regional Airport (JJD)
João Pessoa
Presidente Castro Pinto International Airport (JPA)
Joinville
Joinville-Lauro Carneiro de Loyola Airport (JOI
Juazeiro do Norte
Juazeiro do Norte Airport (JDO)
Juiz de Fora
Zona da Mata Regional Airport (IZA)
Londrina
Londrina Airport (LDB)
Macapá
Macapá International Airport (MCP)
Maceió
Zumbi dos Palmares International Airport (MCZ)
Manaus
Eduardo Gomes International Airport (MAO)
Marabá
Marabá Airport (MAB)
Maringá
Maringá Regional Airport (MGF)
Montes Claros
Montes Claros Airport (MOC)
Natal
Greater Natal International Airport (NAT)
Navegantes
Ministro Victor Konder International Airport (NVT)
Palmas
Palmas Airport (PMW)
Pelotas
Pelotas International Airport (PET)
Petrolina
Petrolina Airport (PNZ)
Porto Alegre
Salgado Filho International Airport (POA)
Porto Seguro
Porto Seguro Airport (BPS)
Porto Velho
Governador Jorge Teixeira de Oliveria International Airport (PVH)
Presidente Prudente
Presidente Prudente (PPB)
Recife
Recife Airport (REC)
Rio Branco
Rio Branco International Airport (RBR)
Rio de Janiero
Rio de Janeiro-Galeão International Airport (GIG)
Santos Dumont Airport (SDU)
Rondonópolis
Maestro Marinho Franco Airport (ROO)
Salvador da Bahia
Deputado Luis Eduardo Magalhães International Airport (SSA)
Santarém
Santarém-Maestro Wilson Fonseca Airport (STM)
São José do Rio Preto
Prof. Eribelto Manoel Reino Airport (SJP)
São Luis
Marechal Cunha Machado International Airport (SLZ)
São Paulo
São Paulo–Congonhas Airport (CGH)
Sāo Paulo–Guarulhos International Airport (GRU)
Sinop
Sinop Airport (OPS)
Sorriso
Adolino Bedin Airport (SMT)
Terisina
Terisina Airport (THE)
Uberlândia
Uberlândia Airport (UDI)
Uruguaiana
Ruben Berta International Airport (URG)
Vitória
Eurico de Aguiar Salles Airport (VIX)
Vitória da Conquista
Glauber Rocha Airport (VDC)
International Destinations
COUNTRY
CITY
AIRPORT
Argentina
Buenos Aires
Aeroparque Jorge Newbery (AEP)
Mendoza
Governor Francisco Gabrielli International Airport (MDZ)
Bolivia
Santa Cruz de la Sierra
Viru Viru Interntional Airport (VVI)
Dominican Republic
Punta Cana
Punta Cana International Airport (PUJ)
Guatemala
Guatemala
La Aurora International Airport (GUA)
Mexico
Cancún
Cancún International Airport (CUN)
Paraguay
Asunción
Silvio Pettirossi International Airport (ASU)
Perú
Lima
Jorge Chávez International Airport (LIM)
Surinam
Paramaribo
Johan Adolf Pengel International Airport (PBM)
United States
Miami
Miami International Airport (MIA)
United States
Orlando
Orlando International Airport (MCO)
Uruguay
Montevideo
Carrasco International Airport (MVD)
---
Route Map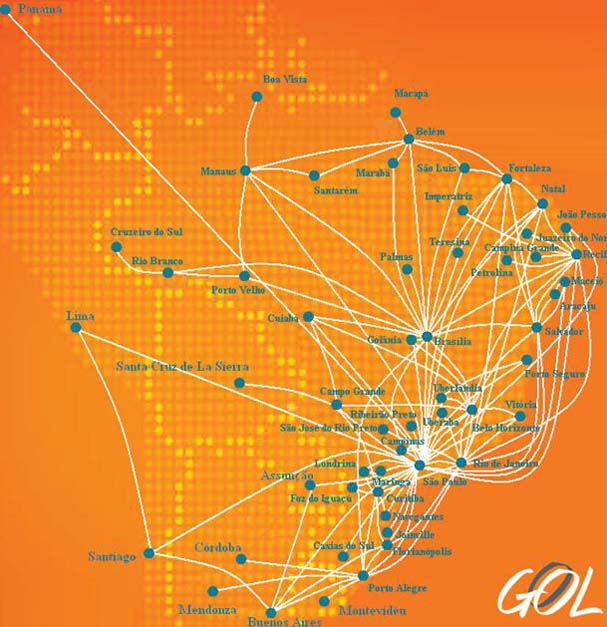 ---
Baggage
Carry-on Baggage
GOL airlines baggage includes a free carry-on bag with a maximum weight of up to 10kg (22lbs), as well as a personal item, such as a laptop and bag or a duty-free shopping bag.
Dimensions for the free carry-on bag are 35 x 25 x 55cm.
Checked Baggage
Checked baggage should not exceed more than 23kgs (51 lbs) and cannot exceed the dimensions of 50 cm x 28 cm x 80 cm (20" x 11"x 31")
The free baggage allowance that you're entitled to depends on which fare your purchase. The free baggage allowance is as follows:
| PROMO | LIGHT | PLUS | MAX | PREMIUM ECONOMY |
| --- | --- | --- | --- | --- |
| No free checked baggage | No free checked baggage | 1 item of free checked baggage | 2 items of free checked baggage | 2 items of free checked baggage |
If the checked baggage allowance isn't sufficient, passengers can purchase checked baggage at an additional cost to their flight.
---
Check-in
Online Check-In
Online check-in is available through the GOL check-in online page. Passengers just need to enter the relevant flight information to check in. Online check-in times are as follows:
ROUTE
CHECK-IN TIME
OPENS
CHECK-IN TIME
CLOSES
Domestic Flights
48 hours before flight departure time
45 minutes before flight departure time
International Flights
(excl. the USA)
48 hours before flight departure time
75 minutes before flight departure time
International Flights to the USA
24 hours before flight departure time
60 minutes before flight departure time
Airport Check-in
Passengers can check in at the airport by visiting one of the airport check-in desks or a self-service kiosk with the relevant travel documents. Airport check-in times are as follows:
ROUTE
CHECK-IN TIME
OPENS
CHECK-IN TIME
CLOSES
Domestic Flights
48 hours before flight departure time
40 minutes before flight departure time
International Flights
(excl. USA)
48 hours before flight departure time
60 minutes before flight departure time
International Flights to the USA
24 hours before flight departure time
60 minutes before flight departure time
---
Economy Class
Economy Class Facilities
Depending on the length and destination of your flight, the airline offers a variety of menu choices to make your trip even more enjoyable. This includes complimentary beverages on all flights and meals or light meals on international flights. On flights classed as medium to long-distance, the airline also provides comfort items like blankets, pillows and dental kits.
What are Economy Class Seats Like?
Economy offers comfortable new seating. Economy Class seats are set out in a 3 x 3 formation and give 30–32" of seat pitch and 17" of width.
---
Premium Economy
From check-in to disembarkation, Premium Economy brings convenience and exclusive benefits on international flights.
Premium Economy Facilities
Passengers are given priority check-in and boarding, a larger baggage allowance, access to airport lounges, a comfort kit, free flight changes and more.
Onboard, Premium Economy passengers will have reserved baggage compartments and will receive a blanket, pillow and a personal toiletries kit. They'll also receive a welcome drink and enjoy an exclusive complimentary menu with hot meals and snacks, in addition to wines and other beverage options.
What Are Premium Economy Seats Like?
When flying Premium Economy, passengers will enjoy comfort and privacy. Seats recline 50% more are either set out in a 2 x 2 formation or a 3 x 3 formation, with the middle seat left vacant.
---
Food
Passengers can enjoy a range of food from the airline's in-flight menu. All passengers receive complimentary drinks on all flights and are also given complimentary meals or light meals on international flights.
Here's a breakdown of the complimentary food and drink that each passenger receives on international flights, depending on their cabin class and the route that they're flying:
CABIN CLASS
INTERNATIONAL
(UNDER 50 MINS)
SHORT INTERNATIONAL
(50 MINS–3.5 HOURS)
MEDIUM-HAUL
INTERNATIONAL (3.5–5 HOURS)
LONG-HAUL INTERNATIONAL
(5+ HOURS)
Economy Class

Light meal (cold)
Non-alcoholic drinks

Meal w/ bread & dessert (cold)
Non-alcoholic drinks
Coffee

Meal w/ bread, salad & dessert (hot & cold)
Non-alcoholic drinks
Coffee

Premium Economy

Non-alcoholic drinks
Assortment of chocolates

Light meal w/ dessert (hot)
Non-alcoholic drinks
Hot drinks

Meal w/ salad, bread & dessert (hot)
Non-alcoholic drinks
Hot drinks

Meal w/ salad, bread & dessert (hot & cold)
Snack
Alcoholic drinks
Non-alcoholic drinks
Hot drinks
---
In-Flight Entertainment
Passengers can enjoy in-flight entertainment on their own personal electronic devices by connecting to the airline's WIFI network, GOL Online, and choosing from a range of free entertainment.
GOL's in-flight entertainment allows passengers to watch live TV or a selection of the latest and greatest TV shows and movies through Gogo Entertainment. To speed up the process, passengers can download the Gogo Entertainment app before their flight.
*Passengers must purchase in-flight internet in order to stream the in-flight entertainment
---
WIFI
Passengers can stay connected to life on the ground through GOL's in-flight WIFI network, GOL Online. GOL Online allows passengers to enjoy internet access, with a range of different packages that are suitable for all needs.
Choose the Messages package, which allows passengers to use popular messaging apps such as WhatsApp and Facebook Messenger.
Select the Light package, which allows passengers to use their electronic device for light browsing.
Or, choose the Max package, which allows passengers to stream videos and music from their favourite streaming apps, such as Spotify and Netflix.
---
Frequent Flyer
Smiles
GOL's frequent flyer program, Smiles allows passengers to earn and redeem points on GOL Airlines and all of its associated airlines. Passengers can earn Smiles points and redeem them to pay for flights and flight upgrades on the following airlines:
Passengers can also earn and use smiles points through a co-branded credit card and on other companies that are part of the Smiles loyalty program, such as Uber, hotel companies, car rental companies and more.
---
Airline Alliance
Gol Transportes Aéreos isn't part of any airline alliance. However, it does have codeshare agreements with the following airlines:
Alitalia
Etihad Airways
Korean Air
---
Fleet
GOL's fleet consists of entirely Boeing aircraft. The aircraft has over 120 aircraft overall, with a mix of B737-800, B737-700 and 737 MAX 8s (currently grounded).
---
Hub Airport
Sao Paulo-Congonhas Airport
Sao Paulo-Congonhas International Airport is one of the four commercial airports serving Sao Paulo, Brazil and is the hub for GOL Airlines. Sao-Paula Congonhas is mostly used to facilitate domestic flights in Brazil. The airport has just one terminal building and two runways.
Other than GOL Airlines, Azul, Flapper, LATAM Brasil, Passaredo Linhas Aéreas and BQB Lineas Aereas all fly to/from the airport.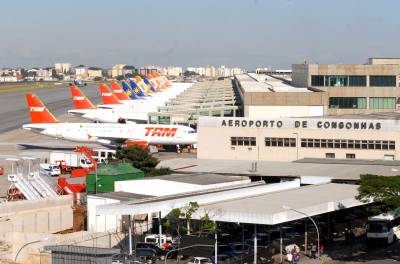 Photo credit: Valter Campanato/ABr, Agência Brasil
---
Pay for Gol Airlines Flights with Boleto Bancário
With Alternative Airlines, you can easily pay for your flights with Boleto! Boleto is a Brazilian payment method that works similarly to a voucher or invoice. Simply select Boleto at checkout and pay using your online banking service or in your local branch.
---
Book Flights in English
Alternative Airlines is the company to use when booking GOL Airlines flights in English. You can have the confidence to ensure that your booking experience with us will provide you with the most options at the best prices.
---
Pets, Emotional Support Animals and Service Animals
All information on flying with a service animal, pet, or emotional support animal is provided by Alternative Airlines. Thinking of flying with either a service animal, pet, or an emotional support animal, see all information and advice by Alternative Airlines about taking an animal on a plane.
---
Alternative Airlines
Please click on the logos below to find out more about airlines that fly similar routes to Gol Airlines:
---
FAQs
Where can I book GOL Brazil flights?
You can book flights with GOL Brazil using Alternative Airlines. Use our search form at the top of the page to find the flights you need.
Can I pay for GOL flights in instalments?
Absolutely! If you're booking your GOL Airlines flights through Alternative Airlines, you can choose from a variety of 'Buy Now, Pay Later' payment plans including Affirm, Klarna and Laybuy. Find out more on our GOL Tickets Fly Now Pay Later page.
---
News
18th March 2020
GOL still operating domestic flights
GOL Airlines will continue to operate domestic flights around Brazil after cancelling international flights coming in and out of the country. The airline announced that it would not be flying all international flights between 23rd March and 30th June. Domestic flights within the country are still operating and available to purchase during this period.
30th August 2019
GOL Airlines new routes
(The airline) has announced two new routes to Porto Alegre and Punta del Este.