Search and Buy GOL Airlines Flights
Let's fly!

Select your payment method to view total prices including any payment fees:
Buy
GOL Airlines

Flights

Search and Buy GOL Airlines Flights Online with Alternative Airlines
Make a GOL Airlines reservation and find some amazing deals with discounted GOL Airlines tickets at Alternative Airlines
---
GOL Transportes Aéreos (also known as VRG Linhas Aéreas) is a Brazilian airline headquartered in Sao Paulo, Brazil.
The airline operates a growing domestic and international scheduled network – its main hubs are Sao Paulo, Rio de Janeiro and Brasilia.
In addition, GOL Airlines has focus operations at Belo Horizonte, Porte Alegre and Punta Cana.
The airline is the 2nd largest Brazilian airline by market share.


Born in the dynamic Brazilian city of Sao Paulo in 2001, GOL has grown over 10 years into a giant low cost airline with 138 aircrafts flying to 62 destinations.
GOL currently offers the most extensive and convenient route network in South America and the Caribbean, with almost 900 flights a day to 62 destinations, domestic and international, in 13 countries.
Combined with operational partnerships with foreign and domestic companies, GOL's route network is among the best for clients that want to travel to Brazil, within Brazil, or from Brazil.
---
News
10th January 2018
GOL Airlines SWOT: network expansion and cost containment are key in the new competitive era
Brazilian airline GOL holds a special position in Latin American aviation, having ushered in the low cost model in South America during the early 2000s. Since that time it has faced competition from start-ups that have included Azul and a reinvigorated TAM, after its merger with LAN to create the LATAM Airlines Group.

After a recession swept over Brazil in late 2014, GOL was forced to undertake a financial restructuring in 2015 as credit for Brazilian companies dried up. GOL worked to create a more stable capital structure to withstand the downturn so that it could maintain its leading position in GOL's domestic market.

GOL has also evolved its product over the past few years to capture more lucrative corporate customers; it holds a leading share among Brazilian corporate travellers, which puts the airline in a favourable position as the country's economy starts a slow recovery. But GOL also faces formidable challenges, including a heavy reliance on Brazil's domestic market, where competition remains fierce. It also faces rising fuel costs in 2018, which ups the stakes in keeping its non-fuel costs at bay as a means to sustaining low fares.
13th December 2017
Delta, GOL celebrate six years of partnership, bringing U.S. and Brazil closer
Delta Air Lines and GOL Linhas Aéreas Inteligentes are celebrating a six-year alliance in Brazil, which has allowed more than 1 million customers to connect between the United States and Brazil.
Since the alliance was announced, Delta and GOL have grown to serve 99 percent of the destinations between the U.S. and Brazil. Today, the airlines have more than 320 codeshare flights together, to more than 321 destinations in nearly 60 countries.
"This is a very important year for Delta in Brazil as it marks 20 years of uninterrupted service to the country, and GOL is part of our success in the Brazilian market," said Fabio Camargo, Delta's Director - Brazil. "This alliance has resulted in improved service for Delta customers traveling to and from Brazil and has also allowed our teams to share best practices to provide a seamless travel experience."
This year alone, the airlines expanded the international codeshare in South America, where GOL began offering codeshare flights between Santiago, Chile, to other destinations served through the partnership with Delta, providing customers from both airlines with increased travel options to and from the United States and South America.
In addition to expansion of the network, cabin modernization has been a key focus of the alliance. Delta and GOL have made considerable investments to provide benefits such as premium seats in the main cabin—Delta Comfort+ and GOL+ Comfort, as well as onboard Wi-Fi on Delta's entire long-haul international fleet and on an increased number of GOL's flights. The airlines have also sought to improve the customer experience through digital offerings like Delta's groundbreaking wayfinding map feature in the Fly Delta App, which is now includes a map of the Guarulhos airport, and GOL's Selfie Check-In.
Delta and GOL have worked diligently to provide customers the best service throughout their journey. From joint sales channels and single check-in at airports, to an enhanced experience at Delta and GOL airport VIP lounges throughout the network, and reciprocal benefits to Delta's SkyMiles and GOL's Smiles frequent flyers programs, allowing customers to earn and redeem miles on eligible flights.
The airlines' joint commitment includes Delta logos on all GOL planes' bulkheads and fuselages, and well-aligned teams and priorities across the entire business, including TechOps, finance, commercial and sales, marketing, sales support and airport customer service. Delta and GOL also lead their markets in punctuality, completion factor and luggage handling, seeking to be the most reliable carriers for customers.
"The shared commitment to operational excellence has helped the airline partners to increasingly become a top choice of customers on business or leisure travel on North American and South American connections," said Celso Ferrer, GOL's V.P. - Planning. "We are very pleased with the solid alliance we have built together in these past six years, and we will continue working with Delta to offer even more benefits to all our customers."
---
Route Map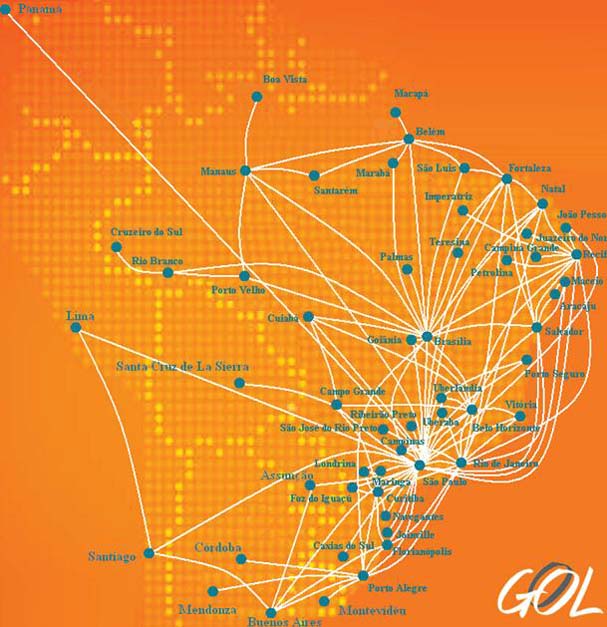 Popular Routes
Miami

Rio De Janeiro
Sao Paulo

Orlando
Porto Alegre

Brasilia
Goiania

Belo Horizonte
Vitoria

Brasilia
Rio De Janeiro

Orlando

---
The Fleet
---
Sao Paulo-Congonhas Airport
HUB Airport
Sao Paulo-Congonhas Airport is one of the three commercial airports serving Sao Paulo, Brazil and acts as the hub airport for TAM Airlines and GOL Airlines. Other airlines which fly to and from Sao Paulo Airport include Avianca Brazil, Gol Airlines and TAM Airlines.
The airport has two runaways and can handle nearly 20 million passengers every year.

---
---
Book Flights with GOL Airlines
Make a GOL Airlines reservation and find some amazing deals with discounted GOL Airlines tickets at Alternative Airlines. GOL Airlines flies to destinations, offering a cost effective and safe service to all its passengers. Let Alternative Airlines help find you cheap GOL Airlines tickets and make international and domestic flight reservations on GOL Airlines today.
Browse the most popular
GOLl Airlines flight routes to destinations. Alternative Airlines can help you make reservations on GOL Airlines for international flights to lots of destinations. Use the following list of routes to help you plan your next flight. Book GOL Airlines on Alternative Airlines to save big! Alternative Airlines is an online travel agency which focuses on booking lesser known airlines and remote destinations.
Alternative Airlines is an Online Travel Agency bonded by the International Air Transport Association (IATA). We specialise in finding the best available fares on the widest range of airlines and making them available to you online, with prices in the currency of your choice.
Alternative Airlines handles all your travel arrangements and payments, complete with ticketed confirmation. We do not direct you to other websites or service providers.
We help you through the process. This is what makes us Alternative Airlines.
Browse for flights, find some amazing deals, make a reservation and pay in the currency of your choice today with Alternative Airlines.
Let Alternative Airlines help find you the best prices and make international and domestic flight reservations with us today.
Join the Alternative Airlines Members Club and get £100.00 back on your 5th booking with Alternative Airlines. You will have insight to many benefits and exclusive deals on over 650 airlines. Click on the Members section on the Alternative Airlines website for more information and join today.
We are open every day from 8am until 8pm (UK local time).
Gol Airlines - New ticketing arrangement finalised Alternative Airlines can now sell tickets on Brazilian airline, Gol, which is the country's second largest airline and has used a low fare model to grow rapidly since its launch in 2001. From early 2007, Gol has been the owner of the long established Varig airlines which currently continues to fly under its own name. Need Flights in Brazil - Why not try Gol Airlines? Born in the dynamic Brazilian city of Sao Paulo in 2001, GOL has grown over 10 years into a giant low cost airline with over 100 aircraft flying to more than 60 destinations. This in real success story and more than most low-cost airlines sticks to the formula of a one-type of aircraft fleet to keep its costs low which enables it to keep its ticket prices to a very competitive level. Since its launch 160 Million passengers have enjoyed its services and its 2010 financial results out Gol amongst the most profitable airlines in the world. Gol continues to focus on growth and is benefiting from the booking Brazilian economy which has enabled more and more middle class Brazilians to take to the skies. The local rivalry with the also fast growing TAM Airlines, keeps Gol on their toes and both are pushing for a 40% share of the entire Brazilian domestic market. Where does GOL fly? Flights in Brazil Gol flies to the following cities within Brazil: Aracaju, Arealva, Belém, Belo Horizonte, Boa Vista, Brasília, Campinas, Campina Grande, Campo Grande, Caxias do Sul, Chapecó, Cuiabá, Curitiba, , Fernando de Noronha, Florianópolis, Fortaleza, Foz do Iguaçu, Goiânia, Ilhéus, Imperatriz, João Pessoa, Joinville, Juazeiro do Norte, Londrina, Macapá, Maceió, Manaus, Marabá, Maringá, Natal, Navegantes, Palmas, Petrolina, Porto Alegre, Porto Seguro, Porto Velho, Presidente Prudente,Recife, Rio Branco, Rio de Janeiro, Salvador de Bahia, Santarém, São Luís, São Paulo, Teresina, Uberlândia and Vitória. International destinations International services are flown to Asunción, Bridgetown, Bogota, Buenos Aires, Caracas, Córdoba, Lima, Montevideo, Punta Cana, Rosario, Santa Cruz de la Sierra, Wilhelmstadt and Santiago. Gol has also has a codeshare agreement with TACA Airlines for flights to San Salvador and Copa Airlines to Panama City. Why choose Gol Airlines? and what to expect: GOL Airlines calls itself GOL "intelligent" Airlines and this is no empty marketing slogan. It is a well focussed carrier which promises and delivers the South American equivalent of the global low cost airline service. The airline grew out of a bigger transportation company which was already a market leader in Bus transportation within Brazil and the lessons learnt in this competitive market place it has applied rigorously to the airline. The simplified on-board service is part of Gol's strategy. On short haul flights, Gol offers snacks and cereal, that are both healthy and nutritious. The cabin staff uniforms are very stylish and were designed by the most famous designers in Brazil: Gloria Coelho and Ricardo Almeida. Our staff are on the whole young, energetic, eager to please and well-trained. There is no alcohol carried on board but the on-time record is amongst the best in Latin America NEWS UPDATE : Integration of Varig: Sao Paulo based low cost airline GOL has announced the full integration of VARIG, the airline it purchased in 2007 into a single airline company. VARIG is the GOL Group brand that operates the company's midrange international routes, to Aruba (Caribbean), Bogota (Colombia), Caracas (Venezuela) and Punta Cana (Dominican Republic). On Varig flights, in Comfort Class, there is more room between the seats, more privacy and an onboard service with more options of hot entrées as well as individual in-flight entertainment systems. Why Choose GOL Airlines ? Well, we think its one of the best low-cost airlines in the world and annually 32 Million passengers choose to use its services! It's profitable, safe, modern, passenger friendly, technologically advanced and it has very competitive low fares. Plus, if all that wasn't reason enough, its has a really strong commitment to environmentally friendly operating procedures. GOL Airlines is truly a 21st century airline. We recommend you try it. With more than 25 years of experience, Alternative Airlines has become a specialist in arranging flights to the more unusual destinations around the world, plus we have strong relationships with airlines, such as GOL, which may not be the first airline you think about when booking your flight to, from or within Brazil. If you are considering a trip to South America, we can help plan your journey. Your reservations will be confirmed immediately and we have experienced staff to help should you require assistance. To book a flight on GOL merely use our new improved search tool to provide you with the best choice of flights for you journey. Please don't hesitate to call us if you need any information or clarification of any details plus sign up for our regular news letter to keep you in touch with all the latest developments in air travel.
READ MORE ABOUT GOL AIRLINES
How to pay
You can pay for your flights with GOL Airlines in the currency and payment method of your choice when booking through Alternative Airlines.
We accept PayPal making flight purchases with GOL Airlines easy and more secure for customers. PayPal is one of the leading forms of online payment, with more than 169 million accounts worldwide.