VRG Airlines Reservations with Alternative Airlines
Make a VRG Airlines Booking and Find Some Amazing Deals
---
Update
VARIG (VRG) rebranded to GOL Airlines in 2014. Search and find flights with GOL Airlines.
---
About
VRG (Viação Aérea Rio-Grandense) Airlines (also known as Varig) operated flights to 15 cities within Brazil and four international destinations. The airline served Brasilia, Manaus, Fernando de Noronha, Fortaleza, Recife, Belo Horizonte, Rio de Janeiro, Sao Paulo, Vitoria, Curitiba, Florianopolis, Londrina, Porto Alegre and Salvador da Bahia. To find out more about Salvador da Bahia and plan your trip, see our Salvador da Bahia travel guide. Outside Brazil, it operated flights to Frankfurt, Toronto, Buenos Aires, Bogota and Caracas. In 2008, Varig was purchased by Gol Airlines. For updated information on the airline, please visit see Gol Airlines.
---
Route Map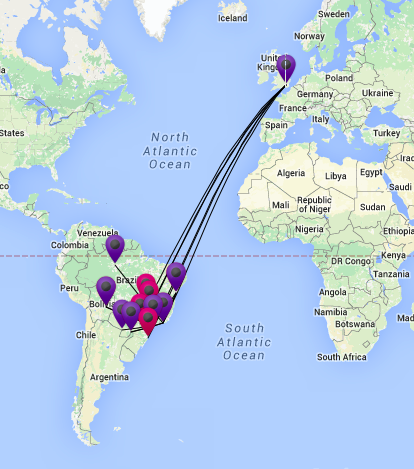 ---
Popular Routes
Rio De Janeiro

Inguassu Falls
Sao Paulo

London
Rio De Janeiro

Salvador
Florianapolis

London
Uberlandia

London
Rio De Janeiro

Manaus
---
Fleet
The VRG airlines fleet included Boeing 737-700, Boeing 737-800 and Boeing 737 MAX 8.
---
Hub Airport
São Paulo/Congonhas Airport is one of the three commercial airports serving São Paulo, Brazil. The central hall of the passenger terminal is considered one of the most outstanding examples of modern architecture in São Paulo. Airlines that fly from and to São Paulo–Congonhas Airport include TAM, Avianca and AZUL.
---
Alternative Airlines to VRG