Search & Book Avianca Flights
Let's fly!

Book
Avianca

Flights

Book Flights Direct with Avianca and Alternative Airlines
Make an Avianca reservation and find some amazing deals with discounted Avianca tickets at Alternative Airlines
---
Avianca has been the national carrier of Colombia since 1919 and is part of the Synergy Group that incorporates Ocean Air (Brazil) and VIP (Ecuador).
It is the largest airline in Colombia and second largest in Latin America. With its subsidiaries, Avianca has the most extensive network of destinations in Latin America.
Avianca flies to many destinations in Colombia including Armenia, Barrancabermeja, Barranquilla, Bogota, Bucaramanga, Cali, Cartagena, Cucuta, Florencia, Ibague, Leiticia, Manizales, Medellin, Monteria, Neiva, Pasto, Pereira, Popayan, Riohacha, San Andres, Santa Marta, Tumaco, Valledupar, Villavicencio and Yopal.
Avianca flies to many other destinations including Peru, Ecuador, Brazil, Cuba, Dominican Republican, Galapagos, Bolivia, Paraguay and many others.
Avianca flights are the gateway to South America operating from their hub in Bogotá to 18 destinations in Colombia and to 17 points in the Americas and Europe.
In 2009 Avianca celebrated its 90th anniversary. Avianca is the world's second oldest airline still in operation, and is the oldest continuously operating airline in the Western Hemisphere. On 7 October 2009, it was announced that Avianca would merge with TACA.
Direct services are offered to Colombia from London or through Madrid and Barcelona. Alternatively connections to Colombia can be made through major gateways in the US (Miami, Fort Lauderdale and New York).
---
News
13th September 2017
Avianca expands Sao Paulo flights from December 2017
Avianca starting December 2017 plans to introduce additional daily frequency for Bogota – Sao Paulo Guarulhos route. From 01DEC17, the airline will introduce new morning departure from Bogota, evening from Sao Paulo, as 3rd daily flight. This route is operated by Avianca A330-200 aircraft.

AV113 BOG0835 – 1745GRU 330 D
AV114 GRU1850 – 2153BOG 330 D
August 2017
Avianca plans to add two new European points
Avianca expects to add two new European destinations in the coming months, as it sees strong demand in its international network. Avianca currently serves London Heathrow, Madrid and Barcelona. Rincon expects the fourth European destination to be added later this year, and the fifth in early 2018. Avianca is considering flights to Paris and Rome. No airline flies nonstop to Bogota from either Munich or Rome, FlightGlobal schedules data show. Air France operates between Bogota and Paris Charles de Gaulle. Avianca's Europe routes were the strongest performer across its network in the second quarter, posting a load factor of 85.5%. The airline also saw strength in its flights to North America and to other South American countries where it does not have a domestic presence. Later this year, Avianca will grow on international flights within South America. It will launch nonstop service between Lima and Cordoba in November, and is awaiting Bolivian regulatory approval to begin flights between Bogota and Santa Cruz in October. LATAM Airlines Group operates between Lima and Cordoba, FlightGlobal schedules data show. No airline flies between Bogota and Santa Cruz.
August 2017
Avianca and Singapore Airlines to codeshare
Star Alliance partners Avianca and Singapore Airlines will begin codesharing on certain routes, the airlines said Aug. 14. The partnership will cover the carriers' flights to Barcelona, Spain, and London Heathrow Airport. Singapore Airlines serves those cities from its hub at Singapore Changi Airport, and Avianca flies to both destinations from Bogota's El Dorado International Airport. The two carriers will place their respective codes on each other's routes.
August 2017
Avianca (AV, Bogotá) boss, Hernan Rincon, has told Bloomberg that the airline has the go-ahead for a USD200 million capital increase.

"We are planning a capital increase of $200 million. That capital increase has been given the green light by the board of directors, and we are now in the process of doing all the legal and financial to raise capital."

As previously reported, the cash injection will come from Avianca's Brazilian parent, Synergy Aerospace.

Avianca is currently facing some legal issues over its proposed tie-up with United Airlines (UA, Chicago O'Hare), with its second largest shareholder protesting the move. Kingsland has filed a suit against Avianca, saying that the merger will personally benefit Synergy, and Synergy's owner German Efromovich. Rincon dismissed the case, calling it completely baseless. He added that the negotiations with United are going well.

"We meet on a weekly basis," he said, regarding the United deal. "We have made great progress. And we believe, we're aspiring to close the agreement in this year."

In the interview, Rincon also highlighted Avianca's commitment to improving its digital offering.

"We are transforming Avianca into a digital company that flies aircraft. And at the same time, we are building one of the top two airlines Latin American-wide, serving the whole continent," he said
---
Route Map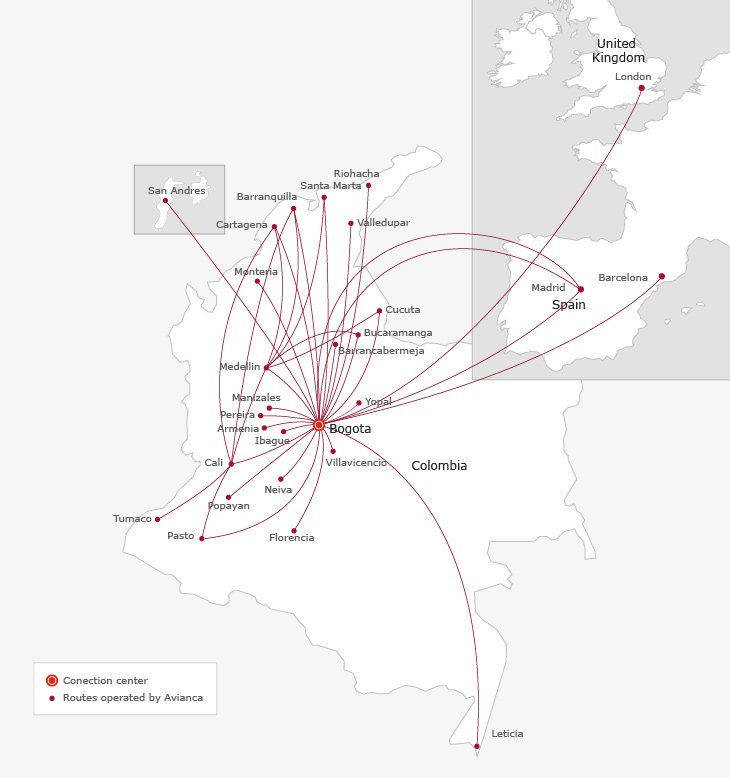 Popular Routes
Bogota

Cartagena
Bogota

Santa Marta
Bogota

Florencia
Bogota

San Andres
Bogota

Leticia
Bogota

Madrid

---
The Fleet
Airbus A319-100
Airbus A319neo
Airbus A321-200

Boeing 787-7
Airbus A320neo

Embraer 190
---
El Dorado International Airport
HUB Airport
El Dorado International Airport is an international airport located in Bogotá, Colombia. It is ranked among the world's 50 busiest airports in terms of passenger traffic, cargo traffic and traffic movements.
As such, it is the largest airport in Colombia and the main international and domestic air gateway in the country, serving as an important hub for Avianca (the national flag carrier of Colombia), Copa Airlines Colombia, LAN Colombia, Satena, EasyFly and other cargo companies.


Star Alliance is the leading global airline network, which has 27 member airlines. Star Alliance was founded in 1997 with the five founding airlines: Scandinavian Airlines, Thai Airways International, Air Canada, Lufthansa and United Airlines. The alliance has grown considerably now to airlines which fly to 1,321 airports and 193 countries, carrying 637 million passengers every year!
---
---
Book Flights with Avianca
Make a Avianca reservation and find some amazing deals with discounted Avianca tickets at Alternative Airlines. Avianca flies to many destinations worldwide, offering a cost effective and safe service to all its passengers. Let Alternative Airlines help find you cheap Avianca tickets and make international and domestic flight reservations on Avianca today.
Browse the most popular Avianca flight routes to cities worldwide. Alternative Airlines can help you make reservations on Avianca for international flights to lots of destinations. Use the following list of routes to help you plan your next flight. Book Avianca flights on Alternative Airlines to save big! Alternative Airlines is an online travel agency, specialising in booking lesser known airlines and remote destinations.
Avianca Flying to Colombia? Why not try Avianca ? Aerovías del Continente Americano S.A., simply called Avianca, is the national flag carrying airline of Colombia and the world's second oldest continuously flying airline, founded originally in 1919. Today it is part of the large AviancaTaca Holdings group consisting of TACA International Airlines, Líneas Aéreas Costarricenses (Lacsa), TACA Perú, Servicios Aéreos Nacionales (Sansa), Aerotaxis La Costeña, Aerolíneas Pacífico Atlántico (Aeroperlas) and Isleña de Inversiones (Isleña). The group is owned by Synergy Aerospace Corporation which also owns Aerogal in Ecuador and Avianca Brazil (formerly Oceanair). Based at Bogota's El Dorado International Airport in the capital city of Colombia, Avianca has a mission to accomplish which is summed up as: "We fly and serve with passion to earn your loyalty". With a fleet of over 60 aircraft and confirmed orders for over sixty more, Avianca is the bigest airline in the Avianca/Taca group which in total has a fleet of over 175 aeroplanes. Avianca alone flies to 69 destinations, including 21 airports in Colombia, 4 cities in the US and 2 Spanish destinations in Europe. Whether you wish to visit the wonderfully diverse country that is Colombia or take a flight on Avianca on one leg of a longer journey, here at Alternative Airlines we can help you plan your trip. Explore Colombia with Avianca For those who want to experience all the wonders that Colombia has to offer, Avianca could be the best airline to choose, With its network of flights that extends to 21 airports in Colombia, you will be able to visit many great cities, as well as historical, cultural and historic sights, such as the coastal city of Cartagena. As an entry port to Colombia, Flights to Bogota are the perfect starting point for first time visitors or returning holidaymakers looking to explore more of this great country.As the nation's capital and largest city, Bogota is a dynamic city with many sites worthy of attention including the fabulous Gold museum. Whilst in Bogota, you may initially experience some slight breathlessness as this amazing city is built 2640 metres (8661 ft) above sea level, however nearly 9 million people go about their lives everyday in this environment. Bogota is a fascinating mix of colonial architecture and dazzling modern buildings. Best of all are the modern hotels. Colombians are proud of their hospitality and most hotels strive for perfection as they compete for business and leisure guests. But Bogota is only the start, European travellers will find the grace, charm and fizz of historic Cartagena a joy to discover. With its coastal fortress, build to defend the city from marauding English pirates, SIr Francis Drake no less and its exciting salsa bars, lobster restaurants and beautiful beaches, Cartagena is the place to go. Especially worth a visit is the Santa Clara hotel converted from 17th Century monastery and featured in a Gabriel Garcia Marquez, enjoy a cocktail in it bird song filled interior courtyard. Travel the World with Avianca As well as its domestic network of flights, Avianca also flies international flights allowing passengers a direct route to Colombia from airports across the world. In Europe, Avianca has flights to Madrid and Barcelona with easy connecting flights to London using either Iberia and British Airways. In North America, Avianca flies to Mexico City, Fort Lauderdale, Miami and New York. If you are thinking about flying around South and Central America, Avianc's regional network of flights offers an affordable option to cities such as San Jose de Costa Rica, Panama City,San Salvador, Buenos Aires, Sao Paulo, Santiago de Chile, Guayaquil, Quito, Lima and Caracas. Avianca has a very modern fleet of aircraft including the latest Boeing and Airbus types as well as aircraft from the Dutch manufacturer, Fokker. All are equipped with in-flight entertainment and offer high quality on board service to all class of passenger. Frequent Flyers can enjoy the new scheme LifeMiles introduced in 2011, in conjunction with sister airline, TACA. Book a flight on Avianca with Alternative Airlines. With more than 26 years of experience, Alternative Airlines has developed into an expert in arranging flights to the more unusual countries and destinations across the world,often booking flights to places that are best served by airlines outside the normal range of mainstream European carriers. If you are considering booking a trip to Colombia, we can help you plan you journey and get the best possible air fares available. Your flight reservations will be confirmed immediately and we are specialists in booking multi sector journeys often involving more than one airline. The price you pay includes all taxes and other airline charges. To book a flight on Avianca, simply use our search tool to provide you with the best choice of airline for your journey, If you have any questions or need clarification on any point please don't hesitate to get in touch, we are based in the UK so for international callers please check the international dialing code. We can also help you keep up to date with the latest travel news. UK Sales: 0871 222 9222 International: +44 1293 874920
READ MORE ABOUT AVIANCA
How to pay
You can pay for your flights with Avianca in the currency and payment method of your choice when booking through Alternative Airlines.
We accept PayPal making flight purchases with Avianca easy and more secure for customers. PayPal is one of the leading forms of online payment, with more than 169 million accounts worldwide.