Search and Buy Wingo Flights with Alternative Airlines
Make a Wingo Booking and Find Some Amazing Deals
---
About
Wingo is a low-cost airline and a subsidiary of Copa Holdings S.A. (Copa Airlines). The airline was founded in 2016 to replace Copa Airlines Colombia and the majority of its services, with its first flight from Bogota to Cancun in December 2016.
It flies to many destinations domestically in Colombia, but also to destinations in North, South and Central America. The airline operates a fleet of 4 Boeing 737s with a capacity of 142 passengers in one cabin. The airline has been certified by the IOSA (IATA Operational Safety Audit) program, which sets forth more than 900 operational standards and practices, including flight operations, ground operations, engineering and maintenance, cargo and transportation of special goods, dispatch, operational control and air safety. This allows the guaranteed safety on each and every one of their flights.
---
Fleet
Correct of December 2019, Wingo operates its fleet on the following aircraft, which total a fleet of 4 planes and an additional 4 on order.
| AIRCRAFT | IN SERVICE | ORDERS |
| --- | --- | --- |
| Boeing 737-700 | 3 | / |
| Boeing 737-800 | 1 | 4 |
---
Destinations
Domestic Destinations
| CITY | AIRPORT | IATA |
| --- | --- | --- |
| Barranquilla | Ernesto Cortissoz International Airport | BAQ |
| Bogotá | El Dorado International Airport | BOG |
| Cali | Alfonso Bonilla Aragón International Airport | CLO |
| Cartagena | Rafael Núñez International Airport | CTG |
| Medellín | José María Córdova International Airport | MDE |
| San Andrés | Gustavo Rojas Pinilla International Airport | ADZ |
International Destinations
| COUNTRY | CITY | AIRPORT | IATA |
| --- | --- | --- | --- |
| Aruba | Oranjestad | Queen Beatrix International Airport | AUA |
| Costa Rica | San José | Juan Santamaría International Airport | SJO |
| Cuba | Havana | José Martí International Airport | HAV |
| Curacao | Curacao | Curacao International Airport | CUR |
| Dominican Republic | Punta Cana | Punta Cana International Airport | PUJ |
| Dominican Republic | Santo Domingo | Las Américas International Airport | SDQ |
| Ecuador | Guayaquil | José Joaquín de Olmedo International Airport | GYE |
| Ecuador | Quito | Mariscal Sucre International Airport | UIO |
| Mexico | Cancún | Cancún International Airport | CUN |
| Mexico | Mexico City | Mexico City International Airport | MEX |
| Panama | Panama City | Panamá Pacífico International Airport | BLB |
| Venezuela | Caracas | Simón Bolívar International Airport | CCS |
---
Route Map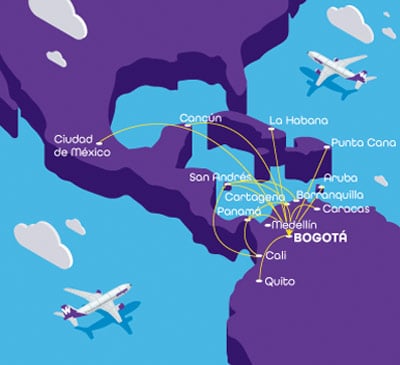 ---
Baggage
Carry-on Baggage
Wingo passengers are entitled to one piece of carry-on baggage with a maximum weight of 10kg and the maximum dimensions of 55 x 45 x 25 cm. Carry-on baggage has to be stored in the overhead baggage compartment above the seats on the plane. In addition to this, passengers are entitled to bring one personal item, with a maximum weight of 6kg and maximum dimensions of 40 x 35 x 25 cm.
Checked Baggage
Checked baggage is available to purchase prior to your flight. If purchased, passengers are allowed a maximum of three pieces of checked baggage at a weight of 20kg per piece. This baggage must also not exceed the overall combined linear dimensions of 158cm.
---
Check-In Information
Online Check-in
Passengers can check-in online between 72—3 hours before their scheduled flight departure time. To check-in online, passengers must visit the airline's online check-in page and enter their flight reservation code and surname. Online check-in allows you to print your boarding pass for your flight, which you must bring with you to the airport.
Airport Check-in
Airport check-in opens three hours before scheduled flight departure time and closes one hour before flight departure for international flights. Airport check-in opens two hours before scheduled flight departure time and closes 45 minutes before for all domestic flights. Passengers can check-in by visiting the designated Wingo check-in desks at the departing airport. Any checked baggage can also be left at the check-in desk at the same time. Please note that passengers may incur costs by checking in at the airport, as opposed to doing it for free online.
---
Hub Airport
El Dorado International Airport
Wingo is based at El Dorado International Airport in Bogotá. Other airlines that operate out of the airport include Avianca, LATAM Colombia, Satena, Líneas Aéreas Suramericanas, Avior Airlines and JetBlue.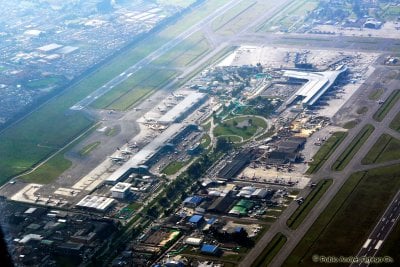 ---
Class Information
Economy Class
Wingo's economy class offers passengers a low-cost seat, with an average seat and seat pitch.
Facilities
Passengers can choose to pay for extra facilities, such as a quicker airport experience or seat selection.
Seats
The seat is average for a low-cost airline, along with an average seat pitch. Although the seats do not recline, the seat width, aisle space and storage in the cabin are all good.
Premium Economy
Wingo offers it's passengers the concept of 'only pay for what you want'. This means that although there is no official premium economy class, passengers can choose to pay for certain extras and amenities to make their economy class experience feel more premium. Passengers can upgrade for faster airport services, from check-in and priority boarding. Passengers can also choose to upgrade their seat to one at the front of the cabin, where there is more legroom.
Business Class
There is currently no business class offered on Wingo flights.
First Class
This airline does not currently offer a first-class section on their flights.
---
Alternative Airlines to Wingo
Please click on the logos below to find out more about airlines that fly similar routes to Wingo:
---
In-Flight Entertainment
Wingo does not currently offer its passengers any in-flight entertainment. This is due to their low-cost business model, which means prices are low because there are fewer amenities which are not needed.
Passengers can bring their own device with them onto the plane, to watch downloaded TV shows or movies, listen to music or play games.
---
Food
Meal Options
Wingo does not provide any complimentary meals or snacks onboard their flights, however, passengers can purchase items from the onboard menu. The onboard menu can be found online on the airline website. They offer items such as sandwiches, granola bars, instant noodles and pasta, crisps, nuts, biscuits and confectionery. For domestic flights, passengers must pay in Colombian pesos, but American dollars for international flights. Food may only be purchased in cash.
Special Dietary Requirements
Because there are not any complimentary meals provided onboard, they do not cater to specific meals for passengers with special dietary requirements. Passengers can select items from the onboard menu which are suitable for their special diets, or bring their own food onto the plane with them.
Drinks & Alcohol
As with the food offered, the airline does not provide any complimentary drinks but passengers can purchase drinks from the onboard menu. Drinks available to purchase include beer and whisky, but also soft drinks such as water, fruit juices, iced tea, fizzy drinks and hot drinks such as tea and coffee.
---
WiFi
Wingo does not currently provide any WiFi onboard their flights.
---
Frequent Flyer
Wingo does not yet have a frequent flyer programme in place.
---
Airline Alliance
Wingo is not currently part of any airline alliance but is a subsidiary of Copa Airlines.
---
Buy Wingo Flights in English
Looking to book flights around Colombia and South America in English? You've come to the right place. We offer our customers an easy booking service, completely in English, when booking their Wingo Airline flights. You can pay with PayPal, or use the currency of your choice and contact our fantastic customer service team if you have any problems with your booking.
---
Special Services
Pets and Special Service Animals
Wingo is happy to transport cats or dogs with you on the plane cabin, for domestic flights. This will be available for a fee, with the pet having to fit certain requirements before travel is permitted, meaning the service must be booked well in advance.
Wheelchair Service
Passengers who require a wheelchair service from the check-in desk, on board the plane, and to the destination airport terminal exit can request this online. This service needs to be requested at least 24 hours before your flights, by contacting the airline directly.
Unaccompanied Minors
Wingo allows children aged 12 to 18 to travel alone, providing there is written consent by their parent or legal guardian. Wingo does not allow children under 12 to travel alone as an unaccompanied minor.
---