Search & Buy Wingo Flights
Let's fly!

Select your payment method to view total prices including any payment fees:

Buy
Wingo

Flights

Wingo Reservations with Alternative Airlines
Flights to and from Cancún
Make a Wingo Booking and Find Some Amazing Deals
Check out what people are saying about Alternative Airlines – Alternative Airlines Feefo Reviews
---
About Wingo
Wingo is a low-cost airline and a subsidiary of Copa Holdings S.A. (Copa Airlines). Wingo replaced Copa Airlines Colombia in 2016. Wingo flies to many destinations including Bogota, Cartagena, San Andreas, Barranquilla, Cali, Aruba, Caracas, Havana, Mexico City, Panama, Punta Cana, Quito and Medellin.
Wingo began operations on 1st December 2015, flying from Bogotá to Cancún. Wingo flies to 14 destinations in 8 countries of Latin America and the Caribbean. Wingo operates a fleet of 4 Boeing 737-700s with a capacity of 142 passengers in one cabin. Wingo Airlines has been certified by the IOSA (IATA Operational Safety Audit) program, which sets forth more than 900 operational standards and practices, including flight operations, ground operations, engineering and maintenance, cargo and transportation of special goods, dispatch, operational control and air safety. This allows the guaranteed safety on each and every one of our flights.
---
Wingo Baggage
Carry-on Baggage
Passengers are entitled to one piece of carry-on baggage with a maximum weight of 10kg and the maximum dimensions of 40 x 35 x 25 cm. Carry-on baggage has to be stored in the overhead baggage compartment above the seats on the plane. In addition to this, passengers are entitled to bring one personal item, with a maximum weight of 6kg and maximum dimensions of 40 x 35 x 25 cm.
Checked Baggage
Checked baggage is available to purchase. Passengers are allowed a maximum of three pieces of checked baggage at a weight of 20kg per piece. This baggage must also not exceed the overall dimensions of 158cm.
---
Wingo Check-In
Online Check-In
Passengers can check-in for their Wingo flight between 72—4 hours before their scheduled flight departure time. To check-in online, passengers must visit the Wingo online check-in page and enter their flight reservation code and surname. Online check-in allows you to print your boarding pass for your Wingo flight, which you must bring with you to the airport.
Airport Check-In
Airport check-in opens three hours before scheduled flight departure time and closes one hour before for all Wingo international flights.
Airport check-in opens two hours before scheduled flight departure time and closes 45 minutes before for all Wingo domestic flights.
Passenger can check-in by visiting the Wingo check-in agents at the dedicated Wingo check-in desks. If passengers have any checked baggage, they can drop it at the Wingo check-in desk.
---
Wingo Route Map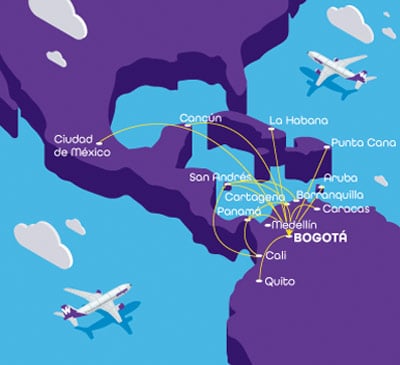 ---
Wingo News
15th January 2018
Colombian LCC Wingo prous of 2017 figures
Wingo can boast a fantastic season, resulting from the extension of several flight frequencies, which brought forward great reults for the end of last month. "We finish the high season with brilliant results. We believe this is due to our very competitive rates and the qualty of our servicce. This is a source of pride for the Wingo team. In 2018, we want to continue being the first choice airline for Colombians and Latin Americans" said General Leader of Wingo, Catalina Bretón. The airline carried more than 81,000 passengers during December, reacing 98.97% in the 673 flights operated.
16th August 2017
Colombian LCC Wingo: Copa becomes first Latin American airline group to test out multi-brand model
The Panama-based airline group Copa Holdings is testing out the multi-brand model with its LCC brand Wingo, which launched operations in late 2016 and is now operating 17 short haul routes. Wingo has already captured a 2% share of seat capacity in both the group's home markets, Colombia and Panama.
Copa is following a typical multi-brand strategy by using Wingo to take over unprofitable routes that were previously under the full service brand Copa Colombia, as well as launching new point-to-point leisure routes that would not be viable under its normal two-class full service product.
However, Copa has decided not to follow the typical multi-brand strategy of establishing a new airline from scratch; Wingo uses the Copa Colombia operators certificate, providing economies of scale and minimising risk, but potentially limiting the potential benefits.
As the first LCC under a Latin American full service airline group, Wingo is an experiment in many respects. If the initial trial using four single class 737-700s is successful, Copa could use Wingo to expand in Colombia and Panama as well as potential other Latin American markets while other full service airline groups may be compelled to establish their own LCC brands or subsidiaries.
21st April 2017
Discount Airline Wingo Begins Flying from Bogotá to Caracas
Discount Colombian airline Wingo will begin flying from Bogotá to the Venezuelan capital of Caracas today. The Bogotá-based carrier, an offshoot of Copa Airlines Colombia, will operate four flights weekly.
The airline says it has launched the route in response to customer demand and to help better connect the two nations. From 2013 to 2016, according to Wingo, more than 1.2 million Venezuelans entered Colombia as the economic, political, and security situation deteriorated in their home country.
"We want Venezuelans living in our country to feel closer to their homeland and also more Colombians to discover the Wingo side of Caracas," said Catalina Bretón, general leader at Wingo. "Plus, Caracas is a very important business destination in the region."
The flight will depart El Dorado International Airport in the Colombian capital at 4:29 am each Monday, Wednesday, Friday, and Saturday, arriving in Simón Bolívar International Airport in Caracas at 7:24 am. The return leg will depart from Venezuela at 8:31 am and land back in Bogotá at 9:30 am. (All times local.)
Daniel Pages, president of the Association of Venezuelans in Colombia (AsocVenCol), was pleased with the news. "We strive for strategic partnerships that benefit our fellow citizens," he said, adding that "in addition to providing commercial service between Venezuela and Colombia, Wingo has identified the need to connect to sister nations."
19th April 2017
Wingo announces strong results
From April 7 to 17, Wingo transported about 26,455 passengers (load factor higher than 82%) on 266 flights operated to different destinations in Colombia, Latin America and the Caribbean. According to data provided by the airlines, Mexico City, Punta Cana, Cartagena and San Andres were the preferred destinations during Easter.
4th February 2017
Wingo waltzes from Panama City into Cartagena
Wingo's inaugural flight between Panama City/Balboa and Cartagena was welcomed with a water arch salute on 23 February. The airline will offer three weekly flights between the two airports, facing indirect competition from Copa Airlines and its subsidiary, Copa Airlines Colombia, which both serve the city pairing, but operate from Panama City's main airport – Panama City.
3rd October 2016
Copa Holdings Launches Colombia's LCC Wingo
Copa Holdings has unveiled Wingo, a new Colombian low-cost carrier (LCC), intended to compete with VivaColombia's point-to-point business model. The Bogota-based carrier is set to start operations on December 1st, and it will operate administratively and functionally under Copa Airlines Colombia unit, with autonomous structures for its commercialization, distribution systems and customer service.
"We are proud to launch Wingo, which diversifies and expands Copa Holdings' business and operational models, allowing us to better serve a market segment where many opportunities for growth and development still exist", said Pedro Heilbron, CEO of Copa Holdings. The new airline will be led by Carolina Breton, who has over 12 years of experience in the industry, with Eduardo Lombana, current Copa Colombia CEO will oversee the operations of both carriers.
"In addition to being a low-price business model, Wingo will deliver reliable service and operations, thanks in part to the support it will receive from the Copa family. Furthermore, Copa Holdings' economies of scale and business culture will allow Wingo to control costs better", Heilbron said. "We are confident this will be a winning formula." The low-cost airline will begin operations initially with service to 16 cities in 10 countries, taking over most of Copa Colombia's routes.
---
Search and Buy Wingo fights
Make a Wingo reservation and find some amazing deals with discounted Wingo tickets at Alternative Airlines. Wingo flies to many destinations, offering a cost effective and safe service to all its passengers. Let Alternative Airlines help find you cheap Wingo tickets and make reservations on Wingo today.
Browse the most popular Wingo flight routes to destinations within the Colombian regions. Alternative Airlines can help you make reservations on Wingo. Use the following list of routes to help you plan your next flight. Wingo flights on Alternative Airlines to save big! Alternative Airlines is an online travel agency, specialising in booking lesser known airlines and remote destinations.
How to pay
You can pay for your flights with Wingo in the currency and payment method of your choice when booking through Alternative Airlines.
We accept PayPal making flight purchases with Wingo easy and more secure for customers. PayPal is one of the leading forms of online payment, with more than 169 million accounts worldwide.