Search & Buy Copa Airlines Flights
Airlines will always try to sit children with their parents (subject to check-in)
Some airlines will allow travel for unaccompanied minors. Please email us to check.
The fare is based on the child's age on the date of travel.
More detailed information can be found here Traveling with children
Most airlines will let infants travel with their parent(s) for free. However some airlines will charge up to 10% of the adult ticket price. Click on 'Price Breakdown' to find out more.
If you are pregnant, but due before the flight departure date, please contact us once your baby is born and has a name. We can then add him/her to your ticket.
Infants will not be given a seat. The airlines expect parents to travel with them on their lap.
Airlines regard infants as being under 24 months old.
The fare is based on the child's age on the date of travel.
More detailed information can be found here Traveling with children
Buy
Copa Airlines

Flights
Copa Airlines Ticket Reservations with Alternative Airlines
Make a Copa Airlines Booking and Find Some Amazing Deals
---
About
Copa Airlines is the flag carrier of Panama and operates more than 326 daily scheduled flights to over 75 destinations in over 30 countries around North, Central and South America, and the Caribbean.
This airline was established originally as Compañia Panameña de Aviación (providing the acronym COPA) in 1944 by a group of Panamanian investors assisted from Pan American Work Airways and began operating in August 1947. The airline began operating domestic flights with a small fleet of Douglas DC-3 aircraft and in the 1970s, they started international flights to Colombia, Costa Rica and Jamaica.
This airline is a Star Alliance Member. Passengers who fly business class get access to a special line at the airport check-in and boarding counters to reduce waiting time, priority baggage handling and Copa and VIP lounges worldwide.
The airline continues to add destinations in order to link Panama with major cities in the Western hemisphere and updates its fleet with the latest generation of Boeing aircraft regularly.
---
Economy Class
Enjoy a warm meal onboard. Catch up with the latest movies and your favourite TV shows with the In-flight entertainment system.
---
Business Class
When you travel in Business Class, you will enjoy greater comfort for a relaxing flight full of exclusive benefits.
Special check-in lines at airport counters, boarding gates and priority baggage handling. Privacy and maximum comfort with 10/12 (Embraer 190 AR), 12 (Boeing 737-700) and 16 (Boeing 737-800 and Boeing 737 MAX 9) seats. For international flights, Copa Airlines meal service includes great wines and liquors as well as their best gastronomical selection. Bonus miles for all members of the ConnectMiles frequent flyer program. Access to all Copa Club and Star Alliance VIP lounges worldwide.
---
Baggage Allowance
Carry-on Baggage
For domestic flights within Panama, Copa Air allows passengers are allowed one piece of carry on baggage. This hand luggage must be a maximum of 10 kg, and fit the dimensions 22 x 14 x 10 inches.
For international flights, luggage allowance is dependent on where the passenger is sitting on the plane and what type of passenger they are:
Passengers travelling in business class, who are Prefer member Presidential, Prefer member Platinum, Prefer member Gold or Star Alliance Gold passengers are permitted 2 carry-on bags, weighing a maximum of 10 kg each. However, if flying to or from the US, the carry on baggage allowance is 1 bag.
For all other passengers who do not have this combination of travelling in business class with the ticket type mentioned, the bag allowance is 1 per person, weighing a total of 10kg.
In addition to carry-on luggage, passengers are permitted to one personal item each. This can be items such as a handbag, coat, laptop case. The dimensions of the personal item must measure a maximum of 36 combined inches. This applies to both international and domestic flights.
Checked Baggage Allowance
Copa Air are changing their checked baggage policy as of September 1st. The following information is regarding the new rules, applied to flights booked on or after the 1st September 2018. For information regarding the old policy, for flights booked prior to this date, check out this link.
Economy Class
One free checked bag, weighing a maximum of 23 kg. For passengers travelling:
Between Venezuela and North America
Between Central America, the Caribbean and South America(excluding Panama but including Guyana and Puerto Rico)
Between Central America the Caribbean and North America(excluding Panama but including Guyana and Puerto Rico)
Two free checked bags, weighing a maximum of 23 kg each. For passengers travelling:
From and to Panama
Between North America and South America(excluding Puerto Rico, Guyana and Venezuela)
Prefer Member Silver
PreferMember Silver passengers are permitted 2 pieces of checked luggage free of charge, each weighing 23kg.
Business Class
Business Class passengers are permitted 2 pieces of checked luggage, each weighing up to 32 kg.
PreferMember Presidential
PreferMember Presidential passengers are permitted 3 pieces of checked luggage free of charge, each weighing 32 kg.
PreferMember Platinum
PreferMember Presidential passengers are permitted 3 pieces of checked luggage free of charge, each weighing 32 kg.
PreferMember Gold
PreferMember Presidential passengers are permitted 3 pieces of checked luggage free of charge, each weighing 32 kg.
Star Alliance Gold
PreferMember Presidential passengers are permitted 3 pieces of checked luggage free of charge, each weighing 32 kg.
Excess Baggage
Copa Air charge for bags that are not pre-purchased or allocated according to your ticket type. The charges for these range from USD 40 to USD 175. For a full list of prices, see this table which breaks down the prices.
---
Check-In Information
Copa Airlines offer a number of different options for passenger check-in, including web check-in, mobile check-in and airport check-in.
Web Check-in
Passengers can use web check-in on their desktop or laptop. The check-in time for web opens 24 hours before your flight and closes 1 hour before departure. Please remember to print your boarding pass once you've checked-in.
Mobile check-in
Passengers can use their mobiles for check-in by using the airline's mobile site. The check-in time for mobile check-in is the same for the web — it opens 24 hours before your flight and closes 1 hour before departure.
Airport check-in
Passengers can check-in at the airport at the Copa Airlines check-in counters. This is the only way that those travelling with pets or who need special assistance can check-in. The check-in time for airport check-in closes one hour before your flight departs. Please arrive at least three hours prior to your flight departure time on international flights and arrive at least an hour and a half before your flight departs for domestic flights.
---
In-flight Entertainment
Every month, Copa offers passengers a range of movies, music channels and new content to keep them entertained on their Copa flight.
TV IFE
To watch TV shows and more on your Copa flight you can now download the airline's app to stream your inflight entertainment straight to your personal device.
Movies IFE
To watch movies on your personal device, you can now download the Copa app.
---
Food On Board
Meal Options
Copa Airlines provides food on most flights. Menus are created to provide a balanced diet using high-quality ingredients that are tasty and satisfying. What and how much is offered will depend on the route, duration and departure time of your flight, but will range from snacks to breakfast or a hot meal. You can view the exact meal offerings on the Copa Airlines website.
Passengers on domestic flights within Colombia and Panama will unfortunately not receive and food as the services are not long enough to facilitate it. Passengers are also welcome to bring their own food onboard to enjoy during their flight.
Special Dietary Requirements
For Copa Airlines passengers on international flights, a special meal can be ordered to suit specific dietary needs. This meal must be ordered at least 24 hours before flying on the Copa Airlines website, or by contacting the Alternative Airlines customer service team if you have already made a booking with us. The following meals are the special meals available on Copa Airlines flights:
Copa Airlines Drinks & Alcohol
On all Copa Airlines flights, a drinks service will be available consisting of both hot and cold soft drinks.
---
Pets, Emotional Support Animals and Service Animals on Copa Airlines
All rules and regulations on travelling with a service animal, pet, or an emotional support animal, on Copa Airlines planes. Alternative Airlines provide useful information needed for flying with an animal.
---
Seat Selection
Copa Airlines passengers are now able to pre-book seats with Alternative Airlines. You can find that extra bit of legroom you need to enjoy your flight or make sure you're sitting by the window all without leaving the Alternative Airlines' site.
---
Alternative Airlines to Copa Airlines
Please click on the logos below to find out more about airlines that fly similar routes:
---
Frequent Flyer Program
Passengers who want to earn miles and points when they travel with Copa Airlines can register for a ConnectMiles account on Copa's Frequent Flyer Loyalty Program. Passengers who fly with Copa Airlines can have access to famous Panorama de las Americas in-flight magazine and explore more about Panama's culture. Economy Class ticket holders can enjoy in-flight entertainment with a selection of movies music and sitcoms.
---
In-flight Services
Copa Airlines Meals and Beverage Service
Onboard service varies depending on the destination, duration and time of your flight. Copa Airlines is offering meal or snack and beverage on flights for Economy Class ticket holders excluding short domestic flights where the airline offers only soft drinks.
Copa Airlines Entertainment
Some Copa Airlines aircraft offer Copa Showpass, which allows passengers to enjoy entertainment by downloading an app onto your personal device.
---
Destinations
| CITY | AIRPORT | IATA |
| --- | --- | --- |
| Asunción | Silvio Pettirossi International Airport | ASU |
| Belo Horizonte | Tancredo Neves International Airport | CNF |
| Belize City | Philip S. W. Goldson International Airport | BZE |
| Barranquilla | Ernesto Cortissoz International Airport | BAQ |
| Bogota | El Dorado International Airport | BOG |
| Boston | Logan International Airport | BOS |
| Brasilia | Brasília International Airport | BSB |
| Bridgetown | Grantley Adams International Airport | BGI |
| Bucaramanga | Palonegro International Airport | BGA |
| Buenos Aires | Ministro Pistarini International Airport | EZE |
| Cali | Alfonso Bonilla Aragón International Airport | CLO |
| Cartagena | Rafael Núñez International Airport | CTG |
| Cancún | Cancún International Airport | CUN |
| Caracas | Simon Bolivar International Airport | CCS |
| Chicago | O'Hare International Airport | ORD |
| Chiclayo | FAP Captain José Abelardo Quiñones Gonzáles International Airport | CIX |
| Córdoba | Ingeniero Aeronáutico Ambrosio L.V. Taravella International Airport | COR |
| David | Enrique Malek International Airport | DAV |
| Denver | Denver International Airport | DEN |
| Fort Lauderdale | Fort Lauderdale-Hollywood International Airport | FLL |
| Georgetown | Cheddi Jagan International Airport | GEO |
| Guadalajara | Miguel Hidalgo y Costilla International Airport | GDL |
| Guatemala City | La Aurora International Airport | GUA |
| Guayaquil | José Joaquín de Olmedo International Airport | GYE |
| Havana | José Martí International Airport | HAV |
| Holguín | Frank País Airport | HOG |
| Kingston | Norman Manley International Airport | KIN |
| Las Vegas | McCarran International Airport | LAS |
| Liberia | Daniel Oduber Quirós International Airport | LIR |
| Lima | Jorge Chávez International Airport | LIM |
| Los Angeles | Los Angeles International Airport | LAX |
| Managua | Augusto C. Sandino International Airport | MGA |
| Manaus | Eduardo Gomes International Airport | MAO |
| Maracaibo | La Chinita International Airport | MAR |
| Medellín | José María Córdova International Airport | MDE |
| Mendoza | Governor Francisco Gabrielli International Airport | MDZ |
| Mexico City | Mexico City International Airport | MEX |
| Miami | Miami International Airport | MIA |
| Montego Bay | Sangster International Airport | MBJ |
| Monterrey | General Mariano Escobedo International Airport | MTY |
| Montevideo | Cesareo Berisso Airport | MVD |
| Montreal | Montréal-Pierre Elliott Trudeau International Airport | YUL |
| Nassau | Lynden Pindling International Airport | NAS |
| New Orleans | Louis Armstrong International Airport | MSY |
| New York City | John F. Kennedy International Airport | JFK |
| Oranjestad | Queen Beatrix International Airport | AUA |
| Orlando | Orlando International Airport | MCO |
| Panama City | Tocumen International Airport | PTY |
| Paramaribo | Johan Adolf Pengel International Airport | PBM |
| Pereira | Matecaña International Airport | PEI |
| Philipsburg | Princess Juliana International Airport | SXM |
| Port of Spain | Piarco International Airport | POS |
| Port-au-Prince | Toussaint Louverture International Airport | PAP |
| Porto Alegre | Salgado Filho International Airport | POA |
| Puerto Vallarta | Licenciado Gustavo Díaz Ordaz International Airport | PVR |
| Punta Cana | Punta Cana International Airport | PUJ |
| Quito | Mariscal Sucre International Airport | UIO |
| Recife | Recife Airport | REC |
| Rio de Janeiro | Rio de Janeiro-Galeão International Airport | GIG |
| Rosario | Islas Malvinas International Airport | ROS |
| Salta | Martín Miguel de Güemes International Airport | SLA |
| Salvador | Deputado Luís Eduardo Magalhães International Airport | SSA |
| San Andres Island | Gustavo Rojas Pinilla International Airport | ADZ |
| San Francisco | San Francisco International Airport | SFO |
| San José | Juan Santamaría International Airport | SJO |
| San Juan | Luis Muñoz Marín International Airport | SJU |
| San Pedro Sula | Ramón Villeda Morales International Airport | SAP |
| San Salvador | Monseñor Óscar Arnulfo Romero International Airport | SAL |
| Santa Clara | Abel Santamaria International Airport | SNU |
| Santa Cruz de la Sierra | Viru Viru International Airport | VVI |
| Santiago | Comodoro Arturo Merino Benítez International Airport | SCL |
| Santiago de los Caballeros | Cibao International Airport | STI |
| Santo Domingo | Las Américas International Airport | SDQ |
| São Paulo | São Paulo-Guarulhos International Airport | GRU |
| Tampa | Tampa International Airport | TPA |
| Tegucigalpa | Toncontín International Airport | TGU |
| Toronto | Toronto Pearson International Airport | YYZ |
| Valencia | Arturo Michelena International Airport | VLN |
| Washington, D.C. | Washington Dulles International Airport | IAD |
| Willemstad | Hato International Airport | CUR |
Route News
New route: Panama City—Paramaribo
6th July 2019
Copa Airlines started flying a new route from Panama City to Paramaribo International Airport. The route will be operated twice a week, all year round and will use a Boeing 737-700 plane.
---
Route Map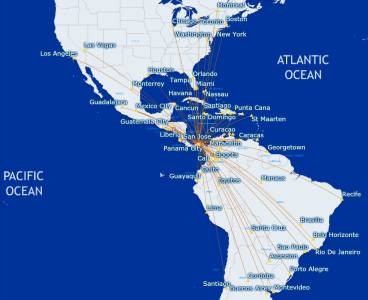 Popular Routes
Miami

Panama
Huston

Managua
Chicago

Huston
Newark

Miami
Orlando

Panama

---
The Fleet
Boeing 737-300
Embraer 190
---
Airport Hub
Tocumen International Airport
Tocumen International Airport is the international airport of Panama City. The airport serves as the home base for Copa Airlines and is a regional hub to and from The Caribbean, South, North and Central America. Additionally, some major European cities such as Frankfurt, Paris, Amsterdam, Lisbon and Madrid are served nonstop. Airlines that fly to and from Tocumen International Airport include Aeroméxico, Air France, Air Transat, American Airlines, Avianca, KLM, LASER Airlines and Iberia.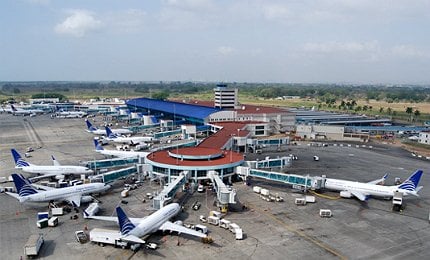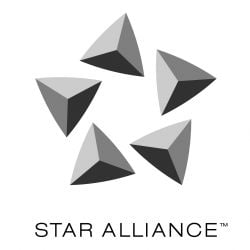 Star Alliance is one of the leading global airline network, which has 27 member airlines. Star Alliance was founded in 1997 with the five founding airlines: Scandinavian Airlines, Thai Airways International, Air Canada, Lufthansa and United Airlines. The alliance has grown considerably now to airlines which fly to 1,321 airports and 193 countries, carrying 637 million passengers every year!