Search & Buy Copa Airlines Flights
Let's fly!

Select your payment method to view total prices including any payment fees:
Airlines will always try to sit children with their parents (subject to check-in)
Some airlines will allow travel for unaccompanied minors. Please email us to check.
The fare is based on the child's age on the date of travel.
More detailed information can be found here Traveling with children
Most airlines will let infants travel with their parent(s) for free. However some airlines will charge up to 10% of the adult ticket price. Click on 'Price Breakdown' to find out more.
If you are pregnant, but due before the flight departure date, please contact us once your baby is born and has a name. We can then add him/her to your ticket.
Infants will not be given a seat. The airlines expect parents to travel with them on their lap.
Airlines regard infants as being under 24 months old.
The fare is based on the child's age on the date of travel.
More detailed information can be found here Traveling with children

Buy
Copa Airlines

Flights

Copa Airlines Ticket Reservations with Alternative Airlines
Make a Copa Airlines Booking and Find Some Amazing Deals
---
About Copa Airlines
Copa Airlines is the flag carrier of Panama and operates more than 326 daily scheduled flights to over 75 destinations in over 30 countries around North, Central and South America, and the Caribbean.
Copa Airlines was established originally as Compañia Panameña de Aviación (providing the acronym COPA) in 1944 by a group of Panamanian investors assisted from Pan American Work Airways and began operating in August 1947. The airline began operating domestic flights with a small fleet of Douglas DC-3 aircraft and in the 1970s, Copa Airlines started international flights to Colombia, Costa Rica and Jamaica.
Copa Airlines is a Star Alliance Member. Passengers who fly business class get access to a special line at the airport check-in and boarding counters to reduce waiting time, priority baggage handling and Copa and VIP lounges worldwide.
The airline continues to add destinations in order to link Panama with major cities in the Western hemisphere and updates its fleet with the latest generation of Boeing aircraft regularly.
---
Copa Airlines Baggage Allowance
Carry-on Baggage
For domestic flights within Panama, Copa Air allow passengers are allowed one piece of carry on baggage. This hand luggage must be a maximum of 10 kg, and fit the dimensions 22 x 14 x 10 inches.
For international flights, luggage allowance is dependent on where the passenger is sitting in the plane and what type of passenger they are:
Passengers travelling in business class, who are Prefermember Presidential, Prefermember Platinum, Prefermember Gold or Star Alliance Gold passengers are permitted 2 carry-on bags, weighing a maximum of 10 kg each. However, if flying to or from the US, the carry on baggage allowance is 1 bag.
For all other passengers who do not have this combination of travelling in business class with the ticket type mentioned, the bag allowance is 1 per person, weighing a total of 10kg.
In addition to carry-on luggage, passengers are permitted to one personal item each. This can be items such as a handbag, coat, laptop case. The dimensions of the personal item must measure a maximum of 36 combined inches. This applies to both international and domestic flights.
Checked Baggage Allowance
Copa Air are changing their checked baggage policy as of September 1st. The following information is regarding the new rules, applied to flights booked on or after the 1st September 2018. For information regarding the old policy, for flights booked prior to this date, check out this link.
Economy Class
One free checked bag, weighing a maximum of 23 kg. For passengers travelling:
Between Venezuela and North America
Between Central America, the Caribbean and South America(excluding Panama but including Guyana and Puerto Rico)
Between Central America the Caribbean and North America(excluding Panama but including Guyana and Puerto Rico)
Two free checked bags, weighing a maximum of 23 kg each. For passengers travelling:
From and to Panama
Between North America and South America(excluding Puerto Rico, Guyana and Venezuela)
PreferMember Silver
PreferMember Silver passengers are permitted 2 pieces of checked luggage free of charge, each weighing 23kg.
Business Class
Business Class passengers are permitted 2 pieces of checked luggage, each weighing up to 32 kg.
PreferMember Presidential
PreferMember Presidential passengers are permitted 3 pieces of checked luggage free of charge, each weighing 32 kg.
PreferMember Platinum
PreferMember Presidential passengers are permitted 3 pieces of checked luggage free of charge, each weighing 32 kg.
PreferMember Gold
PreferMember Presidential passengers are permitted 3 pieces of checked luggage free of charge, each weighing 32 kg.
Star Alliance Gold
PreferMember Presidential passengers are permitted 3 pieces of checked luggage free of charge, each weighing 32 kg.
Excess Baggage
Copa Air charge for bags that are not pre-purchased or allocated according to your ticket type. The charges for these range from USD 40 to USD 175. For a full list of prices, see this tablewhich breaks down the prices.
---
Copa Airlines Check-In
Copa Airlines offer a number of different options for passenger check-in, including web check-in, mobile check-in and airport check-in.
Web Check-in
Passengers can use web check-in on their desktop or laptop. The check-in time for web opens 24 hours before your flight and closes 1 hours before departure. Please remember to print your boarding pass once you've checked-in.
Mobile check-in
Passengers can use their mobiles for check-in by using the Copa Airlines mobile site. The check-in time for mobile check-in is the same for web — it opens 24 hours before your flight and closes 1 hour before departure.
Airport check-in
Passengers can check-in at the airport at the Copa Airlines check-in counters. This is the only way that those travelling with pets or who need special assistance can check-in. The check-in time for airport check-in closes one hour before your flight departs. Please arrive at least three hours prior to your flight departure time on international flights and arrive at least an hour and a half before your flight departs for domestic flights.
---
Copa Airlines In-flight Entertainment
Every month, Copa offers passengers a range of movies, music channels and new content to keep them entertained on their Copa flight.
Copa Airlines TV
To watch TV shows and more on your Copa flight you can now download the Copa Airlines app to stream your inflight entertainment straight to your personal device.
Copa Airlines Movies
To watch movies on your personal device, you can now donwload the Copa Airlines app.
---
Copa Airlines Food
Copa Airlines Meal Options
Copa Airlines provide food on most flights. Menus are created to provide a balanced diet using high-quality ingredients that are tasty and satisfying. What and how much is offered will depend on the route, duration and departure time of your flight, but will range from snacks to breakfast or a hot meal. You can view the exact meal offerings on the Copa Airlines website.
Passengers on domestic flights within Colombia and Panama will unfortunately not receive and food as the services are not long enough to facilitate it. Passengers are also welcome to bring their own food onboard to enjoy during their flight.
Copa Airlines Special Dietary Requirements
For Copa Airlines passengers on international flights, a special meal can be ordered to suit specific dietary needs. This meal must be ordered at least 24 hours before flying on the Copa Airlines website, or by contacting the Alternative Airlines customer service team if you have already made a booking with us. The following meals are the special meals available on Copa Airlines flights:
Copa Airlines Drinks & Alcohol
On all Copa Airlines flights, a drinks service will be available consisting of both hot and cold soft drinks.
---
Pets, Emotional Support Animals and Service Animals on Copa Airlines
All rules and regulations on travelling with a service animal, pet, or an emotional support animal, on Copa Airlines planes. Alternative Airlines provide useful information needed for flying with an animal.
---
Copa Airlines Seat Selection
Copa Airlines passengers are now able to pre-book seats with Alternative Airlines. You can find that extra bit of legroom you need to enjoy your flight or make sure you're sitting by the window all without leaving the Alternative Airlines' site.
---
Alternative Airlines to Copa Airlines
Please click on the logos below to find out more about airlines that fly similar routes to Copa Airlines:
---
Copa Airlines Frequent Flyer Program
Passengers who want to earn miles and points when they travel with Copa Airlines can register for a ConnectMiles account on Copa's Frequent Flyer Loyalty Program. Passengers who fly with Copa Airlines can have access to famous Panorama de las Americas in-flight magazine and explore more about Panama's culture. Economy Class ticket holders can enjoy in-flight entertainment with a selection of movies music and sitcoms.
---
Copa Airlines In-flight Services
Copa Airlines Meals and Beverage Service
On-board service varies depending on the destination, duration and time of your flight. Copa Airlines is offering meal or snack and beverage on flights for Economy Class ticket holders excluding short domestic flights where the airline offers only soft drinks.
Copa Airlines Entertainment
Some Copa Airlines aircraft offer Copa Showpass, which allows passengers to enjoy entertainment by downloading an app onto your personal device.
---
Copa Airlines Destinations
Domestic Destinations
International Destinations
| | | | |
| --- | --- | --- | --- |
| Asunción | Belo Horizonte | Belize City | Barranquilla |
| Bogota | Boston | Brasilla | Bridgetown |
| Bucaramanga | Buenos Aires | Cali | Cartagena |
| Cancún | Caracas | Chicago | Chiclayo |
| Córdoba | Denver | Fort Lauderdale | Fortaleza |
| Georgetown | Guadalajara | Guatemala City | Guaqaquil |
| Havana | Holguín | Kingston | Las Vegas |
| Liberia | Lima | Los Angeles | Managua |
| Manaus | Maracaibo | Medellin | Mendoza |
| Mexico City | Miami | Montego Bay | Monterrey |
| Montevideo | Montreal | Nassau | New Orleans |
| New York City | Oranjestad | Orlando | Perreia |
| Phillipsburg | Port of Spain | Port-au-Prince | Porto Alegre |
| Puerto Vallarta | Punta Cana | Quito | Recife |
| Rio de Janeiro | Rosario | Salta | Salvador da Bahia |
| San Andres Isand | San Francisco | San José | San Juan |
| San Pedro Sula | San Salvador | Santa Clara | Santa Cruz de la Sierra |
| Santiago | Santiago de los Caballeros | Santo Domingo | Säo Paulo |
| Tampa | Tegucigalpa | Toronto | Valencia |
| Washington D.C | Willemstad | | |
---
Route Map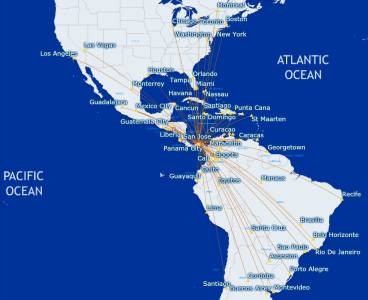 Copa Airlines Popular Routes
Miami

Panama
Huston

Managua
Chicago

Huston
Newark

Miami
Orlando

Panama

---
The Fleet
Boeing 737-300
Embraer 190
---
Copa Airlines Airport Hub
Tocumen International Airport
Tocumen International Airport is the international airport of Panama City, The airport serves as the home base for Copa Airlines and is a regional hub to and from The Caribbean, South, North and Central America. Additionally, some major European cities such as Frankfurt, Paris, Amsterdam, Lisbon and Madrid are served nonstop. Flights to Dubai (operated by Emirates) will start in 2016, making the route between PTY and DXB the longest in the world. Tocumen International Airport. Airlines that fly to and from Tocumen International Airport include Aeroméxico, Air France, Air Transat, American Airlines, Avianca, KLM, LASER Airlines and Iberia.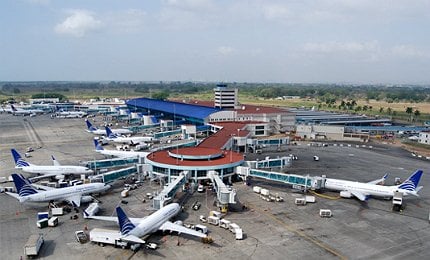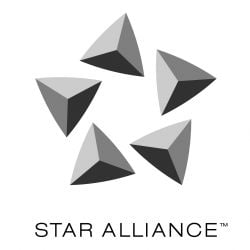 Star Alliance is one of the leading global airline network, which has 27 member airlines. Star Alliance was founded in 1997 with the five founding airlines: Scandinavian Airlines, Thai Airways International, Air Canada, Lufthansa and United Airlines. The alliance has grown considerably now to airlines which fly to 1,321 airports and 193 countries, carrying 637 million passengers every year!
---
Buy Discounted Copa Airlines Tickets at Alternative Airlines
---
Copa Airlines News
29th June 2018
The reason behind the Copa Airlines expansion
Copa Airlines have recently expanded their services to include a new route from Tampa to Panama City every day of the week. This means more to the airline than just a new flight for their passengers, however. This could be Copa's key to an inter-connected network of 79 destinations and 32 countries by the end of the year. The airline's goal of connecting Latin America through Panama could see Copa plane tickets becoming the standard purchase for frequent travellers in the region. A lot of Copa's travellers are actually business trippers, due to it being a member of Star Alliance
25th June 2018
Copa Airlines and Tropic Air are Now Offering a Joint Service to Panama
Passengers can now travel easier to Latin America through an interline agreement between Tropic Air and Copa Airlines. This agreement allows customers connecting flights on 1 ticket and receive boarding passes for all segments at their first check-in.
The service connects anyone from any of Tropic's 15 destinations. Tropic Air takes the passenger, from any of these locations, to the Philip Goldson International Airport, where Copa Airlines will pick them up and take them nonstop to any one of Copa's destinations in 75 cities within the Americas.
Tropic Air's chief executive officer said that the service should to welcome more Latin Americans to Belize, and to provide customers with access to the growing list of destinations across the region. Other competitors flying to Belize include Tropic Air and Maya Island Air.
Tropic Air's president, John Greif III, says that the partnership will allow Tropic Air to connect its customers to Copa Airline's extensive network of destinations, offering more options.
Tropic Air has been operating in Belize for almost 40 years. The airline flies over 200 daily scheduled flights with 15 aircraft to 15 destinations in Belize, Mexico, Honduras and Guatemala.
Copa Airlines and Copa Airlines Colombia are both subsidiaries of Copa Holdings, which are Latin American providers of passenger and cargo services to 79 destinations in 32 countries: North, Central and South America and the Caribbean.
1st June 2018
Copa Airlines likely to fly to Puerto Vallarta by the end of 2018
In December 2018, Copa Airlines are to launch a new route to Mexico. If the airline receives government approval, the flight between Panama City and Puerto Vallarta will be available to book this week. Copa Airlines will fly the route two times a week from 16th December 2018 and will carry passengers on the Boeing 737-700 aircraft. The expected flight time has not been announced yet, but other airlines who offer indirect services from Panama City to Puerto Vallarta, including United, have a flight time of around 9—12 hours.
24th May 2018
Copa Airlines Panama City—Curacao route changes in schedule update
In a recent schedule change, Copa Airlines will change the frequency in which it operates its service between Tocumen International Airport (PTY), Panama City and Curaçao International Airport (CUR). The airline will fly the service daily from 29th October 2018 — 21st January 2019, and then will see two more schedule changes later in the year.
Copa Airlines will use a Embraer E190 to operate the service and the flight duration is expected to last 2 hours and 5 minutes.
17th May 2018
Copa Airlines plans to return to St Maarten in June
Panama-based carrier Copa Airlines will resume flights to St Maarten on June 2, according to the airline. Copa had suspended operations to St Maarten in September 2017 in the wake of Hurricane Irma but its looking promising to regain services in the region. To find out more about the relationship between flying and hurricanes, please visit our page on flying through a hurricane. The flights will run twice a week from Panama City. Copa is an important connection point to the Caribbean for many travelers from Latin America. The airline also said that it would begin new promotion efforts of St Maarten, St Martin and nearby Anguilla.
16th April 2018
Copa Airlines, LC Perú and Peruvian undergo a code-share agreement
Copa Airlines airline will operate under the code-sharing system with the national carrier LC Peru and Peruvian airlines starting from June of this year, said José Agüero, general manager of the Panamanian company.An agreement was signed at the beginning of last year in order to boost the traffic of their flight to Chicago and connect Peruvians with more remote regions. In this regard, the executive said that this initiative is in the implementation phase. So far, they have moved a little faster with LC Peru, with those already in the testing phase.
"It is a process of some complexity, with an 'upgrade' in the system of them, so that everything can be interconnected and so travelers can buy their tickets at once," said Aguero, in statements to the newspaper El Comercio . In a second phase, they will work with travel agencies. Copa is determined to generate more traffic towards its Chiclayo-Panama route and connect it with the other destinations that cover the LC Peru and Peruvian nationals in the country, through a single purchase.
For the time being, Copa Airlines will focus on consolidating the routes where it is operating. Agüero said that the possibility of incorporating new routes is not on the radar, but he does consider evaluating a new frequency from Chiclayo to Panama. The changes have already attracted travelers directly to the northern cities. According to Agüero, many of the tourists who visit Peru for the second time travel to the north of the country. At the end of 2018, Copa Airlines aims to transport more than 500,00 passengers.
3rd April 2018
Copa Airlines makes St Maarten comeback!
Copa Airlines, a carrier based in Panama, is making its return to the island of St Maarten. Copa's comeback will kick off with weekly flights to St Maarten in June, according to Acting Minister of Tourism Cornelius de Weever. "This is a significant development. Copa Airlines is a strategic partner where airlift is concerned from Latin America," de Weever said in a statement. "The airline is the Hub of the Americas in Panama which offers the most direct way to connect to the Americas, while SXM Airport is the hub for the North Eastern Caribbean."
This comes at a crucial time for St Maarten, due to the economic instabilities in the wake of Hurricane Irma, given the importance of Copa's hub in Panama as a gateway from Latin America to the Caribbean. Copa had been serving St Maartien since 2010 before suspending operations to the island due to the devastating effects of Hurricane Irma.
15th March 2018
Copa Airlines Eyes Boeing's NMA
Panama-based Copa Airlines is "very, very interested" in learning more about Boeing's proposed new mid-market aircraft (NMA), which looks to be ideal for the carrier's operations, Copa CEO Pedro Heilbron said. While the Boeing 737 MAX, of which Copa has more than 60 on order, is designated to be the backbone of Copa's future fleet, Heilbron said the NMA is intriguing and could potentially complement MAX aircraft in its fleet.
12th February 2018
GAT Airline Ground Support and Copa Airlines Begin Partnership in San Francisco
GAT Airline Ground Support is excited to announce a new partnership with Copa Airlines at San Francisco International Airport. On May 1, 2018, the ground support services provider will begin performing unsurpassed ramp, baggage handling and customer service for Copa Airlines extending the airlines' passenger experience with premium on-time departures from SFO to Central America.
"During several months of explosive growth in SFO, we secured the talent and tools needed to meet the needs our airline business partners," said Antonio Sanchez, General Manager, SFO Operations for GAT.
"We are extremely excited to partner with GAT Airline Ground Support. They have a great reputation of providing unparalleled airline ground services," said Copa Airlines Station Manager, Lynestie Labrada.
GAT Airline Ground Support provides premium airline ground support and has been surpassing client expectations for more than 40 years. With a focus on delivering unsurpassed airline and passenger experience, GAT Airline Ground Support's capable team of more than 2,200 employees serves 38 air hubs throughout the U.S.
From landing to lift-off, GAT Airline Ground Support specializes in customer experience, cargo handling and warehousing, ramp services and a host of other transportation-related services. The company's strong tradition of a relentless focus on safety and a team atmosphere is supported by technology and performance-based execution.
3rd January 2018
Copa Launches Denver - Panama Flights
There's a new way to fly to the heart of the Caribbean Basin.
Copa Airlines has announced the launch of new service between Denver, Colorado and Panama City.
The new nonstop flights connect Denver to more than 55 destinations in Latin America and the Caribbean through Copa's Panama hub at Tocumen International Airport.
It's the latest new service between Denver and the Western Caribbean, following Southwest's launch of flights to Belize earlier this year.
The flights will be operating on Mondays, Wednesdays, Fridays and Saturdays.
Copa is operating the service on Boeing 737-800 Next Generation aircraft with capacity for 16 passengers in business and 138 in the main cabin.
"Our new route to Denver demonstrates the Hub of the Americas' continued leadership position among airline hubs in Latin America," said Pedro Heilbron, CEO of Copa Airlines. "Denver is our 13th U.S. destination and will allow passengers to make convenient connections to more than 55 destinations throughout Latin America. Denver is a flourishing mecca of progress in the U.S. and Panama is a nucleus of travel and commerce for Central and South America and the Caribbean. Uniting the two cities through this route will undoubtedly boost tourism and economic development between Colorado, Panama and the rest of the region."
13th December 2017
Copa Airlines celebrates Colorado connection
A ribbon cutting ceremony was held in Panama City for Copa Airlines' inaugural flight to Denver on 11 December. By launching services to the Mile High City, Copa now serves 13 destinations in the US.
Copa Airlines commenced flights to Colorado on 11 December, the day of the airline's first service between Panama City (PTY) and Denver (DEN). The Star Alliance member will offer four weekly flights on the 4,239-kilometre sector using its 737-800s, with the route facing no direct competition. With the launch of flights to Denver, Copa now serves 13 destinations in the US, with it already having a presence at Boston, Chicago O'Hare, Fort Lauderdale, Las Vegas, Los Angeles, Miami, New Orleans, New York JFK, Orlando, San Francisco, Tampa and Washington Dulles. According to the Bureau of Transportation Statistics (BTS), Copa carried 2,282,022 passengers to/from the US in 2016, while for the first five months of 2017 it has transported 970,692, up 7.1% when compared to the first five months of last year.
12th October 2017
Copa Airlines welcomed as DIA's newest airline
KUSA - Copa Airlines was celebrated as Denver's newest airline at a branding event Wednesday morning.
Denver Mayor Michael Hancock welcomed Copa Airlines and its CEO Pedro Heilbron to the Mile High City.
Copa Airlines will operate nonstop service to Panama City's Tocumen International Airport from Denver International Airport beginning December 11. The airline will fly four direct flights to Panama City each week.
"It is the gateway to the rest of Latin America," Copa Airlines Regional Manager Fernando Fondevila said of Tocumen International Airport at an event in April. "Our new Denver flight will open doors to diverse business and tourism opportunities throughout the region."
6th October 2017
Peruvian Airlines and LC Peru team up with Copa Airlines
Codeshare agreement to allow Copa passengers to connect with LC Peru and Peruvian
Copa Airlines has signed a codeshare agreement with Peruvian Airlines and LC Peru to offer lower fares and better domestic connections for international flights.
The Panamanian airline offers international flights to Lima and Chiclayo via their hub in Panama City, where it provides connections with major airports in North America and Europe.
Copa expects to bring more customers into their direct flights to Chiclayo with the new agreement, which is the first to focus on secondary cities in Peru. The initiative will allow the airline to offer better domestic connections and expand to other Peruvian cities in the near future.
The airline is doubling down efforts to avoid the fate of their direct flight to Iquitos—which never gained enough traction to become economically viable and was eventually suspended. Codeshare flights under this agreement will be offered by Copa and only available for purchase through their commercial channels.
"Twenty years ago, our services were seen as a luxury for a privileged few. Nowadays, commercial flights are a mass transportation industry that requires an evermore efficient and customized service," Copa Airlines CEO Pedro Hebron told El Comercio, pointing out the pressure Latin American airlines are experiencing to step up their competitiveness, both in service and airfares.
The international flight market in Peru is growing; according to a report by the General Directorate of Civil Aeronautics (DGAC), the number of international passengers has increased 13.6% between January and July compared to the same period in 2016, for a total of 5,830,185 passengers going in or out of the country.
In the same period, Peruvian Airlines and LC Peru transported 23.9% of all domestic passengers while Copa flew 9.4% of all international passengers.
This alliance could help the three parties increase their slice of the cake in an emerging market dominated by LAN Peru and Taca Peru, which provided their services to 69.4% of domestic and 40.2% of all international passengers over the same period.
10th August 2017
Regional GDP Growth Fules Copa's 2Q
Resurgent economies in South America and currency stabilization contributed to Copa Airlines' strong second-quarter results, with operating margins doubling in the quarter from 2016. The Panamanian carrier reported operating margins of 14.4%, or double its 2016 results. For the rest of the year, Copa expects margins to be 16-18%. The carrier expects to return to its historical norm of margins in the high teens-to-low 20% range.
7th August 2017
Colombian LCC Wingo: Copa becomes first Latin American airline group to test out multi-brand model
The Panama-based airline group Copa Holdings is testing out the multi-brand model with its LCC brand Wingo, which launched operations in late 2016 and is now operating 17 short haul routes. Wingo has already captured a 2% share of seat capacity in both the group's home markets, Colombia and Panama.
Copa is following a typical multi-brand strategy by using Wingo to take over unprofitable routes that were previously under the full service brand Copa Colombia, as well as launching new point-to-point leisure routes that would not be viable under its normal two-class full service product.
However, Copa has decided not to follow the typical multi-brand strategy of establishing a new airline from scratch; Wingo uses the Copa Colombia operators certificate, providing economies of scale and minimising risk, but potentially limiting the potential benefits.
As the first LCC under a Latin American full service airline group, Wingo is an experiment in many respects. If the initial trial using four single class 737-700s is successful, Copa could use Wingo to expand in Colombia and Panama as well as potential other Latin American markets while other full service airline groups may be compelled to establish their own LCC brands or subsidiaries.
1st August 2017
Panama, Copa Airlines, Pullmantur jointly promote cruises from Colón
The Panama Tourism Authority, Copa Airlines and Pullmantur Cruises signed a collaboration agreement to promote Panama as a cruise destination.
The goal is to attract Latin Americans to Panama, boosting tourism and Pullmantur's sailings from Colón, one of the line's three regional homeports.
Under the agreement, Copa Airlines will provide exclusive rates to passengers joining a Pullmantur cruise in Colón who fly from 14 airports in eight Latin American countries: Santa Cruz, Bolivia; Belo Horizonte, Sao Paulo, Porto Alegre and Río de Janeiro, Brazil; Santiago, Chile; Quito and Guayaquil, Ecuador, Guadalajara, Monterrey and Mexico City, Mexico; Asunción, Paraguay; Lima, Peru; and Montevideo, Uruguay.
The rates will be used by wholesalers to create fly-cruise packages, according to Karla Guillén, manager of wholesale sales, Copa Airlines.
The Panama Tourism Authority will work with Pullmantur Cruises on various promotions in the Southern Cone, including exposure on television and in movie theaters in Colombia, Peru and Ecuador with 10- and 20-second spots about seven-night vacation packages to five destinations.
The packages will also be promoted on mobile and fixed billboards and signs in Colombia, Peru, Ecuador and Costa Rica, as well as in newspapers and magazines.
'We will have weekly cruise arrivals, which will generate more income and higher hotel occupancy,' Panama Tourism Authority administrator Jennifer Champsaur said.
Agusto Terracina, manager of the cruise terminal Colón 2000, said the marketing collaboration will bring more tourists to Panama, who stay two or three days before or after their cruise, boosting business, especially on weekends when there's less business in hotels and shopping centers.
Pullmantur's Monarch will sail from Colón on 52 departures of its 'Antilles and Southern Caribbean' and 'Legendary Caribbean' routes, and is expected to double the number of passengers carried from there.
5th July 2017
Copa Airlines celebrates five years connecting Curacao to Continent
COPA Airlines is celebrating its fifth anniversary connecting Curaçao to the rest of the Latin continent. COPA with its four flights a week has the commitment to the tourism industry and the business community in Curaçao. Compañía Panameña de Aviación, S.A. (commonly referred to simply as "Copa Airlines") is the flag carrier of Panama. It is headquartered in Panama City, Panama, with its main hub at Tocumen International Airport. It operates more than 315 daily scheduled flights to 74 destinations in 31 countries around North, Central and South America, and the Caribbean.
27th June 2017
Copa Airlines Orders 15 Boeing 737 MAX 10 Aircraft - For year 2020
Copa Holdings placed an order for a fleet of 15 new Boeing 737 MAX 10s at this year's Paris Air Show. The deal represents an upgrade to its existing order of 737 MAX 8 aircraft and will make Copa "the first airline in Latin America to operate the newest addition to the MAX family," according to the carrier.
The aircraft, which are expected to be delivered in 2020, will go toward replacing existing planes Copa has been operating and support "plans for strategic growth," stated the airline in a statement. Copa Airlines is encouraged by the single-aisle 737 Max 10s operating efficiency, lower per-seat cost, and extended range.
The 737 MAX 10, in line with Boeing's other 737 MAX models, will be equipped with CFM International LEAP-1B engines, "advanced technology winglets," and the "Boeing Sky Interior," among other modern aircraft features.
"Due to the long-term success we've had operating 737 NG, we had placed a sizable order of 737 MAX aircraft for our future, and the 737 MAX 10 provides additional flexibility for certain segments of our network," said Ahmad Zamany, Copa Airlines' vice president of technical operations. In June 2017, Copa Airlines announced its strategy for Latin America. United and Copa continue to have extensive code-sharing. In particular, Quayle said, United flies from Newark and Houston to Panama City, and has extensive code-shares beyond Panama City. From Panama City, Copa offers 160 daily departures to 73 cities in 31 countries. It serves 12 U.S. destinations: Boston, Chicago, Fort Lauderdale, F'a., Las Vegas, Los Angeles, Miami, New Orleans, New York, Orlando, San Francisco, Tampa and Washington.
June 2017
Copa Airlines announced it was converted 15MAXs to MAX 10s
Copa Airlines announced it was converted 15MAXs to MAX 10s. Panama City-based Copa Airlines will convert 15 previously ordered Boeing 737 MAX aircraft to the new MAX 10 version, the company said at the Paris Air show June 21. Copa will become the first airline to operate the 737 MAX 10 in Latin America. It will use the new MAX 10s to replace existing aircraft and support the company's plans for strategic growth, intending to be the "first airline in the region to operate the 737 MAX on deep South American and North American routes. Copa finalized an order for 61 737 MAX 8 and MAX 9 aircraft in May 2013, and expects to take delivery of its first MAX 9 in August 2018. The airline operates a fleet of over 100 aircraft including 66 737-800s, 14 737-700s and 21 Embraer E190s.
23rd May 2017
Copa Airlines to expand codeshare agreement with United Airlines
From 11th December 2017, Copa Airlines plans to further codeshare expansion with United, as it commences from Panama City - Dener 4 x Weekly flights. The latest expansion will see additional 47 routes carrying Copa's CM-coded flights numbers via Denver, including service to Canada.
2nd May 2017
Copa Airlines announces codeshare agreement with Turkish Airlines
Copa Airlines and Turkish Airlines have agreed to operate joint flights. Both Star Alliance members, the two airlines have signed a code-sharing agreement to provide more travel options for passengers. A codeshare agreement permits 2 or more airlines to list certain flights in a reservation system under each others names.
Latin American passengers will be connected via Istanbul to Europe, Africa, Asia and the Middle East.
Turkey's flag carrier currently has 337 aircraft and flies to 298 destinations -- 249 international and 49 domestic.
Turkish Airlines was chosen as Europe's Best Airline for the 6th time and the Best Airline in Southern Europe for the eighth consecutive time in a 2016 Skytrax survey.
24th April 2017
Copa Airlines announces non-stop services from Denver to Panama
From December 2017, Copa Airlines will commence a non-stop service between between Denver International Airport in Denver and Copa's Hub of the Americas at Tocumen International Airport in Panama City. This will be 4 times weekly.
Denver will be the airline's 13th U.S. destination and its 74th overall. Copa's nonstop flight will enable Denver passengers to arrive in Panama 2-3 hours sooner than via other airlines.
8th March 2017
Copa Airlines expand codeshare agreement with GOL Airlines
Copa Airlines have expanded their codeshare agreement with GOL Airlines which now includes additional route services between Brazil and Panama city. New Codeshare routes begin from 17th February:
Panama City to: Belo Horizonte, Brasilia, Manaus, Porto Alegre, Recife
14th February 2017
Copa Airlines expand codeshare route with United
Copa Airlines plan to expand codeshare routes with United, covering additional routes to and from Chicago O'Hare from 1stJune 2017.
Chicago O'Hare to: Denver, Hartford, Jackson Hole, Kansas City, Philadelphia, Pitsburgh
19th January 2017
Copa Airlines begin construction on Airport
Copa Airlines has begun construction on modern new aircraft maintenance centre in Panama. The new hangar, located at Tocumen international Airport in Panama City, will provide the ability to handle all major aircraft maintenance work in the country.