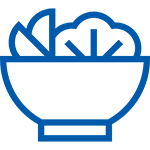 As veganism and vegetarianism grow and become more common, it is important that airlines cater for the growing demand for vegan and vegetarian options. While many short-haul flights offer "buy onboard" options (with very limited vegetarian and vegan options), longer flights offer a wide range of dietary options, known as special menus, which are available to order before flying. Vegan and vegetarian travellers need to ensure before they book that they are able to order vegetarian and vegan-friendly meals, or are able to at least bring vegetarian or vegan snacks onto the plane with them to eat during the journey. You can carry most meals through security lines, and can also bring sauces and salad dressings as long as they meet TSA liquid guidelines. When travelling to and from Australia, there are restrictions to what you can bring into the country, so make sure to check this information to stay out of trouble.
Want to request a different special meal? Visit our Halal, Kosher, Low-Calorie or Gluten-Free meal pages. You can also find out how to request a special meal here.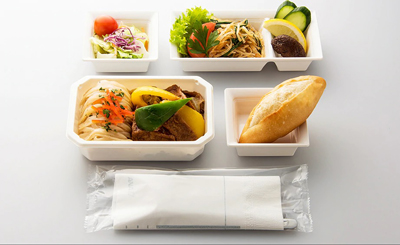 Vegetarian Oriental Meal on All Nippon Airways
---
Airline Meal Descriptive Terms - Vegan and Vegetarian
It is really important to make sure that the correct IATA airline meal code is used. The following are the most commonly used codes for vegan and vegetarian meal options:
VGML - Vegetarian Vegan Meal
Also known as a vegan or strict vegetarian meal, this meal is completely free of animal products or by-products. It does not contain any meat, fish, dairy, eggs, honey or other animal products or by-products.
VLML - Vegetarian Lacto-Ovo Meal
A vegetarian meal that will not contain any type of fish or meat, but may contain eggs and dairy products.
A vegetarian meal (usually also vegan) prepared in a Chinese or Oriental style.
A vegetarian meal that will not include any type of meat, fish, or eggs, but may contain dairy products. This plane food option is usually aromatic, spicy and includes flavours from the Indian sub-continent.
A vegetarian meal prepared with vegetables and fruit that grow above the ground. The Vegetarian Jain meal is prepared in accordance to the Jain community rules, and will not contain any animal products and by-products, or any root vegetables, including onions, garlic and ginger.
RVML - Raw Vegetable Meal
A vegetarian (and vegan) meal that consists of exclusively raw vegetables and salads.
FML - Fruit Platter
This is a plate of seasonal fresh fruit. It's usually ordered for dietary reasons or by members of certain communities who eat only fruit while fasting.
---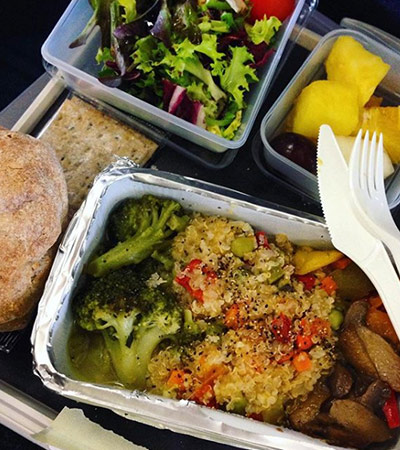 Photo credit: foodie.laust via Instagram
---
How to Order a Vegan Meal on a Plane
It's important to ensure that you are flying with an airline that offers vegan options - make sure to check our handy options table below to see which airlines offer which options. Make sure to check how close to departure time you will be able to order your vegan meal - some airlines you will need to order at time of booking, whereas others you will be able to order vegan options up to 24 hours in advance of departure time.
---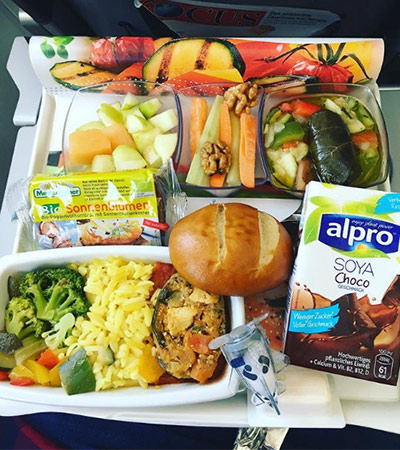 Photo credit: ve.y.oga via Instagram
---
Airlines Offering Vegan and Vegetarian Food Options
Here is an overview of the vegan and vegetarian friendly food options offered by airlines. This list will be updated as and when new options are introduced, to ensure that all of our customers needs are met.
Airline Name
VGML - Vegetarian Meal
VGML - Vegetarian Vegan Meal
VVML - Vegan Meal
VLML - Vegetarian Lacto-Ovo Meal
VOML - Vegetarian Oriental Meal
AVML - Asian Vegetarian Meal (Hindu)
VJML - Vegetarian Jain Meal
RVML - Raw Vegetable Meal
FML - Fruit Platter
When to preorder (min hours before flight)
Adria
x
x
x
x
x
48
Aegean
x
x
x
24
Aer Lingus
x
x
24
Aeroflot
x
x
x
36
Aerolineas Argentinas
x
x
72
Aeromexico
x
x
x
48
Air Astana
x
x
x
x
x
x
x
24
Air Baltic
x
x
x
24
Air Canada
x
x
x
x
x
18
Air China
x
x
x
x
x
x
24
Air France
x
x
x
48
Air India
x
x
x
x
x
x
48
Air Italy
x
48
Air New Zealand
x
x
x
x
x
24
Air Serbia
x
x
x
x
x
x
x
24
Air Tahiti Nui
x
x
x
x
x
48
Air Transat
x
x
x
72
Aircalin
x
x
24
Alitalia
x
x
x
24
All Nippon Airways (ANA)
x
x
x
x
96
American Airlines
x
x
x
24
Asiana
x
x
x
x
x
x
x
24
Austrian Airlines
x
36
Avianca
x
x
x
x
x
x
x
24
Azul
x
48
Bangkok Airways
x
x
x
x
x
x
x
24
British Airways
x
x
x
x
x
24
Brussels Airlines
x
x
x
x
x
24
Caribbean Airlines
x
x
48
Cathay Dragon (Dragonair)
x
x
x
x
x
x
x
24
Cathay Pacific
x
x
x
x
x
x
24
China Airlines
x
x
x
x
x
x
24
China Eastern
x
x
x
x
x
x
x
24
China Southern
x
x
x
x
x
x
x
48
Condor Airlines
x
x
24
Copa Airlines
x
x
24
Croatia Airlines
x
x
x
x
x
x
24
Delta Airlines
x
x
x
48
Egyptair
x
24
EL AL
x
x
x
x
x
**
Emirates
x
x
x
x
x
24
Etihad
x
x
x
x
x
x
x
24
Eva Air
x
x
x
x
x
x
x
24
Finnair
x
x
x
x
x
24
Garuda Indonesia
x
x
x
x
x
x
24
Gulf Air
x
x
x
x
x
x
24
Hainan
x
x
x
x
Hawaiian
x
48
Hong Kong Airlines
x
x
x
x
x
x
24
Iberia
x
x
x
x
x
x
24
Icelandair
x
Indigo
x
*
Jet Airways
x
x
x
x
x
x
x
24
Jetairfly
x
72
Jetstar
x
KLM
x
x
x
48
Korean Air
x
x
x
x
x
x
24
La Compagnie
x
48
LEVEL
x
x
*
Lufthansa
x
x
x
x
24
Malaysia Airlines
x
x
x
x
x
x
x
24
Middle East Airlines (MEA)
x
x
x
24
Oman Air
x
x
x
x
x
x
24
Pakistan International Airlines
x
x
x
x
24
Philippine Airlines
x
x
x
x
24
Qantas
x
x
x
x
x
24
Qatar Airways
x
x
x
x
x
x
72
Royal Jordanian
x
x
24
Ryanair
x
***
SAS
x
24
Shenzhen Airlines
x
x
24
Silk Air
x
x
x
x
x
x
x
24
Singapore Airlines
x
x
x
x
x
x
x
24
South African Airways
x
x
x
x
x
x
x
48
Spicejet
x
x
*
Sri Lankan Airlines
x
x
x
x
*
Swiss International Airlines
x
x
x
x
24
TAP Portugal
x
x
x
x
24
Tarom AIrlines
x
x
x
x
x
x
*
Thai Airw