Search & Buy United Airlines Flights
Let's fly!

Select your payment method to view total prices including any payment fees:
Airlines will always try to sit children with their parents (subject to check-in)
Some airlines will allow travel for unaccompanied minors. Please email us to check.
The fare is based on the child's age on the date of travel.
More detailed information can be found here Traveling with children
Most airlines will let infants travel with their parent(s) for free. However some airlines will charge up to 10% of the adult ticket price. Click on 'Price Breakdown' to find out more.
If you are pregnant, but due before the flight departure date, please contact us once your baby is born and has a name. We can then add him/her to your ticket.
Infants will not be given a seat. The airlines expect parents to travel with them on their lap.
Airlines regard infants as being under 24 months old.
The fare is based on the child's age on the date of travel.
More detailed information can be found here Traveling with children

Buy
United Airlines

Flights

Search and Buy United Airlines Reservations Online with Alternative Airlines
Make an United Airlines Booking and Find Some Amazing Deals with discounted United Airlines flight tickets at Alternative Airlines
Pay for United Airlines flights with PayPal or other major payment methods
---
About United Airlines
United Airlines or United is a major American airline which is headquartered in Chicago, Illinois.
United Airlines is a founding member of the Star Alliance and regional service is operated by independent carriers under the brand name United Express.
The airline flies to many destinations worldwide including Chicago, Houston, New York, Denver, San Francisco, Los Angeles, Guam, Tokyo, Washington and many others.
United Airlines has codeshare agreements with Aer Lingus, Aeromar, Air Dolomiti, Azul, Cape Air, Edelweiss Air, Eurowings, Germanwings, Hawaiian Airlines and Island Air.
---
United Airlines Baggage Policy
Carry-on Baggage
Carry-on bags must fit the dimensions of 22 x 35 x 56cm, including the handles and wheels.
In addition, passengers are permitted one personal item measuring 22 x 25 x 43cm.
Unless travelling in Basic Economy, passengers are permitted one carry-on bag, plus one personal item.
Basic Economy passengers are only permitted a personal item on board.
Checked Baggage
Checked bags must fit within the combined dimensions of 62 inches. The weight of these bags are dependent on the class of service or MileagePlus status. If your class of service allowance is different from your MileagePlus status, the larger of the two will apply:
Class of service
United Economy - 23 kg
United Business - 32 kg
United First - 32 kg
United Polaris first class - 32 kg
United Polaris business class - 32 kg
MileagePlus status
Premier Silver - 23 kg
Premier Gold - 32 kg
Premier Platinum - 32 kg
Premier 1K - 32 kg
Star Alliance Gold - 32 kg
Musical Instruments
United Airlines allows small instruments to be taken as carry-on luggage, while larger instruments must be carried as checked luggage. For more information on United Airlines and other airlines' flying with musical instrument policies.
---
United Airlines Check-In Information
Online Check-In
United Airlines offer passengers online check-in 24 hours before departure. The link can be found here.
Airport Check-In
For domestic flights, passengers without checked baggage must check in at least 30 minutes before departure.
For domestic flights, passengers with checked baggage must check in at least 45 minutes before departure.
For international flights, passengers must check in at least 60 minutes before departure.
For flights to or from Micronesia and the Marshall Islands, passengers must check in at least 90 minutes before departure.
---
United Airlines Inflight Entertainment
United offers various types of inflight entertainment on its flights. Passengers can find out which entertainment options will be provided on their flight by checking the Flight Status information for their flight on the United website. Inflight entertainment services will vary according to the aircraft and the ticket fare class.
United Airlines TV
United offers a range of popular TV shows on its flights including popular classic comedies such as Friends, Modern Family and Will and Grace as well as contemporary dramas.
United Airlines Movies
Find the right film to fit your tastes with United's wide collection of movies. From cult classics to new releases, United has something to fit every taste. With a large selection of Disney films, there's no need to worry about bored children with the excellent movies on your United flight.
---
United Airlines Business Class
United Airlines Business Class service is available on flights between the U.S. and Latin America or the Caribbean.
United Airlines Business Class Facilites
Passengers flying United Business can enjoy a more relaxed travel experience from check-in to baggage claim. Premier Acess travel services mean Business Class passengers can avoid the stress of the airport floor and instead make use of designated airport check-in lanes, exclusive security lanes and Premier Access priority baggage handling. Once in the air, passengers can savour fresh, restaurant-quality meals and entree choices that were selected by renowned chefs.
What are United Airlines Business Class Seats Like?
In the new, extra-spacious United Airlines seats there's room to relax and to work. With a six-way adjustable headrest and a padded seat cushion, you'll be able to sit back and relax on your United flight. There's also no need to worry about any of your personal devices running out of battery, as United Airlines Business Class seats feature a universal power socket to charge your laptop and mobile throughout your flight. You can also find a granite topped extendable cocktail table in the center that allows you to keep your tray table free for eating, working and entertainment.
---
United Airlines WIFI
Connect to 'United Wi-Fi' and enjoy high-speed internet connection while you fly. United Airlines WIFI is powered by GoGo, Pansonic, Thales and ViaSat, depending on where you fly to. WIFI with United Airlines allows you to access all the apps and that you'd usually use on the ground so that you don't miss out!
United Airlines WIFI Price
You can pre-purchase United Airlines WIFI for a monthly subscription for $49 USD for use on flights in North America and Central America and $69 USD for use on flights globally.
United Airlines also give the option to purchase an annual subscription, which costs $539 USD on all flights in North America and Central America and $689 USD on flights globally.
You can also purchase United Airlines WIFI inflight. although prices will differ depending on which route you're flying.
---
United Airlines Economy Class
United Airlines Economy Class cabins is divided into two:
Economy Plus
With lots of legroom, you can feel comfortable and relaxed as you stretch out and with the added benefit of sitting near the front of the cabin.
Basic Economy
A new fare to choose from has been introduced to united Airlines Economy Class. For budget travellers with lots of benefits!
Please note Basic Economy is only available on select United Airlines flight routes
United Airlines Economy Class Facilities
Economy plus
Choose from a wide range of food and beverages (dependant on your route and flight duration). This can entail a variety of packaged snacks, meals and wine or soft drinks.
Flights to North America, parts of Latin America and Caribbean:
Enjoy complimentary teas, coffees and soft drinks, snacks or you can buy either a tasty meal from the Bistro Menu on board or spirits, wine and beer on all flights.
Flights to or from Europe, Asia, Middle East, the South Pacific and parts of Latin America
(international flights)
Complimentary house wine and bee, teas, coffee and soft drinks are available. Also a complimentary three-course meal is available and a mid-flight snack on flights longer than 12 hour duration.
Basic Economy
Inflight amenities and services are included such as food and beverages, WI-FI and in-flight entertainment!
Please note that full size carry-on bags are not permitted however you can take one personal item on board.
United Airlines Economy Class Seats
Economy Plus Seating
You can have up to 5 inches of extra legroom based near the front of the cabin. This seating is available on all United and United Express flights.
Basic Economy Seating
Comfortable seating for the budget traveller to get you to where you want to go all rested.
Please note: group or family seating is not available and you are unable to choose your seat or to upgrade.
---
United Airlines Food
United Airlines Meal Options
Economy passengers flying within North America, the Caribbean and most of Latin America are offered complimentary snacks, with the option to purchase meals and snacks in the in-flight service.
Economy passengers flying to or from Asia, Europe, the Middle East, the South Pacific and selected destinations in Latin America are given a complimentary 3-course meal, and additional snack course for flights longer than 12 hours.
Premium class passenger meals are dependent on the flight duration time. To see sample menus to see what may be offered, click here.
For passengers travelling Business Class or United Polaris First, all food is complementary, including arrival snacks and a 5-course meal.
United Airlines Special Dietary Requirements
United Airlines offer many meals to suit a variety of special dietary requirements, from vegetarian and vegan meals, food for minors, medical requirements and religious requirements. These meals must be requested at least 24 hours before flight departure time, and can be done by contacting United. To see the list of the special meals that United offer, click here.
United Airlines Drinks & Alcohol
United Airlines have a full drink trolley service on their flights including alcoholic beverages (beer, wine, spirits), soft drinks and hot drinks. Economy passengers are given one complimentary drink and First and Business class passengers receive a complimentary premium drink upon arrival, including fine wines, spirits, regional beer or champagne.
---
Alternative Airlines to United Airlines
Please click on the logos below to find out more about airlines that fly similar routes to United Airlines:
---
United Airlines Popular Destinations
Chicago
Guam
San Francisco
Denver
Tokyo
Houston
Los Angeles
Washington, D.C.
Orlando
London
Paris
United Airlines Route Map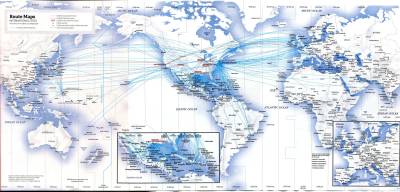 ---
United Airlines Fleet

Airbus A319-100
Airbus A320-200
Boeing 737-700
Boeing 737-800
Boeing 737-900
Boeing 737-900ER
Boeing 737 MAX 9
Boeing 757-200
Boeing 757-300
Boeing 767-300ER
Boeing 767-400ER
Boeing 777-200
Boeing 777-200ER
Boeing 777-300ER
Boeing 787-8
Boeing 787-9
---

United Airlines Hub Airport
Dallas / Fort Worth International Airport
Dallas / Fort Worth International Airport is the main international airport serving Dallas. It is the main hub airport for American Airlines, Envoy Air UPS Airlines and Ameriflight. It has seven runaways and can handle nearly 65 million passengers every year. A number of other airlines also operate out of this airport, including Volaris, Boutique Air, Alaska Airlines and previously Air Jamaica.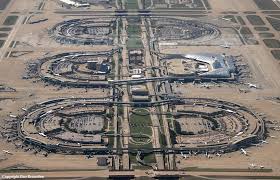 ---
United Airlines Alliance
Star Alliance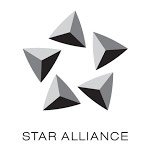 Star Alliance is one of the leading global airline network, which has 27 member airlines. Star Alliance was founded in 1997 with the five founding airlines: Scandinavian Airlines, Thai Airways International, Air Canada, Lufthansa and United Airlines. The alliance has grown considerably now to airlines which fly to 1,321 airports and 193 countries, carrying 637 million passengers every year!
---
Buy Discounted United Airlines Tickets at Alternative Airlines
---
Pets, Emotional Support Animals and Service Animals on United Airlines
Taking a pet on a plane can be stressful. Find all infomation and rules for flying with either a service animal, pet, or an emotional support animal on United Airlines by Alternative Airlines.
---
Book United Airlines Flights in English
By choosing Alternative Airlines to book your United Airlines flights, you can book the flights in English. This uses the trusted and reliable website that is Alternative Airlines to ensure that your booking experience is of a high standard and goes smoothly. It also ensures that payment is made securely, to reduce stress for the passenger.
---
Pay for United Airlines Flights with PayPal
Buy your United Airlines tickets with Alternative Airlines to use PayPal. Alternative Airlines allows passengers flying with United Airlines to book flights using PayPal. PayPal ensures ease of transactions whilst keeping your money safe and secure. If you are unsure about booking through Alternative Airlines, you can find out all about the trusted flight booking website.
---
United Airlines News
17th December 2018
Delta Airlines offers three new international routes from San Francisco
In what is being named as United Airlines largest international expansion in San Francisco, United Airlines is adding three new routes from San Francisco International Airport, as well as upgrading the frequency in which it flies to Amsterdam and Seoul.
Delta will launch brand new services to Toronto, Canada, Melbourne, Australia and New Delhi, India.
The San Francisco–Toronto service will fly twice a day from 31st March using a Boeing 737-800.
The San Francisco–Melbourne service will fly three times a week from 29th October 2019 and will use a Boeing 787-9 Dreamliner to carry passengers.
The San Francisco–New Delhi service will fly on a seasonal basis from 5th December 2019 and will also use a Boeing 787-9 Dreamliner to carry passengers.
These mark the 27th, 28th and 29th services from San Francisco to international destinations.
7th June 2018
United Airlines faces challenges from Singapore Airlines
United Airlines has a new competitor! Singapore Airlines is set to challenge its Long-haul route network as it gets closer and closer to launch non-stop flights from Singapore to New York and Los Angeles. A few years ago, Singapore ordered a specialist aircraft with a goal of granting the airline access to the U.S. direct. A few months after that, United got in there first with a non-stop flight from San Francisco to Singapore. Now Singapore Airlines is back in business. Five years ago, Singapore Airlines cancelled its nonstop Singapore-Newark and Singapore-Los Angeles routes due to soaring oil prices.
Currently, United Airlines doesn't fly nonstop from the New York area to Singapore, but it still has a high market share on that route. It can offer one-stop service via its hubs in San Francisco and Los Angeles, or via its Asian joint venture partners' hubs. Other U.S.-based airlines don't offer nearly as many options. This new competition should shake things up a bit.
15th May 2018
United restrict their pet policies by nearly 50 types of dogs and cats
After a series of unfortunate incidents for the airline, United Airlines has decided to limit the types of pets that it is allowed to transport aboard its planes. The Chicago-based airline will allow you to make United reservations with animals from this coming summer, but the rules and regulations will have changed. Some of the rules, for instance, state that they will only accept dogs and cats and will exclude some snub-nosed and strong-jawed breeds. It also won't transport animals through four airports in hot climates in summer. The more conservative approach is meant to "improve the safety of the pet travel experience," United said Tuesday. But it also leaves owners determined to travel with their pets — especially those often subject to airline restrictions — with one fewer option. For more infl=ormation on making flight reservations with your pet, emotional support animal or servie animal with Alternative Airlines, click here.
---
Pay your way
Pay for flights in USD or 70 other currencies of your choice with Alternative Airlines.
Choose from over 18 payment methods, including PayPal, Apple Pay , Fly now Pay later and Alipay
Check out all of our payment methods here.
---
Search and Buy United Airlines Flights
Make a United Airlines reservation and find some amazing deals with discounted United Airlines tickets at Alternative Airlines. United Airlines flies to many destinations worldwide, offering a cost effective and safe service to all its passengers. Let Alternative Airlines help find you cheap United Airlines tickets and make international and domestic flight reservations on United Airlines today.
Browse the most popular United Airlines flight routes to cities worldwide. Alternative Airlines can help you make reservations on United Airlines for international flights to lots of destinations. Use the following list of routes to help you plan your next flight. Book United Airlines flights on Alternative Airlines to save big! Alternative Airlines is an online travel agency, specialising in booking lesser known airlines and remote destinations.
---
About Alternative Airlines
Alternative Airlines is an online flight search complete with customer service specialising in booking flights on lesser known airlines and to remote destinations. We offer you a wider choice of airlines supported by a team of customer service and travel specialists for help and advice on your travel plans. We specialise in finding the best available fares on the widest range of airlines and making them available to you online, with prices in the currency of your choice.
Alternative Airlines handles all your travel arrangements and payments, complete with ticketed confirmation. We do not direct you to other websites or service providers. We help you through the process. This is what makes us Alternative Airlines. Check out our reviews on Feefo or our reviews page. If you want to know a little bit more about us, read our blog for our alternative travel secrets and stories.
Browse for flights, find some amazing deals, make a reservation and pay in the currency of your choice today with Alternative Airlines. Let Alternative Airlines help find you the best prices and make international and domestic flight reservations with us today.
---