Search & Buy Volaris Airlines Flights
Airlines will always try to sit children with their parents (subject to check-in)
Some airlines will allow travel for unaccompanied minors. Please email us to check.
The fare is based on the child's age on the date of travel.
More detailed information can be found here Traveling with children
Most airlines will let infants travel with their parent(s) for free. However some airlines will charge up to 10% of the adult ticket price. Click on 'Price Breakdown' to find out more.
If you are pregnant, but due before the flight departure date, please contact us once your baby is born and has a name. We can then add him/her to your ticket.
Infants will not be given a seat. The airlines expect parents to travel with them on their lap.
Airlines regard infants as being under 24 months old.
The fare is based on the child's age on the date of travel.
More detailed information can be found here Traveling with children
Buy
Volaris Airlines

Flights
Search and Buy Volaris Airlines Flights Online with Alternative Airlines
Make a Volaris Airlines reservation and find some amazing deals with discounted Volaris Airlines at Alternative Airlines
---
About Volaris Airlines
Volaris is a low-cost Mexican airline based in Santa Fe, Álvaro Obregón, Mexico City. Volaris Airlines destinations include: Cancun, Chicago, Dallas, Houston, La Paz, Merida and Morelia. The airline has a codeshare agreement with Condor Flugdienst.
Violaris, the Mexican airline, offers scheduled services to 68 destinations in Mexico and America, from Benito Juárez International Airport in Mexico City, Don Miguel Hidalgo y Costilla International Airport in Guadalajara, General Abelardo L. Rodríguez International Airport in Tijuana and General Mariano Escobedo International Airport in Monterrey.
Volaris Airlines began in 2003 to integrate an ultra-low-cost airline that would offer more access of routes for Mexicans. The first flight service operated in 2006, from Toluca - Tijuana. Later that year, Volaris Airlines was then awarded a funding of $40 million, which then consolidated investment $130 million. In 2014, the fleet comprised of 68 Airbus A319s, A320s and A320 Neo.
Today, Volaris Airlines flies to more than 60 destinations, with the youngest fleet of aircraft in Mexico, offering more than 200 daily flights. One of Volaris' most recent ventures is its subsidiary airline, Volaris Costa Rica, which flies to a number of destinations from San Jose airport. There is also another proposed subsidiary which will operate in El Salvador, called Volaris El Salvador.
If you're planning on travelling to Mexico City, check out our Mexico City travel guide to discover all the best places to stay, eat and visit!
---
Volaris Airlines Baggage
Carry-on Baggage
On all Volaris reservations for different fares and routes, all passengers are allowed two carry-on bags. The combined weight of these bags must not exceed 22lbs, or 10kg. The individual bags must not exceed 22.4 x 15.7 x 12.9inches each. Your duty-free allowance, handbags, pocketbook, or purse. These items may not be used as a container to transport articles that would otherwise be regarded as baggage.
Checked Baggage
The baggage allowance for your Volaris flight will be indicated on your ticket. Checked baggage should not exceed the combined dimensions of 158cm, or 62inches. The weight of these checked bags must not exceed 55lbs, or 25kg.
---
Volaris Airlines Check-In Information
Online Check-In
Volaris Airlines passengers can check in for their flights online, either via the Volaris website, Volaris app or by using Facebook Messenger.
Airport Check-In
Passengers who have not checked in online must do so at the airport, via the Volaris check-in counter. Volaris recommend passengers to arrive at the airport 3 hours before international flights, or 2 hours before for domestic flights.
---
Volaris Airlines Popular Routes
Volaris flies to many destinations in Costa Rica ElSalvador, Guatemala, Mexico and the United States. Below are the most popular Volaris routes:
Mexico

Cancun
Mexico

Los Angeles
Puerto

Vallarta Mexico
Tijuana

Dallas
Guadalajara

Acapulco
---
Volaris Airlines Route Map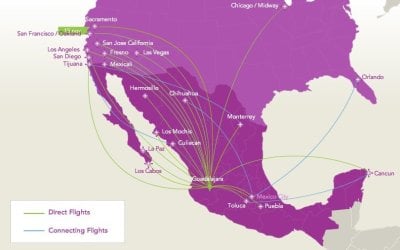 ---
Alternative Airlines to Volaris Airlines
Please click on the logos below to find out more about airlines that fly similar routes to Volaris Airlines:
---
Volaris Airlines Hub Airport
Mexico City International Airport
Mexico City International Airport is Mexico's busiest and Latin America's second busiest airport by passenger traffic.
Mexico City International Airport is the hub airport for Aeromexico as well as Aeromar, Interjet and Volaris. The airport has two runways and can handle nearly 40 million passengers every year.
Other airlines which fly to Mexico City International Airport include Air Canada, Air France, Avianca, American Airlines, Delta Airlines, Interjet, KLM, JetBlue Airways, LAN Airlines and many others.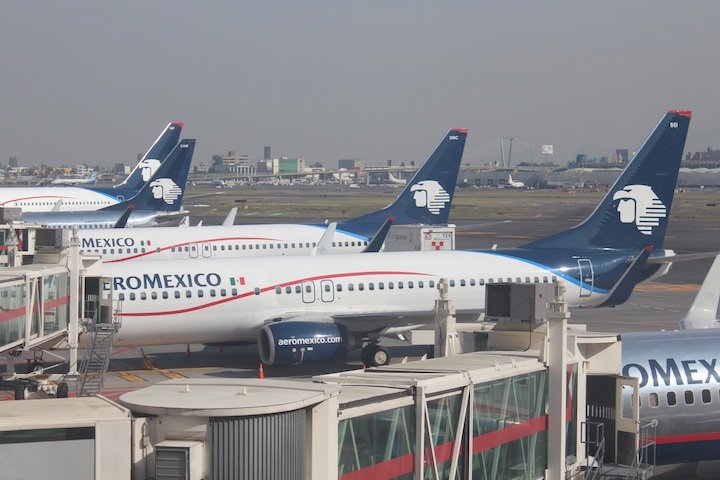 ---
Volaris Airlines News
19th June 2018
Low-cost airline Volaris announces 14 new domestic routes
5 of the routes will link Guanajuato with other cities around Mexico. Low-cost airline Volaris announced it will introduce 14 new domestic routes before the end of the year. From Mexico City, the airline will open new routes to Cozumel, Puerto Escondido, Colima, Guanajuato, Aguascalientes and Tepic.
Five routes will link the Bajío airport of Guanajuato to the cities of Mexicali, Mérida, Puerto Vallarta, Huatulco and Los Cabos. Two routes will connect the city of Tijuana with the southern Mexico destinations of Zihuatanejo and Tuxtla Gutiérrez, while a new Guadalajara-Puerto Escondido route will round out the list. The new routes will begin operating during the second half of the year.
Volaris CEO Enrique Beltranena said that the new routes "will contribute to a more united Mexico, one that can enjoy the best benefits: connectivity with no layovers, excellent customer service, punctuality and, above all, the best prices."
The airline's pricing manager, Omar Carrera, said the new routes "strengthen the point-to-point business model, allowing more Mexicans to connect in a direct manner, at the lowest prices, with the destinations they are most interested in."
24th May 2018
Mexico's Volaris will offer direct flights from Duelles airport to San Salvador
Volaris has a new route on the cards between San Salvador and Washington DC. Recently Volaris has begun o make connections between Central and North America.
22nd March 2018
Mexico's Volaris Sticks With Its U.S. Focus Despite Recent Stumbles
Volaris, the Mexican ultra-low-cost airline that once thrilled investors with a model that focused on persuading passengers to switch from buses to planes, has no plans to change its core strategy, even though its stock has lost more than 60 percent of its value during the past two years.
The market, "keeps on growing," CEO Enrique Beltranena said in an interview. "In general, traffic in domestic and international is growing at a faster pace than GDP."
That's true, but recent changes in the Mexican market are having an effect on Volaris, which introduced its Ryanair-style model to the country in 2006. The airline has struggled because of several factors, including currency exchange pressure, higher fuel prices, and deceased demand for its U.S.-Mexico flights, blamed in part on geopolitical factors. It has tried to cope by focusing on ancillary fees, but there's one problem — the Mexican government does not permit airlines to charge for checked bags on domestic flights.
Volaris had a rough year in 2017, losing 595 Mexican pesos or about $32 million. But there's good news, too. The carrier generated a billion pesos in operating cash, or roughly $53.3 million, and still has a cost base lower than every airline in the Americas except Viva Aerobus, though it's well behind Europe's Wizzair and Ryanair, according to its own data.
Volaris' stumbles came as the airline introduced a major expansion in the United States, adding 24 new trans-border routes in 2017, far more than the seven new domestic routes it started. The new international routes include some obvious ones, such as Mexico City to Miami, and some unusual ones, like Milwaukee to Guadalajara.
But U.S.-Mexico routes are slightly problematic, especially in city pairs that don't attract many tourists or business people.On their first quarter earnings call in February, Volaris executives said they've had trouble filling aircraft at high prices outside of major demand periods. Aeromexico executives also said last month they're seeing a "softness" in transborder VFR markets, or markets where many travellers are visiting their friends and relatives, rather than traveling for work or tourism.
Volaris is smaller than Aeromexico, but it is more exposed to the U.S. market. With business lagging, Volaris cannot offset the trouble by adding more capacity to London, Tokyo and Amsterdam, Madrid and Shanghai, as Aeromexico has done. And while it can try to attract more U.S. tourists and Mexican and American business travellers to fill seats, that's easier said than done.
Volaris flies to nearly 30 U.S. airports, including some, like Milwaukee, Reno, Nevada and Fresno, California, that don't support many international fights. It also is less active in Mexico City than some other airlines, a problem because Volaris executives have said fares there have held up better than others. But Mexico City is not an easy place to grow, because the airport is at capacity.
It "establishes a barrier for the carriers that have not been traditionally there,"Beltranena said.
During some times of the year, Volaris' U.S. flights perform well. Demand remains strong during peak periods like Christmas, and around the Easter holiday. But February and March can be more challenging. And since Volaris prefers to fly with a high load factor, it is being forced to lower its prices on trans-border flights during low-demand periods, particularly since it also competes with two other low-fare airlines — Viva Aerobus, and Interjet. The good news is that Volaris has had success with new fee for the first checked bag implemented last year on U.S. flights, of $15 if paid in advance.
"We all fight for the same number of passengers and in order to get them you need to pressure the yields," Beltranena said.
Anecdotally, Beltranena said, the airline suspects some passengers might not be traveling from the U.S. to Mexico because of theTrump Administration's new aggressive enforcement of immigration policies. Customers legally permitted to travel might be putting it off, he said. "Even if they have everything they need for travel, they are traveling less, or much more in the high season,"Beltranena said.
16th January 2018
Volaris announce codeshare with Frontier Airlines
To help fill its planes, Volaris soon plans to lean on Frontier Airlines, a U.S. ultra-low-cost-carrier. The two airlines announced a codeshare agreement in January, and the agreement will allow Frontier passengers to connect to Volaris flights to Mexico, all on one ticket.
Volaris is also focusing on Central America, where it has built an airline with a separate operating certificate granted by Costa Rica. The carrier, called Volaris Costa Rica, has a similar model and launched U.S. service earlier this month with flights to Los Angeles, New York and Washington Dulles. Some flights stop in San Salvador, while others stop in Guatemala City, allowing Volaris access to Salvadoran and Guatemalan passengers.
"What we decided to do what to replicate the exactly the same model as Volaris Mexico in Central America," Beltranena said.
23rd February 2018
Profit Pressure Continues at Volaris: When Can Investors Expect Improvement?
Management is working hard to restore Volaris' profit margin, but it could take a year or more for the company to get back on track.
Just two years ago, Mexican budget airline Volaris seemed destined to become a reliable profit machine, just like many of its U.S. peers. However, the carrier's earnings plunged beginning in late 2016 due to a combination of overcapacity, rising fuel prices, and a weak Mexican peso.
This week, Volaris reported that profitability remained under pressure last quarter. The first quarter isn't shaping up to be any better. Management is working on a number of initiatives to drive costs lower while boosting unit revenue, but investors probably shouldn't expect to see meaningful improvement until the second half of 2018 and beyond.
9th March 2018
Budget airline Volaris considers seats that don't recline to cut costs
Volaris posted a roughly $30 million net loss in 2017.
The budget airline is thinking about how to keep costs down.
Reclining seats add to weight and maintenance costs.
A plane of Mexico's Volaris airlines approaches Benito Juarez International Airport on January 17, 2018.
Mexican budget airline Volaris has a big decision to make: Should seats on its aeroplanes recline?
The airline is set to receive dozens of new narrow-body Airbus jets over the next six years. It expects its fleet to grow to 124 planes by 2026, up from the 71 aircraft it operated at the end of last year, according to a company presentation.
"If we do it, we will do it all across the fleet," Volaris's CEO and founder Enrique Beltranena told CNBC.
The airline is trying to keep a lid on costs as it plots an expansion. The plans include new service such as New York to San Salvador, which it aims to launch next month, and a new partnership with sister U.S. carrier Frontier Airlines, with whom it shares an investor.
Rising costs for fuel and other expenses are a challenge for airlines, particularly for Volaris, which posted a net loss of around $30 million last year amid higher costs and struggles with demand. The airline, however, has been increasing its market share in Mexico. It estimates its share rose to 28 percent last year from 20 percent in 2012, behind only Aeromexico.
So why would scrapping reclining aeroplane seats save an airline money? Seats that recline have additional machinery inside them that adds to aircraft's weight, and more weight means more fuel.
Airlines are constantly looking for ways to reduce weight on board. United Airlines recently started printing its in-flight magazine, Hemispheres, on different paper that makes it an ounce lighter. It estimates the savings at $290,000 a year. United also removed duty-free products on board to save even more: $2.3 million, according to a company note.
Seats that the aviation industry often refers to as "pre-reclined" can save money in other ways, too.
A reclining seat is "one more thing to break ... and then you can't sell it," said Samuel Engel, who leads the aviation group at consulting firm ICF.
British Airways earlier this year said it would reconfigure some of its single-aisle aeroplanes to feature economy seats that "will be pre-reclined at a comfortable angle."
There may be another benefit.
"This also has the benefit of helping to preserve space for the customer in the seat behind," a British Airways spokeswoman said.
Other ultra-low-cost airlines, such as Allegiant and Spirit, have opted for such seats as well.
Engel, a frequent business traveller, said travellers might even appreciate the seats more than the ones that do recline.
"I'm not convinced it's such an awful thing," he said.
Beltranena and his team have to contend with airline travellers who might be accustomed to reclining seats on buses. Volaris carried 16.4 million people last year, 1.3 million of them first-time flyers. More than a fifth of them considered traveling by bus, according to the company.
The airline is also trying to drum up more revenue through fees, which it charges for everything from baggage to seat selection. It even has an option for pet hotels for those vacationers escaping Mexico City for a long weekend, he said.
When it comes to picking seats for the new planes, however, Beltranena knows he has to strike a balance. "It has to be comfortable," he said.
16th January 2018
Frontier and Volaris to launch codeshare
The two-way codeshare, subject to regulatory approval, will allow the two airlines to add 20 new destinations, says chief executive Enrique Beltranena. He estimates that 80 new routes will be launched between the USA and Mexico. Sales of the codeshare flights will begin in the spring, say the two carriers. Frontier is wholly owned by Indigo Partners, which is an investor in Volaris.
"Many customers travelling between the US and Mexico are forced to pay high fares to fly, and this agreement will provide lower fares to a vast majority of the US and Mexico population," says Frontier hief executive Barry Biffle. Volaris has a growing US network, currently serving more than 20 destinations including Frontier's Denver hub, FlightGlobal schedules data show. Frontier operates to three Mexican destinations: Cancun, Los Cabos and Puerto Vallarta.
15th January 2018
Mexico's Volaris airline ranked as one of most punctual in the world
Mexican airline Volaris made the list for being one of the most punctual airlines in the world. The Mexican airline was placed 12th out of the top 20 spots worldwide with an average efficiency of 82.13 percent, however, they placed third out of the top 10 for efficiency in Latin America.
Aeromexico ranked ninth in the top 10 spots for Latin America. First place was awarded to Panamanian Copa Airlines with Brazilian Azul in second. Globally, AirBaltic, Hong Kong Airlines and Hawaiian Airlines took the top three of 20 positions for most punctual airlines. This was the first year a Mexican airline ranked in the top 20 global positions. The rankings were handed out by aeronautical intelligence company OAG.
OAG is an air travel intelligence company based in United Kingdom. It provides digital information and applications to the world's airlines, airports, government agencies and travel-related service companies. OAG is best known for its airline schedules database which holds future and historical flight details for more than 900 airlines and over 4,000 airports. OAG maintains an extensive flight status and day-of-travel database in the aviation market and provides analytical tools to assess air travel trends.
Headquartered in the UK, OAG serves the air travel community from offices located in the UK, United States,Singapore, Japan and China. Volaris is Mexico's largest low cost carrier airline. Its first flight took wing in 2006, under the name of Vuela Airlines. Since then it has grown to become Mexico's second largest airline, offering flights to Mexico, United States, Costa Rica, Guatemala, El Salvador and Nicaragua.
November 2017
Volaris announced it was committed to 80 A320neo family aircraft
Volaris, the ultra-low-cost airline serving Mexico, the United States and Central America, has committed to 80 A320neo Family aircraft to be delivered from 2022 to 2026, as part of Airbus' largest single announcement ever. Airbus signed a Memorandum of Understanding with Indigo Partners for 430 A320neo Family aircraft to be purchased by four of its affiliated airlines, including Volaris. 80 of these 430 aircraft will be allocated to Volaris upon the execution of a purchase agreement with Airbus.
The 80 aircraft, comprised of 46 A320neos and 34 A321neos worth US$9.3 billion, at list prices, was announced today at the Dubai Air Show. These aircraft are in addition to Volaris' current fleet of 70 aircraft and the committed 41 A320neo Family aircraft to be delivered between the remainder of 2017 through 2021.
28th November 2017
Los Angeles to Acapulco, non-stop on Volaris
Travellers in Southern California will soon get a new non-stop connection to the Mexican beach resort of Acapulco.
Mexican low-cost carrier Volaris will launch non-stop Acapulco service from Los Angeles on Dec. 19, offering one round-trip flight every Tuesday. Flight time will be just more than 4 hours, with Volaris using Airbus A319 jets on the route. Volaris will be the only airline offering regular non-stop flights between the cities.
Acapulco will become the twelfth route for Volaris at Los Angeles International Airport, which the airline counts as one of its focus cities. The carrier also offers non-stop service from LAX to the Mexican cities of Aguascalientes, Durango, Guadalajara, León, Mexico City, Morelia, Oaxaca, Puerto Vallarta (seasonal) Queretaro, Uruapan and Zacatecas.
10th November 2017
Volaris Reports October 2017 Traffic Results, Passenger Growth of 7%, Load Factor of 84%
During October 2017 Volaris increased total capacity, as measured in Available Seat Miles (ASMs), by 8.2% year over year. Total demand, as measured in Revenue Passenger Miles (RPMs), in October 2017 increased 8.8% year over year, reaching 1.2 billion. Volaris transported a total of 1.3 million passengers during the month, an increase of 7.3% year over year. Year-to-date, Volaris has transported over 13.5 million passengers, an increase of 10.2% year over year. Network load factor for October was 83.9%, an increase of 0.5 percentage points year over year.
During October 2017, Volaris launched one domestic route (Morelia, Michoacan to Mexicali, Baja California) and six international routes (Fresno, California to Morelia, Michoacan; Los Angeles, California to Acapulco, Guerrero; San Jose, California to Morelia, Michoacan; Zacatecas, Zacatecas to San Jose, California; Guatemala City, Guatemala to Tijuana, Baja California and San Salvador, El Salvador to Tijuana, Baja California). The following table summarises Volaris traffic results for the month and year-to-date.
26th October 2017
Volaris adds second Mexico flight destination from Fresno airport
"With the addition of these new routes to and from Morelia, we are able to increase both the number of passengers transported inside Mexico and the number of tourists that visit from the U.S.," said Miguel Aguíñiga, Volaris' director of market development.
Volaris and Aeromexico, another Mexico-based airline, both provide flights to Guadalajara with connecting service to other cities including Mexico City. Together, the two airlines represent the only carriers providing nonstop flights to an international destination atFresno Yosemite International Airport.
The Fresno-Guadalajara flights have proven to be popular with passengers. In 2016, Volaris and Aeromexico accounted for about 6 percent of all arriving and departing flights at Fresno Yosemite International airport, but their combined passenger totals of almost 201,000 represented more than 13 percent of all passengers flying to and from Fresno last year.
28th September 2017
Volaris adds a second route to San Antonio
Volaris has added a second route toSan Antonio(SAT) this week, starting a daily service from Mexico City(MEX) on 15 September. The link from the Mexican capital adds to Volaris' existing route from Guadalajara to the Texan city. The 1,123-kilometre route between Mexico City and San Antonio will be operated on the carrier's fleet of A320s, with it joining Interjet (12 times weekly) and Aeromexico (daily) on the airport pair. With this launch, Volaris now serves eight destinations in the US from Mexico City, with this route to San Antonio being its only one in Texas. Volaris does serve Austin, Dallas/Fort Worth and Houston Intercontinental in Texas, albeit from Guadalajara.
15th September 2017
Volaris schedules new domestic routes from Monterrey in November 2017
Volaris in November 2017 plans to add 3 new domestic routes from Monterrey, on board Airbus A319 aircraft. Planned new routes as follow.
Monterrey – Cozumeleff 15NOV172 weekly A319 (Day 36)
Monterrey – Huatulcoeff 13NOV172 weekly A319 (Day 15)
Monterrey – Mexicalieff 13NOV175 weekly A319 (Day x67)
15th September 2017
Volaris plans Puerto Vallarta - Los Angeles November 2017 launch
Volaris from November 2017 plans to launch new US route from Puerto Vallarta, which sees the launch of Puerto Vallarta – Los Angeles route. Starting 17NOV17, Airbus A319 aircraft will operate this route on Fridays.
12th September 2017
Volaris set to grow LCC links into Colima
Mexico Tourism Ministry of Colima Tourism Minister Cesar Castañeda Vázquez del Mercado, speaking at CAPA's 2017 Latin America Aviation Summit, revealed (11-Sep-2017) that Mexican LCC Volaris is considering introducing additional service from Colima Airport. The news comes just a week before Aeromexico will introduce a weekly Mexico City–Colima service from 18-Sep-2017 driven by a growth in the region's tourism sector. Volaris already serves Colima from Tijuana, a route it has served since Jun-2012.
May 2017
Volaris announced it has added Mexico City - Guatemala City route from May 2017
Mexican low-cost carrier Volaris today (18MAY17) plans to commence limited-time service for Mexico City – Guatemala City market, operating once weekly on Thursdays. Airbus A320 aircraft will operate this route until 27JUL17.
July 2017
Volaris announces loss
Volaris Airlines announced a MXN519.9 million ($29 million) net loss for the 2017 second quarter, reversed from the airline's MXN935 million net profit in 2Q 2016. Volaris' second-quarter revenue increased 16.6% YOY to MXN6 billion as operating expenses jumped 25.3% to MXN5.9 billion. Volaris reported notable increases in fuel costs (up 24.5% YOY to MXN1.7 billion) and international airport costs (up 38.9% YOY to MXN1 billion) during the quarter. The company's operating profit for the quarter came to MXN38.8 million, down 90% from MXN388 million in the year-ago quarter. Passenger traffic increased 15.9% YOY to 4 billion RPMs on a 16.6% capacity rise to 4.6 billion ASMs, producing an 85.7% load factor for the quarter, down 0.4 point YOY.
Unit revenue during the quarter, as measured in PRASM, was down 4.4% to MXN91.75 and yield fell 3.8% to MXN107. As of June 30, Volaris' all-Airbus fleet comprised 12 A319-100s, 43 A320-200s, one A320-200neo, and 10A321-200s. All 66 aircraft in Volaris' fleet operate under lease agreements. Since Dec. 31, 2016, the fleet has decreased in size by 4.4%.
April 2017
Volaris Airlines announced it will offer new Cozumel - Guadalajara flights
This inaugural flight will be on Sunday, June 25, leaving the city of Guadalajara at 10:15 hours, arriving in Cozumel at 13:09 hours, lasting approximately two hours 54 minutes. The administrator of the terminal explained that this route will have two weekly frequencies on Friday and Sunday, whose cost per single ticket will be 799 pesos; Volaris will be using an Airbus-320 aircraft, with capacity for 189 passengers.
---