Search and Buy Volaris Airlines Flights
Let's fly!

Select your payment method to view total prices including any payment fees:
Buy
Volaris Airlines

Flights

Search and Buy Volaris Airlines Flights Online with Alternative Airlines
Make a Volaris Airlines and find some amazing deals with discounted Volaris Airlines at Alternative Airlines
---
About Volaris Airlines
Volaris is a low-cost Mexican airline based in Santa Fe, Álvaro Obregón, Mexico City.
Volaris Airlines destinations include: Cancun, Chicago, Dallas, Houston, La Paz, Merida and Morelia. The airline has codeshare agreement with Condor Flugdienst.
The airline offers scheduled services to 68 destinations in Mexico and America, from Benito Juárez International Airport in Mexico City, Don Miguel Hidalgo y Costilla International Airport in Guadalajara, General Abelardo L. Rodríguez International Airport in Tijuana and General Mariano Escobedo International Airport in Monterrey.
Volaris Airlines began in 2003 to integrate an unltra low-cost airlines that would offer more access of routes for Mexicans. The first flight service operated in 2006, from Toluca - Tijuana. Later that year, Volaris Airlines was then awarded a funding of $40 million, which then consolidated investment $130 million. In 2014, the fleet comprised of 68 Airbus A319s, A320s and A320 Neo.
Today, Volaris Airlines flies to more than 60 destinations, with the youngest fleet of aircraft in Mexico, offering more than 200 daily flights.
---
Baggage
Volaris Clean Base Fare and v.Club Fare includes 2 cabin bags on board that must not weigh over 22 lbs in total of 22.3 x 15.7 x 12.9 each.
The regular fare allows 2 cabin bags on board that must not weigh over 22 lbs in total (including both bags) of 22.4 x 15.7 x 12.9 inches each. This includes 1 checked bag of up to 55 lbs and 62 total inches.
ON FLIGHTS WITHIN MEXICO AND MEXICO – CENTRAL AMERICA
1 checked bag of no more than 62 total inches and 55 lbs.
2 small cabin bags with a maximum size of 9.8 inches in length, 15.7 inches in width, and 15.7 inches in height.
ON FLIGHTS FROM/TO MEXICO, PUERTO RICO AND ON FLIGHTS WITHIN CENTRAL AMERICA
2 small cabin bags with a maximum size of 9.8 inches in length, 15.7 inches in width, and 15.7 inches in height.
---
News
16th January 2018
Frontier and Volaris to launch codeshare
The two-way codeshare, subject to regulatory approval, will allow the two airlines to add 20 new destinations, says chief executive Enrique Beltranena. He estimates that 80 new routes will be launched between the USA and Mexico. Sales of the codeshare flights will begin in the spring, say the two carriers. Frontier is wholly owned by Indigo Partners, which is an investor in Volaris.
"Many customers travelling between the US and Mexico are forced to pay high fares to fly, and this agreement will provide lower fares to a vast majority of the US and Mexico population," says Frontier hief executive Barry Biffle. Volaris has a growing US network, currently serving more than 20 destinations including Frontier's Denver hub, FlightGlobal schedules data show.. Frontier operates to three Mexican destinations: Cancun, Los Cabos and Puerto Vallarta.
15th January 2018
Mexico's Volaris airline ranked as one of most punctual in the world
Mexican airline Volaris made the list for being one of the most punctual airlines in the world. The Mexican airline was placed 12th out of the top 20 spots worldwide with an average efficiency of 82.13 percent, however, they placed third out of the top 10 for efficiency in Latin America.
Aeromexico ranked ninth in the top 10 spots for Latin America. First place was awarded to Panamanian Copa Airlines with Brazilian Azul in second. Globally, AirBaltic, Hong Kong Airlines and Hawaiian Airlines took the top three of 20 positions for most punctual airlines. This was the first year a Mexican airline ranked in the top 20 global positions. The rankings were handed out by aeronautical intelligence company OAG.
OAG is an air travel intelligence company based in United Kingdom. It provides digital information and applications to the world's airlines, airports, government agencies and travel-related service companies. OAG is best known for its airline schedules database which holds future and historical flight details for more than 900 airlines and over 4,000 airports. OAG maintains an extensive flight status and day-of-travel database in the aviation market and provides analytical tools to assess air travel trends.
Headquartered in the UK, OAG serves the air travel community from offices located in the UK, United States, Singapore, Japan and China. Volaris is Mexico's largest low cost carrier airline. Its first flight took wing in 2006, under the name of Vuela Airlines. Since then it has grown to become Mexico's second largest airline, offering flights to Mexico, United States, Costa Rica, Guatemala, El Salvador and Nicaragua.
November 2017
Volaris announced it was commited to 80 A320neo family aircraft
Volaris, the ultra-low-cost airline serving Mexico, the United States and Central America, has committed to 80 A320neo Family aircraft to be delivered from 2022 to 2026, as part of Airbus' largest single announcement ever. Airbus signed a Memorandum of Understanding with Indigo Partners for 430 A320neo Family aircraft to be purchased by four of its affiliated airlines, including Volaris. 80 of these 430 aircraft will be allocated to Volaris upon the execution of a purchase agreement with Airbus.
The 80 aircraft, comprised of 46 A320neos and 34 A321neos worth US$9.3 billion, at list prices, was announced today at the Dubai Air Show. These aircraft are in addition to Volaris' current fleet of 70 aircraft and the committed 41 A320neo Family aircraft to be delivered between the remainder of 2017 through 2021.
28th November 2017
Los Angeles to Acapulco, non-stop on Volaris
An Airbus A319 of Mexican low-cost carrier Volaris is seen flying in this file photo. (Photo: Volaris) Travelers in Southern California will soon get a new non-stop connection to the Mexican beach resort of Acapulco.
Mexican low-cost carrier Volaris will launch non-stop Acapulco service from Los Angeles on Dec. 19, offering one round-trip flight every Tuesday. Flight time will be just more than 4 hours, with Volaris using Airbus A319 jets on the route. Volaris will be the only airline offering regular non-stop flights between the cities.
Acapulco will become the twelfth route for Volaris at Los Angeles International Airport, which the airline counts as one of its focus cities. The carrier also offers non-stop service from LAX to the Mexican cities of Aguascalientes, Durango, Guadalajara, León, Mexico City, Morelia, Oaxaca, Puerto Vallarta (seasonal) Queretaro, Uruapan and Zacatecas.
10th November 2017
Volaris Reports October 2017 Traffic Results, Passenger Growth of 7%, Load Factor of 84%
During October 2017 Volaris increased total capacity, as measured in Available Seat Miles (ASMs), by 8.2% year over year. Total demand, as measured in Revenue Passenger Miles (RPMs), in October 2017 increased 8.8% year over year, reaching 1.2 billion. Volaris transported a total of 1.3 million passengers during the month, an increase of 7.3% year over year. Year-to-date, Volaris has transported over 13.5 million passengers, an increase of 10.2% year over year. Network load factor for October was 83.9%, an increase of 0.5 percentage points year over year.
During October 2017, Volaris launched one domestic route (Morelia, Michoacan to Mexicali, Baja California) and six international routes (Fresno, California to Morelia, Michoacan; Los Angeles, California to Acapulco, Guerrero; San Jose, California to Morelia, Michoacan; Zacatecas, Zacatecas to San Jose, California; Guatemala City, Guatemala to Tijuana, Baja California and San Salvador, El Salvador to Tijuana, Baja California). The following table summarizes Volaris traffic results for the month and year-to-date.
26th October 2017
Volaris adds second Mexico flight destination from Fresno airport
"With the addition of these new routes to and from Morelia, we are able to increase both the number of passengers transported inside Mexico and the number of tourists that visit from the U.S.," said Miguel Aguíñiga, Volaris' director of market development.
Volaris and Aeromexico, another Mexico-based airline, both provide flights to Guadalajara with connecting service to other cities including Mexico City. Together, the two airlines represent the only carriers providing nonstop flights to an international destination at Fresno Yosemite International Airport.
The Fresno-Guadalajara flights have proven to be popular with passengers. In 2016, Volaris and Aeromexico accounted for about 6 percent of all arriving and departing flights at Fresno Yosemite International airport, but their combined passenger totals of almost 201,000 represented more than 13 percent of all passengers flying to and from Fresno last year.
28th September 2017
Volaris adds a second route to San Antonio
Volaris has added a second route to San Antonio (SAT) this week, starting a daily service from Mexico City (MEX) on 15 September. The link from the Mexican capital adds to Volaris' existing route from Guadalajara to the Texan city. The 1,123-kilometre route between Mexico City and San Antonio will be operated on the carrier's fleet of A320s, with it joining Interjet (12 times weekly) and Aeromexico (daily) on the airport pair. With this launch, Volaris now serves eight destinations in the US from Mexico City, with this route to San Antonio being its only one in Texas. Volaris does serve Austin, Dallas/Fort Worth and Houston Intercontinental in Texas, albeit from Guadalajara.
15th September 2017
Volaris schedules new domestic routes from Monterrey in November 2017
Volaris in November 2017 plans to add 3 new domestic routes from Monterrey, on board Airbus A319 aircraft. Planned new routes as follow.

Monterrey – Cozumel eff 15NOV17 2 weekly A319 (Day 36)
Monterrey – Huatulco eff 13NOV17 2 weekly A319 (Day 15)
Monterrey – Mexicali eff 13NOV17 5 weekly A319 (Day x67)
15th September 2017
Volaris plans Puerto Vallarta - Los Angeles November 2017 launch
Volaris from November 2017 plans to launch new US route from Puerto Vallarta, which sees the launch of Puerto Vallarta – Los Angeles route. Starting 17NOV17, Airbus A319 aircraft will operate this route on Fridays.
Y4664 PVR1807 – 1935LAX 319 5
Y4665 LAX1204 – 1714PVR 319
12th September 2017
Volaris set to grow LCC links into Colima
Mexico Tourism Ministry of Colima Tourism Minister Cesar Castañeda Vázquez del Mercado, speaking at CAPA's 2017 Latin AmericaAviation Summit, revealed (11-Sep-2017) that Mexican LCC Volaris is considering introducing additional service from Colima Airport. The news comes just a week before Aeromexico will introduce a weekly Mexico City–Colima service from 18-Sep-2017 driven by a growth in the region's tourism sector. Volaris already serves Colima from Tijuana, a route it has served since Jun-2012.
May 2017
Volaris announced it has added Mexico City - Guatemala City route from May 2017
Mexican low-cost carrier Volaris today (18MAY17) plans to commence limited-time service for Mexico City – Guatemala City market, operating once weekly on Thursdays. Airbus A320 aircraft will operate this route until 27JUL17.

Y4306 MEX0905 – 1005GUA 320 4
Y4307 GUA1115 – 1420MEX 320 4
July 2017
Volaris announces loss
Volaris Airlines announced a MXN519.9 million ($29 million) net loss for the 2017 second quarter, reversed from the airline's MXN935 million net profit in 2Q 2016. Volaris' second-quarter revenue increased 16.6% YOY to MXN6 billion as operating expenses jumped 25.3% to MXN5.9 billion. Volaris reported notable increases in fuel costs (up 24.5% YOY to MXN1.7 billion) and international airport costs (up 38.9% YOY to MXN1 billion) during the quarter. The company's operating profit for the quarter came to MXN38.8 million, down 90% from MXN388 million in the year-ago quarter. Passenger traffic increased 15.9% YOY to 4 billion RPMs on a 16.6% capacity rise to 4.6 billion ASMs, producing an 85.7% load factor for the quarter, down 0.4 point YOY.
Unit revenue during the quarter, as measured in PRASM, was down 4.4% to MXN91.75 and yield fell 3.8% to MXN107. As of June 30, Volaris' all-Airbus fleet comprised 12 A319-100s, 43 A320-200s, one A320-200neo, and 10A321-200s. All 66 aircraft in Volaris' fleet operate under lease agreements. Since Dec. 31, 2016, the fleet has decreased in size by 4.4%.
April 2017
Volaris Airlines announced it will offer new Cozumel - Guadalajara flights
This inaugural flight will be on Sunday, June 25, leaving the city of Guadalajara at 10:15 hours, arriving in Cozumel at 13:09 hours, lasting approximately two hours 54 minutes. The administrator of the terminal explained that this route will have two weekly frequencies on Friday and Sunday, whose cost per single ticket will be 799 pesos; Volaris will be using an Airbus-320 aircraft, with capacity for 189 passengers.
---
Destinations Route Map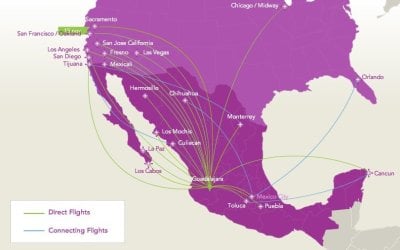 Costa Rica (San José)
El Salvador (San Salvador)
Guatemala
(Guatemala City)
Nicaragua (Managua)
Puerto Rico (San Juan)
Mexico (Acapulco; Aguascalientes; Cancun; Chetumal; Chihuahua; Ciudad Juarez' Ciudad Obregon; Colima; Culican; Durango; Guadalajar; Hermosillo; Huatulco; Ixtapa-Zihuatanejo; La Paz; Leon; Los Mochis; Mazatlan; Merida; Mexicali; Mexico City; Monterrey' Morelia; Oaxaca; puebla; Puerto Vallarta; Queretaro; Cabo San lucas; San Luis Potosi; Cozumel; Tapachula; Tepic; Tijuanal Toluca; Torreon; Tuxtla Gutierrez; Uruapan; Veracruz; Villahermosa; Zacatecas)
United States (Austin; Chicago; Dallas; Denver; Fresno; Houston; Las Vegas; Los Angeles; Miami; Milwaukee; New York; Oakland; Ontario; Orlando; Phoneix; Portland; Reno; Sacremento; San Antonio; San Francisco; San Jose; Seattle).
Popular Routes
Mexico

Cancun
Mexico

Los Angeles
Puerto Vallarta

Mexico
Tijuana

Dallas
Guadalajara

Acapulco

---
The Fleet
Airbus A319-100
Airbus A320neo
Airbus A321-200
Airbus A320-200
---
HUB Airport
Mexico City International Airport
HUB Airport
Mexico City International Airport is Mexico's busiest and Latin America's second busiest airport by passenger traffic.
Mexico City International Airport is the hub airport for Aeromexico as well as Aeromar, Interjet and Volaris. The airport has two runaways and can handle nearly 40 million passengers every year.
Other airlines which fly to Mexico City International Airport include Air Canada, Air France, Avianca, American Airlines, Delta Airlines, Interjet, KLM, JetBlue airways, LAN Airlines and many others.

---
---
Search and Buy Flights with Volaris Airlines
Make a Volaris Airlines and find some amazing deals with discounted Volaris Airlines at Alternative Airlines. Volaris Airlines flies to many destinations, offering a cost effective and safe service to all its passengers. Let Alternative Airlines help find you cheap Volaris Airlines tickets and make reservations on Volaris Airlines today.
Browse the most popular Volaris Airlines flight routes to destinations within the Mexican and American regions. Alternative Airlines can help you make reservations on Volaris Airlines. Use the following list of routes to help you plan your next flight. Volaris Airlines flights on Alternative Airlines to save big! Alternative Airlines is an online travel agency, specialising in booking lesser known airlines and remote destinations.
---
About Alternative Airlines
Alternative Airlines is an online flight search complete with customer service specialising in booking flights on lesser known airlines and to remote destinations. We offer you a wider choice of airlines supported by a team of customer service and travel specialists for help and advice on your travel plans. We specialise in finding the best available fares on the widest range of airlines and making them available to you online, with prices in the currency of your choice.
Alternative Airlines handles all your travel arrangements and payments, complete with ticketed confirmation. We do not direct you to other websites or service providers. We help you through the process. This is what makes us Alternative Airlines.Check out our reviews: Alternative Airlines - Feefo Reviews
Browse for flights, find some amazing deals, make a reservation and pay in the currency of your choice today with Alternative Airlines. Let Alternative Airlines help find you the best prices and make international and domestic flight reservations with us today.
Join the Alternative Airlines Members Club and get £100.00 back on your 5th booking with Alternative Airlines. You will have insight to many benefits and exclusive deals on over 650 airlines. Click on the Members section on the Alternative Airlines website for more information and join today. We are open every day from 8am until 8pm (UK local time).
How to pay
You can pay for your flights with Volaris Airlines in the currency and payment method of your choice when booking through Alternative Airlines.
We accept PayPal making flight purchases with Volaris Airlines easy and more secure for customers. PayPal is one of the leading forms of online payment, with more than 169 million accounts worldwide.