Volaris Costa Rica Reservations with Alternative Airlines
Make a Volaris Costa Rica Booking and Find Some Amazing Deals
---
About Volaris Costa Rica
Volaris Costa Rica is a subsidiary of Mexican Airline Volaris. From its hub at Juan Santamaría International Airport, Volaris Costa Rica flies to a number of international destinations, including destinations within Mexico, Guatemala, El Salvador and the US.
Volaris announced the creation of Volaris Costa Rica in the early stages of 2016. By November of the same year, Volaris Costa Rica gained its Air Operator's Certificate. It commenced operations later in the month with its first flight from San Jose to Guatemala city.
Volaris has another proposed subsidiary, called Volaris El Salvador. This is expected to run in a similar way to Volaris Costa Rica but instead focused around El Salvador.
---
Volaris Costa Rica Fleet
Volaris Costa Rica's fleet consists of entirely Airbus A319-100 aircraft, which it leases from Volaris. The airline used to operate Airbus A320, which is the model type that it used to operate its inaugural services.
---
Volaris Costa Rica Destinations
Domestic
San José
International
San Salvador
Guatemala City
Cancún
Mexico City
Managua
Los Angeles
New York City
Washington D.C.
---
Volaris Costa Rica Baggage
Carry-on Baggage
Volaris Costa Rica passengers are permitted two carry-on bags with a maximum combined weight of 22lbs, or 10kg.
Checked Baggage
Volaris passengers who have purchased the Fare + Baggage fare can bring one checked bag with total dimensions of no more than 62 total inches (158cm) and with a maximum weight of no more than 55lbs (25kg).
---
Volaris Costa Rica Check-In Information
Online Check-In
Passengers flying with Volaris Costa Rica may check in via the Volaris Costa Rica website.
Airport Check-In
Those passengers wishing to check in at the airport can do so at the Volaris check-in counter. Volaris recommends passengers arriving at the airport at least three hours before international flights and two hours before domestic flights.
---
Alternative Airlines to Volaris Costa Rica
Please click on the logos below to find out more about airlines that fly similar routes to Volaris Costa Rica:
---
Alternative Airlines Volaris Costa Rica
Juan Santamaría International Airport
Volaris Costa Rica is based at Juan Santamaría International airport which is the main airport serving San José, the capital of Costa Rica. The airport serves around 4 million passengers per year and is steadily increasing passenger numbers each year. Other airlines that fly to the airport include Skyway Costa Rica, Lufthansa, LATAM Peru, Jetblue, Condor and British Airways.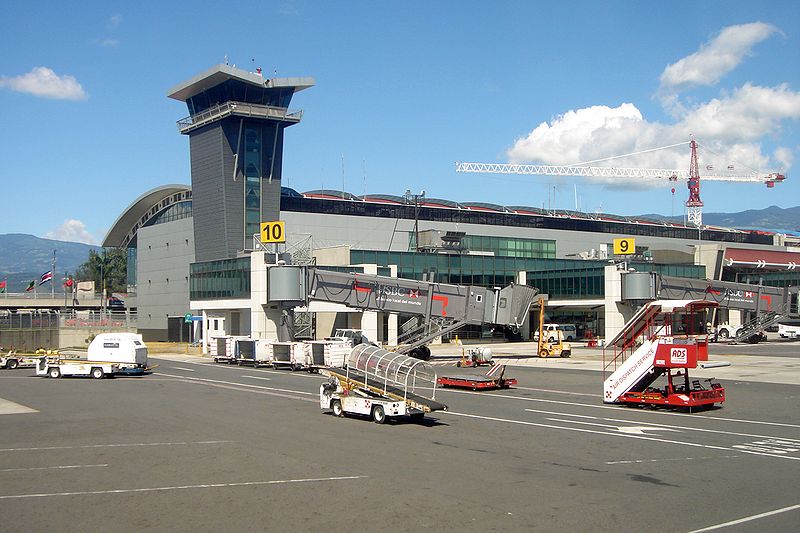 Photo credit: Mariordo
---
Buy Discounted Volaris Costa Rica Tickets at Alternative Airlines
---
Volaris Costa Rica News
30th December 2018
Volaris looking to expand South American route network with Volaris Costa Rica
Mexican carrier Volaris is looking to add more South American routes to its route network through its subsidiary airline Volaris Costa Rica. Volaris Costa Rica is based at Juan Sanatamaría International Airport and offers international flights, but is yet to touch base in South America. Commercial Director Manuel Jaquez has expressed the airlines' interest in having the subsidiary airline fly to South American countries from San Jose but won't reveal exactly which destinations it wants to target. To help operate these new routes, Volaris Costa Rica is looking to add at least two new aircraft, which would add to its fleet of Airbus aircraft.