Search and Buy British Airways Flights with Alternative Airlines
Make a British Airways Reservation and Find Some Amazing Deals
---
About
British Airways is the national airline of the United Kingdom and the largest full-service airline in the United Kingdom based on destinations and passengers served. The airline also owns two subsidiary airlines, BA CityFlyer and BA EuroFly. In terms of passengers carried, it's the second-largest airline in the United Kingdom (behind easyJet) but is the dominant airline for long-haul flights flying from the UK.
The airline is based at London Heathrow Airport (LHR) and flies to over 200 destinations worldwide. While the airline mainly does intercontinental flights, it also has a strong route network in Europe and a domestic route network within the UK.
Top Tip: You can buy British Airways flights using financing options as well as buy British Airways flights using PayPal with Alternative Airlines.
---
Destinations
Domestic Destinations
| CITY | AIRPORT |
| --- | --- |
| Aberdeen | Aberdeen Airport (ABZ) |
| Belfast | George Best Belfast City Airport (BFS) |
| Edinburgh | Edinburgh Airport (EDI) |
| Glasgow | Glasgow Airport (GLA) |
| Inverness | Inverness Airport (INV) |
| Leeds | Leeds Bradford International Airport (LBA) |
| London | London City Airport (LCY) |
| Manchester | Manchester Airport (MAN) |
| Newcastle | Newcastle Airport (NCL) |
International Destinations
COUNTRY
CITY
AIRPORT
Albania
Tirana
Tirana International Airport Nënë Tereza
Algeria
Algiers
Houari Boumediene Airport
Antigua and Barbuda
St. John's
V. C. Bird International Airport
Argentina
Buenos Aires
Ministro Pistarini International Airport
Australia
Sydney
Sydney Airport
Austria
Innsbruck
Innsbruck Airport
Salzburg
Salzburg Airport
Vienna
Vienna International Airport
Bahamas
Nassau
Lynden Pindling International Airport
Bahrain
Manama
Bahrain International Airport
Barbados
Bridgetown
Grantley Adams International Airport
Belgium
Brussels
Brussels Airport
Bermuda
Hamilton
L.F. Wade International Airport
Brazil
Rio de Janeiro
Rio de Janeiro–Galeão International Airport
São Paulo
São Paulo–Guarulhos International Airport
Bulgaria
Sofia
Sofia Airport
Canada
Calgary
Calgary International Airport
Montreal
Montréal–Pierre Elliott Trudeau International Airport
Toronto
Toronto Pearson International Airport
Vancouver
Vancouver International Airport
Cayman Islands
George Town
Owen Roberts International Airport
Chile
Santiago
Comodoro Arturo Merino Benítez International Airport
China
Beijing
Beijing Daxing International Airport
Shanghai
Shanghai Pudong International Airport
Costa Rica
San José
Juan Santamaría International Airport
Croatia
Dubrovnik
Dubrovnik Airport
Pula
Pula Airport
Zagreb
Zagreb Airport
Cyprus
Larnaca
Larnaca International Airport
Paphos
Paphos International Airport
Czech Republic
Prague
Václav Havel Airport Prague
Denmark
Billund
Billund Airport
Copenhagen
Copenhagen Airport
Dominican Republic
Punta Cana
Punta Cana International Airport
Egypt
Cairo
Cairo International Airport
Finland
Helsinki
Helsinki Airport
France
Bordeaux
Bordeaux–Mérignac Airport
Chambéry
Chambéry Airport
Figari
Figari–Sud Corse Airport
Grenoble
Alpes–Isère Airport
Limoges
Limoges – Bellegarde Airport
Lyon
Lyon–Saint-Exupéry Airport
Marseille
Marseille Provence Airport
Montpellier
Montpellier–Méditerranée Airport
Nantes
Nantes Atlantique Airport
Nice
Nice Côte d'Azur Airport
Paris
Charles de Gaulle Airport
Toulouse
Toulouse–Blagnac Airport
Germany
Berlin
Berlin Tegel Airport
Cologne
Cologne Bonn Airport
Düsseldorf
Düsseldorf Airport
Frankfurt
Frankfurt Airport
Friedrichshafen
Friedrichshafen Airport
Hamburg
Hamburg Airport
Hanover
Hannover Airport
Munich
Munich Airport
Stuttgart
Stuttgart Airport
Ghana
Accra
Kotoka International Airport
Gibraltar
Gibraltar
Gibraltar International Airport
Greece
Athens
Athens International Airport
Chania
Chania International Airport
Kalamata
Kalamata International Airport
Kefalonia
Kefalonia International Airport
Mykonos
Mykonos Airport
Santorini
Santorini (Thira) International Airport
Thessaloniki
Thessaloniki Airport
Zakynthos
Zakynthos International Airport
Grenada
St. George
Maurice Bishop International Airport
Hong Kong SAR
Hong Kong
Hong Kong International Airport
Hungary
Budapest
Budapest Ferenc Liszt International Airport
Iceland
Reykjavík
Keflavík International Airport
India
Bangalore
Kempegowda International Airport
Chennai
Chennai International Airport
Delhi
Indira Gandhi International Airport
Hyderabad
Rajiv Gandhi International Airport
Mumbai
Chhatrapati Shivaji Maharaj International Airport
Ireland
Dublin
Dublin Airport
Israel
Tel Aviv
Ben Gurion Airport
Italy
Bari
Bari Karol Wojtyła Airport
Bergamo
Orio al Serio International Airport
Bologna
Bologna Guglielmo Marconi Airport
Brindisi
Brindisi Airport
Cagliari
Cagliari Elmas Airport
Catania
Catania–Fontanarossa Airport
Genoa
Genoa Cristoforo Colombo Airport
Milan
Milan Linate Airport
Milan Malpensa Airport
Naples
Naples International Airport
Palermo
Falcone Borsellino Airport
Pisa
Pisa International Airport
Rome
Leonardo da Vinci–Fiumicino Airport
Turin
Turin Airport
Venice
Venice Marco Polo Airport
Verona
Verona Airport
Jamaica
Kingston
Norman Manley International Airport
Japan
Osaka
Kansai International Airport
Tokyo
Haneda Airport
Narita International Airport
Jersey
Jersey
Jersey Airport
Jordan
Amman
Queen Alia International Airport
Kenya
Nairobi
Jomo Kenyatta International Airport
Kosovo
Pristina
Pristina International Airport
Kuwait
Kuwait City
Kuwait International Airport
Lebanon
Beirut
Beirut–Rafic Hariri International Airport
Luxembourg
Luxembourg City
Luxembourg Airport
Malaysia
Kuala Lumpur
Kuala Lumpur International Airport
Maldives
Malé
Velana International Airport
Malta
Valletta
Malta International Airport
Mauritius
Mahébourg
Sir Seewoosagur Ramgoolam International Airport
Mexico
Cancún
Cancún International Airport
Mexico City
Mexico City International Airport
Morocco
Marrakech
Marrakesh Menara Airport
Netherlands
Amsterdam
Amsterdam Airport Schiphol
Rotterdam
Rotterdam The Hague Airport
Nigeria
Abuja
Nnamdi Azikiwe International Airport
Lagos
Murtala Muhammed International Airport
Norway
Oslo
Oslo Gardermoen Airport
Oman
Muscat
Muscat International Airport
Pakistan
Islamabad
Islamabad International Airport
Peru
Lima
Jorge Chávez International Airport
Poland
Kraków
Kraków John Paul II International Airport
Warsaw
Warsaw Chopin Airport
Portugal
Faro
Faro Airport
Funchal
Madeira Airport
Lisbon
Lisbon Airport
Porto
Porto Airport
Qatar
Doha
Hamad International Airport
Romania
Bucharest
Henri Coandă International Airport
Russia
Moscow
Domodedovo International Airport
Sheremetyevo International Airport
Saint Kitts and Nevis
Basseterre
Robert L. Bradshaw International Airport
Saint Lucia
Vieux Fort
Hewanorra International Airport
Saudi Arabia
Dammam
King Fahd International Airport
Jeddah
King Abdulaziz International Airport
Riyadh
King Khalid International Airport
Seychelles
Mahé
Seychelles International Airport
Singapore
Singapore
Singapore Changi Airport
South Africa
Cape Town
Cape Town International Airport
Durban
King Shaka International Airport
Johannesburg
O. R. Tambo International Airport
South Korea
Seoul
Incheon International Airport
Spain
Alicante
Alicante–Elche Airport
Barcelona
Barcelona–El Prat Airport
Bilbao
Bilbao Airport
Ibiza
Ibiza Airport
Lanzarote
Lanzarote Airport
Las Palmas
Gran Canaria Airport
Madrid
Adolfo Suárez Madrid–Barajas Airport
Málaga
Málaga Airport
Menorca
Menorca Airport
Palma de Mallorca
Palma de Mallorca Airport
Tenerife
Tenerife South Airport
Valencia
Valencia Airport
Sweden
Gothenburg
Göteborg Landvetter Airport
Stockholm
Stockholm Arlanda Airport
Switzerland
Geneva
Geneva Airport
Zürich
Zurich Airport
Switzerland France Germany
Basel Mulhouse Freiburg
EuroAirport Basel Mulhouse Freiburg
Thailand
Bangkok
Suvarnabhumi Airport
Trinidad and Tobago
Port of Spain
Piarco International Airport
Scarborough
Arthur Napoleon Raymond Robinson International Airport
Tunisia
Tunis
Tunis–Carthage International Airport
Turkey
Antalya
Antalya Airport
Bodrum
Milas–Bodrum Airport
Dalaman
Dalaman Airport
Istanbul
Istanbul Airport
Turks and Caicos Islands
Providenciales
Providenciales International Airport
United Arab Emirates
Abu Dhabi
Abu Dhabi International Airport
Dubai
Dubai International Airport
United States
Atlanta
Hartsfield–Jackson Atlanta International Airport
Austin
Austin-Bergstrom International Airport
Baltimore
Baltimore–Washington International Airport
Boston
Logan International Airport
Charleston
Charleston International Airport
Chicago
Chicago O'Hare International Airport
Dallas
Dallas/Fort Worth International Airport
Denver
Denver International Airport
Houston
George Bush Intercontinental Airport
Las Vegas
McCarran International Airport
Los Angeles
Los Angeles International Airport
Miami
Miami International Airport
Nashville
Nashville International Airport
New Orleans
Louis Armstrong New Orleans International Airport
Newark
Newark Liberty International Airport
New York City
John F. Kennedy International Airport
Orlando
Orlando International Airport
Philadelphia
Philadelphia International Airport
Phoenix
Phoenix Sky Harbor International Airport
Pittsburgh
Pittsburgh International Airport
Portland
Portland International Airport
San Diego
San Diego International Airport
San Francisco
San Francisco International Airport
San Jose
San Jose International Airport
Seattle
Seattle–Tacoma International Airport
Tampa
Tampa International Airport
Washington, D.C.
Washington Dulles International Airport
---
Route Map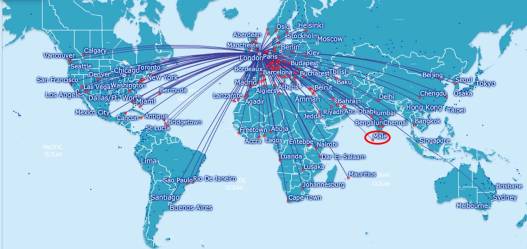 ---
Baggage
Carry-On Baggage
Passengers are given one item of free carry-on baggage and one free small personal item.
The free carry-on bag cannot exceed 23 kg in weight or 56 cm x 45 cm x 25 cm (22" x 17.7" x 9.8") in dimensions.
The free small personal item cannot exceed 23 kg in weight or 40 cm x 15 cm x 30 cm (15.7" x 5.9" x 11.8") in dimensions.
Checked Baggage
Passengers free checked baggage allowance will depend on the cabin class that the passenger is flying in. The table below details the free checked baggage allowance of each cabin class:
| ECONOMY CLASS | PREMIUM ECONOMY | BUSINESS CLASS | FIRST CLASS |
| --- | --- | --- | --- |
| 1 or 2 pieces of free checked baggage with a maximum weight of 23–32 kg, depending on the route flown. | 2 pieces of free checked baggage with a maximum weight of 23 kg per bag on all flights. | 2 pieces of free checked baggage with a maximum weight of 32 kg per bag on all flights. | 3 items of free checked baggage with a maximum weight of 32 kg per bag on all flights. |
---
Check-In
Online Check-In
Passengers can check-in online for their flight on the British Airways online check-in page. Online check-in opens 24 hours before scheduled flight departure time.
Airport Check-In
Passengers that can't check-in online or are unable to check-in online can check-in at the airport. This can be done by visiting one of the airport check-in desks with the relevant travel documents. Airport check-in closing times differ depending on the airport of departure.
AIRPORTS
CHECK-IN CLOSING TIME
(BEFORE FLIGHT DEPARTURE)
London Heathrow (LHR)
Long-haul: 60 minutes
Short-haul: 45 minutes
London Gatwick (LGW)
Long-haul: 60 minutes
Short-haul: 45 minutes
London City (LCY)
20 minutes for all flights
London Stansted (STN)
45 minutes for all flights
All other UK airports
45 minutes for all flights
Paris Orly (ORY)
45 minutes for all flights
Short-haul European airports
Flights from AMS, BCN, IST, LIS, MAD, LIN, MXP, PMI, FRA:
60 minutes
All other flights: 45 minutes
Long-haul international flights
Flights from Jeddah (JED): 90 minutes
All other flights: 60 minutes
---
Economy Class
British Airways Economy Class is differs depending on whether the flights are short-haul or long-haul.
Euro Traveller
Euro Traveller is Economy Class for flights within Europe and UK. It offers a comfortable cabin with leather seats, adjustable headrests, complimentary newspapers and LED mood lighting.
Euro Traveller is split into three different fare structures:
Basic —this includes an allocated seat and hand baggage. With this fare, you can add a checked bag for a fee or choose a seat.
Plus — Plus fare allows passengers to choose their seat for free 48 hours before departure, request flight changes on the departure date for free and a greater checked baggage allowance.
Plus Flex — Plus Flex is a suitable fare provides flexibility on ticket changes and allows passengers to choose where a seat up to an hour before the flight.
World Traveller
World Traveller is Economy Class for long-haul flights. Onboard a wide body plane, it offers a comfortable and spacious cabin with leather reclinable seats, complimentary meals and drinks, a personal entertainment system on all fares.
World Traveller is split into two fares:
Basic — includes carry-on baggage and a pre-allocated seat, perfect for light travel with no-frills.
Standard — includes checked baggage, seat selection and allows passengers to board earlier than the Basic fare.
Seats
Seats on British Airways flights are set out in a 3 x 3 x 3 configuration on long-haul flights and a 3 x 3 configuration on short-haul flights. Seats offer between 29–31" of pitch and 17" of width.
---
Premium Economy
Premium Economy Facilities
The British Airways Premium Economy Service is called World Traveller Plus and is only available on medium-haul and long-haul flights.
Passengers receive a quilt and cushion and can enjoy great in-flight entertainment with a selection of movies and films. Passengers can enjoy the same great menu that's in Economy Class but with alcoholic cocktails and mocktails added to the Premium Economy bar menu. Each passenger is given an amenity kit, which uses materials created from recycled plastic bottles. The kits include eyeshade, socks, pen, toothbrush, toothpaste and lip balm from Scaramouche & Fandango.
What Are Premium Economy Seats Like?
The service offers passengers increased reclination on seats, personal in-seat power sockets and a larger in-flight entertainment screen.
The seats in British Airways Premium Economy are approximately 18.5 inches in width and recline to a 38-inch pitch.
---
Business Class
British Airways Business Class service provides passengers with an excellent range of services to ensure they have the most enjoyable flight possible. The facilities offered onboard depend on whether the flight is long-haul or short-haul. For long-haul flights "Club World" flights passengers will be able to enjoy the best night's sleep possible onboard their BA flights. Passengers flying within Europe on "Club Europe" BA flights are guaranteed more comfort on board to help them relax on their European flight.
Business Class Facilities
BA's Club World passengers can expect three-course meals to suit every taste as well as a range of expertly chosen Old and New World wines. Each passenger's seat is equipped with a personal 10.4in flat screen so you never spend a moment bored on your flight. For Business Club Europe passengers, delicious meal options will be crafted to match the length of your flight.
What Are Business Class Seats Like?
Club World British Airways seats give personal space to stretch out in privacy and comfort. At night, seats will convert into a 183cm (72") fully flatbed. Passengers flying between London and New York on BA's Club World London City flights will be able to get the rest they need on board with a seat that converts into a fully flatbed. Power supplies are fitted to every seat to allow passengers to charge their electronic devices in-flight. Passengers in the airline's Club Europe cabin sit on contoured leather seats with 76.2cm (30") legroom and fully movable headrests.
---
First Class
First Class is the most luxurious of the British Airways travel classes. From a personal stylish suite to exclusive spa treatments and world-class meals, First Class ensures that passengers arrive at their destination in style. First Class is only available on long-haul flights.
First Class Facilities
Passengers flying from LHR and JFK are given access to The Concorde Room, BA's most luxurious departure lounge. The lounge offers passengers total intimacy with a private cabin and full waiter service.
In-flight, passengers can enjoy their own private suite and a fine-dining experience with crockery, cutlery and glassware. Passengers are also provided with soft cotton sleepwear and can pamper themselves with the airline's luxury Aromatherapy Associates products and Liberty of London amenity kit.
What Are First Class Seats Like?
British Airways First Class seats recline into a fully-flat bed with a luxurious quilted mattress, crisp white cotton duvet and pillows. Each seat gives 78" of pitch, 22" of width and has a power supply to allow passengers to charge their personal electronic devices.
---
In-Flight Entertainment
BA's in-flight entertainment is available on all long-haul international flights and offers a range of TVs, movies, music and games.
TV
The TV shows on offer with British Airways are constantly being updated, but the airline currently offers a range of documentaries, BBC dramas, cartoons and sitcoms.
Movies
Offering action packed blockbusters as well as thought-provoking thrillers, British Airways has a excellent selection of films to suit every taste. As well as British films, the airline also shows a number of Hollywood movies.
---
WIFI
British Airways high-speed WIFI is powered by .air, which allows passengers to browse the web with Chrome, Safari 1E11 and Edge.
British Airways WIFI allows you to choose from two different packages:
The 'browse package', which allows you to browse the web, access to your emails, and access to instant messaging.
The 'stream package', which allows you access to everything above plus gives the ability to stream music and videos
WIFI Prices
British Airways WIFI pricing starts at £4.99 GBP.
---
Food
Meal Options
British Airways offer a variety of meals and snacks on board their flights, depending on the route and class flying.
Passengers travelling short-haul in Economy are offered food provided by Marks & Spencer to purchase , including sandwiches and sweet and savoury snacks. Passengers travelling short-haul in Premium Economy or Business are given complimentary meals based on the length of the flight as part of the Club Europe service.
Passengers travelling long-haul flights are offered complimentary food on all flights, with breakfast in the morning and a meal for either lunch or dinner and afternoon tea provided on select flights. All passengers are offered complimentary snacks and drinks in addition to this. Prior to the flight, passengers can check their booking to see what special meals can be reserved, purchased or upgraded to. This must be done between 30 days and 24 hours before flying.
Special Dietary Requirements
British Airways offer special meals for their flights for passengers who request them prior to flying. These meals must be ordered at least 24 hours before scheduled departure time, except for Kosher meals on flights departing from London Gatwick (LGW) which must be ordered at least 48 hours prior to departure. These are all the meal types that British Airways offer:
Lacto-ovo-vegetarian Meal
Vegan Vegetarian Meal
Muslim Meal
Baby Meal
Childrens Meal
Meal for Diabetics
Low calorie meal
Low fat meal
Low salt meal
Drinks & Alcohol
British Airways offer a full drinks service, including alcoholic beverages, on most of their flights. These are available to purchase in any class, but long-haul flights will include a complimentary drink with their meal.
---
Frequent Flyer
British Airways' tiered loyalty programme, Executive Club, gives passengers access to special lounges and dedicated 'fast' queues. Passengers can collect Avios (points) every time that they fly with British Airways or purchase from one of its partners. The more Avios earned, the higher the level of membership passengers are awarded. The higher the level of membership, the more benefits passengers will receive.
Passengers can also use Avios to purchase or upgrade their flight on any British Airways flight or any member of the Oneworld alliance.
---
Airline Alliance
Oneworld
British Airways is a founding member of the world's third-biggest airline alliance, the Oneworld alliance. British Airways works closely with its Oneworld partner airlines to offer passengers a range of benefits for each airline. BA has a series of interline agreements with airline's within Oneworld that allows its passengers to fly to destinations beyond Britsh Airway's route network.
These are all the members of the Oneworld alliance:
This includes:
---
British Airways Codeshares
British Airways codeshares with the following airlines:
Aer Lingus
airBaltic
American Airlines
Bangkok Airways
Cathay Pacific
China Eastern
Finnair
Iberia
Japan Airlines
LATAM Brasil
LATAM Chile
Qantas
Qatar Airways
Royal Jordanian
TAAG Angola Airlines
Vueling
---
Fleet
The British Airways fleet includes a mix of Airbus and Boeing aircraft. This includes:
Airbus A318-100
A319-100
Airbus A320neo
Airbus A321-200
Airbus A3210neo
Airbus A350-1000
Airbus A380-800
Boeing 777-200
Boeing 777-200ER
Boeing 777-300ER
Boeing 777-9
Boeing 787-8
Boeing 787-9
Boeing 787-10
Overall, the airline has more than 250 aircraft within its fleet.
---
Hub Airport
London Heathrow Airport
Heathrow Airport is a major international airport in west London, England. Heathrow and is the hub airport for British Airways.
By passenger traffic, London Heathrow is the busiest airport in the United Kingdom, the busiest airport in Europe and within the top 10 busiest airports in the world. In 2018, it handled a record 80.1 million passengers.
Currently, British Airways is the only airline that fly to/from London Heathrow include Virgin Atlantic, Flybe, United Airlines, KLM, Air Canada, Scandinavian Airlines Ireland and more.
London Heathrow has a massive duty free sections and lots of other shops both landside and airside. London Heathrow was featured on our blog as one of the best places in the world for airport shopping.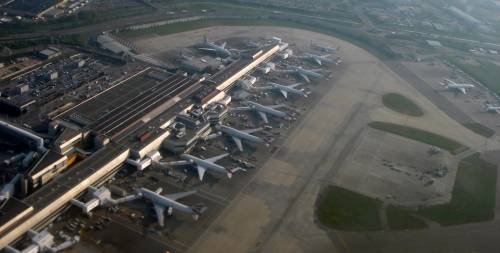 Credit: Mario Roberto Duran Ortiz on Wikimedia Commons
---
Alternative Airlines to British Airways
Please click on the logos below to find out more about airlines that fly similar routes:
---
British Airways Seat Selection
Want the choice of seat on your British Airways flight? View British Airways seat availability and choose your British Airways preferred seat when you book with Alternative Airlines. Alternative Airlines allow you to pick and choose exactly where you want to sit on all British Airways flights — letting you enjoy all the benefits of having a British Airways preferred seat! Visit our seat selection page to find out how to book seats.
---
Pets, Emotional Support Animals and Service Animals on British Airways
If you are wanting to fly with either a pet, service animal or emotional support animal, you can see all information and advise by Alternative Airlines about travelling with an animal.
---
FAQs
Are British Airways and American Airlines partners?
Yes, British Airways and American Airlines have been working together since 1999 as part of the oneworld® alliance consisting of over 10 major airlines including Alaska Airlines, Cathay Pacific, Finnair, Iberia, Japan Airlines and Malaysia Airlines.
What is the baggage allowance for British Airways?
All tickets with British Airways include a free hand baggage allowance which includes a hand bag or a laptop-sized bag, as well as a cabin bag. It will also include a checked bag unless you are flying with a Basic fare ticket.
Hand bag - up to 40 x 30 x 15cm and up to 23kg
Cabin bag - up to 56 x 45 x 25cm and up to 23kg
Checked bag - up to 90 x 75 x 43cm and up to 23kg
How do I earn tier points with British Airways?
Every time you fly with British Airways or one of the oneworld® partners, you'll collect tier points. There are four Executive Club tiers:
Blue Tier - this is unlocked as soon as you become an Executive Member with British Airways. You'll also collect Avios points and have access to Member-Only offers
Bronze Tier - unlocked after 300 tier points have been attained and you have flown with British Airways on at least 2 eligible flights a year. There is also priority boarding available and free seat selection 7 days before departure
Silver Tier - unlocked at 600 points and at least 4 eligible flights a year with British Airways. You'll gain access to the business lounges and extra baggage allowance
Gold Tier - unlocked at 1500 points and at least 4 eligible flights a year with British Airways. This includes First Class check in and boarding